Paparazzi Jewelry—A Great Side Hustle
Selling Paparazzi Jewelry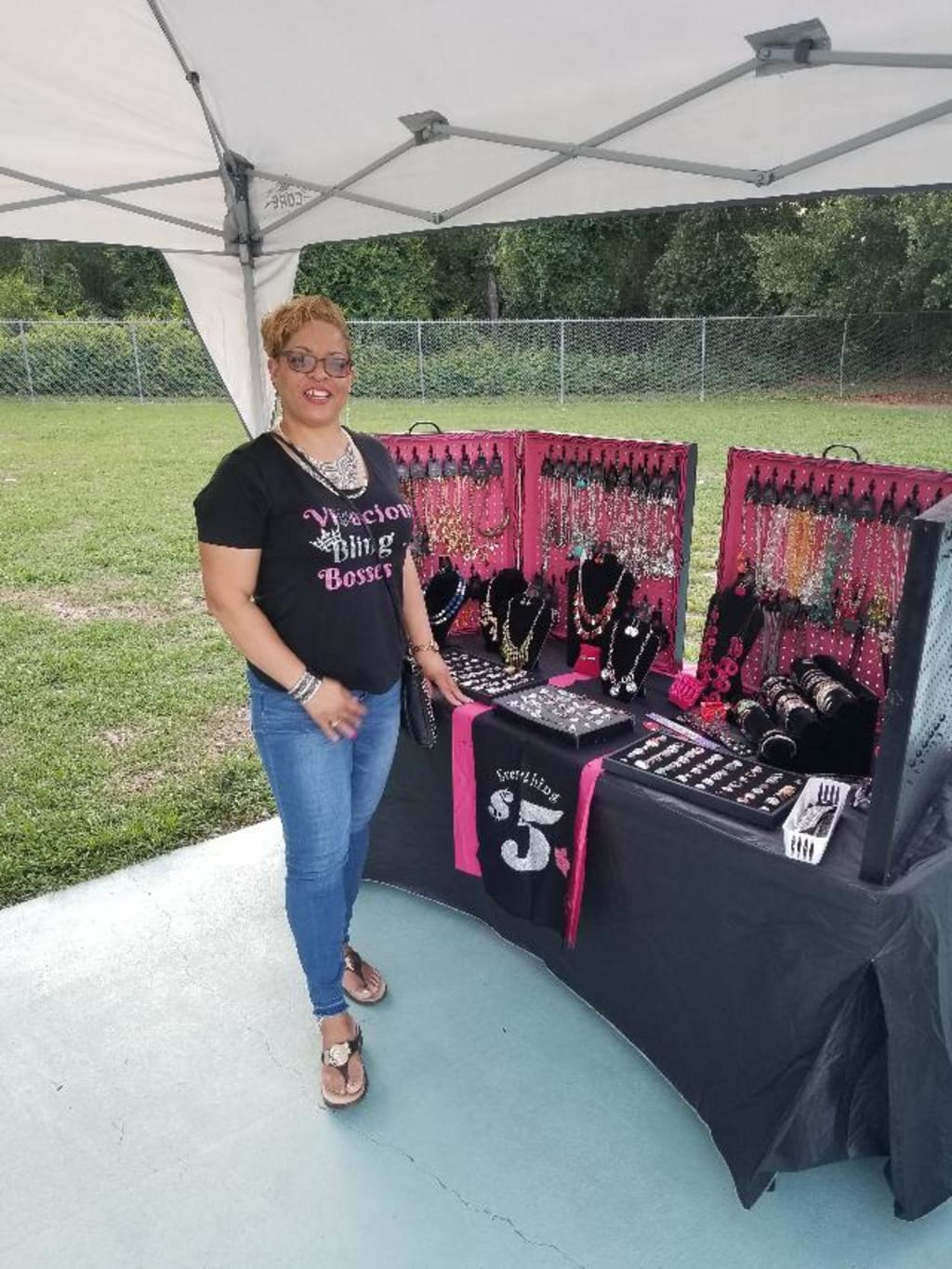 Amy Out Selling Paparazzi  Jewelry 
We all want to make money, especially these days when everything is so expensive. There are many side hustles out there that can bring in that extra cash you need. One of those ways is selling Paparazzi five dollar jewelry.
Paparazzi History
Paparazzi Jewelry was founded by two couples who saw a market for inexpensive jewelry. They have brought this company a long ways since they started it in 2010. Paparazzi started as a party planning company, and, not long after, they introduced their jewelry. The jewelry is made mostly of aluminum, steel, and other minerals, and is hypoallergenic. The founders, still to this day, are involved in the design and manufacturing of their jewelry. They are located in Utah. Paparazzi jewelry is sold online or through one of their many consultants.
The owners had the jewelry, but needed a way to bring it to the masses. The idea of using consultants was born. I want to address the elephant in the room right away. Their model is based on direct sales, which many companies use today. The company is very successful at doing what they do.
How It Works
Selling Paparazzi jewelry works like this: You join a team that's already established, or you can start your own team. The startup cost is about $100 to become part of the Paparazzi family and purchase your first order of jewelry. The concept is simple. You buy the jewelry from Paparazzi and resell it for five dollars. You make a 45% commission on each piece of jewelry you sell. There are sets that cost more, but they are still very reasonable. There is constantly new jewelry being released, and the look and appearance of the jewelry is not cheap.
No, I do not sell Paparazzi jewelry because I don't have a salesman bone in my body. I have met two women (Amy Briggs's Website and Adrian (Pink-Diva) Jones's Website) who are doing well as team leaders and salespersons. They are both dedicated to having a successful team, and they aren't just in it for themselves. They are bringing members of their teams with them as they climb the Paparazzi ladder of success. Amy went to a convention that Paparazzi had in Vegas, and I could tell by the excitement of her voice that she is all in when it comes to selling her jewelry. The Vegas convention was a success; from what I was told, the amount of people was staggering. There were classes, lectures, team building, and she got to see the newest styles in jewelry coming out. There were women from all walks of life and ethnic backgrounds. This is not just for women, but men, too, can become a Paparazzi consultant. There is a men's section available for them. There are some things about Paparazzi that I feel are great, such as the camaraderie and incentives that are offered. If you need a side hustle, are retired, or just want to try a different job, this could be your answer. You can be anywhere and join a team. Amy is in Florida, but her team consists of women living in South Carolina, Tennessee, and Florida. She interacts with her team mostly online. While Adrian is in New Jersey, she is very hands-on with her team. You can find Adrian and her team at flea markets, church functions, and any place where she can set up her jewelry board.
What is there not to like about making money and friends? The jewelry that is sold is not only nice to look at, but for that price, you can have a color and style for every outfit. The Christmas holiday will sneak up on us soon, so why not join a team now. You know that as the holidays and birthdays come along you'll be scratching your head trying to think of something to give your family, friends, and coworkers. Well, Paparazzi jewelry might just be your answer. I know the question that everyone wants the answer to is, can you make money doing this? The answer is definitely yes, and just like any job, you must put in the work to be successful. The higher you rise, the more money there is to be made. There are women making in the six and seven figures, and some have quit their 9-5 job to sell Paparazzi. Entrepreneurship is beautiful. You can work when and how many hours you want without any pressure from a boss.
If you would like to join or get more information on either team, here's their contact information:
business
About the author
I am a retired from working at the Defense Department and i am also a vet. I live with my spouse and 2 dogs. We have a e-commerce store Uniquethingsthingsonline.com. We live in Florida now but came from New Jersey. I am writing a teen book
Reader insights
Be the first to share your insights about this piece.
Add your insights