Orphan of The Chesapeake
A Story of Fort Carroll - Baltimore, MD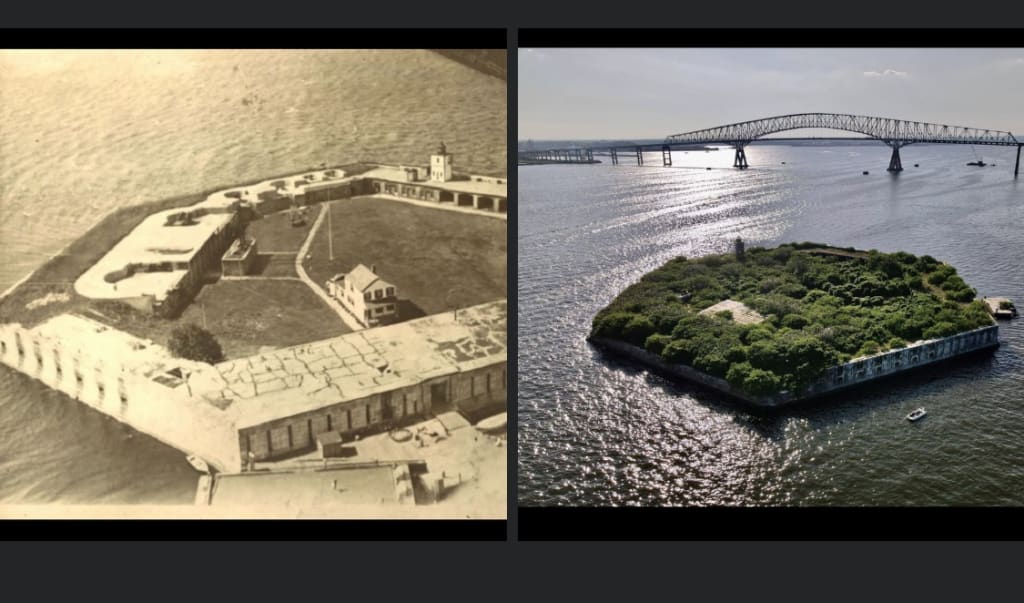 Photo Courtesy of The Baltimore Sun 1928 & 2010
I am an orphan of the Chesapeake Bay.
I was built in 1847 to help defend the city of Baltimore against the potential of war and invasion. I was designed by someone named Brevet-Colonel Robert E. Lee. Apparently, he was a big deal at the time. Before I was completed Colonel, Lee went on to become Superintendent of the United States Military Academy at West Point and then the head entire US Army. With all those new titles and responsibilities, I was forgotten about.
My hexagon design, in terms of the technology of 1847, was pretty amazing. I was built to support 225 cannons on three levels. I was to have the best weapons of the time with incredible fire power to ward off any threat. Then some skirmish called the Civil War began in 1861 and my construction was halted yet again. I sat there watching the world pass me by while war was unfolding all around me. All this work and technology to make me efficient I sat there wishing someone would come with plans, weapons, blue prints and soldiers to help with the potential of an invasion. But, they all just sailed past me without even a second glance. I was abandoned and forgotten.
A similar structure with a hexagon build like mine saw a battle and bloodshed in 1812. It's said, that conflict lasted 2 days and their weapons were nearly depleted before the enemy retreated. Apparently, that was the only time conflict was seen in this area. That structure went on to become a hospital during World War I, a prisoner-holding encampment during another war, and eventually a National Monument to be forever protected by the US Government. I just sit here in a watery shipping channel of where the Patapsco River meets the Chesapeake Bay, abandoned and forgotten.
In 1888 someone decided to give me a lighthouse including a lighthouse keeper. Meaning someone to stay with me permanently and take care of me as well as making sure to help ships come into the Patapsco shipping lanes without issue. Sort of a traffic light in the middle of the water preventing anything hitting me or knocking down my walls of protection. That idea faded quickly and the assignment was scrapped. By 1900 the lighthouse keeper was gone and the lighthouse disregarded. I was abandoned and forgotten.
On a very cold night in 1904, I saw a huge glow coming from Baltimore. I saw that glow build and build with smoke billowing from several different landmarks until I realized it was a huge fire. The Great Baltimore Fire of 1904. That fire lasted 2 days. I could hear sirens and see smoke. I sat here and watched Baltimore on fire. There was no way I could help and no one even knew I was here. Here I am, this man-made island, surrounded on all sides with water, able to house machines that could help firefighters squelch this blaze. I watched fire destroy so much. I just sat here unable to help, abandoned and forgotten.
Over the years many representatives and organizations have tried to see what else they could do with me. I recall one Mayor of Baltimore sometime in the 1930's or 1940's try to create a "Welcome to Baltimore" symbol as they have in New York with the Statue of Liberty. He proposed a statue of Lord Baltimore welcoming ships and visitors to the city and it's ports. It was introduced as a sign of new hope for Baltimore but for me being a man-mad structure, the decision makers didn't want to copy the same idea as New York. That idea could've given Baltimore new life just as the Statue of Liberty had for New York. Baltimore was becoming a great metropolis and many saw this idea as a sign of welcome and encouragement. Alas, this idea was scrapped as well and I was abandoned and forgotten.
In 1977, a bridge was built over my head (well technically, not far away from where I stand). It was to meant to be a bridge able to cross the Patapsco River much like the Harbor Tunnel throughways did a decade before. I sat here and watched them construct this bridge for about 5 years. It was named after someone who saw that bloody battle in 1812 at that other hexagon fort 150 years earlier. He did something spectacular like write a song about freedom that eventually became this country's National Anthem. I just sat back and watched that huge bridge with its steel arch-shape and continuous through truss, tower over me and the Patapsco River. I was abandoned and forgotten.
No one with any decision-making capabilities about my use or my future, have been to see me since 1920. I get a lot of curious people wandering by. Boats and kayaks will look in wonder. Fisherman and crabbers look at me with surprise and fascination as they don't know what I am or what I was build for. Some have tried to destroy my façade as they see me as a blank canvas, so they spray paint on my unmarked walls thinking no one will ever see. But since I'm quiet and alone here on the Patapsco, the curiosity wanes. Winter comes again, cold winds blow, thunderous rains and hurricanes find their way to try to slowly tear me down, but I survive. Although I am abandoned and forgotten.
Since humans seem to have no use for me, Mother Nature has taken over. Trees have now taken root all over the island and within my foundation. Colonies of egrets and herons, once thought lost, now nest here and call me home. In 2013 a rare endangered species of birds was found to have made a new home on my ever-growing foliage. So, the Preservation Society of Maryland along with the US Coast Guard call me a bird sanctuary or habitat. Now that these birds have found a new home the Coast Guard sometimes arrests people for trying to come visit. I guess since Man has technically orphaned me, Mother Nature will be my care taker.
I will do my best to protect the life now living within me as best I can. It seems funny that for all the thoughts and ideas I was built for, I am actually a gift to the earth.
Makes you think.
(video courtesy of www.explorebaltimore.org and YouTube)
history
About the author
Just a woman who likes to write. I particularly like to write about my personal experience with Baltimore history. Hopefully I've piqued your interest and you enjoy what I have to offer. Stay positive. Thanks for checking me out.
Reader insights
Be the first to share your insights about this piece.
Add your insights