OPT Jobs and Its Job Market in the USA in 2021
OPT Job Market in the USA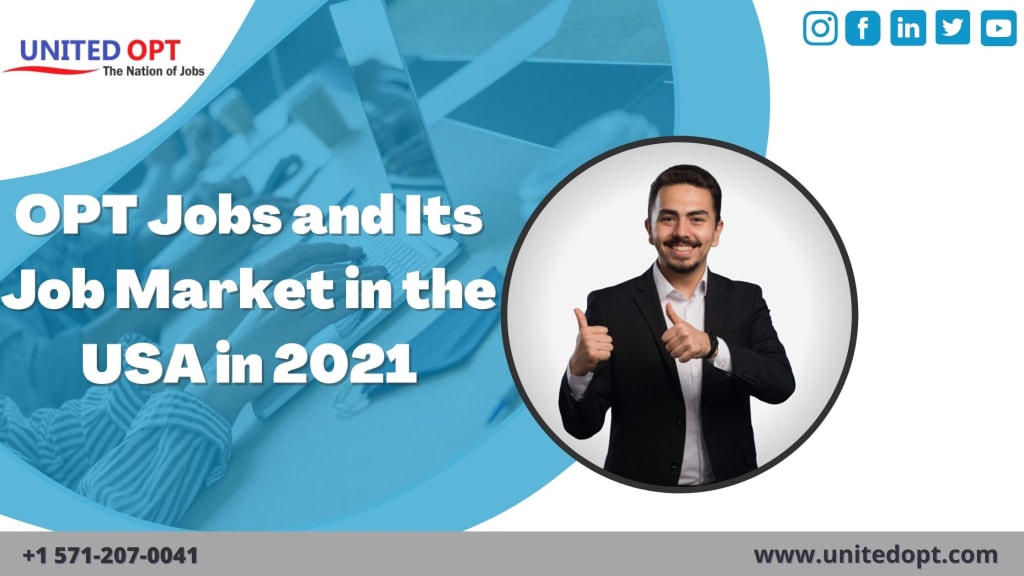 Optional Practical Training (OPT) allows international students on F1 visas to work in their field of study while in the USA. Students who have completed the first year of academics are eligible to start the OPT. OPT period is for 12 months. However, STEM degree students are allowed an extension of 24 months after completing the first 12 months of OPT.
OPT is advantageous in gaining hands-on experience in your chosen major field of specialization, setting yourself in the US organizations' working environment, building a healthy relationship with the employer to obtain a full-time job in the future, and securing H1-B visas. H1-B visas are the main focus of every international student as it will provide them with temporary work visas and can easily continue their stay in the USA. Thus, OPT job is a way to achieve the desired job and H1-B visa. Hence, it is necessary to do the OPT job in a company that is aware of OPT program and willing to sponsor the H1-B visas for the potential candidates.
There are two types of OPT: Pre-completion OPT and post-completion OPT. Pre-completion OPT allows you to work while still enrolled in your program, and post-completion OPT allows you to work after you have completed your studies. Both OPTs allow you to work for 20 hours each week.
To get a decent OPT job in your field, you must begin your job hunt as soon as possible. To get desired results, the job search should always be started in advance or early. At least three months before acquiring your OPT EAD card, you should begin your OPT employment search.
There are several advantages to starting your job search early. It aids you in comprehending the current job market in your field. Moreover, you might fail at some point during the procedure. So, it is good to start the job search early. Being an international student in the United States and looking for entry-level OPT jobs in your field will put your patience to the test. But this will be a great help in the future to understand the interview process and market requirements. Therefore, it is very important to ensure your job search before the time.
90 days of unemployment may not be enough for students who are struggling to find post-graduation positions for their OPT in the present hiring environment as a result of the coronavirus epidemic. If an F-1 student is unable to find work within 90 days, they will lose their legal status and must prepare to leave the country. However, STEM degree students are eligible to get 60 days grace on a 90-day unemployment period. So, a total of 150 day unemployment period is provided to the STEM degree student.
Moreover, it is necessary to find an OPT job in a good or one of the top companies. Sometimes, due to fewer contacts and networks, international students are unable to connect with the top or qualitative companies in the given period. In addition to that, The employment search for international students in the United States on CPT and OPT visas in 2021 will be more difficult, as most companies are refusing to hire international students. Companies that hire international students in the United States are expected to acquire responses in a short period of time. Despite the limited resources available to reach such organizations, the most important necessity is to focus on quality rather than quantity in order to save time. Also, many universities conduct placement drives and their dedicated career services department often helps international students throughout their job search.
OPT jobs for International students in the United States are quite difficult tasks. The reason behind this is that hiring international students is more expensive and time-consuming for hiring organizations in the United States. This could be due to the insecurity over an imbalance in employment tenure, as it is difficult to assess a fresher's commitment to work.
But, if a candidate is potential then, there are many top companies that are hiring international students for OPT/CPT. To secure a good job one must sharpen his talents and also enhance the knowledge of the specialization field. This will assist you in focusing on the job field and will provide you with a platform to accurately portray yourself in front of the company.
advice
About the author
United OPT aims to be that website where OPT, CPT, and many international students find employers who are ready to sponsor them for H-1B.
Reader insights
Be the first to share your insights about this piece.
Add your insights