NDIS Support Coordination Service in Perth,WA | NDIS PsychoSocial Recovery Coach in Perth,WA
NDIS PsychoSocial Recovery Coach in Perth,WA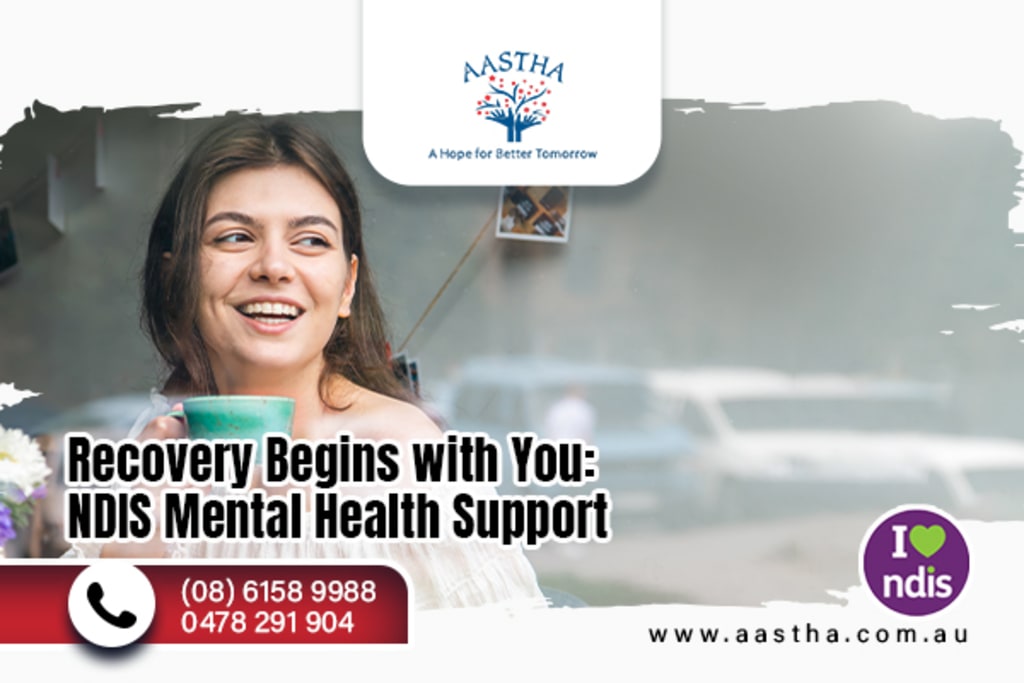 Psychosocial recovery coach in Perth, WA
NDIS Support Coordination & Psychosocial recovery coach in Perth, WA
Aastha Community Services
Aastha Community Services has provided multiple services to support people with disabilities. Aastha assists NDIS participants with their recovery with the help of a psychosocial recovery coach. The recovery coach helps the NDIS participants to lead a purposeful and meaningful life.
The recovery coach assists you by spending time with you and build a rapport with you to create a meaningful helping relationship. The coach understands your interests and people in your network to better support you. The recovery has sound knowledge around mental health and recovery-based approach. The coach also helps you to get to know about the services and resources in the community. The NDIS participants also can choose a coach who has lived mental ill health experience. These coaches understand the struggles and concerns of the NDIS participants from their own lived experiences and hence, able to support them through the recovery process. NDIS participants with plans which have allocated funding for psychosocial supports are able to access the services of a recovery coach. Aastha assists you in choosing the right coach for you who can provide these services. The number of hours of support services is determined based on the level your psychosocial support needs and allocated funding as per your NDIS plan. It is reviewed by Aastha on a timely basis and you can give feedback based on the services you receive from our recovery coach. NDIS Recovery Coach services and Support Support coordination available at Perth, Canning vale, Maddington, Armadale, Cockburn central, Kwinana, Rockingham, Mandurah, Joondalup and all over the western Australia
Aastha provide ongoing training and resource orientation to our recovery coaches on a regular basis. We also ensure that our staff are qualified and have relevant experience in the NIDS field. This helps the staff to support our NDIS participants in a better way and help them to live a meaningful life. Our team always ensures that our participants get the best support services and thereby they make the most out of their NDIS plans.
Recovery-oriented practices within NDIS: Psychosocial Recovery Coach Services
The National Disability Insurance Scheme (NDIS) provides support for Australian citizens who have permanent and significant disabilities. People with disabilities experience reduced functional capacity to carry out everyday activities. Disabilities also hinder their learning ability, mobility, social participation, employment as well as self-management. This includes disabilities arising from mental health issues or Psychosocial disabilities as well.
Psychosocial recovery coaches are a fairly new support item introduced as part of integrating recovery-oriented practices within the NDIS. A Psychosocial recovery coach is an NDIS funded worker with mental health knowledge who helps the participants with psychosocial disabilities to better understand the NDIS and thereby support them in their recovery planning. All the recovery coaches either have trained knowledge in mental health or lived experience in mental health that allows them to motivate the participants, build confidence as well as develop recovery-enabling relationships with them. Recovery coaches can connect the participants with the right kind of support and services as they have a comprehensive knowledge of all the mental health resources. Registered NDIS service providers like Aastha can connect NDIS participants with qualified recovery coaches with a minimum of two years of experience in mental health related work who will help the participants in every step of their NDIS journey.
Mental well-being is as important as your physical well-being when it comes to leading a healthy life where you could pursue your goals and live life according to your terms. Focusing on your mental well-being will bring visible changes to your life that will motivate you to persevere through various disability barriers that were holding you back from being active members of society. Contact us today and we will help you connect withqualified professionals who can significantly improve your recovery journey and help you keep track of your progress.
The National Disability Insurance Scheme (NDIS) has always made a consistent effort toward fulfilling the needs of people with disabilities. As a part of this, NDIS focused on participants with psychosocial disabilities and introduced a support item called Psychosocial Recovery Coaches. The aim was to make it easier for people with psychosocial disabilities to access NDIS and to provide them with a recovery-oriented NDIS experience. This helps participants to have greater control and choice over the care they receive and bring the changes that they want in their lives.
A Psychosocial Recovery Coach is someone who has in-depth knowledge about mental health. Some Psychosocial Recovery Coaches have learnt knowledge and working experience in the Mental Health field while some others have lived experience of psychosocial disability. Lived experience means that they had their personal experience of mental health recovery. NDIS values lived experiences because those people can provide support to people with psychosocial disabilities and help them figure out the best pathway to recovery. Psychosocial Recovery Coaches will also spend time with the participants to understand their needs, motivate them and increase the capability of the participants to be independent. They can help you develop individual recovery plans and connect you with relevant support and services to achieve your NDIS goals.
Aastha is a registered NDIS service provider who believes that a person's recovery is not limited to good health. It is about how each participant defines recovery for themselves and the progress they have made rather than perfect results. It is a process that takes time and patience. Our qualified and competent Psychosocial Recovery Coaches can help you with recovery planning and deliver the best outcomes. Contact us today to know more about connecting with a Psychosocial Recovery Coach.
Reader insights
Be the first to share your insights about this piece.
Add your insights