My YouTube Earning in the Month Of July
How Much Money I have Made on YouTube with Under 10,000 subscribers in the Month of July?
As you know that there are so many ways to make money on YouTube such as YouTube Partner Program (Google Adsense), Affiliate revenue, Sponsor video, etc. But right now I have only a YouTube partner program I mean Google AdSense earning sources that I'm going to share with you in this guide.
Every time when you write an article or upload a video that means you are a content creator. Becoming a content creator is not so easy but this is the only way to become a Millionaire.
Normally I use this keyword over and over again in my Medium stories Because I have a dream to become a millionaire as well.
Bill gate Says Content is king It could be an article, Video, Email landing page, etc. Right now YouTube is going to become very popular each and every single day.
It is very simple and very easy all you have to do is make a video and then upload it on YouTube. The major reason people don't like to work on YouTube is they said how to complete 1,000 subscribers and 4,000 public watch hours. And This is necessary if you want to get paid by youtube.
You only need one viral video. trust me, So be consistent first start again if you fail before, and come with new motivation with new and original content. Now let's go directly to the point which is how much money I have made on youtube and the answer is $696.81.
Here is the proof with also my previous month's earnings.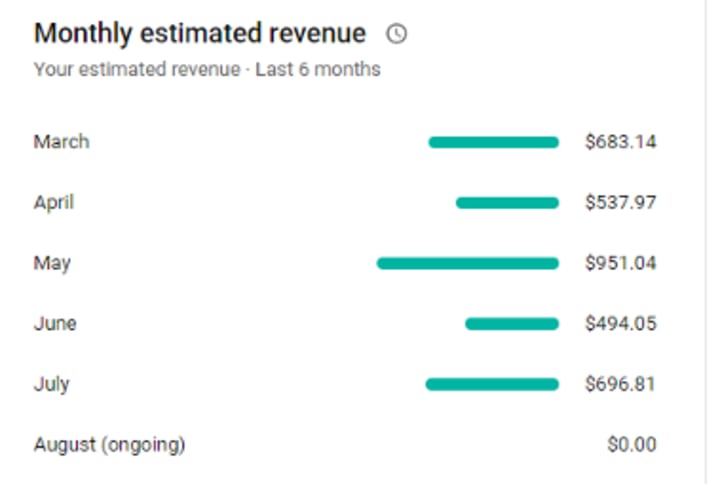 Increase Your Medium Article Reads in 3 Simple Steps
What do you need to do? If you want to get more and more reads on Medium articles simply follow these 3 simple steps.
As you know that Medium is one of the best platforms that encourage its clients. But some people also face the frustration of trying to get more reads and views on medium. It is our mistake that we couldn't attract the most readers, not the medium and I think this is the first sign of a great writer.
So, in today's guide, I want to share with you the 3 best ways to increase readers and views on Medium Now may be a question arises in your mind what are the best ways to get more reads in a short period of time?
That's why I'm here
Now let's describe a little bit about Medium.
Medium allows you or anyone to write on medium about your life, your experiences, and thoughts of big leaders, bout journalists, experts, and individual persons.
Here are 3 the best steps to increase reading on medium!
1: Write a great article every single day
If you want to get more reading on medium then the necessary thing is that your material would be real and effective that attract the viewers and readers towards your article. Your article reveals your skills, your talent, and your unique perspective.
2: Spend the most time Reading and writing
How can you feel about the investment of time because people have the visual of animals? They wanted to brighten their future in the meantime they lack patience. Therefore they fail to attract the most readers. If you want to increase your reading on medium then first you need to study the market trend and spend the most time on medium.
3: Give respect to the platform and engage with other writers.
However, this was no need to practice something because time is bigger than everything. Because you every effort or piece of hard work will give you good wealth that is capable for that but you need to give respect the platform on which you are working.
About the Creator
Best Blogging, Affiliate Marketing, Online Business, and Writing Tips Official blog- asadeducate.com
Reader insights
Be the first to share your insights about this piece.
Add your insights