My Vocal Media Review: How Much I Earned In My First Month on Vocal
You can make money on Vocal.media if you apply the right strategies.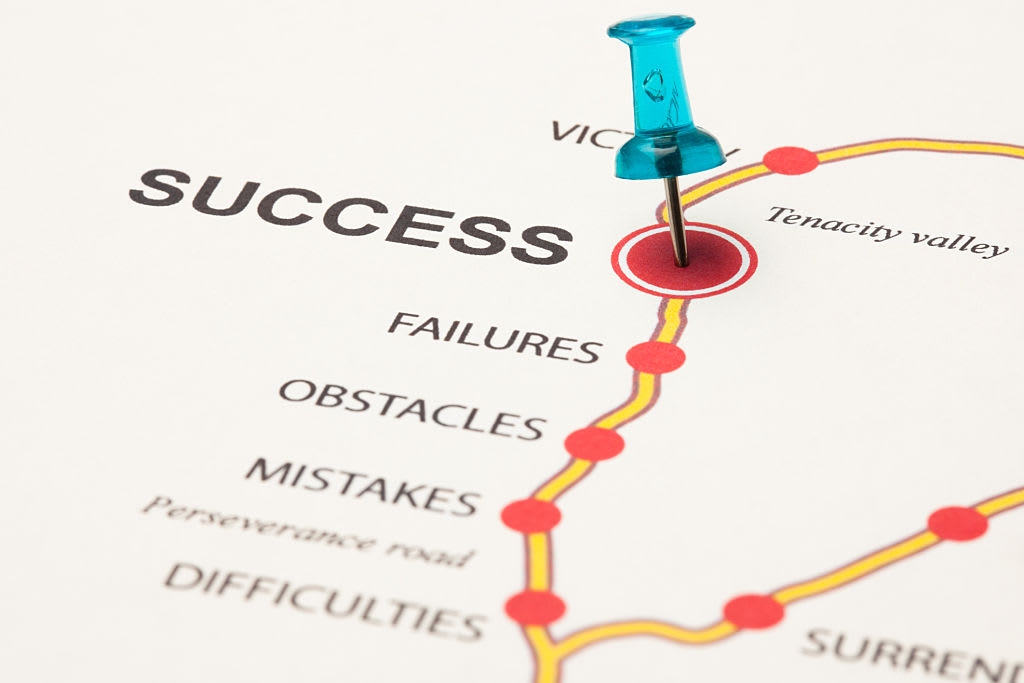 Image credit: esolla on istock photos
People say it is easy to make money online these days. Well, I guess this is true for those who know what they do and why.
I started writing online in March 2020 with a single goal - to make extra income from writing. I was not the only one searching for a side hustle in the mid of the pandemic. Many people got scared of losing their jobs and anxiously searched for opportunities online.
I am definitely not a professional writer. In fact, I wrote zero stories by March 2020. Besides, I did not believe I could make money writing since I am not a native English speaker.
I've made $5267.4 from publishing my articles since March 2020. Blogging became my solid side hustle, but I wanted to keep growing as a writer, increasing my paycheck and audience reach.
In March 2021, I joined Vocal media, and I fell in love with the platform and its vast opportunities for creators. If you, too, want to make a living writing but don't know where to start, let me share my Vocal media reviews and show you how you can grow as a creator.
What is Vocal Media?
Vocal.media is an online platform for creators, where writers, musicians, podcasters, photographers can reach a broad audience and monetize their works.
If you are a content writer, you can publish your new and old blog posts on Vocal and get paid for the engagement your stories receive.
If you run an online store, you can easily sell your products and services by promoting them on Vocal.
If you are a creative writer in love with fiction stories, you can join Vocal media challenges for a chance to win up to a $20,000 grand prize.
The sky is the limit when it comes to the opportunities Vocal offers to its creators.
But what about readers who come here to get inspired, learn something new and make their lives better every day? Avid readers can explore multiple communities, each dedicated to a niche topic, like tech, beauty, relationship, crime stories, environmental awareness, education, sexuality, fun facts, work, lifehacks, motivation, pet life, mental health, just to name a few.
Whether you are looking for personal growth tips, lifehacks, and family stories or want to read product reviews, Vocal can offer it all! It's a unique digital space where everyone can share their voice, and it will be heard.
If you wonder how Vocal media works and which opportunities you can unlock once you join, keep reading! I share my vocal media review and what I achieved in my first month on Vocal. I hope my tips will help you grow as a creator and build a side hustle you will love.
How does Vocal Media work?
Vocal.media is an open platform where anyone can publish stories for free. However, if you want to succeed on Vocal, you have to comply with the platform rules. Otherwise, your content won't be accepted.
According to the community and writing guidelines, here is what you should know if you decide to publish your content on Vocal media:
Vocal.media is free to use, meaning publishing, engagement with the audience, and tipping can be done at no cost.
You can be a Vocal creator if you are over 13.
You keep the rights of your stories once they're published.
It might take up to 24 hours for moderators to approve and publish your story.
You can republish your old content from other platforms if you are the author.
Stories with less than 600 words are not accepted for publication, same for poems with less than 100 words.
Any content in a foreign language won't be accepted.
As soon as you get familiar with the platform rules, you can kick off Vocal writing.
The Vocal media platform's functionality is easy to understand and use. All you need to do is click on "Create a story," add a title and a subtitle, upload an image or embed it directly from Unsplash, save it and submit it for publication.
You also have a basic toolkit for formatting, which allows you to create H2 headlines, bold, underline, and italic the text, create quotes and bullet lists.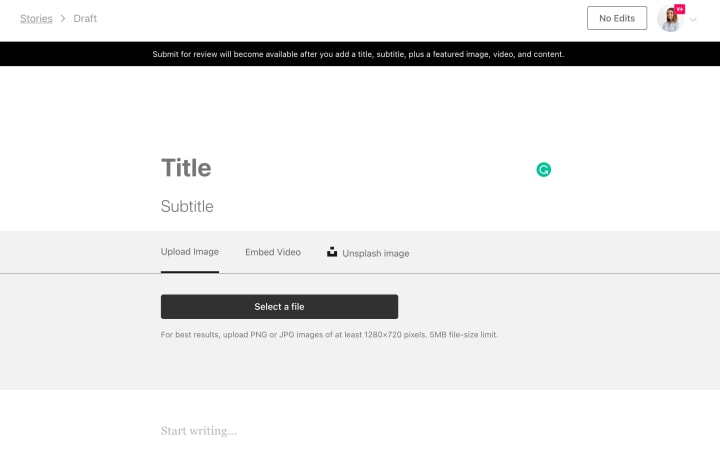 All articles are published through Vocal Communities. These are themed publications for creators to share their interests and passion.
If you would like to publish an article about your daily routine, productivity tips, or handy life advice, consider adding your story to the Lifehack Community. When you land your story in the right publication, you help avid readers find and read your piece. So, give it a try!
Once your story is published, you can't edit it from your creator's dashboard. However, you can request the Vocal team to unpublish your story to make some changes.
If you want to edit a story that's been published, just reach out to us at [email protected], and we can help you there.
Vocal has already grown to an incredible number of 850,000+ creators and over 9 million monthly engaged readers. The platform has been actively working to improve its functionality and launch new features for creators. According to Vocal, creators will be able to customize their pages, while avid readers will get a chance to follow favorite writers and bookmark their stories.
This is fantastic news! I am looking forward to making it happen.
Vocal Media Challenges
I can't miss out on the opportunity to share Vocal's fascinating initiative that makes it stand out among the rest platforms.
Vocal.media runs multiple writing challenges to help writers embrace their creativity and reward their talent.
Rewards vary from $1,000 for the 1st spot to as much as $20,000, a grand prize paid to a "Little Black Book" challenge winner supported by Moleskine.
Lots of challenges are open for everyone, while a few are limited to Vocal+ members only.
If you join the Vocal media platform as a creator, don't miss a chance to challenge yourself, embrace your creativity and share your voice with the world. Who knows, maybe your voice will be heard among the thousands of others, and your effort will be well paid off.
How to get paid on Vocal?
Vocal media creators are paid through the Stripe online payment system. Once you reach $35, the minimum withdrawal amount, you can request the money transfer through your Vocal Wallet Dashboard.
Note, you can only earn and withdraw money through the Vocal platform if your country is supported by Stripe. Here is a list of countries that can enroll in the program as of now.
I live in Hungary, and my country was not on a list for a while. I could only join and legally arrange all payments since 2021.
The minimum withdrawal amount has been decreased for the Vocal+ members to $20, while a transaction fee decreased from 7% to 2.9%. According to my experience, you can easily earn 20 bucks on Vocal by publishing and promoting several stories. It is a fantastic opportunity, and I am grateful such platforms exist and help individual creators thrive.
How much does Vocal Media pay-per-view?
There are many ways to monetize your content on Vocal.media apart from the conventional pay-per-view system. I cover lots of strategies on how you can make money on Vocal in the paragraph below. Even if you don't apply any of those strategies, the Vocal media platform allows you to earn from your content views.
Unlike other writing platforms, like Medium, Vocal pays for every view your article gets, regardless if it is an internal or an external view. Even if you are new to Vocal media, but you put an effort to promote your content, you can make some good money out of it.
I share my learnings, strategies, and earnings from the first month of writing on Vocal in the paragraph below, but just to say, you can make money from Vocal writing with zero former experience!
If you wonder how much Vocal.media pays for views, here are the numbers:
Vocal creators $3.80 / 1000 reads
Vocal+ creators $6.00 / 1000 reads
Many creators wonder if it's worth paying $10 a month for Vocal+ and whether it gives any benefit. If you get several thousand views a month, you'll greatly benefit from the Vocal+ as your efforts will be rewarded with $6.00 per ever 1k views instead of just $3.80. Your withdrawal fees will be lower, and all writing challenges will be available for you.
How to make money on Vocal Media?
Pay-per-view is not the only way creators are rewarded for the value they share with the Vocal community.
Vocal has a tipping system, and if your stories resonate with readers, they can send you a tip. As a writer, I was surprised and extremely grateful to get $3 tips from my readers during the first month on Vocal media. You know why? First, I am not an expert writer; I share my thoughts and experiences through my stories. Second, tips are voluntary, and no one is obliged to do it on Vocal.

If your story touches someone's soul, helps shape the current self and build a better future, your readers might reward your effort by tipping you on Vocal. Tipping lets your readers pay you directly for your stories, and payments go straight into your Stripe account.
By sharing insightful stories, you can deeply connect with your readers and build trust. However, they might not tip you unless you ask for it. I suggest adding a tiny CTA (call-to-action) at the end of your stories and subtly ask your readers to like your post and tip. Here is what I write at the end of my stories which seems to work:
If you find this piece helpful, make sure to drop a ❤️, and...

well, you know...you could tip.
Besides the tipping system, Vocal media has introduced a bonuses system to reward and motivate its creators. I am thankful to the Vocal team for featuring my stories and rewarding me with $45 bonuses in March 2021.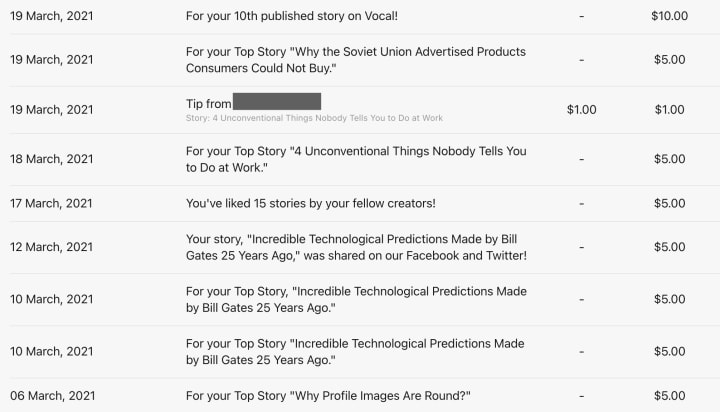 Here is when you can get bonuses from Vocal writing:
$5 - if your story is featured among the top stories on the Vocal media main page.
$5 - if your story is shared many times on Vocal's Twitter and Facebook pages.
$10 - once you publish ten stories on Vocal.
$5 - once you like 15 stories of other Vocal creators.
$50 - once you post 50 stories on Vocal.
$5 - once you reach 1000 reads.
I've discovered these bonuses on my own, and I will keep updating you once I figure out how else creators can be rewarded.
Bonuses are a proven way to make up to 50 bucks on Vocal media every month. If you are at the beginning of your writing journey, but you are dedicated to making a 4-figure profit on Vocal, you should participate in the Vocal challenges.
Vocal media platform runs multiple writing challenges for its creators to embrace creativity, learn something new and make money.
The prizes vary from $1,000 for a 7-day challenge to up to $20,000, a first-place reward supported by world-known brands, like Moleskine.
Note, some challenges are open exclusively for Vocal+ creators, and you'll have to upgrade your membership to take part.
Unlike other writing platforms, Vocal helps its creators make a decent income by utilizing various monetization techniques. Vocal encourages its creators to sell products and services through their content. All you need to do is embed a product or service link to the page and encourage readers to check your offers. Here is the excerpt from the official resources page:
Do you have a product or a video that you're interested in promoting? Embed your Amazon product, YouTube video, or Spotify link into our modules to drive your readers to purchase, watch, and listen.
Vocal.media is a platform where everyone can find a way to build a success story through writing, selling, anything. You decide!
How much I earned in my first month on Vocal Media
I joined Vocal.media in March 2021 to take part in one of the challenges, republish some of my old stories and learn how the platform works.
I posted 24 pieces in my first month on Vocal media and made $50.35. Most of my earnings came from bonuses and tips from my fellow readers.
It takes a few minutes to republish old blog posts and edit them according to the platform's guidelines. If you do it, your articles will get a second life. Moreover, you'll keep earning money from internal and external views!
Every single view helps you earn money on Vocal. To get more content views, I started promoting my republished posts on Quora and Twitter.
To compare, I earned $7 on Medium in the first month of my writing journey, while Vocal paid me off $50.35. I don't say one platform is better than another. They are different, and they reward creators differently.
Perhaps, Vocal writing can become your side hustle and a place to let your imagination create touching stories your readers will love.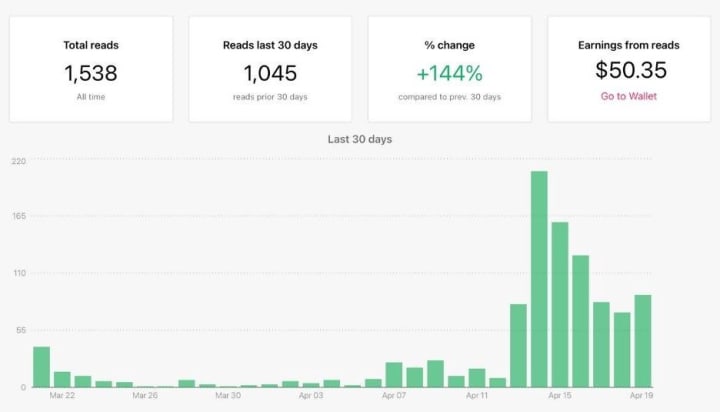 Is it worth writing on Vocal Media?
You have to start small to achieve big! Consistent writing and publishing will help you steadily grow your reads and income.
Since every view matters, creators want to publish stories that are continuously discovered by readers.
Aamir Kamal is one of the greatest Vocal creators, makes three figures every month on Vocal media. He suggests optimizing articles for search engines to benefit from organic traffic continuously. He writes articles that make $500 on Vocal, and if you are looking for a creator who could teach you how to make a living writing on Vocal, he is the one to look at.
Aamir runs a Vocal Media Creator's Hub group on Facebook, where creators can share their stories, experiences and exchange tips. Such communities are priceless! You can learn tons of strategies on how to succeed and what to avoid on Vocal.
I have just started my Vocal writing journey, but I have already seen the enormous potential the platform offers if you are patient and dedicated to producing great content.
Aamir is proof that anyone can create a success story on Vocal media regardless of origin, former experience, and education.
Excited to get started?
If you haven't done so already, sign up to Vocal to enter a whole new world made for creators like you.
-
If you find this piece helpful, please consider leaving a ❤️, or even a tip. Your support means a lot to me as a writer!
Victoria
About the Creator
Self-made marketer & content writer. Writing daily. Creating SEO-friendly content for 3 years.
My site: https://selfmademillennials.com/
Let's get in touch: https://www.linkedin.com/in/victoria-kurichenko/
Reader insights
Outstanding
Excellent work. Looking forward to reading more!
Top insights
On-point and relevant

Writing reflected the title & theme

Compelling and original writing

Creative use of language & vocab

Expert insights and opinions

Arguments were carefully researched and presented
Add your insights