Mother Tongue Review: Amy Tan Voice of the Unwanted Writers
A review on a written article by Amy Tan, Author of "The Joy Luck Club" about her cultural difficulties starting as a writer.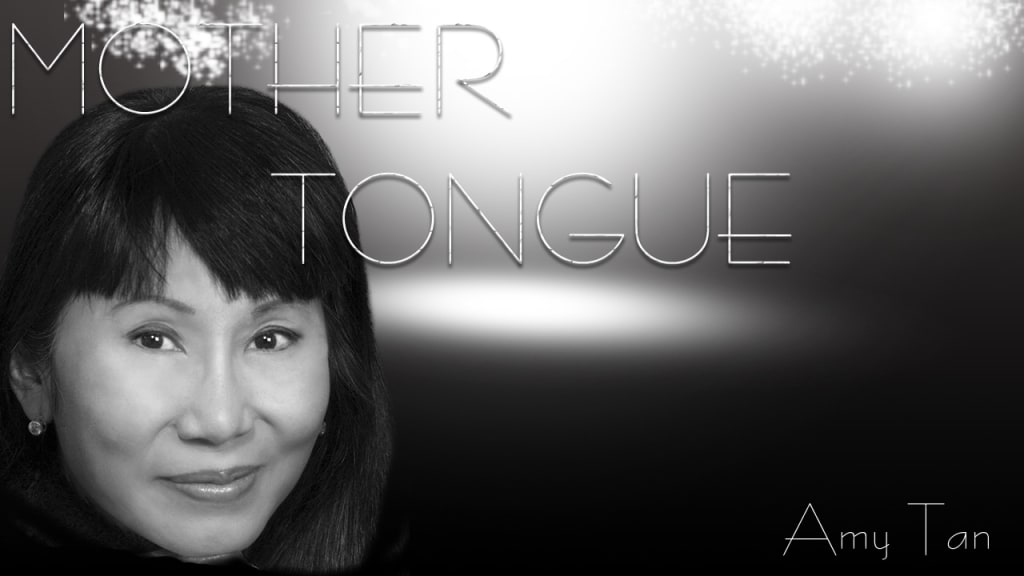 Mother Tongue is an article by Amy Tan, who is best known for her novel "The Joy Luck Club". This article, much like "The Joy Luck Club" is about culture clash. "Don't judge a book by its cover or someone's intelligence by her English" (Tan 20) is the tagline quote at the top of the article and sums up the tone throughout. Tan expresses the struggles of proper English in a household that first language is not English. Judging someone on the way they look and speak is a problem everyone has, but here in America, it is too common. Everyone in America feels as if they have authority and can say what they want. This is the problem the author had to overcome in her life. Tan fears others with similar predicaments as hers that will be told English is not their strong suit and pe pushed to pursue other subjects. The article's main claim of how one's passion should not be stopped by stereotyping is an informative argument because the author uses a personal writing tone, shares relatable stories from her life, and showcases her success as an author despite being stereotyped herself.
Regardless of where you fit in personally, the author does an excellent job of making it easy to relate to her. Everyone is judged; it is just the cruel reality of life. Growing up was hard for Tan. The reactions towards her and her family by others caused negative outlooks towards her culture and life to develop. Forms of judgment, like stereotyping, though harmless and straightforward feeling, can cause much emotional pain to those targeted. For this reason, Tan finds it necessary to share her story. To begin, she reflects on giving a speech. While doing so, she sees her mother and realizes the form of speech she's using is different from how she usually speaks to her. After coming to this recollection, she begins expressing her disapproval of terms such as "simple" or "broken" English. These were the words friends and colleagues used to describe Tan's mother, English. She then goes back to her childhood, telling stories of how she resented the way her mother spoke. But how now she knew it was due to the way society reacted to it. Individuals through their community and life had negative reactions towards Tan's mother's English. She recalls her teachers pushing her towards mathematics and away from English. Another occurrence she reflects on is when she was working as a freelance writer, and her boss said that writing was her worst skill, and she should focus her time on account management. All of this caused Tan to develop a negative outlook on her culture and life.
Of course, she began writing fiction, but even then, her negative feelings crept in, and she tried to write as someone she was not. When she first became an author, Tan felt she needed to prove she was a great writer. She even gives an example of this sharing a line from the rough draft of "The Joy Luck Club" that she later took out after realizing she was not being herself "That was my mental quandary in its nascent state. A terrible line, which I can barely pronounce." (Tan 23) Tan, fortunately, realized she had nothing to prove. She was a good writer, and she just needed to write to the right audience. This was when Tan started writing as if only her mother was going to read it. Writing in that way made it to where she was writing for her unique audience of Asian Americans. And as an Asian American raised by Chinese immigrants, society was against her being known for her voice, but she pushed through the barriers and succeeded where most thought she would not.
The article's claim of how one's passion should not be stopped by stereotyping is an informative argument. The author uses a personal tone and shares relatable stories from her life. Tan being a published author, is the most prominent claim the article provides against stereotyping. The fact that the author writing this article on stereotyping herself struggled with the difficulties of it gives legitimacy to her claim. In reading this positive message, I guarantee walking away with a feeling that anything is possible. Whether pursuing a career in writing or not. After reading this article, a sense of hope will be intact. The author herself overcame much to become successful enough to write this article of topic. Having parents that were immigrants, being looked at as an outsider, and have been told she couldn't be whom she wanted to be
Work Cited
Tan, Amy. "Mother Tongue.". 4, Oct. 2006