Memories: 22 September 2022
Of cabbages..and kings. Never ever ever let the bastards grind you down! :-)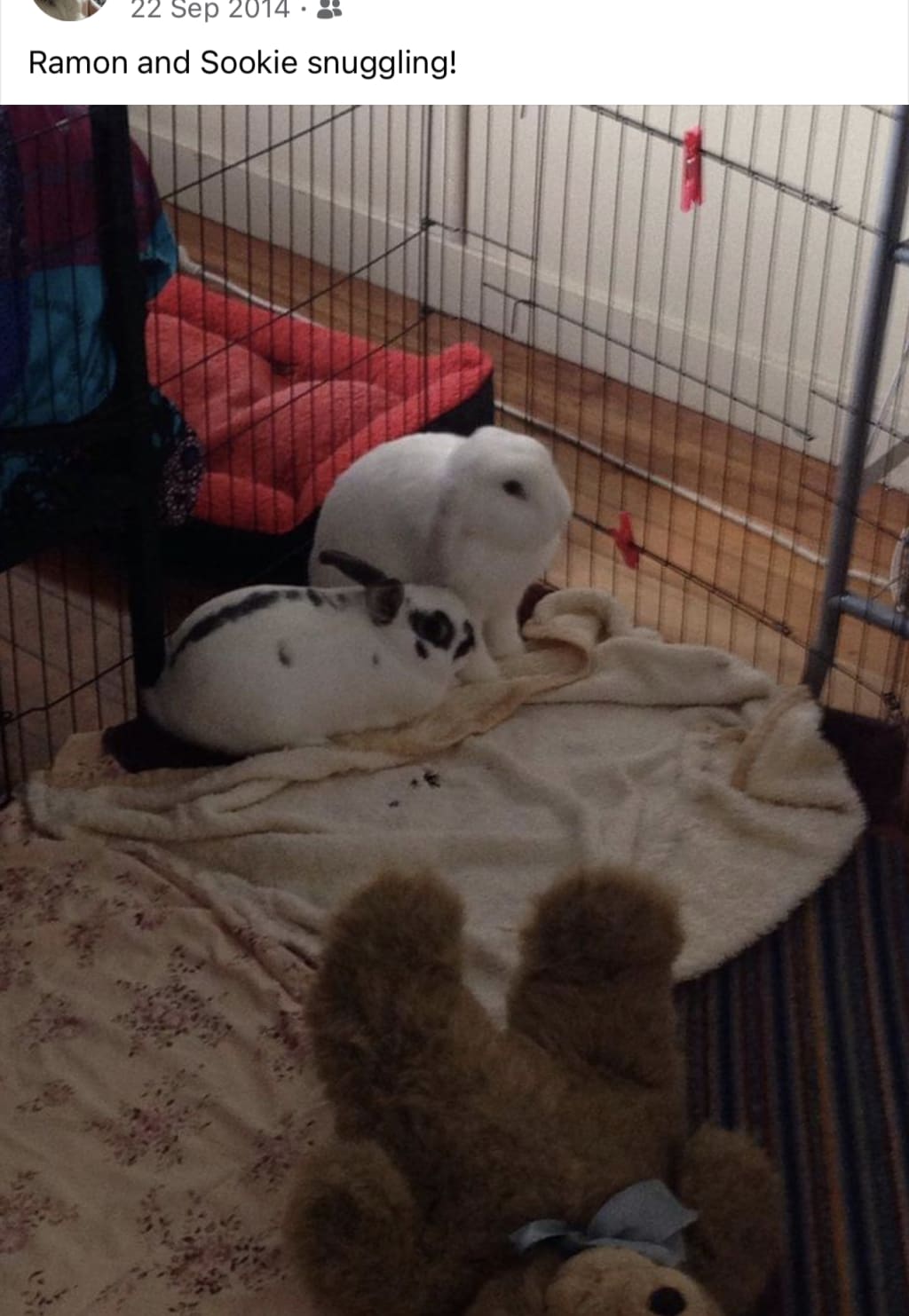 22 September 2022
Luck and love is flowing my way. Grateful blessed woman here!
…
Two nights ago, in a moment of wistful nostalgic momentary romantic whimsy, moving between mood fluctuations that I surf so well and in that moment feeling a tiny bit bereft at my lack of family and love partner I asked Spirit "Whom is my one true love?"
I know…I know…stupid rhetorical question that hangs over my head like a slicing sword of Damocles or like a brain extraction from some evil interdimensional creature but like the evil queen in Snow White I must occasionally play nicely with the gods and ask these questions…more out of idle curiousity or subterranean grief rather than expecting a fully fleshed out manifested lover man to appear like a genie popped out of a bottle. No three wishes or fairest of fair mirrors as the Tanya has grown older and circumspect.
But…to my astonishment the answer came back almost immediately! "Brian" …
"What????" Quoth I! "The life of Brian or someone actually named Brian?"
So I asked politely "Do I know this man?"
"Yes you do…you know him well!"
I replied "Brian is my psychiatrist. Not my lover or suitor!" "uh huh"
I shrugged it off. My doctor Brian does have a great fondness for me his patient, in the most secure integral therapeutic way. In fact his love is authentic, safe, trustworthy and decent.
Next day (yesterday!) I had my debrief. He reminded me of how far I have come in my healing journey. That he is proud of me and expressed his intention to continue to work with me to full and complete health.
When I got off the phone I realised that this was the most potent and staunch and determined Love I have ever had with any man (including those from my family of origin)!
And no we don't have transference and we know we have a solid therapeutic alliance and after 12 years in therapy, a relationship built on Trust.
Not a love partnership or one of my mad damaging unrequited frottering, or heartbreaking sinister sadistic trashed out romances.
But something much more healing and ennobling and kind.
So it occurred to me that my spirit messengers, cheeky little tricksters that they can be when they tease me mercilessly about my love life, are actually telling me the truth.
There are higher forms of love that are more solid, stable and real than those proffered by a lover or lovers. True friendships that have lasted decades. My therapist that has assisted me in healing myself (even when there were a few times I fought him like a demon too) but who trusted me to choose my own path and my own unique warrior goddess self-healing, without big pharma decrepitations any more, healing in experiential awareness every day with a clear and untrammelled unzombified mind.
I am grateful for that. Finally growing more into my own life, light and manifested expression. The Tanya.
Love will come too. Real loves. Never give up on me, or anyone. Allowed me the time and space to recalibrate my brain, my spirit and my life force. Spiritual agape love and human love and unconditional bird and dog and even goldfish love. (Okay the goldfish might be a bit ambivalent!)
But I am grateful for all the majestic souls that were/are in my life. For my guides, my muses, my most beloved ones. For Life. Grateful and contented.
…
This morning I had a lovely chat with my friend Annie (Mermaid) in Wales. We talked a long time and it was delightful. She received a letter from the Queen as she wrote her the sweetest letter a few months ago, as she knew she was very ill.
I thought that was so kind and delightful. Also that the Queen responded to her.
I told Mermaid to share her story on her profile as it really was heartwarming! Even Queens deserve to be remembered with fondness for their sweet interactions.
…
Today I celebrate 12 years of freedom from toxic relationships with men! (Almost 8 years completely celibate and asexual too!) I have healed my sacral chakra space, my mind, my heart, most of my body and best of all regained my inner joy and freedom and expressed my former most unrequited dishonoured sexuality by creating art and expressing myself in more wholesome edifying glorious ways than lying in bed with false monstrous lovers oohing and ahhing (although an orgasm occasionally with a much loved one used to be a healthy release!)
But none of them were serious, genuine or very protective or even respectful of The Tanya so on I go..on my journey, ever hoping to find my truest deepest most devoted lover one fine day!
In the meantime I am suffused in love of the good healthy respectful platonic kinds: my beautiful friends, my pets and my angels, spirits, ancestors that love me.
22 September 2010
Just found out my relationship with Courtenay is over. Nice of him to confirm this with me after I had to phone him to ask what's happening. Oh well, the upside is I can move on now.
22 September 2020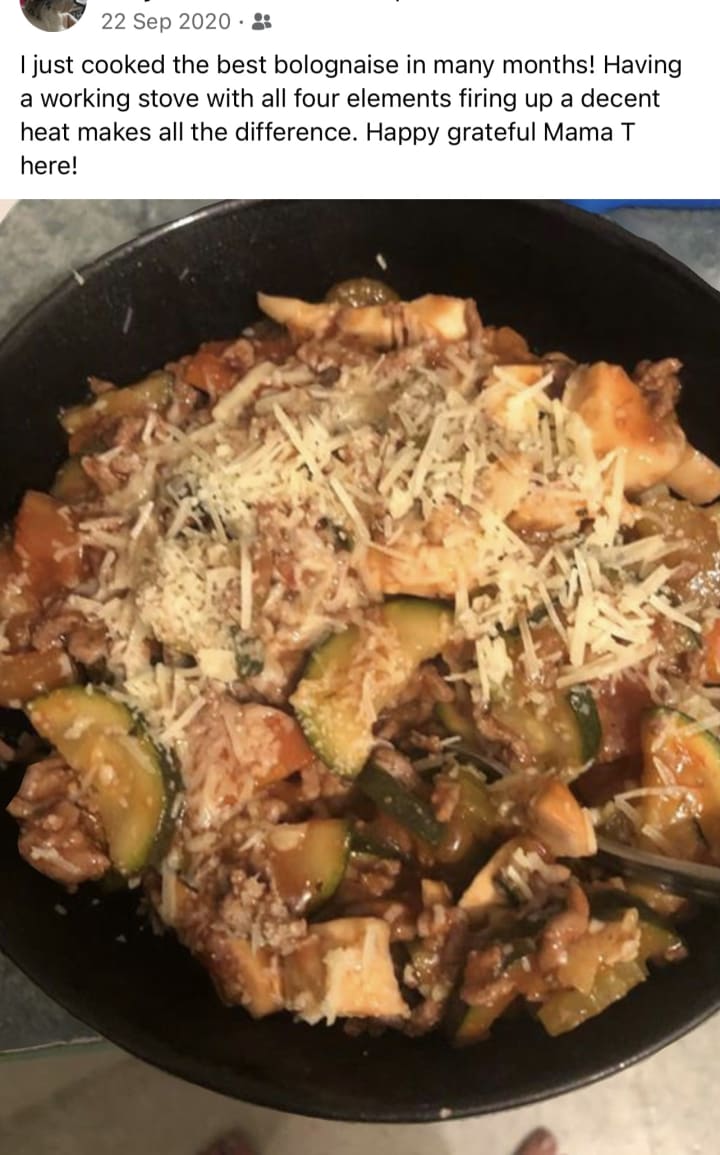 It's not real bolognaise. I don't eat pork. It's just mince beef with stir fried veges and pasta sauce. I should really call it Bollocksnaise. But I guess I like pretending I am an Italian chef or something.
One of my former casual partners was an Italian chef although he never cooked for me (ahem!) he was smoking in the Tanya Vibe in other ways!
I guess he would be amused by my Bolognaise. It's all Bologne until someone gets hurt.
I hear he still looks for me occasionally at the casino. Passionate sweet lunatic that he is. We could have had something great going on but I would not allow it as he had a partner and I won't play second string to any man or his other "concubines".
He was also a Catholic (Santa Maria how do they desire the Tanya, those naughty guilt ridden Dybbuk-ridden Catholic Boys!)
He had a son who would be about 17 now.
Anyway I kept myself safe from any complicated ensnared attachments by telling him (quite truthfully) that I was in love with "Wiglet"!
I might have made a mistake, as the Italian was very very passionate and Wiglet was my most sadomasochistic Machiavellian little English Prat of a stalker.
After all their Bullshit I gave up on sex completely and have been celibate (again!)
Hohum. Not worth the frenzied frottering for the merest scraps of love or attention.
I have healed myself a lot by Vowing off Men too. Not one of them was genuine in the past 10 years. So there is that!
22 September 2018
Today marks 8 years since my relationship with Courtenay ended. Well it was a bit longer than that but he neglected to tell me he had moved on. I can laugh about it now. But the betrayal just 6 months after my mother died cut deep.
Now I am happier in life than I ever thought possible. Freedom! Free from abusers, users, schtuppers and potzes. No more living a lie or hoping to get love from the lacklustre loveless.
I dance wildly and joyously then go home to my dog! Who is always always happy to have me in his life. 4-legged ones. Love without limits.
…
12.22 pm I just woke up with a barking bronchitis. I am not surprised after dancing like a demon all night even with asthma and fatigue from my big day in the city.
I don't know why or how I am pushing my body so hard but frankly, I am awesome.
There was a lot of love in the room last night. Pulsating and thrumming through my entire core. For a while I sat cross legged on my corner of the stage as I could not stand on my sore feet anymore. I let the music course through me like life's blood and after a while I was still dancing with my upper body.
After I finally left at 4 am I staggered on aching legs and feet to go buy 2 chicken sticks as I was starving and needed a protein hit. Then limped my way back to my car and drove home. Dived into a hot bath then blossomed. Fell asleep immediately.
Loving my life. My heart. My courage. My body but most of all my Neshamah.
Loving my authentic friends. My daughter. My cats, dog, hens, bird, fish, garden, planet, my Self in all her perfectly imperfect manifestations.
Loving the quiet of this day after epic music all night.
22 September 2017
It's another beautiful day in Paradise. A gas man is here from the Gas Company, replacing my gas meter. He arrived when I was in the shower so I yelled at him to come back in 10 minutes. Sigh. He arrived 30 minutes later but all good.
I was sitting in the garden under the market umbrella drying out my tresses. So wild and woolly. He gave me a bit of a sheepish grin. Promised to relight my pilot light on the gas cylinder. I said "That'll be great as lighting those things stresses me out and I don't like being stressed" lol.
…
Lightning all around me! Still She hasn't unleashed the water from the heavens.
Shaftamayim b' sason.
C'mon, seriously. Does this Jewish Viking Witch have to go all Voudoun and strip off and do a full-blown Rain dance??? Can't Ya just rain already? Like The Holy One Ordains. (Everything in its season, Biatches)
Ok ok.
Shabbat Shalom Y'all! Hopefully a wet one!
…
Anddddddd She stopped. This reminds me of my marriage, hanging out for that sweet sweet release but after 30 seconds...No Thing.
Man and gods! I am so angry right now! Did a little rain dance in my kitchen and scared Penny Cat. So that is that!
…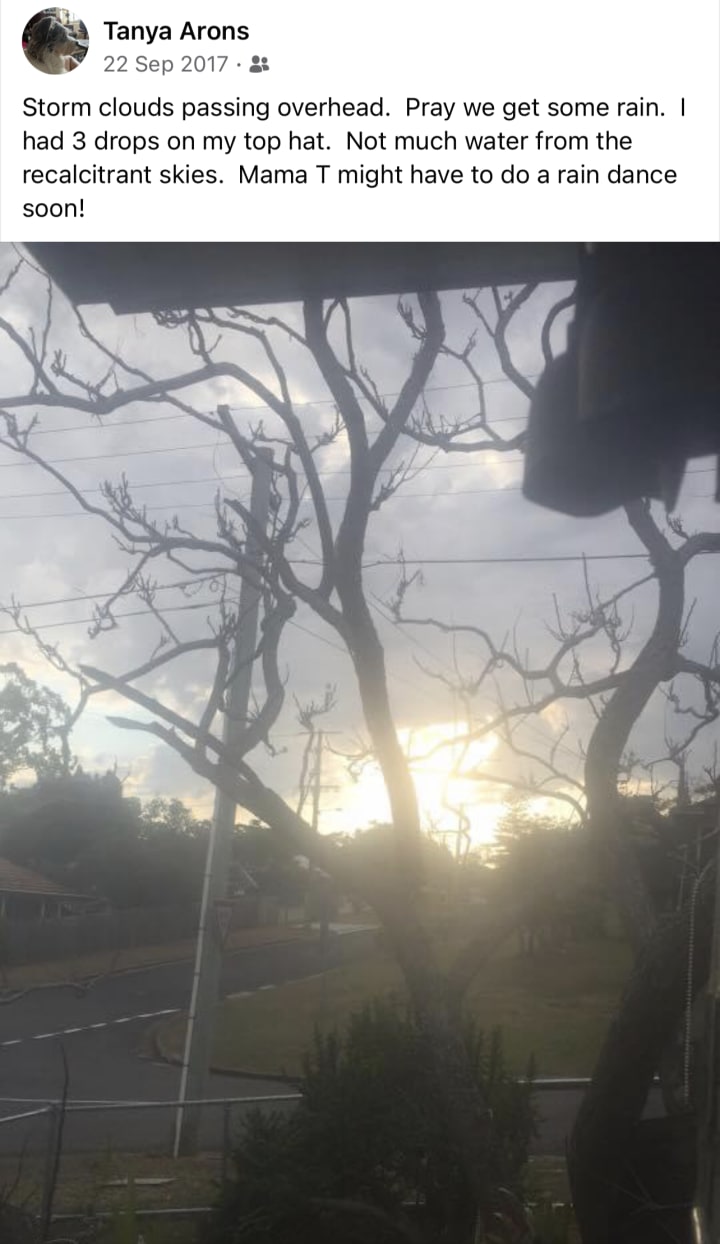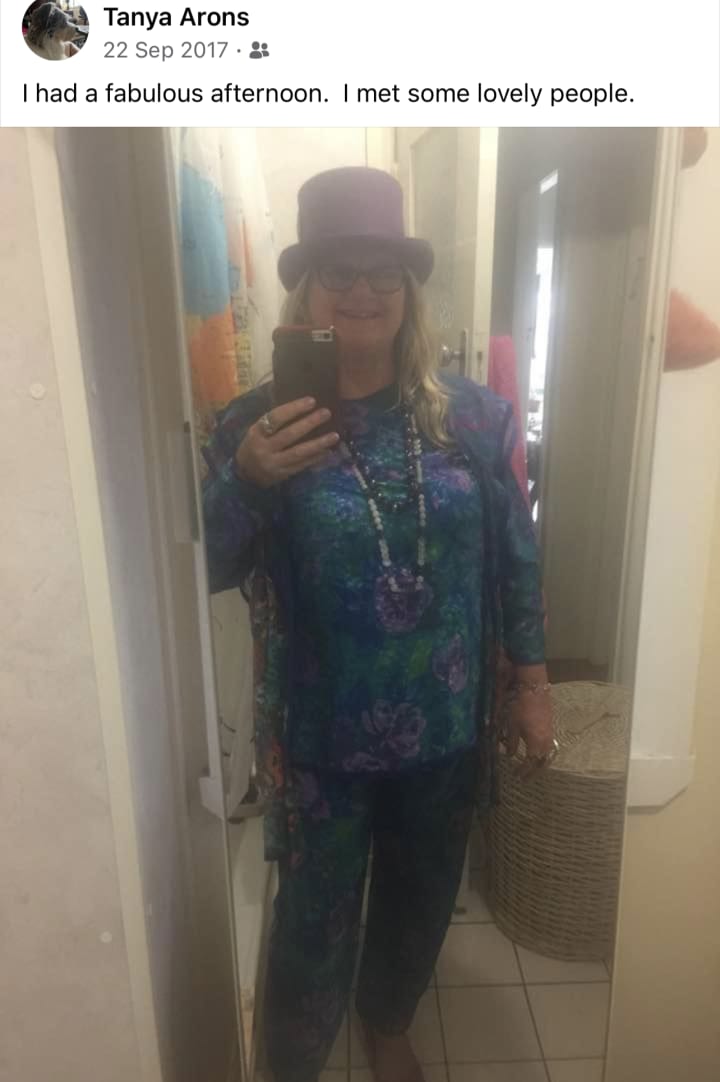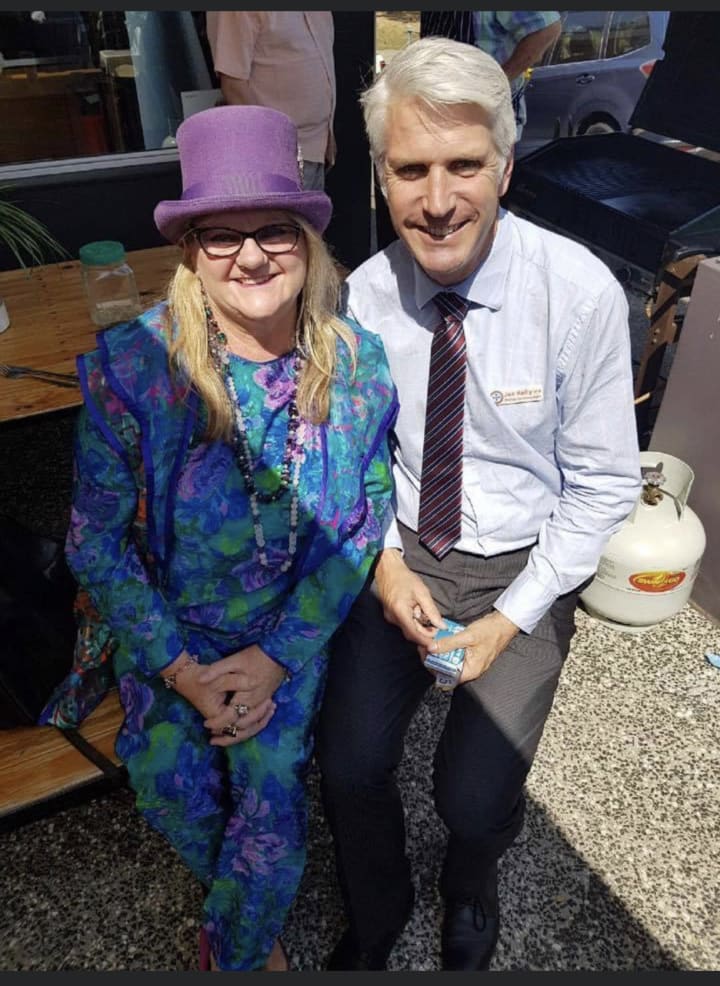 22 September 2016
Detoxing my life. 2 down. One I loved very much. Kitchen almost clean. Still need to mop floors. One more coat of paint, then can start working on the dining table.
Watching Breaking Bad. Grateful to Jarrod for being such a staunch awesome friend and making me laugh in the face of my misery.
Lucky woman here. (Stocked up on chocolate and chippies for marathon death by carbicide)
…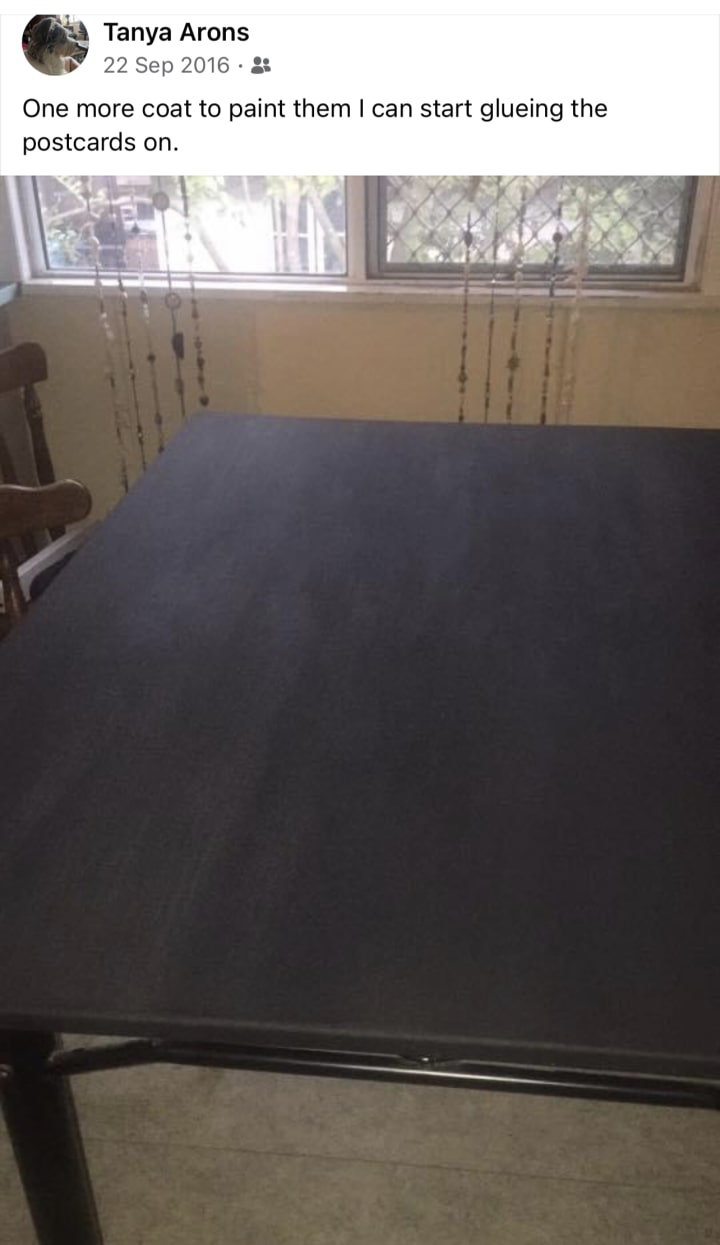 …
Bobo had a blast at the dog park. However he came home so pumped that he kept trying to kill the hens and even had the scrub turkey bailed up. I had to lock the hens up for the night to keep them safe.
…
I said "No Beauregard No. Don't do it! Not the puddle.. Don't you dare lie in that puddle!" So he did. With a look of complete triumph.
They say if you can train a dog well, then you can train a man. Here is yet more evidence of why I am eternally infernally single. Ain't nobody got time for Dat! JACKSHIT Shitzu Russell Cross batshit brat.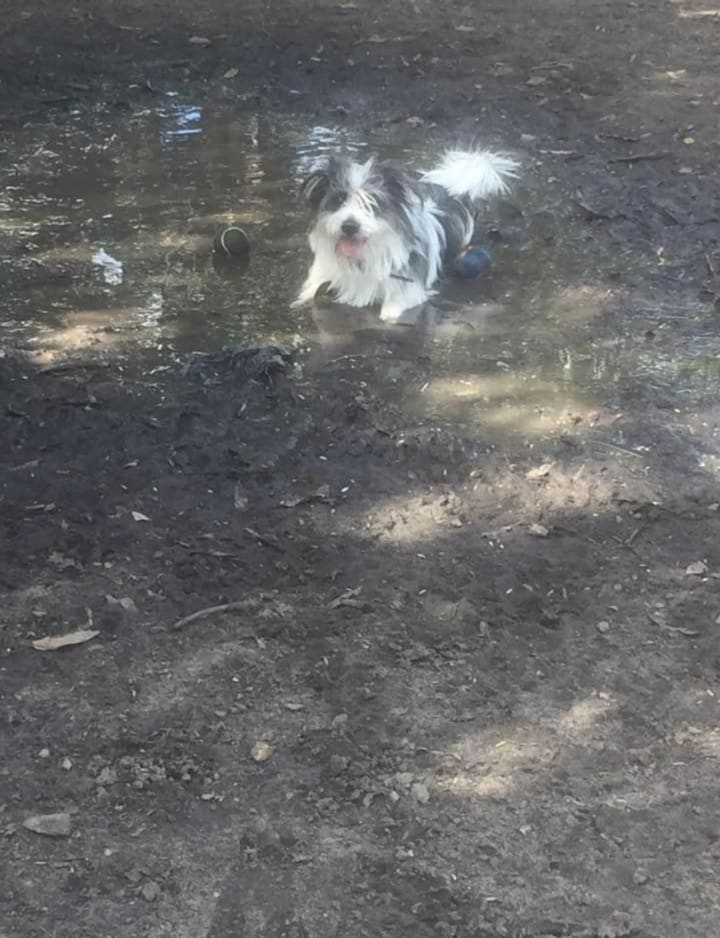 22 September 2014
I chatted on Paltalk last night. I hadn't been on much in last few weeks. I was surprised to hear a few people mention that they had missed my laughter. Cute and weird at the same time as I remember being told to shut up and quit laughing like a Hyena on Acid.
Fortunately I take orders from no one.
She who laughs last laughs best, loudest and contagiously 'til she either busts her gut or has everyone in the room (virtual or real!) laugh along with her. In fact, one day I hope to die laughing. Apart from the slow asphixiation it's not such a bad way to go! (Asthmatic here...I almost died laughing a few times before!)
Oh, and Happiness is the ultimate Revenge!
(Even if you have to Fake it 'til you make it or Bust a lung...it's totally worth it!)
…
I just got off the phone and I heard the playpen rattling. So I checked on the "kids". Sookie was wanting attention so I picked her up and cuddled her then gave her and Ramon their nighttime treats.
I climbed inside the pen with them, intending to have cuddles with Ramon. So what does he do? Eats all the goodies I offered them and resumes smooching Sookie. I don't even get a look-in. It is absurd to be jealous of the lovers. (Tear!) 😉
So going back to watch tv and work on my cases.
I bet as soon as my back is turned Sookie will call for me again. I think the Love-in gets too much even for her!
…
Bunniesssss! Grandma Time! Crystal put them in the guest room. So funny! They've got better Digs than some humans!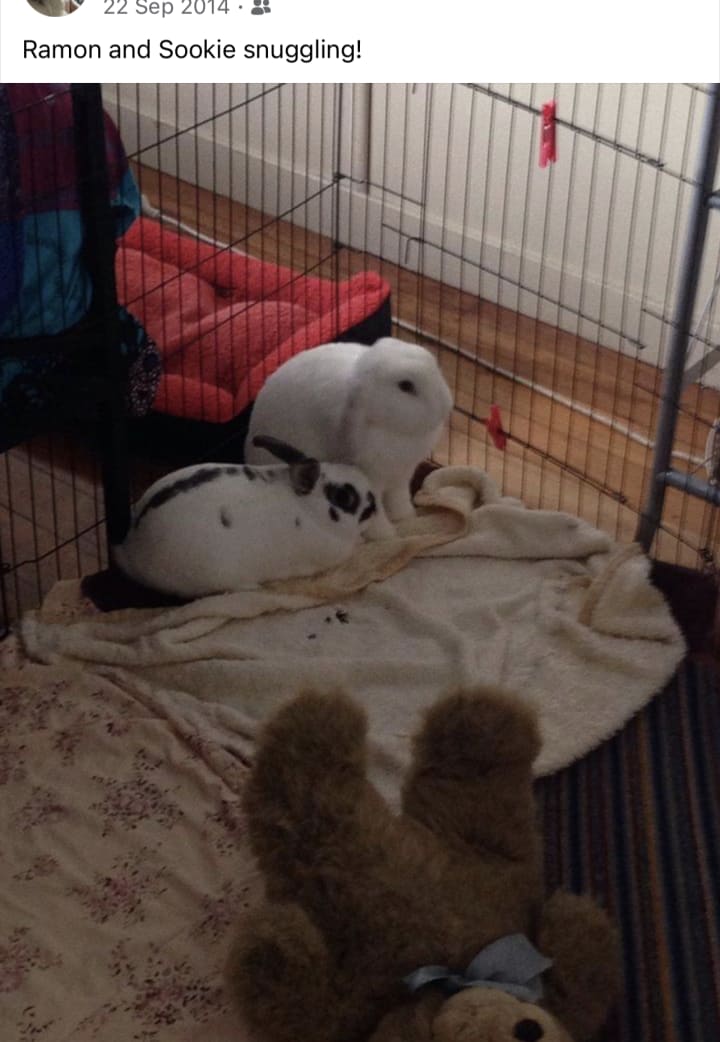 …
Crystal brought over the kids. She also brought Pumpkin soup and bread rolls you bake in oven. Yummy!
I was sifting the stones out of all the ash and soot from my fire other night. So I was covered in black soot and looked like a chimney sweep!
So I had a quick wash and had a nice lunch with my girl! (My breakfast really!)
I have a huge appetite at the moment. It must be from the change of season and all the stress I have gone through in the past month.
Crystal is performing in a play festival in Melbourne so she needed a string of pearls. I couldn't lend her my real ones as I need to get them re-strung but fortunately I have plenty of costume stuff so she found a nice necklace to wear with her old lady costume.
When she plays Mature-age Women she trips me out off my face. It is like Hilda or Gisela are alive and kicking again.
She has dyed her hair red so she will look more like Hilda this time, as she was a Brunette and wore this weird wiglet thingie she attached with a pearl hair clip thingy for weddings and Bar Mitzvot. Orthodox programming from growing up in Poland. She had to cover her hair. It looked damned stupid but she was used to it!
…
Tomorrow night is Erev Rosh Hashanah. This little Heathen, once very observant Jew wishes all her family, friends, and fellow Jew Crew everywhere, a Happy, Prosperous, Healthy, Peaceful, Loving and Sweet New Year and for the many New Years yet to be celebrated!
May Goodness and Mercy follow us all the days of our lives and may we allow positivity and greatness to shine from our hearts and minds along with repentance and forgiveness.
May we live to enjoy At One Ment. Bashert!
22 September 2011
I had an inspiring debrief with my wonderful doctor who was so amazed at my latest exploits, that we almost went over time but had a jolly good natter and a reality check. I am so pleased to hear that he thinks I'm amazing!
I feel so accepted, endorsed, recalibrated, admired and unconditionally loved. It's so nice to rediscover the authentic part of Me and I am eagerly awaiting more good discoveries in the future!
Copyright Tanya Désirée Arons
humanity
About the author
I write about my life experiences. I write about complex ptsd, the agonies, the angst and my post traumatic growth. About Beauty, Truth and Honour and little vignettes of comfort from the spirits that love me: living and dead. I also Dance!
Reader insights
Be the first to share your insights about this piece.
Add your insights