Memories: 21 April 2023
Sunshine, chocolate and discoveries about family members on Ancestry.com.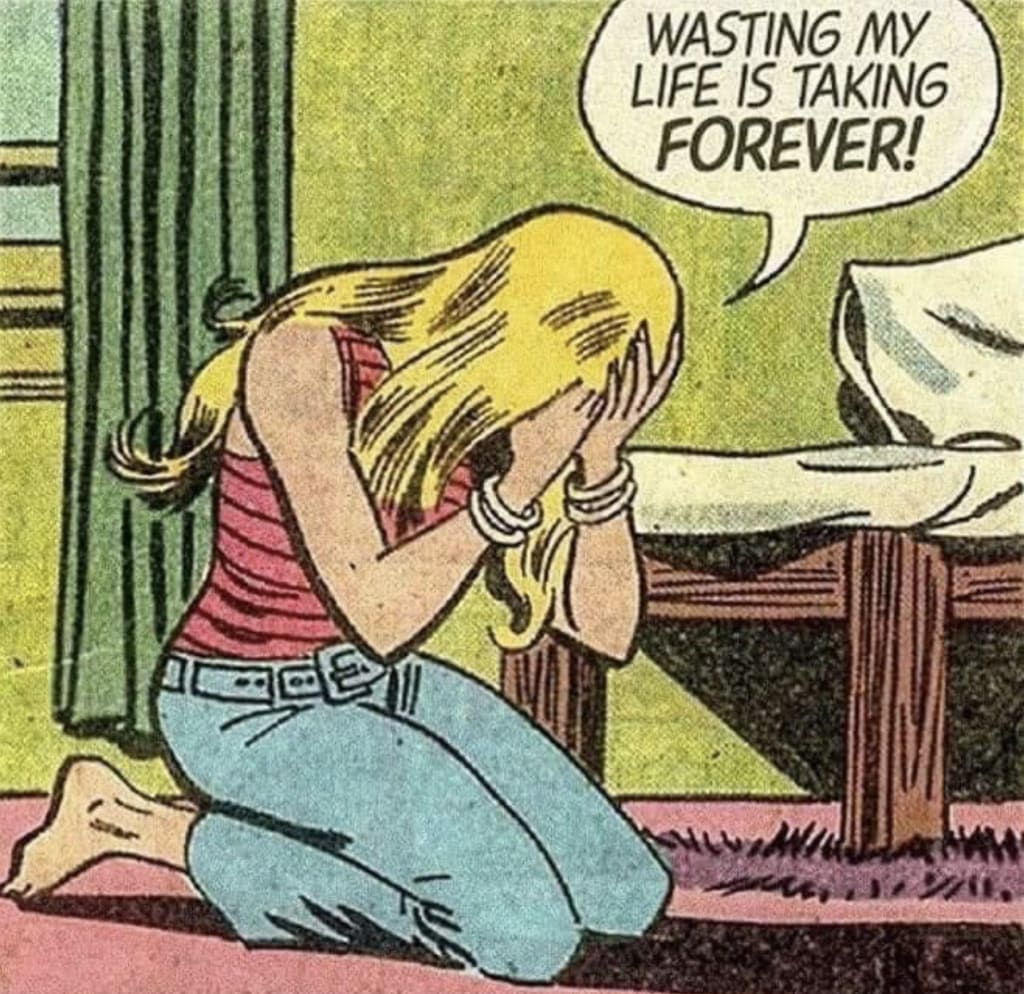 21 April 2023
Today's efforts: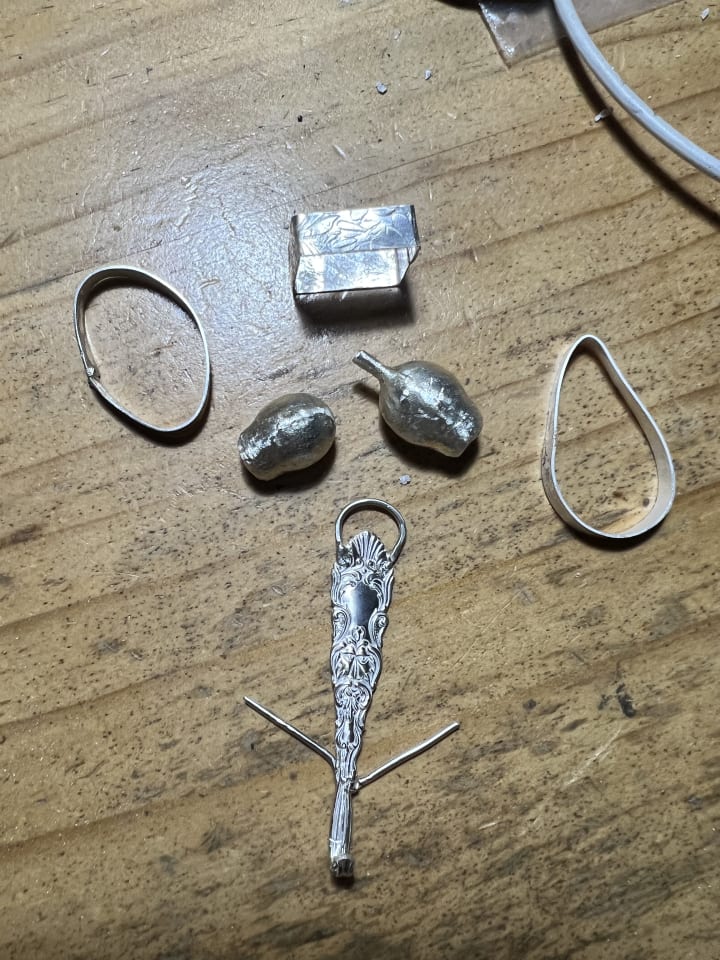 21 April 2022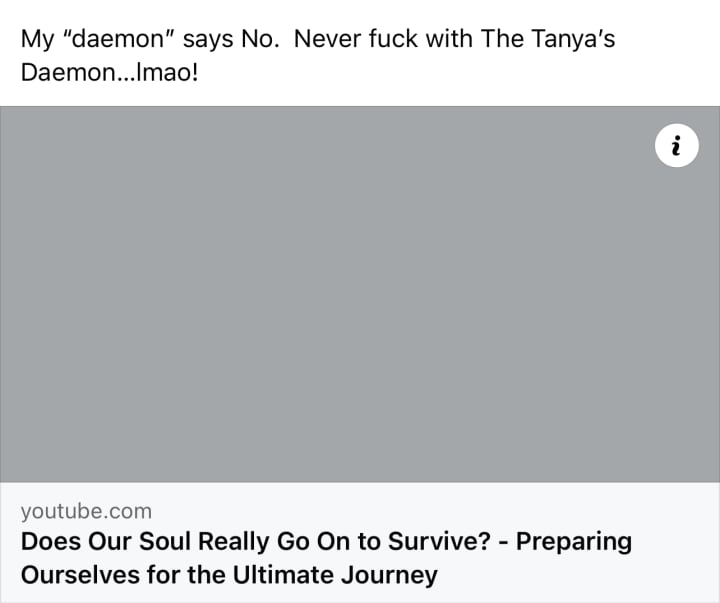 21 April 2021
7:33 am Very little sleep last night. My mind was threshing through several Vortices at once. I needed to sleep too! Oh well, impending bout of hypomania which means I will be sleepless but super-creative.
I decided during the night, waking up constantly from my sleep states, which felt like an ascending diver from the deep sea...that I need to create as much stuff this year as humanly possible. Knitting faeries or tea cosies, make jewellery, and yes when the muse is riding side-saddle with me, writing.
I don't have much time to get my house/life in order. It's a huge realisation and an immense pressure that I have imposed on myself. My lungs are shit. My digestive system is shot and my skin cancers are erupting. I have to face all my fears and harness them like a woman directing a wild cantankerous stormy team of horses. Then ride, through all the horror and reach my goals of triumphant glorious accomplishment.
So far I have managed to only stir myself in my personal vortex into insomnia and mental moshing. 🙂
But last year in great discomfort with an actual tummy bug I made a mosaic table in 17 days (even though I was extremely weak and ill).
This year there was the miracle of the inlaid cabinet.
So if I am gentle with myself and my flagging body, who knows what marvellous things I might yet create?!
It's a beautiful morning! I had set my alarm for 8 am as I need to pick up solder paste and pickle at 10 am.
My subconscious mind, anxious to support me in my new hobby, woke me earlier! Great! Up and at 'em. But by all the gods I am tired!!! Lol!
…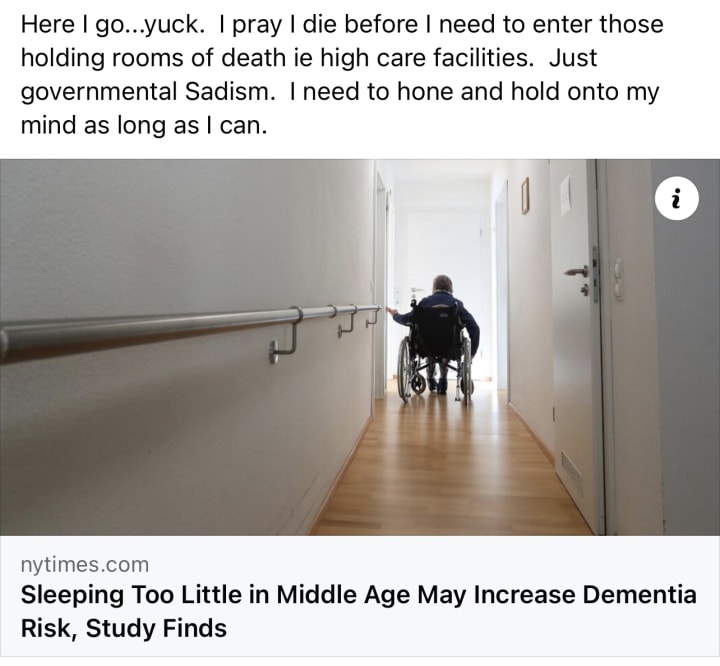 …
I practised soldering this evening and to begin with it was a disaster. I really freaked out. Turns out soldering paste is not a solder and you still need the tiny pallions of hard solder.
I eventually managed to get a soldered jump ring on the octopus after several attempts. The Acid in the pickle ate her riveted eyes out. So now she needs a clean up and new eyes. But I think she is successfully soldered. (Even though my nerves are frazzled!)
I need to buy a soft brass brush and tin shears tomorrow. The brush for cleaning up the jump ring and chain links and the tin shears to cut the tiny pallions.
I will keep practising on the chain tomorrow. Too scared and incompetent to attempt to solder the snake tongue just yet.
When I get better at the links and jump rings I will dive in!!
…
Laughing at myself: I have not started the soldering yet, even though I am hellishly excited about having gathered together all the equipment I needed in the space of a few weeks!!!
To procrastinate I sat at my desk and tidied it. Put a new stationary tray down in the drawer and carefully lined it with non-slip rubber matting. Labelled a few items. All things that were not important!
Funny Tanya! But when the soldering happens, tonight or tomorrow I have a feeling it will be epic. So I need to be in the right mood/vibe on my psychedelic uplevelling dream!!!
…
I bought a cheap crock pot brand new in K mart for $25. Also the pickle and the solder paste.
Everything is ready for me to start soldering. Yayyy! (Breathes!). I hope I can do it!
Update 2022:
Still gaining mastery with my soldering but not as terrified of failing at it as I was a year ago :-)
21 April 2020
I got stuck on Ancestry.com for several hours. I discovered my mother's half sister's death certificate which confirmed she died in an air raid shelter. (Actually stated attack by enemy!) but I had her as dying in 1943 but it was 6 September 1944! She was 36. I had thought she was only 23! So wow!
Poor woman never married or had children. It was assumed by my mother that she was a lesbian. That might explain why she never married. Hmmm. She was beautiful though.
Anyway now I am utterly exhausted from the mental strain of trying to find more ancestors. I got a 2 week free trial but did not find anyone new. Hmmm. Also really hard to read all the German and Polish documents to work out if they are the right family members.
So I saved quite a few that looked promising but will have to go over it a bit more carefully or it all gets muddled and someone will no doubt scream at me if I accidentally put mis-Information.
Fortunately my cousin of Blessèd memory Robert Ivan Phillips did the entire Phillips family so I don't need to tweak much on there. But he must have blocked me from changing anything on the Extended family tree (or it's an Ancestry glitch!!!) so I updated some new info on the original Phillips one then wrote a note to the person who contacted me, that I can't update on the Extended family one.
What can I say?! It's a hobby!
21 April 2019
So, funny story from last night: Lana who caused me such suffering for 4 years, harassing, stalking and gossiping with utmost vicious lies about me, turned up at the casino last night. I just ignored her as she is a very warped individual and there is nothing anyone (not even the gods) can do about her now.
But I observed with wry amusement as she stood between the two tables and attempted to curl her lip up in her characteristic evil impish sneer which is supposed to terrify me but just makes her look childish and malevolent and utterly stupid. (Interestingly my father used to also make this face often!)
Anyway I just stared at her blankly as she is not a person of any kind of moral calibre and not even worthy of being called human. So you can imagine my surprise when Lana could no longer lift her upper lip quadrant in her basic sneer but instead her mouth twisted sideways like it was being pulled agape. Too much Botox, Darlings.
So The Tanya is reminded that her decision to grow old gracefully is a meritorious one. Also a reminder to own your own Bitch-face. Both of them.
I was surrounded by genuine beautiful loving friends so the few enemies in the room held little sway. That is how you know you have triumphed over your own pestilential horrors. When you continuously rise and shine in the face of adversity and poorly glued-together humanoids.
But lest I descend into their morass of putrid ugliness I must remember that my beauty (my aging wrinkling face) comes from a Higher Power and slatherings of Revlon foundation/Nude mineral powder, lipstick, eyeliner, eyeshadow and glitter and is just as manufactured as any woman determined to thrive.
It's all razzle dazzle, Bitches and it all ends in smoke and ashes! Until the next Shining, oh blessèd ones.
…
I had a gorgeous time last night. Maybe it was moon madness. Maybe the gods smiled on me. There was so much love in the room and even though some vicious ex friends and the woebegotten former lover that I still love so much showed up to have a little stare, I rose above it and shone in my own radiant light of joy, freedom and integrity.
It was quite magical and beautiful. I feel very protected, loved and blessed.
Thank you to Karen, Catherine, Richie and Moana, Jo and Tichsia for your collective sweetness and awesomeness. I love you!
…
My Spirit Bird!!!! A big thank you to my beautiful Sally who blessed me with so much chocolate this Passover as she knows it is one of the few things that reinvigorates my spirit with joy/bliss and that satiated feeling of angst guilt that contributes to my Hobbit rotundness. (After devouring several blocks of chocolate I have to get over the guilt as I am never gonna eat just one tiny piece!)
But joy. Chocolate is joy and a gift from Quetzalcoatl to the humans across the globe, spread far and wide by Lindt and Whittaker's, Cadbury and Nestle. Opiate of the masses. Love it a lot!
…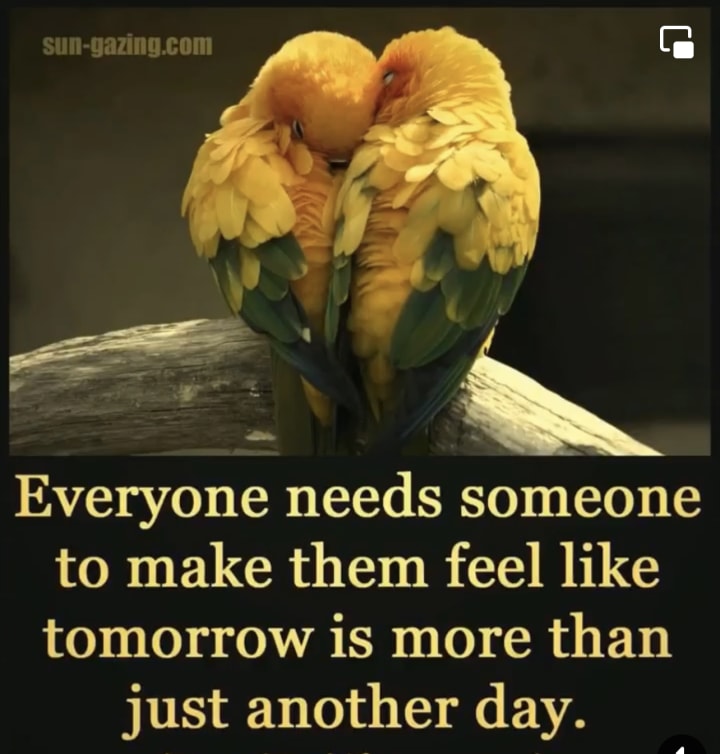 21 April 2018
Last night I finished watching The Alienist (excellent show about a forensic psychiatrist in 1896). This evening I have started watching Charité which is the same famous hospital my grandmother was born in (her mother was unwed and had to work off her "confinement"). Interesting. It is set around the same time period.
A character in Alienist is called John Mohr which was the adopted name of a long time former friend of mine. The universe is confronting me with old friends and the Ancestors.
Tonight my gorgeous friends and I will check out The Elephant. Been a while since we went there. No idea what band is playing.
Terina and I have a possible venue for Club Amazonia! It will be in Qualtrough Street, Woolloongabba.
I imagine we might organise our first gathering in one month's time. I will advertise when I know final arrangements.
…
Sitting out in the morning sun, accosted by midgies/sandflies/tiny flying vermin. So I now have an opportunity to roadtest my new dettol smelling bug spray. Man I stink. Bite me, Motherfuckers. Go ahead I dare you. I wouldn't even nibble on myself right now!
Sometimes going alternative lifestyle and saving the environment is stinky!
PS already covered in bites and itchy as hell!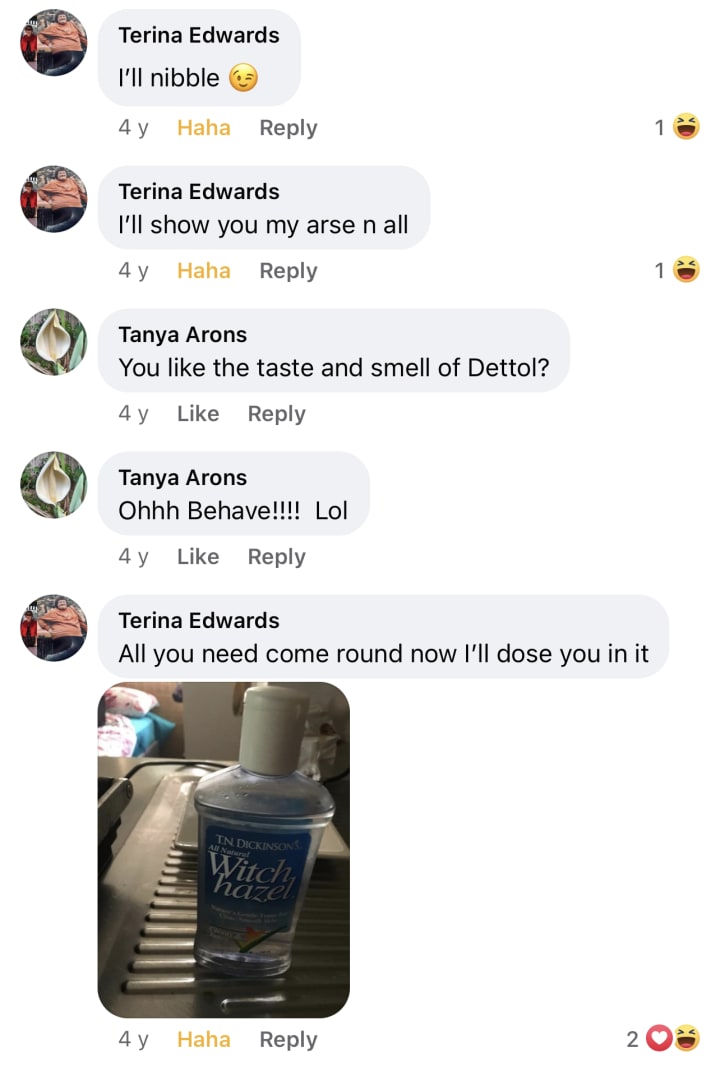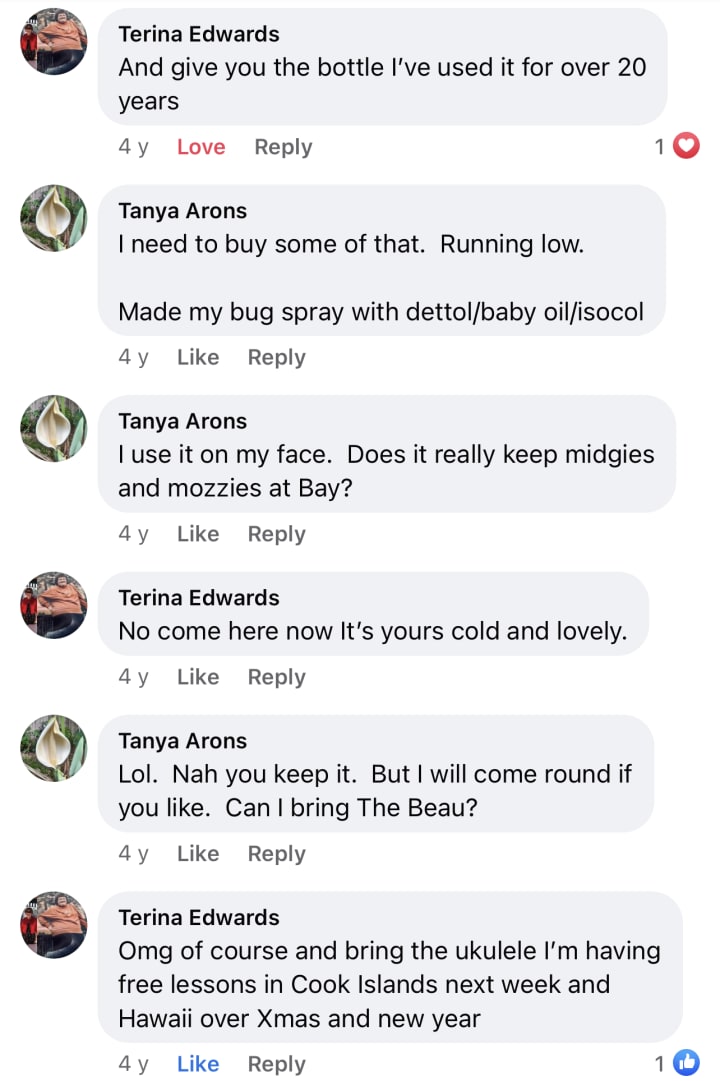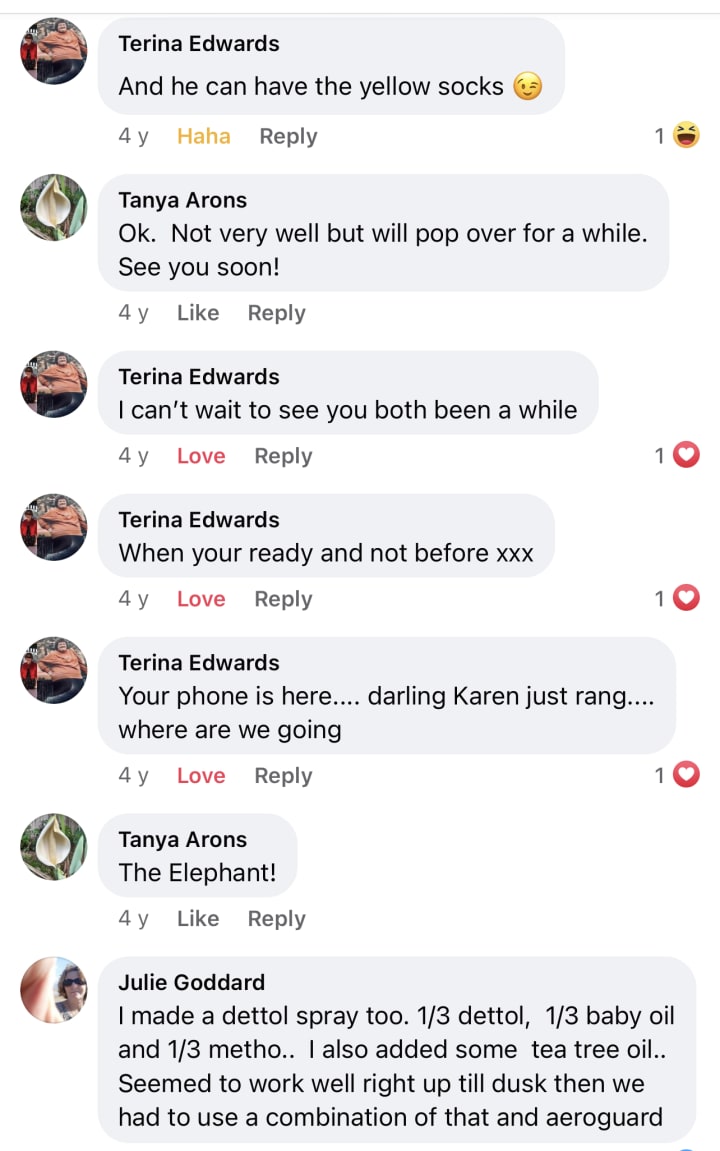 …
Yayy! Alter egos @ The Elephant! Rock on!
21 April 2009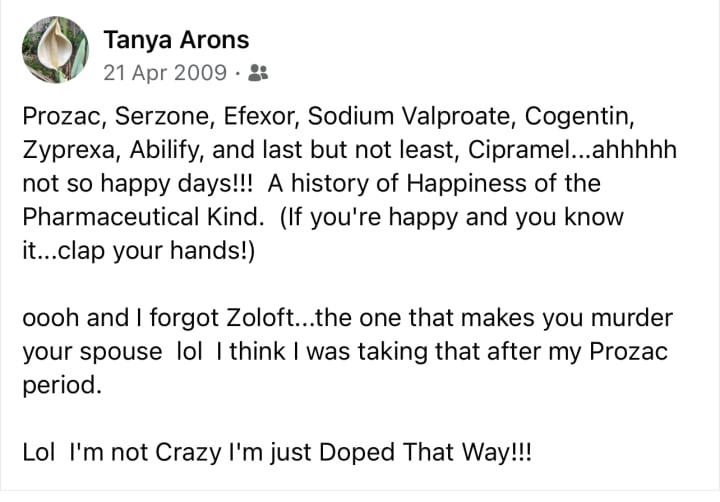 Update 2020:
9 months after my suicide attempt, I finally weaned off all psych meds on 3 June 2016 (which coincided with a full blown manifestation haunting from David Davidson!!)
Almost 4 years later my mind is much much better. Psych meds did nothing for me but make me hugely fat, shuffle and I was just as depressed and sick to my core as ever.
Even my psychiatrist (who had been reluctant to allow me to wean off my medication) was impressed with how well I coped and how quickly I recovered.
I did endure 3 summers of teeth and nerve pain and the last few years pain with the gallbladder and the last year asthma and recovering from gall bladder surgery (which was unnecessarily traumatic as well due to systemic abuse in that filthy fucked up hospital!!!)
But I am getting better and stronger so I pray that my life will finally get better and I will overcome most of my health struggles.
Maybe life will blossom exponentially when I am fully recovered. Maybe I will finally find love and thrive in all my own undertakings. Maybe life will be kinder and sweeter. Maybe my "tribe" will surround me with love and blessings and if necessary protection
Maybe my life will finally serve some higher purpose that is beautiful and blessed and peaceful.
Maybe it has already begun... The Becoming. I had a rough start to life and an even rougher metamorphosis in recent years.
Update 21 April 2021:
Zombie...zombie...zombie....so glad that 12 years later I have been free of all psych meds for close to 5 years (on 3 June!) and I am waking up from that long horrid holding down pattern and opening up to all potentialities and blossoming on my personal tree of life (more like an over-ripe fruit ready to explode to leave her delicious creativity on starved ground for new life to issue forth).
A new life for me that is prosperous, full of joy, peace, and true authentic life-affirming love! Surrounded by noble decent loyal friends, family, associates and my dream of a life partner.
Well I already have the most gorgeous friends, and am finding my tribe of other artisans who support me and vibe with me and the love-life partner might still be out there somewhere (even in the next dimension) and the joy is here with me now. Punched into my kintsugied heart because I made it myself. Trademark Tanya Desiree Arons. Strong and fierce and sublime.
Copyright Tanya Désirée Arons
About the Creator
I write about my life experiences. I write about complex ptsd, the agonies, the angst and my post traumatic growth. About Beauty, Truth and Honour and little vignettes of comfort from the spirits that love me: living and dead. I also Dance!
Reader insights
Be the first to share your insights about this piece.
Add your insights