Media Buying: A Calculated Strategy You Need to Gain Efficient Results
What is Media Buying?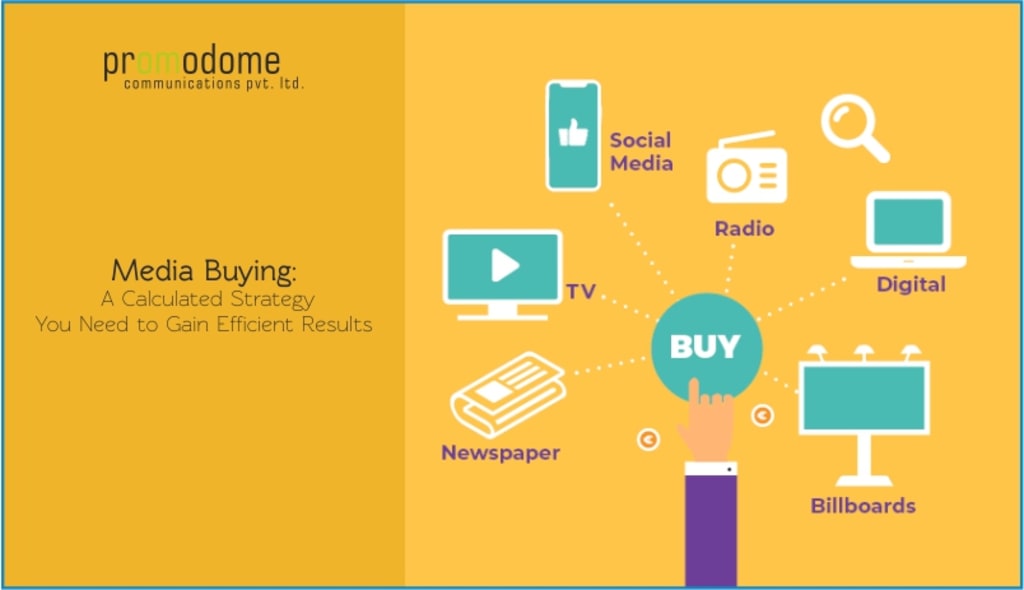 Media Buying Agency
How well are you spending your advertising budget? It is possibly the most common question about the advertisement that becomes impossible to answer for most of the brands. Do you know that the success of your advertisement depends upon your media buying strategy? So, do you have one? This article is all about it. Let's know more about it.
Media buying is not simply about buying space for displaying your advertisements and doing brand promotions. In today's competitive environment, it has become more important than ever to have a definitive strategy to get maximum value out of your advertisement investment.
Media buying has become more of digital advertising, which implies having a creative idea displayed on a website or any other advertising network with the purpose of increasing brand awareness in the digital world. The brands are leaving no stone unturned to do it right. What else could be a better option than hiring a professional media buying agency to manage everything?
However, for successful media buying, there should be a defined strategy in order to reach the right audience with a clear message and of course at the right time. Still, there is no formula to know exactly how things would work. If you want to track your progress towards success then you must take these things into the consideration while buying media. Here is all you need to know:
Things to Consider for Having a Calculated Media Buying Strategy
Know Your Audience
Before you get yourself into anything, know your audience or the people you have been intending to target with your advertisements. It is not just about what they want and where they prefer to shop. You need to gain deeper insights into what values them the most so that your brand message reflects the same values to them. By identifying the right audience, you will be able to make the most out of your ROI.
Set Some Realistic and Measurable Goals
Determining goals will provide your campaigns a direction to move ahead. Also, you will not be able to find a better way to monitor and refine your marketing strategy for results. With all your observations you can implement the findings on your future campaigns. Since the marketing realm is extremely dynamic, you should work with S.M.A.R.T (specific, measurable, achievable, relevant, and time-bound) goals.
Keep an Eye on Everything Your Competitors are Doing
If you think that spending a lot of money would bring you the best results from your media buying strategy, then you are absolutely wrong. There is no point in running advertisements in front of an audience that does not even care to look. Analyze your competitors and know what they are doing to reach the same audience you have been targeting. You will get an indication of where you could get the best ROI.
Plan Your Budget Carefully
As you start evaluating different options for media buying, make sure you are keeping track of your budget as well. It is recommended by professional media buyers that you should always begin by figuring out how much money is needed to plan things efficiently. With this plan, you will be able to narrow down your options and prioritize the ones that provide the best ROI.
Determine Your Product, Brand, And Value Proposition
These are the most essential factors to weigh in on your campaign. Your investment in branding will only be worth; if you're content has the substance it takes to capture the attention of your audience. If you are clear about your product, brand, and value proposition then it will become easier to craft the right message that speaks for your brand.
In the End…
Creating a multi-purpose media buying strategy is not an easy task but by taking these things into considerations you can do a lot better. How do you feel about hiring a professional media buying company for this? Here is the solution:
Do You Need Professional Assistance for Your Media Buying Strategy?
Are you looking for professionals to make the most out of your media buying investments? Promodome Communications brings you a skilled team of media-obsessed professionals who are always available to assist you with your campaigns. As a leading media buying agency in Delhi, their experts render the best solutions that are perfect for your brand and come right in your budget. For more details visit the website today!