Maximizing Cost Efficiency: Top Cloud Management Tips for High Benefits on a Budget
In this article, we will see the highly beneficial cloud management tips that are economical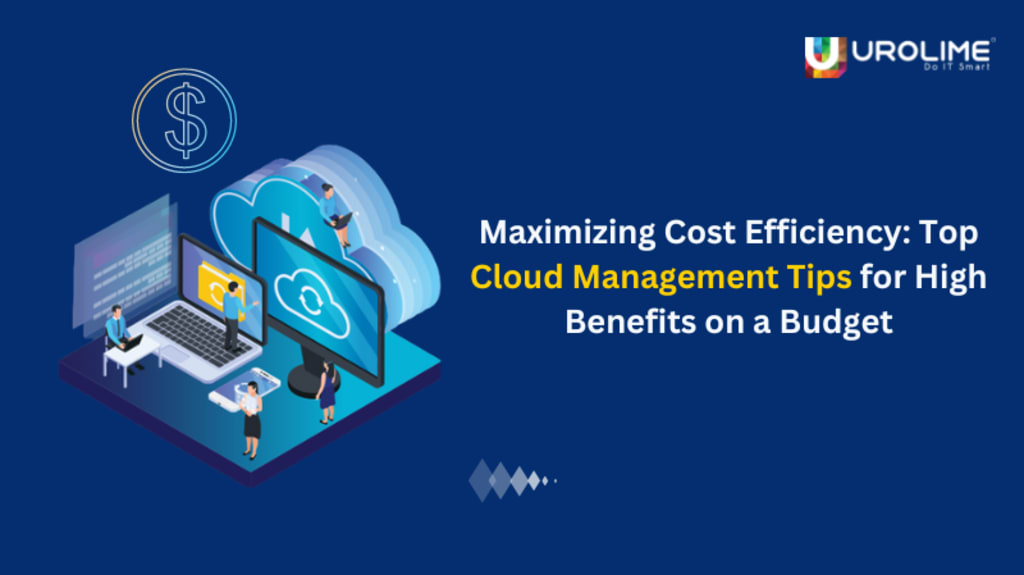 Many studies and reports around the world reveal the importance of cloud adoption for businesses. Cloud has become "business as usual technology" for many despite verticals and industries. Receiving the best value and services from your cloud adoption requires knowledge about cloud management. Such intricate know-how can be obtained with an expert cloud consulting partner. Cloud, for large players always shows highly profitable as many companies use any kind of cloud services. Building your business case with the cloud requires good cloud management tips. In this article, we will see the best tips for managing your cloud resources.
Building your business case with cloud
Many cloud vendors; large and small exist and your business can choose any vendor as per requirements. Amazon Web Services seems to be the best player and biggest cloud vendor among many others such as Azure, Google cloud platform and salesforce. Cloud expenditure is growing and what is important is ensuring that business use of the cloud is secure, risk-managed and good value for money. In every cloud, cloud deployment proposes regulatory compliance risks as follows:
What is it being used for?
Where is your data stored?
Who is accessing it?
Do industry-specific regulations restrict your use of the cloud?
The importance of cloud management
Whether you are going to embrace the cloud or be in the cloud environment, staying on a budget is not always feasible. Therefore, having the best cloud consulting services to manage your cloud is essential. They can help you in formidable ways to reduce your spending on the cloud. With their expertise, it is possible to achieve the following key points.
Global scalability
Ease of use resulting in short time management
Cost efficiency - Understanding the cost of hosting services
Availability and business continuity - Managing replication at the resource level and at the service level.
Automated regulatory compliance - Due to the global nature of cloud computing, automated regulatory compliance should be achieved.
Support for SLAs with multiple objectives
The following concerns can be addressed with the help of cloud management by providing visibility and the ability to restrict or prevent the use of certain applications on the cloud. Cloud cost management tools help you stay on budget and on track when it comes to accrued bills.
Cloud Management Tips
Reserved spot instances
Procuring unused capacity on your cloud at a cost-effective price can be executed with a cloud vendor compared to on-demand rates. On the other hand, reserved spot instances help you save more as it requires to book a set of instances for a period of three years. For example, Amazon Ec2 Spot Instances is a great way to save ninety percent of money when it comes to capacity allocation.
Plan ahead your capacity
Cloud cost management becomes effective as you plan capacity in order to cope with the sudden needs of your businesses as well as a sudden increase in traffic. Besides, allocating unused resources also helps you reduce cost reduction. The autoscaling option is a real aid in utilising capacity. Identifying unused resources outside of operating hours helps you reduce and slash a lot of money. Many cloud vendors provide autoscaling options and using the best ones brings forth economical benefits.
Use virtual machines wisely
Dedicated servers can be easily used as virtual machines and container hosts. Slashing down the cloud cost is directly linked to container selection as it is a cost-effective asset for the cloud. For example, AWS lets you choose containers without any extra cost as the payment is made only for storage and virtual machines. Other cloud vendors, Google cloud consulting and Azure also provide containers and virtual machine hosting services of different kinds.
Serverless cloud computing
Serverless cloud computing is one of the best ways to reduce your cloud expenses to a great extent. Function as a service helps you replace servers as the function trigger on-demand while using the allocated memory defined by your business.
Summary
Cloud computing offers a number of benefits such as elasticity with the perception of unlimited resources, self-service, on-demand and automation. However, these benefits create new requirements for the management of cloud computing. On the clientside, cloud services have to be easy to use manage, perform well and be reliable. To have a competitive advantage while at the same time delivering services balancing the accrued bills for the cloud can be attained using the best cloud management practices.
About the Creator
Urolime is one of the leading DevOps consulting companies with a handful of experience in supporting customers around the globe in adopting DevOps practices.
Reader insights
Be the first to share your insights about this piece.
Add your insights