Home Office
Making Money Online: Is Swagbucks Worth It?
Is it worth spending any time on Swagbucks to try and make money?
If you look online for ways to make money at home, you are guaranteed to see Swagbucks somewhere along the line. It is one of the most popular money-making websites, and with good reason. They have a reputation for consistent payouts and frequent bonuses. There are loads of ways to make money on Swagbucks, but is it actually worth your time and effort?
Let's look at all of the ways you can make money with Swagbucks.
Surveys
There are a lot of surveys available on Swagbucks, but whether you will qualify for them is a different story. It does depend on the demographic that the survey is looking for but a lot of users complain that they are times out or don't qualify for enough. But, the truth is, they only need so many people, so survey spaces fill up fast and if you aren't quick, you won't get your chance. Also, surveys that only take a small amount of time but pay well fill up even quicker than normal, so get in there quick!
You will be kicked out or not credited occasionally, that happens, but it's also why I don't go for surveys that take more than 15 minutes on Swagbucks, so I am not wasting my time.
Videos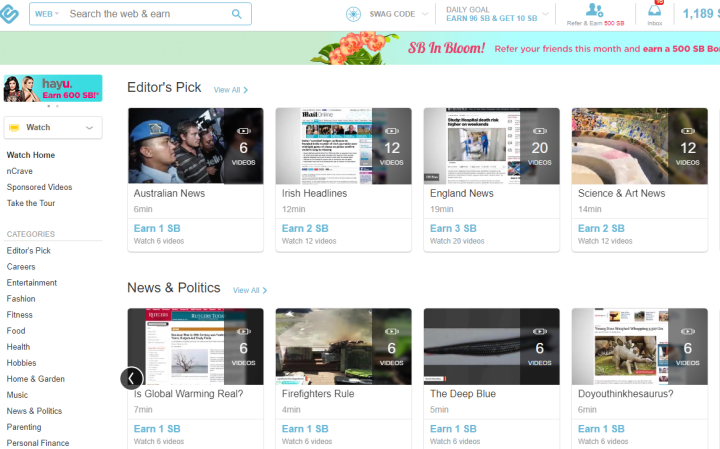 I use all of the video apps available as well as watching videos through the "watch" channel on the website, I tend to stick with ncrave, as the regular videos don't always run smoothly and you will often get a message that the video isn't supported. It's easy to make 60 Swagbucks a day with the apps alone; it will take a while, but it is mostly passive so it's always worth it.
Offers
This is a section of the website I try to avoid as the offers very rarely credit without you having to contact the provider, the ones that are directly from Swagbucks tend to work better and credit more easily, but if they come from one of their "trusted partners" I tend to steer clear of them now as I get tired of having to provide loads of proof to still be told I won't be credited.
Downloading Apps
I have no interest in doing this as I did it once and it caused all manner of problems with my phone, so I don't do it anymore and I wouldn't recommend it to anyone else.
Cashback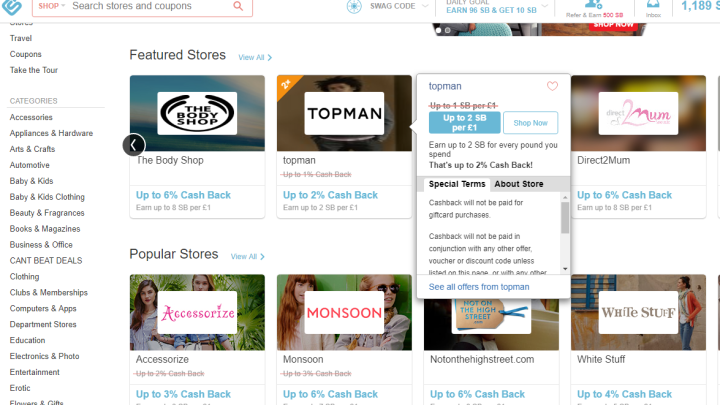 This is a part of the website I have never used (I really must try it) but there are thousands of places you can get cashback, so if you are planning on buying something from one of these stores, it's always worth a try!
Search
Don't rely on this as a way to make money, and always search things naturally as you would anyway, people have had their accounts suspended for searching too many terms with the search bar trying to make money.
Games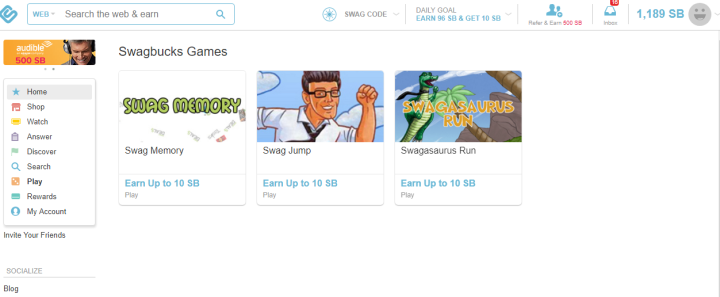 Apparently you can make money playing the games, I never did, but apparently it can be done, I guess perseverance is the key. The games are fun but there is no guaranteed payout with them, so I don't bother with them anymore.
Tasks
The tasks are via Crowdflower, but you need to sign in to your Crowdflower account, so you can only do each task through one website, so if you have done it on a different website, you can't do it on Swagbucks, it's a violation of the Crowdflower terms and conditions.
Payments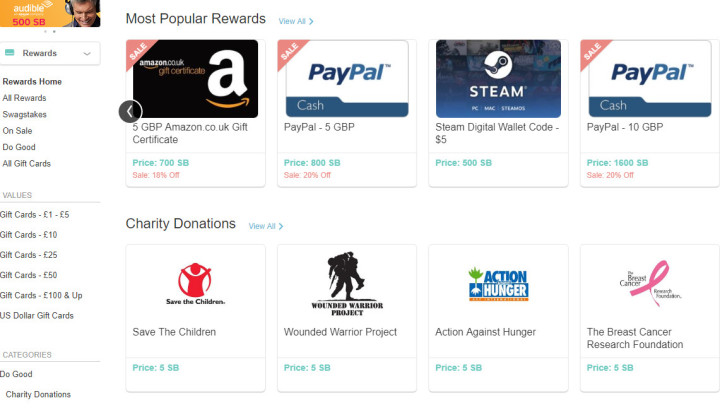 Swagbucks pays consistently, and you can choose from a number of rewards in the form of gift cards or PayPal cash, be advised that PayPal cash is one of the most expensive things that you can buy on Swagbucks. Amazon vouchers are a lot cheaper.
Is it Worth It?
Yes, just about, you won't make a great deal of money, but you will make money for very little effort which is always good. But Swagbucks is like anything, the more effort you put in, the bigger the rewards will be.
product review