Lights in the Dark...
A Revamped Version of 'A Thing For Writers...'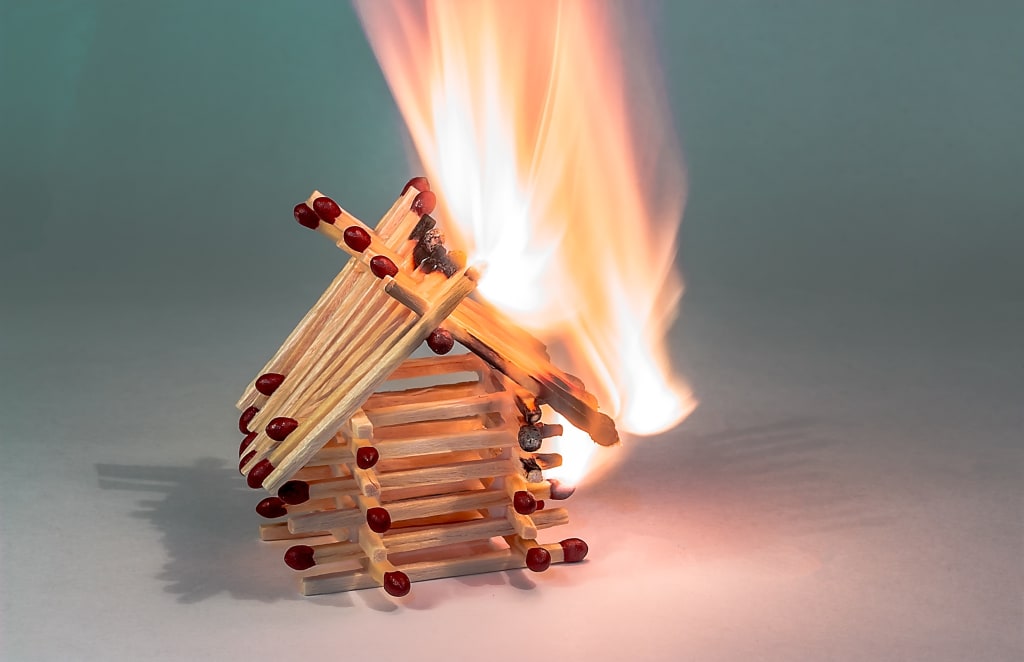 Burn, witch, burn...
Most people have no clue what they want to do with themselves. In my current state, I would have to agree... well, mostly. The other half knows exactly what to do, while every other piece seems to be scattered everywhere. I'm not sure how it all fits together, but I know they all form the same picture. As a kid, I was an imaginative story teller, which was probably fueled by growing up in the mountains outside of San Diego. I began with little comic books, and after moving to the East Coast smack in the middle of junior high, I drowned my adolescent despair in books. I had always been an outcast, but there seemed to have been room for even the most unpopular individuals where I grew up. The East Coast felt differently; they wanted to remind me that I wasn't welcome. So I spent a lot of time in libraries. The silver lining was that books held the answer to my feverish imagination, awakening what I can only refer to as my purpose to be a writer.
With most things, however, life turned out different for a time. So I fell into trade school, going for cosmetology in the hopes of having a job to feed me while I didn't hate myself for joining the rat race. I was amazing in beauty school, graduated with flying colors and entered the unimaginable workforce that beauty school doesn't quite prepare you for properly. After trying four different salons and salon types (I even switched to barbering), I realized most forms of customer service and salon type work just wasn't for me. Still, I had no way of really existing in the cosmetology arena. While in school, I was using my days off and nights to work on a novel that had been brewing in my skull for years. I was cast aside with unanswered emails, then rejection letters that acted as though they barely read my novel at all. Like many emerging writers, I couldn't even tell you the number of publishing houses, agents, or magazines that I had queried.
I was very near giving up; it had been about four years already of shopping it around. My confidence in it was depleted, at least temporarily. My boyfriend encouraged me to keep working at it, acting as my in-house editor at times. Then, I found an old short story I had written in high school that had generated interest among the instructors. My English teachers were in awe of it, passing it around and securing my A plus.
After reading it for the first time in over a decade, I updated the narrative, deciding to send it off to magazines known for publishing short stories. I received my first semi-positive response from a woman who seemed beyond excited about my story. She advised me on what to clean up, clarify, etc. By the time I finished, it was no longer a short story of thirty pages, but a novella consisting of one hundred and thirty-four pages. Needless to say, I was over the moon and so was my boyfriend... Then, our house in the city caught on fire, melting the entire exterior and forcing us to quickly relocate. I had no no choice but to quit my barbering job, which frightened me. My boyfriend suggested I forget about it, as I was miserable at my job, always stressed, tired, without seeing any sort of compensation or even gratitude from my superiors.
"Why don't you focus on relaxing, and your writing?" I couldn't believe what I was hearing. No one ever, nor ever would suggest I do such a thing. But he insisted, and nervously I did just that. After all, I had nothing to lose; why not? Before the fire consumed my home, I fumbled with debts, bills, a job I hated, fair weather friends, and mountains of stress that had me wondering if I would ever attain my dream. If I would ever be free of the life I wanted to leave behind. Now, I suppose most people would ask, "Well, why weren't you prepared for something like that? Why didn't you have anything saved?" Again, like most twenty-somethings and early thirty-year-olds, the generation before us wrecked the economy while ensuring us as children that we could do anything if we went to college. Not entirely true, however. Nowhere in the U.S. can a someone afford a two bedroom home on an average Joe salary working 9-5... the world just isn't that way anymore. Like most people of my generation, hell, most Americans, I'm struggling.
Once we had completely unpacked what was necessary in our temporary home, I informed my editor of the progress of my work. Out of nowhere, her tone changed, and she smacked me with a surprising "charge," while also telling me there would be no compensation whatsoever for my work. I was devastated, but after a few hours of grieving, I picked myself up and kept going. I've queried over 35 (now 44) publishers and agents, with a few replies that may be rejections... but they are positive. Not only that, but these rejections do not reflect the total disinterest I had encountered before. Now, the agents are clearly reading the manuscript and that in itself is important.
As a current starving artist, former "model," front woman, and disinterested hair stylist and lady barber, I let the fire consume my whole life so that in the end I had no single place to turn to other than my laptop and several abandoned (or forgotten) manuscripts. The lesson in this piece, I suppose, is to look for the light. Nothing has gotten easier since I lost my home, and there are days where I feel so dark that I don't even have it in me to write so much as a Thank You note. Yet, sometimes you need to let the fire consume what is holding you back... and keep going. You can only go up from the bottom, and you can only wait out the storms. Nothing lasts in that sense, everything comes full circle...
But don't you dare give up.