Home Office
Life Is Better when Working from Home!
Pros/ Cons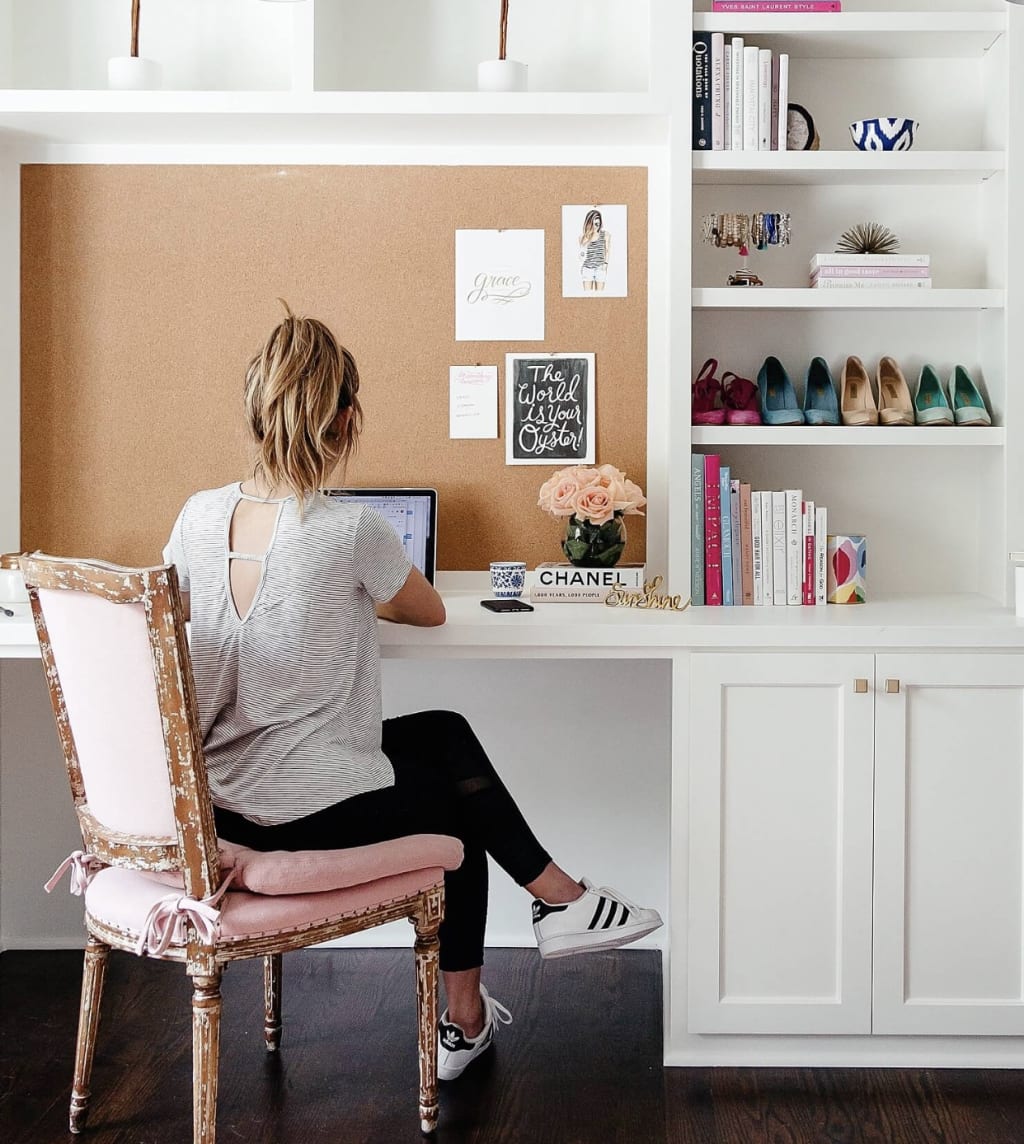 The transition from working from the office to my home was one of the best things that could have happened! Imagine waking up everyday, in your house clothes and signing into work without traveling anywhere. AMAZING!
My old commute took over my life. It took me an hour and 25 minutes just to travel to and from work. Then I worked an 8 hour work shift. Don't forget about how early you have to wake up before the commute. That is a total of 10+ hours taken away from me each day for five days, every week!
So far I have been doing customer service from home for a few months now and saved so much money. I no longer have to spend money on transportation or food everyday. On my lunch break, I just cook something to eat. I also realised that this method helped me eat better because I rarely get fast food now. I even have time to squeeze in a little laundry and cleaning, along with watching Netflix and TV all day. I get to do all the things that people will normally have to do on their off days.
Working remotely also allowed me a little more time to focus on my personal dreams/hobbies. Now on my off days, all I want to do is LEAVE my house. I signed up for more acting classes, and was able to squeeze in time to do background work on set. It is really exciting because I get to focus on me more, and get to live a more comfortable life.
I no longer have to be in a office with fake people! Literally, I do not have to see anyone, or a fake smile in anyone's face. This is the best part! I can just stay to myself and deal with my co-workers via Hangout (chat). Also if you are feeling ill, you can still work, curled up in your bed. No more losing money from calling out.
I can feed my cat and walk my dog on break. Your pets will no longer have to be alone. You can Facetime your friends/family on your downtime, get up and stretch, dance, do anything silly that you can't really do in the office. Also, you'll never miss a package delivery again!
You no longer have to get up and get dressed to leave the house early in the morning. You can work with the messiest hair and wake up 10 minutes before the start of your shift. As long as you set your alarm, you won't ever have to worry about being late again!
However, don't be fooled... there are a list of cons.
Working remotely can make you extremely lazy, and you may gain a lot of weight. Just think about it, you are no longer doing as much movement as you normally would. Even if the only exercise was commuting back and forth, it was something. Here's a way to solve that—get a gym membership like I did!
After a while, working from home gets a little depressing, only if you are not a home body like myself. I actually did enjoy being out and about, and going to happy hour with my co-workers after work, having conversations with them, and gaining advice from others. Most conversations actually made the time go by much faster.
Now I feel stuck in my room, and if you have no place to go after work, you are pretty much stuck at home day in and day out. You don't get excited to see your bed after a long day, because most likely you were in it all day. My advice for you not to feel stuck after your shift is to get out! Go to the gym, mall, visit a friend, do anything to get out at least for a little bit. As tempting as it is to sign out of work, close your computer, and turn on Netflix, just don't!
Other than that, I can't really think of any other cons.
If you normally have a loud household, then working from home wouldn't be the best choice. Other than that, if you can find a job where you can work remotely, then I totally recommend it!