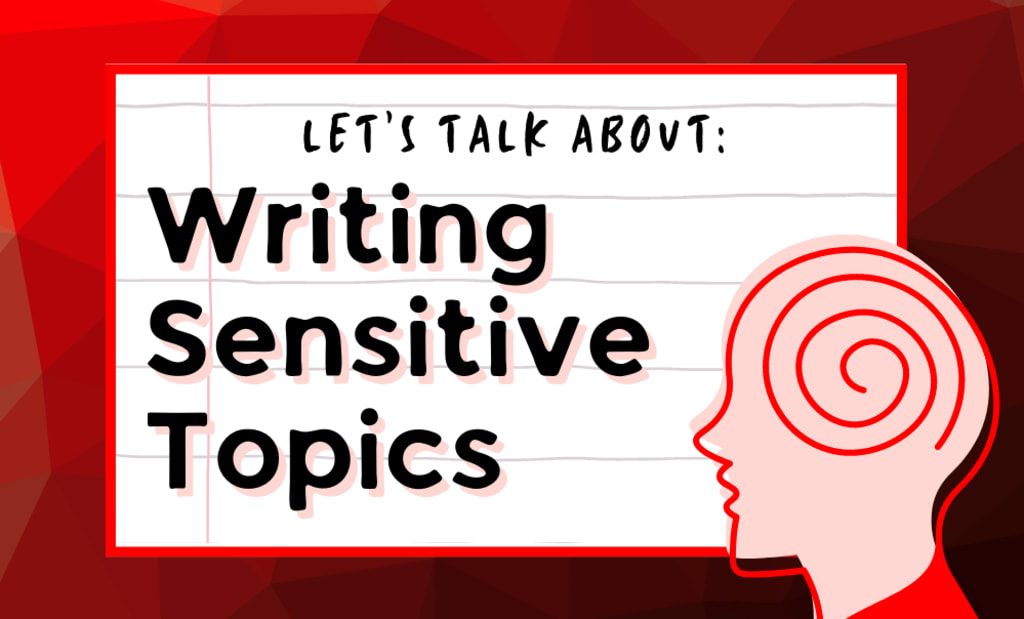 It may be daunting to explore sensitive topics for your writing, especially those you may not have much experience with. If you are looking to include sensitive content in your work, this journal will help you understand how to navigate the process (researching, writing, etc.) and why these approaches are important.
Related: Let's Talk About: Writing Light-Haired Villains
What are Sensitive Topics?
Sensitive topics are those that require a more careful approach to discussion, typically due to heavy subject matter (ex. emotional, social, societal, etc.). This may vary depending on the person and/or maturity of the subject itself, among other factors.
Talking about these topics often requires a different tone and attitude than subjects with less sensitivity. Personal connections to a topic (both intrapersonal and interpersonal) tend to greatly influence how sensitive a topic is.
Examples of Sensitive Topics
Common examples of sensitive topics include (but are not limited to):
Violence
Abuse
Racism
Sexism
Homophobia
Sexual content
Be aware of how sensitive you are being in your writing if your subject matter involves any of the above categories.
Should I Include Sensitive Topics in My Writing?
Not all writing needs to have sensitive topics in it to be engaging or well-written, and that's okay! Depending on the overall goal of your writing, this material can enhance your work, but it can also hurt it if your approach to the sensitive subject matter is less than ideal.
When deciding whether or not to include sensitive topics in your writing, consider the purpose behind it. For example, will this topic help to inform others of a noteworthy cause? Does it contribute to a broken character?
You, the writer, are also to decide how comfortable you are with handling the subject matter. If you feel the job may not be for you, you can always pivot. Writing is a process, after all, and you're rarely stuck to just one idea.
What are your thoughts on exploring sensitive topics for your writing? (Via @lynmri on Tiktok)
How To Research Sensitive Topics For Your Writing
Always go into your research with the right intentions and mindset. Having an open mind will help you to better understand your topic of study and will help your writing to become even richer.
When you go to research, deeply consider what makes your topic so sensitive and how incorporating your findings will help support your intended narrative.
Dos and Don'ts of Writing Sensitive Topics
DO:
Organize your research and thoughts.
Pro tip: outlines and notes are a great way to sort your ideas and the place to go when you're just easing into things and starting to process.
Include content and/or trigger warnings where necessary.
Using a content warning (CW) and/or trigger warning (TW) to label sensitive content in your writing lets readers know what they are getting into—and it gives them the choice to engage or disengage.
Work with a sensitivity reader.
A sensitivity reader reads and reviews your work, specifically looking for instances of misrepresentation, stereotyping, bias, and more. Working with a sensitivity reader is a great way to ensure your writing is accurate and informed.
DON'T:
Sometimes your addition of sensitive content can be irrelevant to a story's plot, let's say—or just downright unnecessary. In these cases, it's best to just leave it out.
Generalize or jump to conclusions.
No two experiences from any group of people are exactly the same, so avoid general assumptions. Instead, focus on how the sensitive topic you are writing about fits more specifically within your work.
Be aware that some stories are not yours to tell—rather, they belong to the less represented, misrepresented, directly affected, etc. If anything, you want to amplify these voices as much as possible, not push them down.
Got your own tips and tricks for writing sensitive topics? Share them in the comments!
Reader insights
Nice work
Very well written. Keep up the good work!
Top insight
Expert insights and opinions

Arguments were carefully researched and presented
Add your insights