Let's Know About the Reliability and Simplicity of IBM AS400 iSeries
Is IBM's iSeries the right choice for your organization?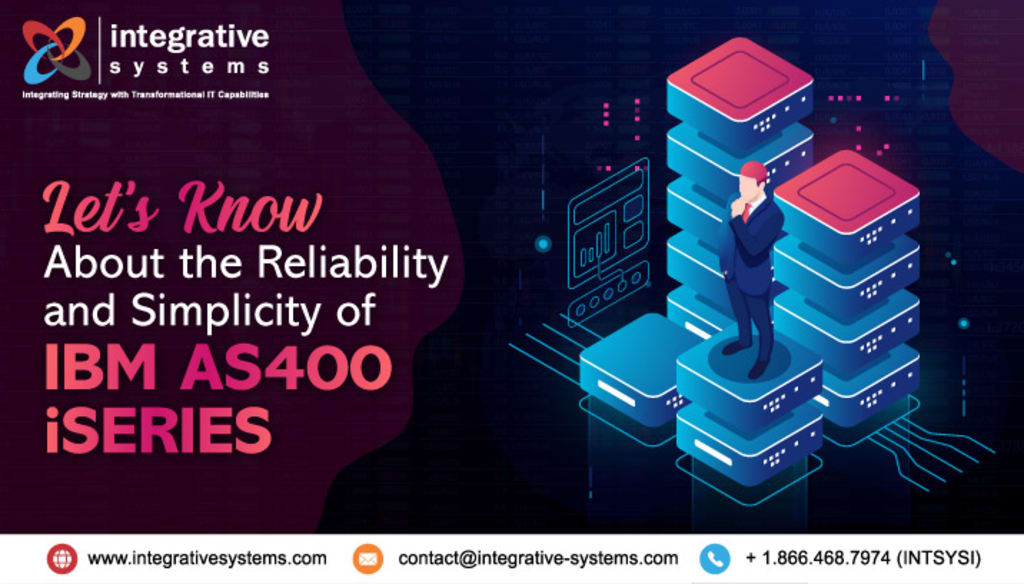 IBMi and its predecessor like IBM AS400, have earned a reputation as a strong operating platform throughout the business world. Over the years, this popular and reliable operating system, consisting of integrated and reliable hardware and software, has been seen as a relatively closed system that can be protected from intrusion and external threats.
As the platform evolved in response to IT infrastructure and networking changes, new functionality and connectivity gradually began to build into the core protection at the heart of the IBMi platform. The growing need for compatibility with Windows-based networking poses the first significant challenge to meeting IBM as400 security, although it retains its flat virtual memory model and object-based architecture.
Reliable IBM AS400 iSeries have power.
Those who work with IBM AS400 iSeries know that they are exceptionally reliable, especially the x86 server.
We know that IBMi's uptime is too high.
According to a Google search, we got to know that 99.99% to 99.999% of server has a downtime of 5.26 minutes per server. But IBM POWER9 goes a step further and offers only 1.75 minutes of downtime per year.
Of course, these are compelling statistics.
What about Some Anecdotes?
Let's have a look at two examples.
A company in Wisconsin had a disk and memory. Their disk and memory failed. But did the system crash?
Heck, No.
RAID array storage stays alive until the failed disk is replaced in one day. The server slowed down a bit until the memory changed.
In another incident, a company in Texas loses a disk unit. Has the system stopped working?
Heck, No.
The RAID array keeps the storage alive, and the cache battery failure notification is a 60-day notice. In other words, this company has two months before the cache battery runs out entirely.
So basically, IBM iSeries delivers specific error messages that need to be fixed.
How great it is!
IBM rarely has downtime. And when that is likely to stop working, IBM will tell you exactly what to fix.
This is a better way to restart your desktop or server than "Control-Alt-Delete."
As many of my readers know, our company provides cloud hosting services for IBM AS400 iSeries.
IBM can be Simple
Thus, we see another aspect of IBMi.
It is moving the entire system to a new server or hosting environment. At the highest level, we restore Save21 backup to a new local server or dedicated hosted environment and connect our clients via VPN.
So, we nod when we hear about companies that want to leave IBM AS400 for other systems. Those who choose to move to a different platform do not know the reliability and simplicity of their system.
As business owners, we understand that running a company is difficult.
For us, simplicity and reliability are the key factors we think about before we think about changing.
If we change, we need first to understand what we want to fix, why, and our options. We like to "watch before jumping."
It was not surprising for us to encounter companies that tried to migrate to different platforms that re-committed to IBM iSeries.
IBM i Users have Re-committed to IBM iSeries AS400
Here are some stories from customers who have re-committed their IBMi POWER system.
We have various clients in the USA and Canada. They are affected by the reliability and efficiency of the IBM POWER server that they are planning more of a basic system for IBM i.
Also, one of our clients has moved from the IBM POWER server to the Linux solution. After many years of struggle, they abandoned their Linux solution and re-committed it to their IBM POWER server. Even better, they've added e-commerce to their IBM server. Business is booming.
Another client is a regional airline. They intended to host their aircraft maintenance system for a few years until they successfully migrated to a Windows-based hosted solution. After years of struggle and estimating the potential cost of relocation, they exceeded expectations, after which they re-committed their IBM POWER system.
So, there's a lot to like about being reliable and simple at the end of the day.
Hope you have understood the importance of IBM as400 and how reliable and straightforward the platform is.
In case you have any other queries, feel free to reach out at [email protected]
Reader insights
Be the first to share your insights about this piece.
Add your insights