Just Because Something Is Online…
It's time people stopped taking credit for work they didn't create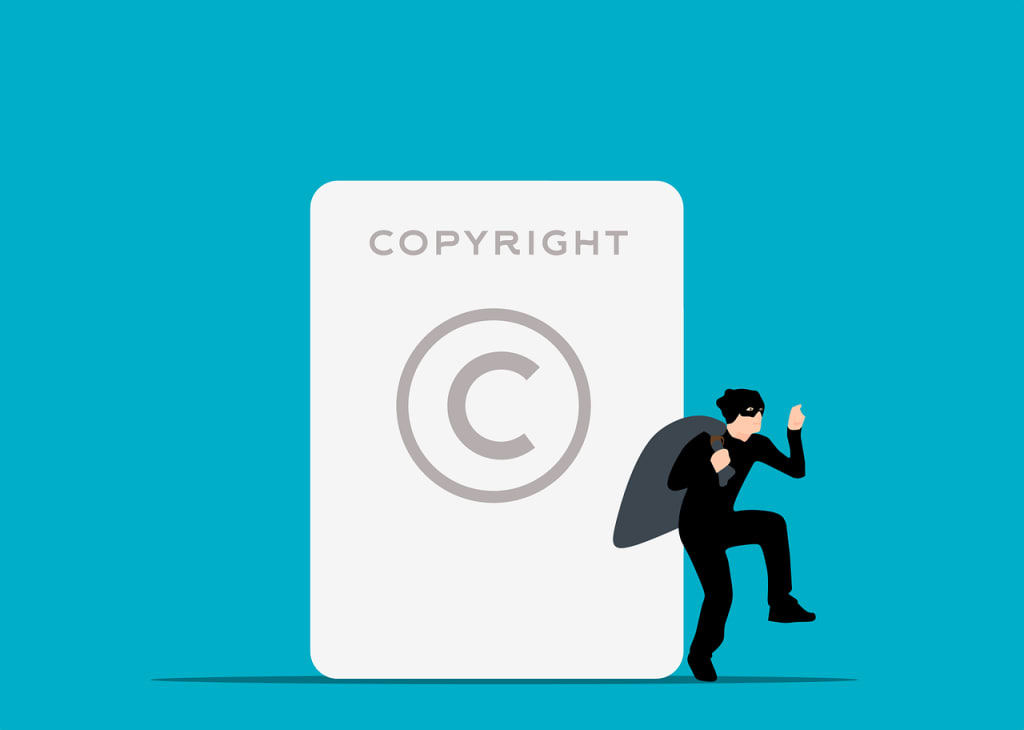 Image credit: mohamed_hassan via Pixabay - https://pixabay.com/users/mohamed_hassan-5229782/
As a general matter, copyright infringement occurs when a copyrighted work is reproduced, distributed, performed, publicly displayed, or made into a derivative work without the permission of the copyright owner. — U.S. Copyright Office
Social media is full of beautiful pictures. As a photographer, it's the perfect field of study for inspiration and improving my technique. It's also where many copyright infringement cases take place.
"I found the picture on Google Images. So I assumed I could use it for my blog post." "I'm not sure who took this picture, but I shared it because it's pretty."
Unattributed photos have been passed around without attribution for years on the Internet, especially on Facebook and Twitter. Even some publications are guilty of it. Or worse, those who use them sometimes claim ownership.
I know that many people are genuinely unaware that copyright laws apply to content created offline AND online. But others do it with full knowledge of the facts.
You should assume that all online images are protected by copyright. Then do your research to determine if the image you want to use actually requires permission. — 6 Best Practices for Legally Using Google Images (Copyrightlaws.com)
Almost anything published on the Internet receives automatic copyright — whether they sport the copyright symbol or not. Exceptions include non-recorded and non-written works (e.g. improvisational speeches or performances), titles, slogans, ideas / concepts, and content used from public documents. For a complete list, you can refer to this document.
Thankfully, there is Creative Commons. The site provides a set of six licenses for photographers and other creators interested in encouraging the reuse of their work:
Attribution (CC BY) — "This license lets others distribute, remix, tweak, and build upon your work, even commercially, as long as they credit you for the original creation. This is the most accommodating of licenses offered. Recommended for maximum dissemination and use of licensed materials."
Attribution-ShareAlike (CC BY-SA) — "This license lets others remix, tweak, and build upon your work even for commercial purposes, as long as they credit you and license their new creations under the identical terms. This license is often compared to "copyleft" free and open source software licenses. All new works based on yours will carry the same license, so any derivatives will also allow commercial use. This is the license used by Wikipedia, and is recommended for materials that would benefit from incorporating content from Wikipedia and similarly licensed projects."
Attribution-NoDerivs (CC BY-ND) — "This license allows for redistribution, commercial and non-commercial, as long as it is passed along unchanged and in whole, with credit to you."
Attribution-NonCommercial (CC BY-NC) — "This license lets others remix, tweak, and build upon your work non-commercially, and although their new works must also acknowledge you and be non-commercial, they don't have to license their derivative works on the same terms."
Attribution-NonCommercial-ShareAlike (CC BY-NC-SA) — "This license lets others remix, tweak, and build upon your work non-commercially, as long as they credit you and license their new creations under the identical terms."
Attribution-NonCommercial-NoDerivs (CC BY-NC-ND) — "This license is the most restrictive of our six main licenses, only allowing others to download your works and share them with others as long as they credit you, but they can't change them in any way or use them commercially."
Bonus license: CCO — "CCO enables scientists, educators, artists and other creators and owners of copyright- or database-protected content to waive those interests in their works and thereby place them as completely as possible in the public domain, so that others may freely build upon, enhance and reuse the works for any purposes without restriction under copyright or database law."
There is always a creator behind the content you find on blogs, websites, and social networks. Make sure you have permission before using their work and give credit where credit is due. And if you are unsure of the source, do not gamble with fate. You could be sued for copyright infringement.
For further reading: The essential guide to copyright by Ryan Williams (Red Points)
NB: This post was originally published on my blog.
Thank you for reading! What are your thoughts on the topic? Share them with me in the comment section below. You can also say hi on Twitter. I'm @haiku_shack.
---------------
Don't miss any of my future posts. Sign up for my newsletter here.
Interested in supporting my work? Click the "Pledge" or "Tip" button below.
About the Creator
Writer & Author⎜Photographer⎜Artist⎜Co-founder of Auroras & Blossoms / A Warm Mug of Cozy⎜(Co-)creator of literary forms
"The Train: A Short Story" is out!
Website: https://creativeramblings.com
Donations: https://ko-fi.com/cendrineartist
Reader insights
Nice work
Very well written. Keep up the good work!
Top insights
On-point and relevant

Writing reflected the title & theme

Easy to read and follow

Well-structured & engaging content

Expert insights and opinions

Arguments were carefully researched and presented
Masterful proofreading

Zero grammar & spelling mistakes
Add your insights