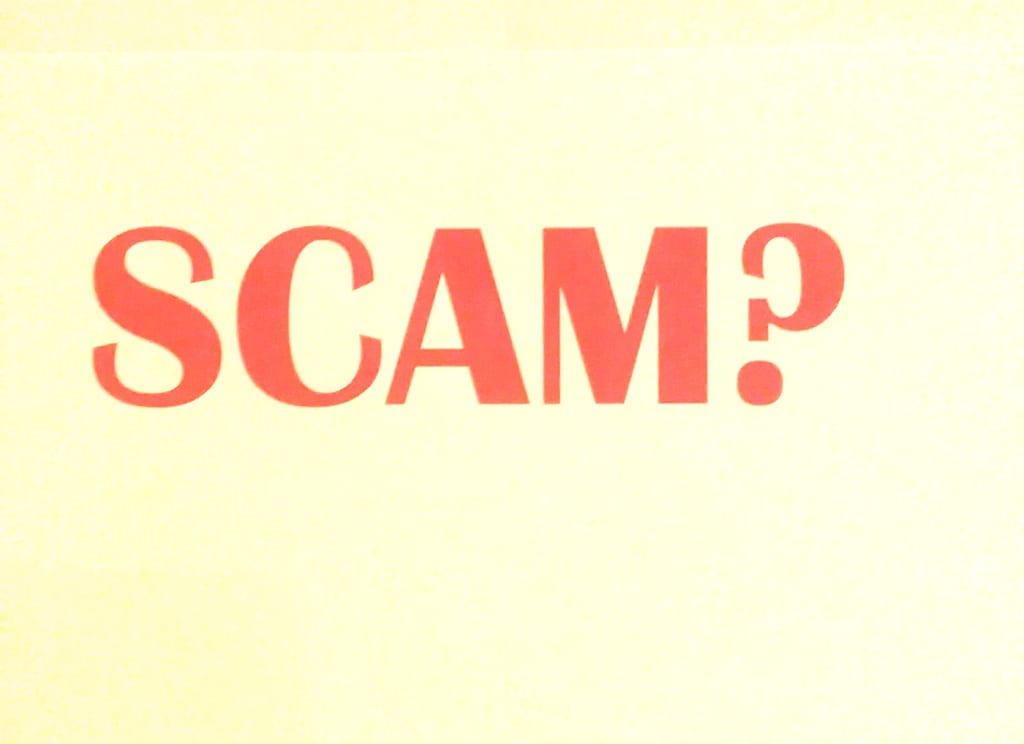 Scams have been around for a long time. Some are well-known, like the Nigerian hoaxes, and new ones seem to be popping up all the time, but what they all have in common is that someone is trying to steal from us in one way or another. They ask us to send money, or reveal login or identifying information such as our social security number and banking information.
I recently discovered that the scammers of the world have entered the job market. Search "job market scam," "job search hoax" or something similar and you'll get lots of results.
We need to know about these scams in order to recognize them if and when we encounter them. But we also need to know what to do if and when we think we might be getting scammed.
Here's my story:
Having lost my job at the end of 2020, I've been looking for a job and using online job posting sites. One day during my job search, I saw an ad for a job (through a staffing agency) that I did not apply for since I did not have some of the requirements as posted.
A day or two later I got an email that appeared to come from the online job site, but from the staffing agency through the job site. It asked me to submit my application for the very same job I had not applied to earlier.
I thought it was a little odd, since I wasn't qualified, but submitted my resume anyway. A couple days after that, I got a phone call and an email from the staffing agency asking me what kind of job I was looking for, what pay range, hours, and location I was looking for, and asking me to give them a call. Again, this seemed odd, since I had applied for a specific position.
Despite my questions, or perhaps because of them, I did call and spoke to the woman who had contacted me. As she was asking me questions about potential future work, I told her I was confused about the process, and told her the story about not applying and then being contacted.
She said that she was setting up a video interview the next day for me with a recruiter who would explain what jobs they had available and that they would submit my resume for. That made sense. She also told me there would be some paperwork to fill out in advance of that.
I gave my permission to proceed, though again, I had a vague feeling of the whole thing being a bit "off."
That vague feeling became a big red flag when I got the link to the paperwork the company wanted me to fill out. It included direct deposit information, tax forms (which would of course include my social security number), and insurance sign up forms.
I didn't fill out the forms, and the morning before the interview I received a text message reminding me to fill out ALL the forms prior to the interview.
Remember, this was before I'd even interviewed for the "job" and I was being asked to provide banking and personal identifying information.
Just to make sure I wasn't being way too cynical and paranoid, I talked to two friends and told them this story. Before I even finished, both of them were saying "something's wrong with this picture," and "be wary."
As a footnote to my story, I cancelled the interview and told them I would not be rescheduling. Although I don't know for sure whether this was a scam trying to happen, or if this was a legitimate company recruiting in a completely inappropriate way, it's not something I wanted to be involved with.
So how do you know if a job posting—or a company—is real or not?
I did a little research on the topic after my experience, and found a couple articles that provided checklists to help you determine that, as well as some red flags.
Red flags include things like I encountered: being asked for financial information and to fill out new-hire paperwork prior to an offer and acceptance of employment; being contacted by a company, not in response to an application or contact by you. Others include being asked for money, and job descriptions that are extremely vague.
What can you do if you think a job, or a company, might not be for real? Look them up through the Better Business Bureau. Look for reviews (although who knows who writes the positive ones). Check out their web page.
Perhaps the most important thing you can do, though, is to trust your instincts. If you get a feeling something is not right, don't ignore it. Do some research, and protect yourself. Because unfortunately not everyone out there has your best interests at heart.
Trust your gut and look out for yourself.