Increase your IBM iSeries Customer Base Through Strategic Partnerships
Here's How Technology Partnership Can Be Beneficial for Increasing IBM iSeries Customer Base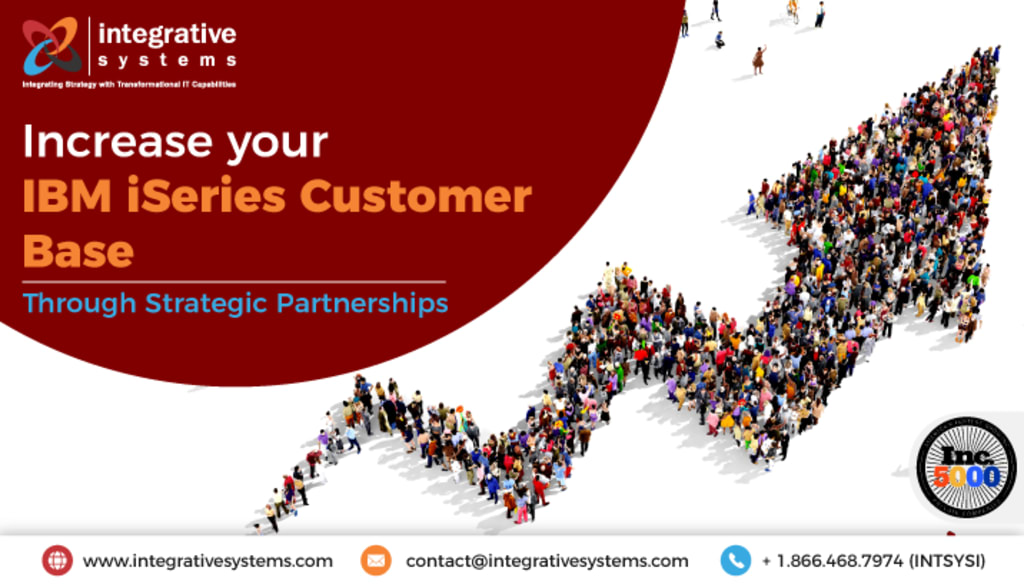 Business leaders have used information technology to improve efficiency and productivity, access new markets, and improve the supply chain. As partnerships form and businesses grow, support technologies can grow at an almost exponential rate. Many companies struggling with the software or services they used for so many days suddenly become obsolete, no longer supported, or unavailable for one reason or another.
The ability to sustain and grow your customer base is essential for any business. Still, panic can come quickly when expensive upgrades and unexpected changes are suddenly thrown into your lane, especially in situations where your options seem limited or non-existent.
What is IBMi?
IBM introduced the IBMi platform in 1988, and although the name and technology have evolved over the years, it has proven to be a powerful technology. IBMi is commonly used as a productive system, and successful companies have been using it for some time for their secure data and, most important, business applications. However, the records system is evolving and adapting to include new insights, new interfaces, and new capabilities, and IBMi continues to grow.
Today's most successful companies are not limited to the limited business applications of the past, and IBM iSeries customers have the apparent advantage of expanding their business satisfaction options. It's all about providing technical flexibility to help customers solve problems and increase value.
The sharing system, which enables mobile applications and social interactions, is exploding in use and increasing the number of new demands on the enrollment platform. New employee and customer engagement systems should provide game-changing mobile and social capabilities, including cloud integration and analytics.
As the pace of these changes accelerates, companies are expected to innovate and grow, but as IT budgets shrink and as a result, your IT choices and IT infrastructure become critical.
Today, the IBM iSeries platform, also known as Power Systems, combined with comprehensive data management capabilities and an integrated set of resources, is always available with IBMi. Many industries, including banking, retail, manufacturing, wholesale, healthcare, and the public/government sector, rely on IBM iSeries AS400 to run their business.
Today's challenges for IBM iSeries Customers
Decades of investment have been made in legacy applications running on the reliable, high-performance IBM iSeries platform, and the vast majority of consumers continue to benefit from this platform. However, some challenges pose a risk to those who want to remain loyal to IBM i, customers. These include:
1. Decreased experience in managing and managing the IBM iSeries environment. Let's face it, IBM i is an older operating system, and fewer people know how to operate it.
2. It is becoming more and more challenging to support capital investment. Upgrading your IBM iSeries AS/400 environment to the latest power server and O/S can be very expensive.
3. Pressure mounts for migration in non-IBM environments.
4. Allow those who have built long-term relationships with their customers by providing IBM iSeries solutions and components (such as servers, storage, software, tools, and professional services) to transition to an alternative cloud computing platform.
The risk of losing an IBM iSeries business can be devastating. Unfortunately, if they do not have the answers to the above challenges, the risk of losing a sizable IBMi business is accurate.
The partnership is the answer you are looking for
- A strategic partnership with a hosting company managed by IBM will allow you to:
- Protect your IBM iSeries business by ensuring that your clients always have expert IBM i management and monitoring 24/7.
- Provide your customers with a more flexible IBM iCloud solution as an alternative to their on-premises environment. Allow them to take advantage of the latest power system hardware and software while having the ability to increase or decrease resources as needed.
- Generate new and recurring sources of revenue for your business and more commissions for your sales team.
- Create the necessary "continuity" to sustain IBM iSeries AS400 customers through additional services that may grow over time.
- The cost of a strategic partnership with Integrative Systems will be significantly lower than all of these options. It will give you a partner who has provided award-winning cloud computing managed to host and dedicated hosting solutions to customers worldwide.
About Integrative Systems
For the last 20+ years, Integrative Systems has managed complex IT environments on behalf of clients available worldwide. As a silver business partner of IBM, Integrative Systems has unique experience and knowledge on the IBM iSeries upgrade and modernization.
Contact us today for a quote, or visit our website for more information on how partnering with Integrative Systems can help your business sustain and expand your customer base.
Integrative Systems is IBM's silver business partner and has more than 20 years of experience in iSeries software services and solutions. Feel free to send us an email at [email protected]
Reader insights
Be the first to share your insights about this piece.
Add your insights