If You Want To Be An Unstoppable Selling Machine, Embrace Negative Reviews
Customer service is one thing. But sometimes, to make money, you have to make lemonade from lemons.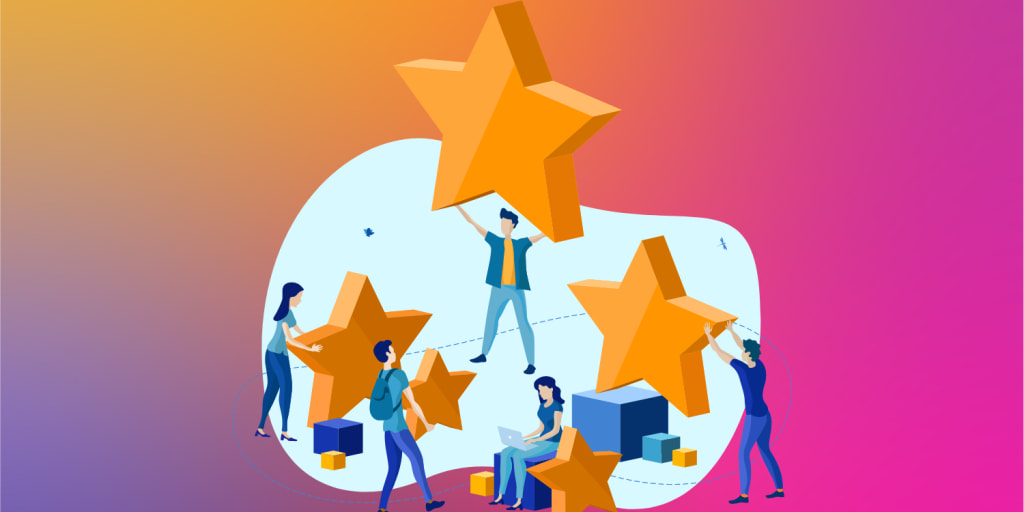 Image created on Canva
Whether you know it or not, the world has conditioned us to object to anything negative. Negative people. Negative experiences. Negative associations.
And a solopreneur, or business owner, negative reviews crack the top of the list of things to avoid. Avoid getting them. Avoid buying into them. Avoid having your business associated with them.
I used to play avoidance with negative reviews for a lot during my early career. When I was moonlighting as a website designer, a client wrote a scathing review about me.
As much as I hated their unkind words, I understood where their anger was coming from.
I had made an error. A big cock up. But I owned it, apologised to them over the phone and in email, and then fixed the problem I caused. And didn't charge them.
Despite how I fixed the issue, the customer took to the internet, to a very attentive Facebook group, and made sure everyone knew about it.
I cried. 
I felt like throwing it all in because of that one review. Those hundred-and-something words stung and sent me into a downward spiral. There was no way this review could mean good things for my business.
But what if we could make negative reviews a good thing? What if we could actually make money off people hating us?
If you were Kris Jenner, Kardashian's momager, you would say yes. Those often criticised business-women can turn any scandal into a multi-million dollar deal.
But traditional businesses? No, they don't do this enough. And we're suffering because we fear negative reviews instead of embracing them.
Here's how to change the mindset so you're winning from bad situations, instead of losing. And so you don't end up hating customers as I did.
What most business owners fear the most…
…Improving what you do.
I know you don't want to. But if your customer has any issue with what you do or how you do it, don't ignore them. We do what we do, the products and services we offer, are for them. To solve their problems.
If they want us to do something better or different, here is our chance to learn what it is.
Because let's face it, there's really no other way to improve what you do unless a customer tells you. And when they're most annoyed is when you get the best honesty.
The great part about this feedback is what you learn is actually quite beneficial. And simple. You learn to do more of what you already offer. Or do a lot less of what you already offer. When you analyse what they're saying, it's never more complicated than that.
The best part of listening and using this complaint to make changes? You're giving your customers what they want. And when they have what they want, you will always make more money. Guaranteed.
Happy customers equal happy balance sheets.
And who doesn't want to make more money in their business?!
Do you know listening to negativity is a selling strategy?
The reality is that many businesses don't listen to their customer. They pretend to listen and then often ignore it. As consumers, we understand this happens. As a result, we change our spending habits.
We tend to respect and support businesses that listen to us.
And it can be from finding out that a business listens to their customer that we make a switch. Or change our business loyalties.
We find out the big bank we're with couldn't care less about us, so we switch to one that does. Ok, that might be a hard task to achieve, but you get what I mean.
So how do you tell your customers you're listening to them? Well, you have to tell them. Thanks to social media, there are many ways you can do that without looking too preachy about it, too.
Here are some ideas (there are plenty more but this is a demonstration of what's available to you):
Document the feedback - Tell everyone about the feedback you got and explain what you're doing to work on changes. It could be through an interview format, to a camera video, for example.
Behind-the-scenes - Make behind-the-scenes content about how you take feedback and implement it into your offering. This could be YouTube videos or Instagram stories, for example.
Create written content - Offer blogs and articles that address how you go about making changes and plans for the future. Writing on your blog adds SEO opportunities. And drives more organic traffic to your website. Double win.
Use the feedback to launch new products - With that feedback as your reason for the change, you can pull focus to the differences you've made. And how this new offering has taken into consideration what the customer wants. You could even feature your disgruntled customer trying it out and approving your changes.
Welcome to your teachable moment
Sometimes, not all the time, customers give your business negative reviews because they're confused.
They don't get what you do.
They don't know how to use your product.
They can't seem to master something with the product you think is "simple".
There is this Nars blush making its way around the internet. Most of the makeup users with this blush blame the impossible dropper as the reason why this blush is annoying to use. 
In reality, they've been taking the whole cap off, which has removed the easy-to-use pump hidden inside.
Candy MakeupIt doesn't mean the blush is wrong, broken, or bad. It means that the customer hasn't quite figured out what Nars knows about the product. Nor have they figured out how good it the blush can be, either.
If I were Nars, I would use this misunderstanding as their way of marketing educational content about their product. They could legitimately brag about the product's features and positives whilst showing users how to use it. They could talk about everything that's good about the blush under the guise of education. 
And, as it's not a new product, they would bring positive attention to an older line.
Double wins all around.
When educating your customer, you can bring them into this, too. In any of your marketing campaigns, you can use real people to educate. You can feature real customers, rather than influencers and celebs you've paid to speak positively about your products. 
It's the perfect chance to show your customers you care about them and want to work with them.
The best part of this education approach? It should also stop the flood of bad reviews from coming in. If people aren't confused about how to use your products and services, they are less likely to complain.
And hopefully, in the process, your education sparks intrigue with new customers and generates more sales. 
More wins.
Show me the discounts!!
Some of these negative complaints warrant refunds and returns. And when it comes to this stage, most businesses believe the relationship between them and the customer has broken.
They believe that once a refund for a faulty or poor product/service becomes part of the relationship timeline, it's impossible to restore.
But let's be real here; not all negative experiences mean the customer is gone for good. You have the perfect moment to tell your customer how much you value them.
And you have the perfect opportunity to fix everything with that one customer.
Giving the customer a refund they're owed is just fulfilling the basics. To fix the relationships, you have to go above and beyond. Here are some ideas on how to go that extra mile:
Give the customer a discount code or VIP code - Offering a discount for the next time they shop encourages them to return to you. And somewhere else. Discounts are often hard to resist, especially one that is generous and unexpected. But it has to be generous. A 5% inconvenience voucher doesn't feel very generous.
Friends discount - By giving your customer gift vouchers or discount codes they can give to their friends, you spread positive word of mouth. It's about sharing the love and showing the customer you care about everyone. It should help offset any negative word of mouth the unhappy customers have told their friends. Because most people like to tell someone about their bad experiences. Best to offset any damage done.
Free product - They may have had a bad experience with one of your products or services. But it doesn't mean they hate everything about your business. A gift to apologise shows goodwill but allows your customer to try something else from you. Hopefully, this gift is what people remember of your business. And something free always helps repair bad feelings.
Flex, your business has earned it
You know you've made it when the haters start coming for you.
I joke, but there is some truth to this, too.
Sometimes ruffling your customer's feathers isn't a sign you're doing something wrong.
It's a sign that you're speaking to your audience. And that you're doing something right.
If people are talking about what you do, use it. Find any way to continue a conversation about your brand, who you are, and why you do what you do. Change the conversation if you need, and shift the narrative to work in favour of sales. Rather than more negativity.
Harness the idea that people are talking about you. Use this new attention in any way you can.
There is a reason for this, by the way. If you've poisoned someone in your restaurant and they've died, that's not the right opportunity to flex. You have to use your common sense.
And speaking of which, this isn't an opportunity to poke fun at the haters. The people complaining are your customers. They are the people who keep the lights on in your business.
If you alienate them or put them in a position to distrust you, your publicity won't be worth it.
How to stir up trouble
You might have got to this point and thought, 
'Now is the time to piss off one of my customers. Now is the time to get some of that juicy negative publicity people have made their success of.'
Well, I'm not saying we should create controversy to make sales. That's not a smart strategy, especially when it backfires on you. As much as we can use negative reviews for positive marketing, they can sink your business. There is always a fine line.
Don't go drumming up trouble. But don't do what most businesses do and ignore these moments to turn lemons into lemonade.
Most businesses don't take advantage of these moments when there is an opportunity to find the positive in the negative.
I hate to say it, but if we keep thinking that negative customer experiences are hurting us, or derailing our business, in a way, we deserve to fail. Because we aren't seeing the bigger picture. We are letting normal, everyday parts of running a business defeat us.
To survive business, we have to flip our mindset.
And I know you can do that. If I can do it, so can you.
About the Creator
Writes about romanceships (romance + relationships) | Loves to talk about behind the scenes of being a solopreneur on The Frolics | Writes 1 Lovelock Drive | Discover everything I do and share here: www.ellenjellymcrae.com
Reader insights
Be the first to share your insights about this piece.
Add your insights