I worked on Fiverr as a Freelance Writer: Here's how much I earned
Freelancing Is Easier Than You Think!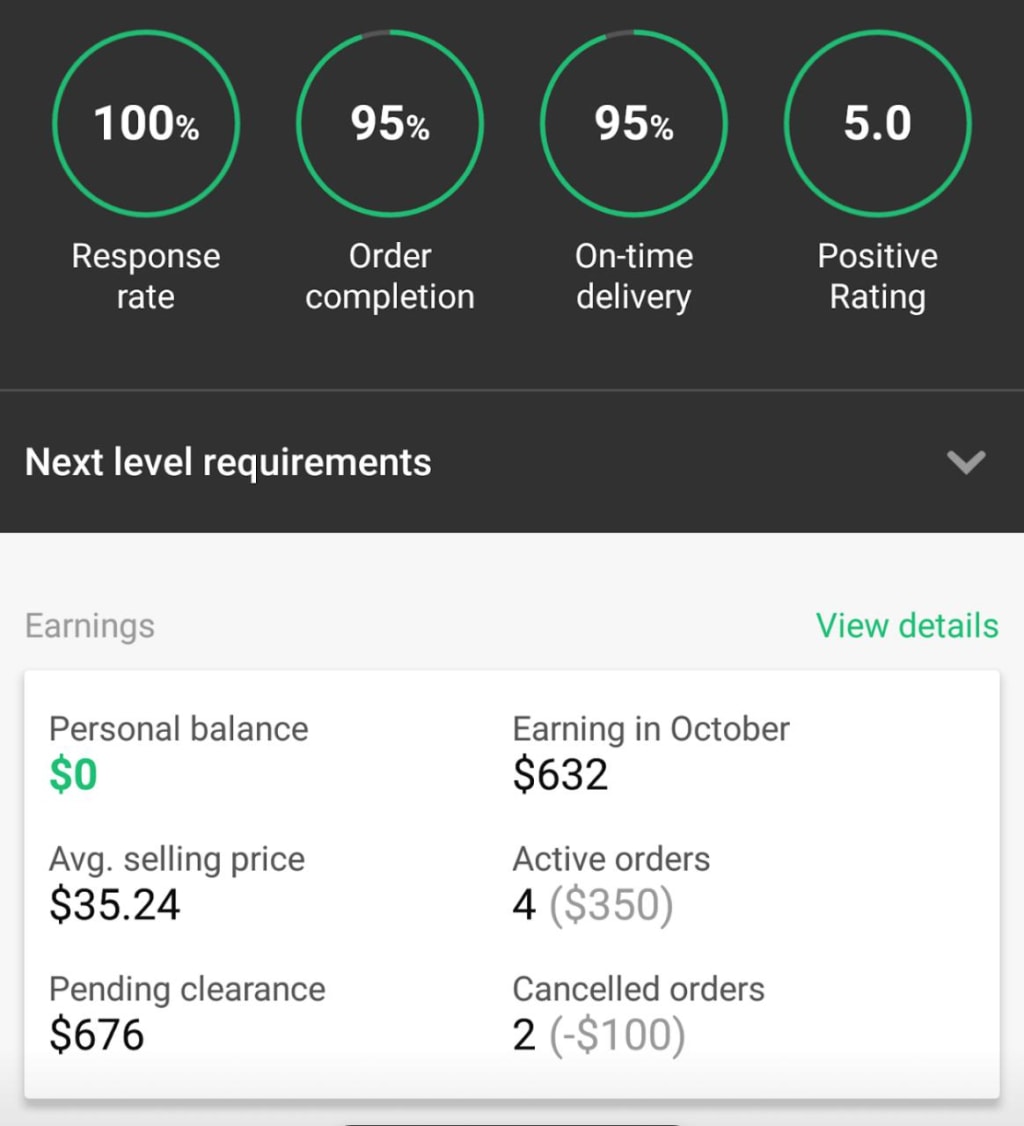 Screenshot of Author's Fiverr Account
Working freelance has its own charms and challenges, where you get to work sitting in the comfort of your house, at the favourite spot that gets you in the zone and at your own pace and time of the day.
At the same time, you ought to face the unpredictable nature of the work, ups, and downs in the market trends as well as your marketing skills.
You see!
Working freelance, particularly in the online realm doesn't just require you to be really good at a particular skill, it asks from you much more than that.
The ability to effectively market yourself, understand how keywords, response rate, and user reviews work, and help boost your business is important.
And, for those like me, for whom the pleasure and freedom of working as my own boss, at my own pace, and in my comfort zone, the pains of learning these gimmicky things was all worth it.
As a skill learned always comes in handy, it really has boosted my potential and liberated me from the financial worries majority of us relate to the mid-career crisis.
Anyways, coming back to the main point you came here for, working on Fiverr, as a freelance writer!
Well, for starters it is an interesting spot to test their metal on. You'll most likely be paid ridiculously low prices in the beginning, because you'll be competing against a ton of other writers who may not be as talented as you are, but are on the same level as you are on the platform.
There is only one way to gauge the experience and skill of freelancers on platforms such as Fiverr:
The User Reviews- and this is what your objective should be in the beginning, for at least first orders, do not mind an opportunity to get some extra bucks, but make very sure that the client is satisfied and leaves those nice n shiny five-star reviews.
After your first 10-orders with five stars, you can start to scale up your business and ask for more, promise more and earn more.
It's a slow process, but at the end of the day you'll reach there, I promise!
I created my freelance profile on the platform in the year 2019, when I was still a college student, I still vividly remember that October weekend when I scrolled through YT videos and educated myself about the important aspects, things to keep note of, and overall process of ID making.
And for all the hard work, there was no response for the next two months! Total Silence :-/
But then again, I wasn't bothered too much as I kinda had forgotten about it, I had installed the app on my cellphone but wasn't actively working on it or anything like that.
But right after two months, my luck at Fiverr lit up, as someone (who made ballast water treatment systems) had just placed an order for me to write an article about ballast water treatment and its importance for marine ecology.
That 25$ order was the first one that started for me, and since then I didn't look back and discovered better, more specialized platforms and companies which, based on my experience of working on Fiverr, paid significantly better and consistent revenue.
However, I still keep on working on Fiverr and collectively have made about 4900$ in roughly the past five months.
I know it's not at the top, most desirable income, but certainly entails giving you an incredible learning experience where you can scale up your prices as you start to specialize in your writing niche. One tip though!
Make sure to target a specific niche instead of making generic gigs!
If you wish to know more about the necessary process, tips, and tricks about gig making on Fiverr, please let me know in the comments.
Originally published on Medium by Author
advice
About the author
A ridiculously motivated writer ambitioned by art, crypto and gardening. Busy enlghtening the world :)
Reader insights
Be the first to share your insights about this piece.
Add your insights