How to Use Data Scraping in Travel Industry in the Best Way?
Data Scraping in Travel Industry in the Best Way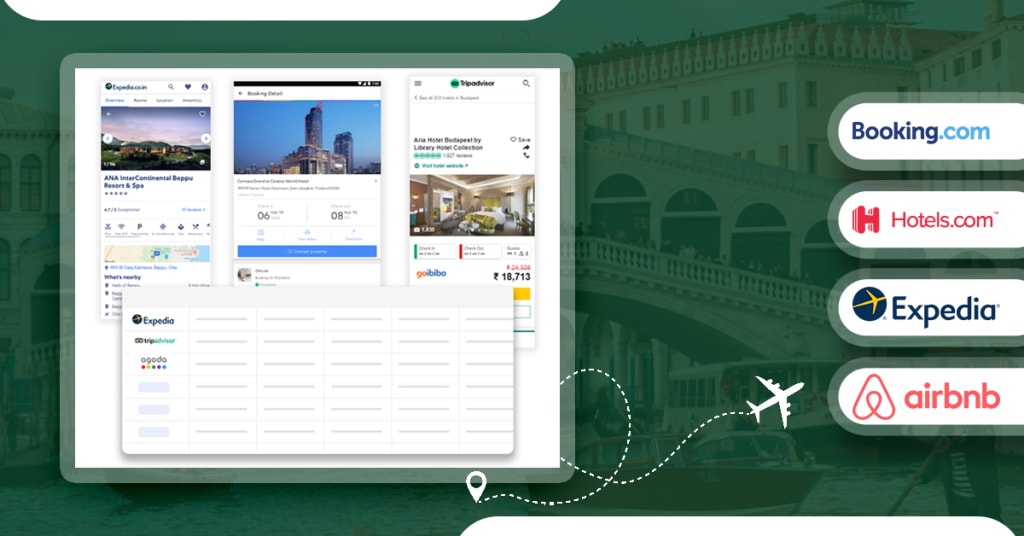 Tourism on the whole has grown securely, and this tendency is expected to continue as an online traveling site like Booking.com and Tripadvisor and make that more suitable than ever before. Whereas this provides many opportunities for the travel managers, this also indicates better competition. In case, you wish to stay competitive as well as provide travelers with outstanding customer experience, you would require to leverage main resources like data scraping platforms.
Let's see what you want to understand about that.
Extracted travel listing from various travel websites could be shared for a different objectives. Many websites have a wide-ranging collection of hotel reviews, travel listings, as well as reviewer profiles. From these websites, data scraping could be done to make a travel search engine using a huge database of various travel listings. A data scraping industry report might also get used for analyzing traveler likes, dislikes, patterns, as well as other information, which can be utilized to create successful travel and tourism business.
Data Extraction for Travel Websites
Data scraping is an effective method to scrape travel websites. The procedure where web crawlers or bots are configured to do web crawling as well as retrieve the required data from web pages is named as data scraping. Extracting services make that possible to extract data from non-formal online pages. Therefore, it is a practical job to get done by well-experienced service providers like Actowiz that have a high-tech stack.
In case, we study web-based configurations of travel websites, we normally get data like hotel reviews, ratings, listings, travel statistics, tourist attractions, travel & tour agencies, listings, as well as many more.
Traveling managers can quest for airlines, accommodation based on customer's requirements, monitor the prices and overall methods of close competitors, as well as do required adjustments because industry trends describe.
As far as hotels, airlines, as well as other travel service providers are concerned, the majority of them accept data scraping because it assists them in attracting new customers.
Data scraping has become a completely new standard for improving customer experience whereas maximizing the profits for traveling agencies.
Web scraping is amongst the well-accepted techniques for gathering web data. Data scraping is a very important part of maximum industries as well as companies following the culture showed by results.
Benefits of Data Scraping Services to Do Travel Listings
Data scraping is much faster than other conventional types of data collection online.
The last results are structured well as per the require formats including XML, CSV, or Excel. It makes that possible for the businesses to utilize data without extra processing.
Committed web scraping services might help you get well-structured data, which can be utilized for other objectives.
Extracted travel listings usually help in reducing the cost of beginning your travel company online. It provides you sufficient listings to get displayed on your site.
Data correctness is extremely high for data scraping, whereas manual scraping is usually invalid.
Some Important Tips about How to Use Web Scraping
Amongst the main uses of web scraping is tracking and automating competitive pricing monitoring. There are no lack of alternatives for contemporary travelers, and they are completely free to utilize any vendor, which best fits their requirements.
Using data scraping technology will help you monitor the prices of competitors to help you optimize yours easily. Select an ideal price point for staying competitive as well as retain additional customers while increasing profits at same time.
Extract consumer reviews, feedback, behavior, trends, as well as demands for better understanding your customers. It puts you in the position to adjust your business practices as well as offer superior services to clients, something, which can pay bonuses when you try to make a maintainable brand.
This is also sensible to step previous conventional web scraping tools for using a suppler data integration solutions. It is a contemporary approach to data management and collection, which helps you prepare, retrieve, as well as normalize data to easily access visualizations and reports.
When to Use and Not Use Data Scraping
Data scraping has some wonderful advantages. It helps you create a more important part of the market share, optimize pricing, get business insights, as well as become more competitive. However, it might help in case, you were watchful about some questions that you have for using it.
For instance, there are some legal threats where you can possibly face litigation in case, you invade the copyrights or breach terms & conditions of a website.
You also have to make sure that you do not get access to some restricted data. It is equivalent to computer hacking that may come with strict punishments like imprisonment. Therefore when comes to stay on right side of law, you have to be hardworking.
Data is important for the perseverance of major problems presently facing by travel industry. Data scraping will assist you know the industry as well as market patterns of airline rates, reviewed travel destinations and routes, new transportation and flight providers, as well as even all updates on airports, flight delays, as well as train station data.
You may also extract customers' feedback data, customers' expectations, as well as even sentiments regarding them. A lot of travel aggregators and sites also have the data publicly available. These data could be gathered from different web pages using social media. Extracted data will assist hotels, travel agencies, travel aggregators, as well as service providers that provide their customers with the finest possible options. This will also assist in improving travel & tourism activities through strengthening consumers' overall confidence.
Using scraped data, you can get all the required information about clear lists, pricing comparisons between various airlines, challenging analytics for building services, which improve company's profits and sales.
Conclusion
Data scraping is extremely useful for travel industry where access for the real-time data is important for matching clients with right travel products at right time. Web scraping has assisted the traveling industry many ways. There are many specialist web scraping companies offering dedicated web scraping services. At Actowiz, we help different businesses to get data as well as solve important business problems. We have a translucent procedure, which provides you data you want. For more details, contact Actowiz now!
Know more : https://www.actowiz.com/how-to-use-data-scraping-in-travel-industry-in-the-best-way.php
business
About the author
Actowiz is a fully managed enterprise-grade web scraping service. We convert websites into structured data.
Reader insights
Be the first to share your insights about this piece.
Add your insights