How to Shift to an Impact-Driven Business Model and Why You Should
Consumers want to work with businesses that stand for something—does your business have social impact?
An impact-driven business aligns its overall mission with benefits for their community, audience, or greater society. Simply put, this business model represents the marriage of profit and purpose.
If you're struggling to find your perfect blend of profit and purpose, you're in luck—any organization can shift to an impact-driven business model with a foundation of authentic purpose while still making money and turning a profit.
Even better, you don't have to be a multinational corporation with a huge budget and staff to make a difference or do good. Keep reading to find out why making a purposeful impact matters as a business and how you can change your business model to be impact-driven.
Understand the Power of Impact-Driven Models
Focusing on profit and the bottom line isn't the way to reach our increasingly socially-conscious and capitalist-weary population. Whether you want to attract talent, investors, clients, customers, partners—anyone—your business needs to promote its overall mission, and that should highlight the good you do for others.
Whether your company's impact relates to sustainability or green practices, community involvement, or social initiatives, people want to work for and support companies with a cause.
Just take a look at some of these stats:
Pivot to an Impact-Driven Business Model
Now that you understand the value of an impact-driven business model, use the following strategies to make your shift.
Assess Your "Why"
Why does your business exist? What problems do you want to solve? How will your business allow you to leave a legacy of helping others long after it's gone? Beyond turning a profit or reaching your KPIs, assess your organization's overall "why" and make sure it's tied to a purpose.
When you go back to the root of why your business does what it does and why you started it in the first place, it's easier to find a corresponding impact that also benefits others. For example, your new or improved "why" could be:
Encouraging your employees to grow and thrive.
A commitment to supporting your customers in their daily journey—professionally or personally.
Inspiring your audience or followers to improve their lifestyle.
Committing to more sustainable business practices or supply chains.
Donating time or resources to relevant charities or organizations.
When assessing your "why," refer to Deloitte's data on why consumers identify with a brand's purpose.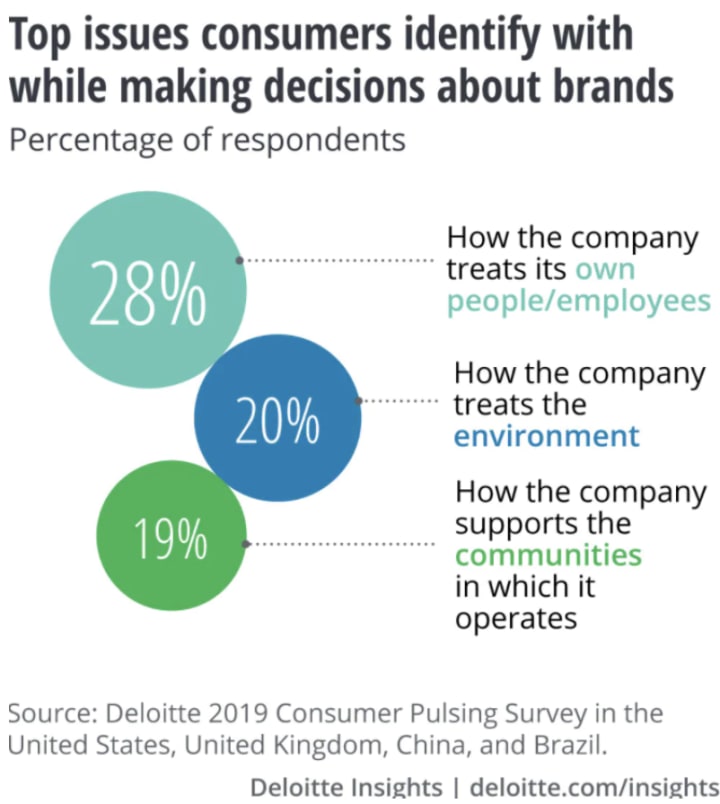 Image source: Deloitte
Re-Think Your Business Values
Business values are the ethos of your business and what defines your impact-driven mission. They help explain your why and ensure your team lives it out. Many companies might have these in an old HR document or employee handbook, but they don't openly promote them.
Audit your current business values to ensure they align with your purpose, especially if you've shifted your business model to become more impact-driven—and then promote them. A recent FastCompany article, written by Jake Saper, partner at Emergence Capital, and Anne Raimondi, chief customer officer at Guru, offers advice on building your company values:
Less is more: Limit your values to 3 or 5, so they're more likely to be remembered and institutionalized in your company.
Avoid generic values: Don't use buzzwords that are too broad. Clearly define the distinction of what values mean for your company.
Make them memorable: Values should get stuck in your teams' and audiences' heads.
Keep values connected to behaviors: Communicate what it means for managers and employees to embed these values into their work, their teams, and their goals.
Partner With Complementary Businesses
Other businesses can often assist you on your journey to becoming an impact-driven organization. Scott J. Corwin, Attorney and President of Scott J. Corwin, explains how he puts the value of partnership ahead of profit to offer clients the best possible outcome:
"I am willing to part with a significant portion of my fee to get the best team of lawyers for each of my clients' cases. Depending on the needs of the case, I often partner with larger law firms with litigation resources. I also have a network of doctors and medical providers to help injured clients."
Making impact-driven partnerships can help provide better service to clients or customers and create connections within your community. You can also cross-promote a fellow business and increase your network. While you may need to reduce your financial gain initially, you'll secure a satisfied customer or client, which in turn, leads to potential testimonials, referrals, or increased business.
Walk the Walk to Become an Impact-Driven Business
Remember, it's not enough to establish your business values and promote your purpose. To make a difference you need to execute. Be transparent and authentic about your causes and goals and how you're achieving them.
Reader insights
Be the first to share your insights about this piece.
Add your insights