How To Set Up Security During Your Financial Institution's Digital Document Conversion?
Document Conversion Services can provide an efficient way to improve information handling in various financial institutions but can it offer the much needed preservation that your significant documents required? Let us check it.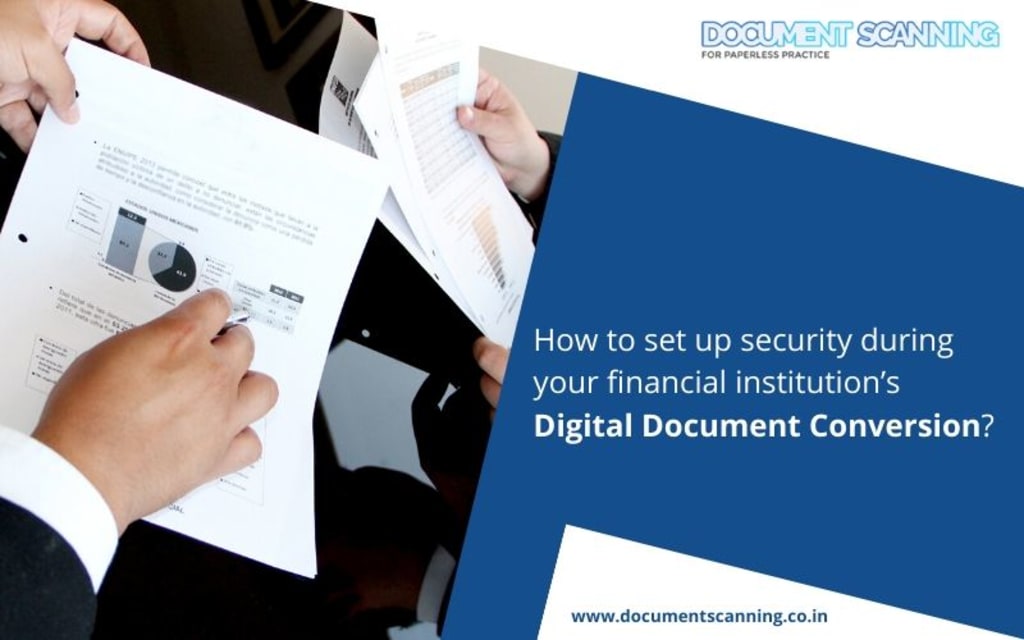 Information management has become an integral part of every financial institution. Dealing with enormous volumes of documents every single day, financial institutions are strongly liable for the protection and security of customer's relevant information.
Security is on everyone's minds these times – especially when it comes to financial institutions that use technology as the main part of their service offerings. Unlike the traditional systems of data handling, document scanning solutions have potentially enhanced security in every step of the process and also later on.
Document conversion services can provide an efficient way to improve information handling in various financial institutions but can it also offer the much needed preservation that your significant documents required? Let us check it out.
● Authentic Document conversion service provider:
Frauds are everywhere. So, the first step to securing your institution's document conversion security is hiring a legitimate document scanning expert. Choosing the right professional would not only ensure the protection of your crucial information but also help you achieve the desired freedom to concentrate on more important tasks while your documents are being processed.
● Protected Access:
Every professional document conversion technician understands the importance of data in a financial establishment. Thus, it is a part of their professional ethics to limit the access of your original and converted files. The digital archive that stores the processed files are also bound by password-protected shields to ensure no unauthorized personnel gets to access a file without the relevant permission.
Moreover, when the documents are crucial for the organization and you cannot risk to let them out to anyone, a mobile team of skillful technician can process the conversion at your own work premises and save the files in your personal digital storage or hard drive.
● Verified Courier and Transportation Service:
A reputed and certified document conversion service provider uses insured courier services and heavily guarded transportation trucks to transfer your documents to their shielded warehouse. Moreover, the files and documents are enclosed in properly labeled and sealed document inventories that are tracked continuously until the desired destination is reached.
Thus, you can be rest assured that your institute's critical information is in safe hands until the whole conversion process is executed successfully. Outsourcing document conversion is an original and cost-effective way of managing your documents while saving time, money, and resources.
● 24/7 Surveillance:
Financial establishments work on facts, figures and statistics and thus, each day there are millions of paperwork done. When the volume of a document is huge, it might take days or weeks for a document conversion outsourcing process to commence completely. So, the physical files need to be stored in the warehouse until the documents are converted to their desired electronic files.
It is always recommended to ensure the scanning company keeps your documents securely and safely in their storage with 24/7 surveillance so that the original documents are not tampered, damaged, lost or stolen while the conversion process is done on the rest of the files. It enables automated data analysis during capture, allowing you to apply security, access and preservation policies to documents, while accurately collecting data.
● Proper Disposal and Destruction:
What would happen to the original once the information is converted to its electronic format? Yes, it is a serious concern because the physical information can be mishandled or misused by anyone. If you have them scanned and converted to digital files, though, your documents will be completely safe from loss or damage.
Thus, always ensure your outsourcing document scanning services agent has proper shredding and disposing schemes that would enable you to safeguard all official information from being exposed to any unauthorized person. The digitized documents are always easy to recover and manage, also it improves the speed of your business growth in many ways.
Hire a document conversion expert. Email at [email protected]
business
About the author
I'm a Tech enthusiast, Business Development Manager. Interested in New Web, Mobile App, Big DATA, BI technologies, Engaging with new people around the globe.
Reader insights
Be the first to share your insights about this piece.
Add your insights