How to Save Money With Time and Attendance Management System Software?
Time & Attendance Management System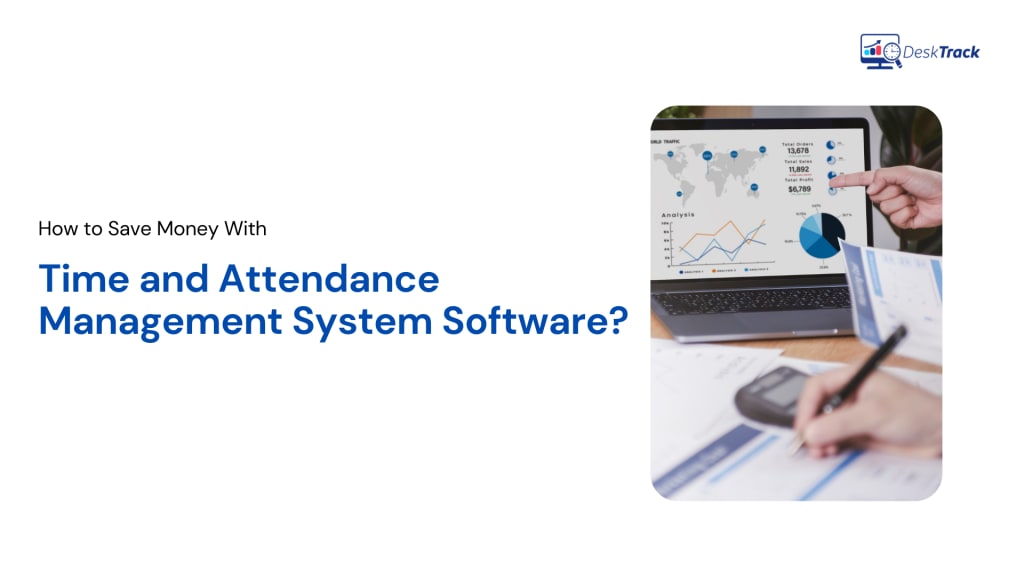 Gone are the days when time and attendance software was simply a boring and tedious task. Nowadays, we have many time and attendance management system software options that can help you to save money, increase productivity and improve your business. In this blog, we will discuss the different types of time and attendance management system software, their benefits, and how to choose the right one for your business.
There are several different types of attendance management systems, but if you need one that works with a time and attendance software, this is the best one.
What is Time & Attendance Management System Software?
Time & Attendance is the best Time & Attendance Management System Software for school administration. With this Time & Attendance software, you can easily manage the time and attendance of students, staff, and parents.
Time tracking software helps to manage the employees' attendance, time, and work. It helps in tracking the employee's attendance, working time, and overtime.
7 Ways to Save Money with time and attendance management software
1. Resource Administration
Allocating human resources to calculate the number of hours clocked in by employees is a time-consuming process, not to mention a huge strain on the employee's time, energy and enthusiasm for work! An RFID time and attendance system, for example, enables organizations to seamlessly streamline mundane and monotonous procedures such as clocking the time employees arrive at work, the time they leave work, and even the amount of time they spend on various tasks, lunch, and so on.
2. Wastage of resources
Paper time cards are not only bad for the environment, but they are also a limited resource that frequently needs reordering and restocking, especially when human errors occur and corrections are required. Aside from wasting environmental resources, the most important resource of all is wasting your employees' time and energy by performing manual tasks that can be handled more efficiently by using an automated process.
3. Increased Employee awareness
Employees can access their attendance details as recorded by the system and keep track of how much time they spend on various tasks assigned to them at work using automated time and attendance software. This gives them the ability to better manage their time by prioritizing their various roles and responsibilities. It also allows for a better work-life balance. Employees, for example, can keep track of how many days of leave they have, plan their days off more effectively, and reduce unplanned absence from work.
4. Compliance
Companies are expected to comply with regulatory mandates established by governing authorities to abide by relevant labor laws and other legally binding factors. An automated time and attendance system help an organization align business practices with established regulations, thus planning to stay on the right side of the law.
5. Reduced Paperwork
Companies can greatly reduce expenditure on printing costs, paper, and other items related to stationery when they replace a manual timekeeping procedure with a paperless, automated timekeeping system.
6. Employee Productivity and Satisfaction
Strict attendance marking structures stifle creativity and innovation. A streamlined, automated procedure for clocking in and out is a great way to simplify day-to-day operations, which leads to higher productivity and employee satisfaction.
7. Cost Cutting
When done carefully and intelligently, cost-cutting can be a faster way to increase profits. time & attendance management system software in the place will enable users to know & track approved comp-off details in a user-friendly manner. Furthermore, approval authorities can review employee overtime task details and sanction the extra hours spent as overtime or comp-off in accordance with the organization's rules.
Enhance employee punctuality and attendance habits
Adjust shifts on the go, create precise and conflict-free schedules
Examine your spending habits to see where you can cut back.
Allows for real-time tracking of resource movements and increases transparency.
How Attendance Management System Works
The attendance management system is a system that is used for recording the attendance of the staff members which helps in keeping the attendance records. The attendance management system helps in tracking the employees, and their attendance and also helps in maintaining the records. The attendance management software helps the organization in managing their staffs effectively and efficiently.
Benefits of Time and Attendance Management System Software
1. Reliable Accuracy
Advanced automated time and attendance management systems reduce the risk of human error, which is one of the most significant contributors to financial losses. They are frequently cloud-based and collect real-time employee data.
2. Increased Productivity
Advanced automated time and attendance management systems reduce the amount of time and human effort required to keep track of employees. Work schedules can now be easily created and duplicated based on job requirements, employee availability, and eligibility. This frees managers from routine, manual scheduling tasks, allowing them to focus more strategically on their business.
3. Overall Cost Savings
One of the most appealing features of time and attendance systems is that they help save labor costs by comparing budgeted hours to actual time worked. This benefit can also help your company's attendance policy by reducing employee delays and absencesDeskTrack: Best time and attendance system for hybrid teams
The amount of time that people spend at work has increased over the years. As a result, it's getting harder to track when people are working and when they're not, especially if they work remotely. Businesses need a reliable way to track employee time and attendance so they can be penalized if they're late or leave early without permission. The best solution for this is a time and attendance system. DeskTrack identified the best time and attendance system for hybrid teams of all sizes.
Conclusion
We are proud to serve some of the most well-known global brands while also assisting small, independent businesses in saving money through our time and attendance solutions. Our solutions are designed to help businesses of any size and industry sector maximize the benefits of the effective roster and shift management and staff planning.