How to run your field service business from anywhere
A guide to remotely managing your electrical, HVAC, solar panel, construction, or plumbing business.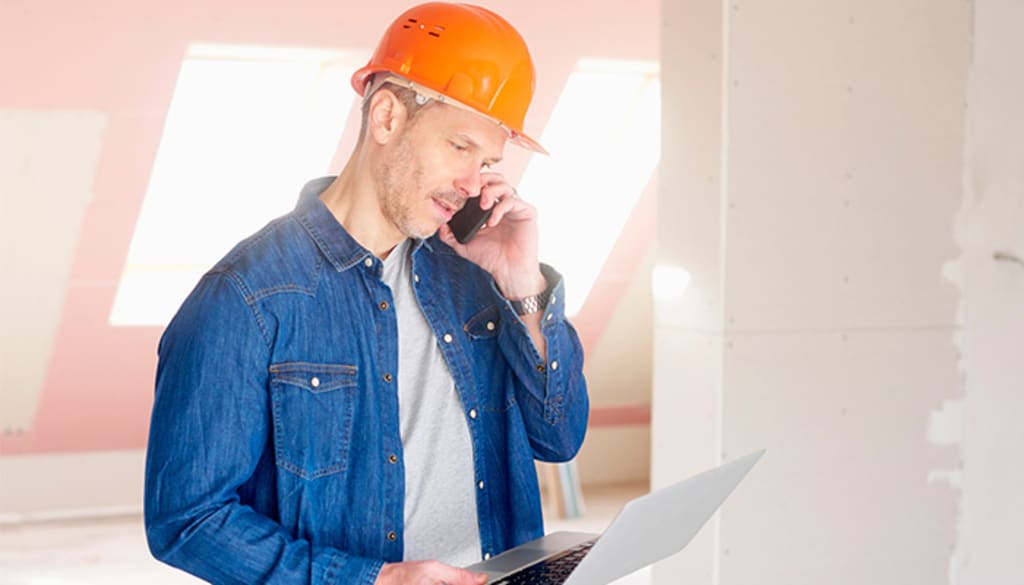 Remote work has become more popular in the UK, and even as more employees have been able to return to the office following the pandemic, many businesses have decided to let their employees work remotely or adopt a hybrid work model where workers divide their time between the office and other locations.
Because of the nature of the field service industry, plumbers, electricians, contractors, gas engineers, and other technicians can't work remotely. Their work requires them to travel to customers to complete jobs on-site.
But as a field service business owner, have you ever considered running your business remotely?
The benefits of running your business remotely
Whether you're operating an HVAC, electrical, solar installation, or plumbing and heating business, there are several benefits of running a field service business remotely.
Reduce operational costs: Remote work can reduce overhead costs associated with maintaining a physical office space, including rent, utilities, and equipment.
Flexibility: You can manage your business from anywhere, allowing you to travel, work from home or oversee your operations on-site.
Reduce your carbon footprint: A remote business can have a smaller environmental impact, as there is less commuting, less energy usage for office buildings, and less need for physical goods such as paper and office supplies.
Improved productivity: You can work in an environment without distractions that may exist in a traditional office setting. Additionally, the time and energy saved on commuting can be used to focus on work.
The downside of running your business remotely
Running a remote field service business can be advantageous, but sometimes you feel you have less control over your team and operations. With fewer opportunities to meet in person, your biggest concern may be getting feedback from your employees and finding ways to supervise and support them.
The good news is that, with the right digital tool, you can manage and support your team wherever you are and even improve field service management.
Running your business remotely with cloud-based software
Technology is changing how we can do business, and with innovative cloud-based software, you can manage and support your team from anywhere.
Field Service Management Software offers a practical way to manage your operations remotely. The software uses cloud technology to connect you with your team and makes it possible for you to oversee your operations from any location.
Let's look at the features of Field Service Management Software and how you can use them to run a remote field service business.
Job scheduling: Schedule jobs to save time and ensure your team knows what they need to work on daily, even when you're not at your desk. To save even more time, you can cross this task off your to-do list by automating job scheduling.
Vehicle or mobile tracking: Keep an eye on your technicians and see where they are by tracking their vehicles or mobile devices throughout the day. The software gives you access to your team's real-time location, and tracking can be switched off after hours to protect your staff's privacy.
Asset management: Use an Asset Management System to schedule maintenance and repair jobs, keep a record of maintenance work, and add and remove assets to the system as you acquire or retire equipment. No matter where your assets are, you can find them without having to travel to your warehouses or customer sites.
Inventory management: With software, you can improve inventory management to prevent overstocking and optimise your warehouse space to reduce storage costs. You can monitor stock levels and manage inventory across multiple locations to ensure your team has the parts and materials for customer jobs without overloading your warehouses.
Task management: You can create tasks related to the quotes, jobs and invoices your technicians are working on. For example, you can use tasks to remind employees to call prospects to confirm job details before quoting, contact suppliers to get updates on materials ordered or follow up on outstanding invoices. Creating digital to-do lists helps you keep your team on track to meet deadlines.
Quoting: You can create a custom quote template for your business and email quotes to prospects from the system. Once a customer has accepted a quote, you can convert it into a job sheet and assign it to a technician.
Invoicing: With software, there's no need to wait for a technician to return to the office with a job sheet to invoice the customer. Once a job has been completed, you can convert the digital job sheet into an invoice and email it to the customer.
Digital documents: With Field Service Software, you no longer need to print job sheets for your technicians to take to job sites. Instead, you can digitise your documents and share all customer and job information with your technicians online.
Work management: As well as creating and storing digital documents, your technicians can capture photos of their work on-site and upload them to the system. You can use the feature to review and approve your team's work remotely.
Mobile app: Because your technicians are in the field, they need a way to access project information and customer data on the go. Fortunately, they can access the software via a mobile app. The app gives your team access to the digital job sheets, documents and customer information stored on the system, and they can share real-time updates and data with you via the app.
Final thoughts
No matter your industry, you can use software to run your field service business remotely. Remote work allows you to supervise and support your team wherever you are and offers opportunities to reduce costs and improve productivity.
Reader insights
Be the first to share your insights about this piece.
Add your insights