How to plan, measure and achieve the right digital marketing goals
Descriptive Guide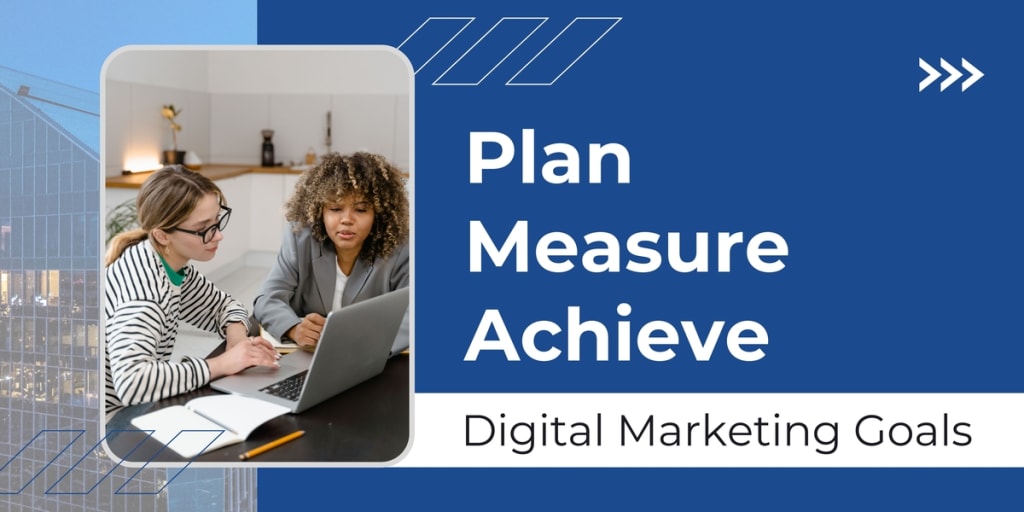 plan, measure and achieve digital marketing goals
Businesses rarely created a digital marketing strategy back then. Those who did concentrated their efforts on websites, banner ads, and email marketing they boomed in their respective careers.
You can now choose from dozens of digital marketing channels and platforms. Should you put more emphasis on SEO or PPC? Webinars or blogging? Email or social media? Video marketing or podcasts? Virtual reality (VR) or augmented reality (AR)? When should you expect to see results and how much should you spend? Trying to find the finest solutions for your brand can be difficult, if not impossible.
How to create a digital marketing plan?
Now, let's talk about the various digital marketing plan components as well as the specific steps to follow as you develop your strategy
1. Establish your digital marketing objectives and business goals.
Clear, measurable, and attainable digital marketing plan objectives help you identify and measure precisely what you want to achieve. Make these objectives as specific as possible. Include particular numbers and dates that can be used as progress indicators.
2. Create buyer personas and audience segmentation.
You must know who you're targeting for just any digital marketing effort to be profitable. Using buyer personas to segment your audience and then creating buyer personas for each section will help you figure out what sorts of marketing should be most effective.
3. Determine market share by doing a competition study.
You need to know who you're competing against if you want your marketing efforts to really be successful. You can use a competition study to discover your peers, evaluate your share of the market, and learn about their marketing strategy.
4. Make a SWOT analysis.
The opposite of a competitive landscape analysis is a SWOT (strengths, weaknesses, opportunities, and threats) analysis. It gives you a framework for examining your company within the context of your market. It allows you to see what's working and what isn't, as well as uncover future organic development prospects and brace for external dangers. Your SWOT analysis data will aid in the development of your digital marketing strategy. Your strategy should play to your strengths, mitigate your weaknesses, seize chances, and forecast risks. All in the guise of assisting you in boosting sales.
5. Make a budget for your online presence.
Calculating your spending plan is the next stage in developing the finest digital marketing strategy for your company. The budget will determine how much money you have to spend on digital marketing and will direct you to certain channels, strategies, and methods.
Next we come to another important aspect which comes after the stage of planning which is "Measuring the digital marketing goals"
Setting goals provides you something to aim for. It also serves as a blueprint for the digital marketing KPIs you'll use to assess the effectiveness of one or more campaigns.
Let me put it this way:
1. Website Traffic in General
What metrics do most businesses use to assess the success of their websites?
Your website is both your home base and the public face of your company. As a result, all of your digital marketing efforts will almost certainly be focused on generating visitors to one location.
Individual campaigns may concentrate on list development or boosting social media reach, but the overall goal is to drive more traffic to your website over time. As a result, tracking website traffic numbers on a regular basis will give you valuable information about which ads are succeeding and when Consider debugging your website if you notice a persistent reduction in traffic despite maintaining consistent marketing efforts. Visitors may be turned off by broken links, a Google Algorithm penalty, or other technical concerns.
2. Sources of Traffic
This helpful internet traffic measure reveals where your website visitors are coming from.
With so many marketing platforms to choose from and so little time to use them all, the Traffic by Source indicator is one to keep an eye on.
3. Returning Visitors vs. New Visitors
This dual metric is useful since it allows you to track how relevant your website content is over time. Multiple visits may suggest that you are giving information that people value enough to return to.
You can monitor your New vs. Returning Visitors marketing metric as you release new material on a regular basis (think: blogs) to see how each piece of content is performing.
Achieving the goals
Examples of Typical Marketing Objectives:
These are just a few examples of broad corporate objectives. What are some more particular objectives that would be useful?
1)Boost website traffic.
2)Increase your social media following
3)Build a mailing list
4)Increase your conversion rates.
5)Increase the number of people who visit your website or interact with you on social media.
6) Increase the number of clicks on paid adverts.
Make Marketing Objectives Specific, measurable, ambitious, realistic, and time-bound (SMART):
Specific: Your aim should be focused on a single metric and based on the business of digital marketing industry.
Measurable: You must be able to compare your published material to that statistic.
Aspirational: Your aim should push you beyond the natural or organic results your content will generate toward that measure.
Realistic: At the same time, keep your ambition in check with what you can reasonably accomplish with the resources you have (or will have).
Time-bound: Your goal must have a deadline by which you will meet that statistic.
An integrated marketing strategy means that every aspect of your marketing plan must contribute to your overall business vision, or it will be cut from your daily workload. As at the end of the day only results matter and what matters the most is to "make an impact" of any kind as in this world of digitalization the digital marketing industry is a gem towards development and online industrialization.
Reader insights
Be the first to share your insights about this piece.
Add your insights