How to get ahead with your On-demand food delivery app like Swiggy.
On-demand Food Delivery App Development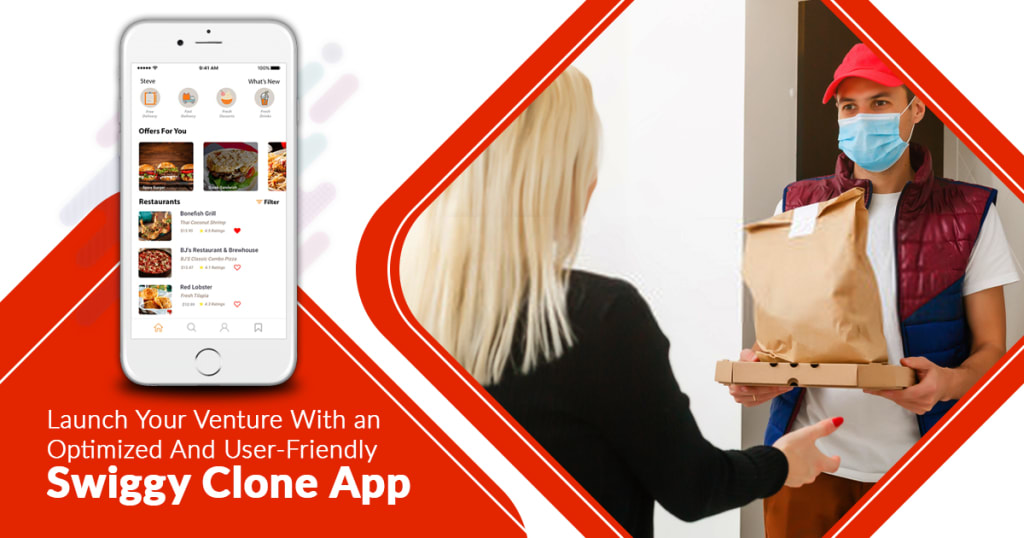 Food delivery is one of the leading on-demand delivery apps. It is a pretty exciting way to deliver the foods directly from the restaurants to the customer's doorstep. These food delivery apps have played a vital role in enjoying the outside restaurants' foods by being at their place. This fast-developing on-demand food delivery such as Zomato, UberEats, Just Eat, Deliveroo, GrubHub, Door Dash, FoodPanda, Swiggy, PostMates, and Domino's created a great place in the Online market. In the current Market value, swiggy has made a tremendous demand in food delivery On-demand applications. It isn't that hard for entrepreneurs like you to launch one.
How it differs from other food delivery apps
Every On-demand apps are setting a phase in this competitive online marketplace. When it comes to an app like Swiggy, it is entirely reliable and known for having the fastest delivery in comparison to the other food delivery apps like zomato, foodpanda, and so on. The average delivery time was closest to 37 minutes.
Swiggy Clone app has its own active delivery boys equipped with a smartphone. This Swiggy app also helps users to track their delivery through routing algorithms. It notifies the tracking from picking up the order from the restaurants till the delivery at the doorstep.
Entrepreneurs are trending in these services to enrich their businesses. With our prolific White-label solution, we will help you launch the development of the Swiggy Clone app.
How exactly does this Swiggy Clone script work
Customers will be seeking food items in nearby restaurants using this Swiggy Clone app.
After deciding the foods, they are directed to add them to the cart and customize any additional need.
For the checkout, the last method, customers can choose their comfortable payment mode through a wallet or credit/debit card.
This sends a notification to the restaurants, and they confirm the order and then start to prepare the food.
The nearest delivery boys will be assigned to pick up the order.
Customers are provided with tracking services.
Once they receive their order, they can give appropriate ratings and reviews.
The core features that work seamlessly with the Swiggy clone app
The great success for this on-demand app like the Swiggy app would be the flawless working online system.
Customer App:
Profile Login: The customer will be allowed to create their profile by simply logging in with their email ID, phone number, or through various social media platforms and others.
Specific Instruction: Customers can make detailed instructions like whether to add or to remove ingredients. The restaurants take as per the customer's need.
Multiple Categories: Users are allowed to select from various restaurants and different ranges of cuisines and food items.
Payment: Pay for the order through different payment options such as Credit/debit card, e-wallet, and others.
Restaurant App:
Restaurant Availability toggle: Even the restaurants can choose to be online or offline according to their timings. They will receive notifications regarding the food request once they turn it on online.
Add Offers: Restaurants can provide offers, no delivery charges, and discount coupons to keep them, loyal customers.
Delivery Auto Dispatch: This exclusive feature allows the nearby executive to collect the order to deliver to the customers.
Order Status: Even the restaurants can view their order status at multiple stages like order confirmation, order pickup, etc.
Live Tracking: The restaurants can also look into the real-time tracking system through this on-demand delivery app.
Delivery Executive App:
Delivery Executive Status: In this On-demand food delivery app, even the delivery executive can toggle between being online or offline based on their availability.
In-App Navigation: Through the geolocation tracking, the delivery execute can navigate to the restaurants.
Delivery Executive Earning: It can be weekly or monthly basis; the delivery executive will look into their earnings through this app.
Job history: This exclusive feature helps the delivery executive look into their progress of orders and upcoming orders.
Suppose you're still excited to create yourOn-demand food delivery app like Swiggy; there is a gist of things that will keep you engaged. Deliverance of business is essential to lead you to profits and growth. Customers would have many criteria and options, providing them with excellent loyalty towards the company. Timing is necessary for delivery, and this service will appease the customers while using an app like Swiggy. In that case, our Turnkeydown ultimately helps you with the innovative technology that you would love to enrich your business. Let you flourish in your business in the On-demand development platform.
About the Creator
Esther have been working as an block chain research analyst in TurnkeyTown for the past two years. With over five years of experience in this field, and help customers to build apps according to their business and technical plans.
Reader insights
Be the first to share your insights about this piece.
Add your insights