How to Create the Perfect Business Plan
Creating a business plan is crucial to getting your next venture up and running.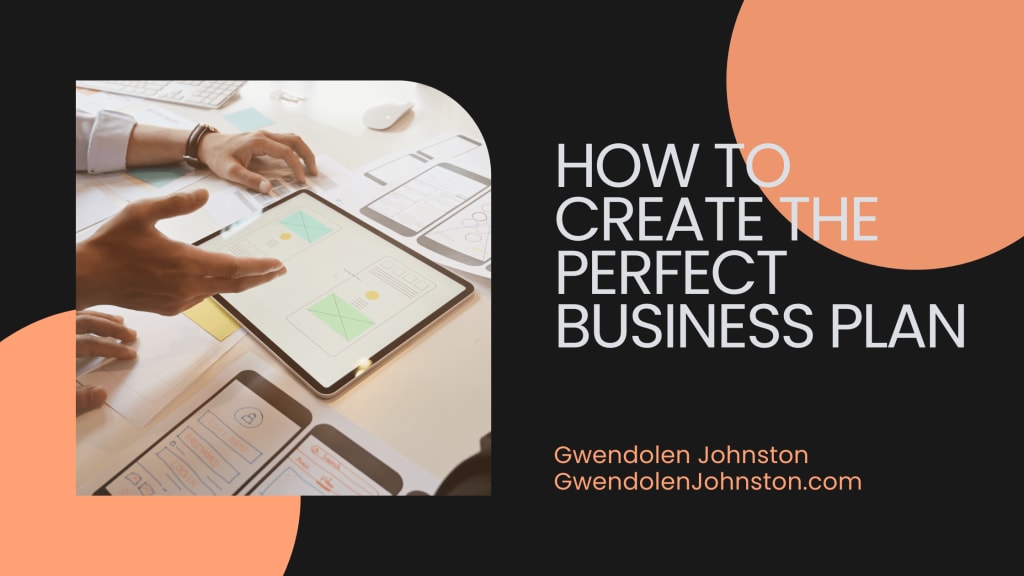 https://gwendolenjohnston.com/how-to-create-the-perfect-business-plan/
Before a business can be funded, investors must first evaluate it. A well-designed business plan is one of the most critical steps entrepreneurs should take to ensure that their company is viable. However, even if you don't need funding, having a business plan can still be beneficial. Here are all of the steps necessary to create a solid business plan.
Executive Summary
An executive summary is a summary that condenses everything that you've learned about the business into a high-level overview that will convince potential investors and lenders to read more. It should also include a list of key points you've uncovered while writing the plan.
Company Description
Your business plan should also answer two crucial questions: Who are you, and what do you plan on doing? This section should introduce the company and its goals and list key factors that will help you attract potential investors.
Market Analysis
A well-written market analysis will also cover essential details such as the size, the competitive landscape, and an overview of your company's position in the market. The necessary research to support your conclusions is significant to attract and retain potential investors.
Management and Organization
Your organization and management section should also include a list of the company's key individuals. It should additionally explain the legal structure of the company, as well as the ways that it will be incorporated.
Products or Services
Most areas of the business plan should also include a section that covers the products or services that the company provides. However, it's essential to have a list of necessary details to attract more potential customers.
Your Audience
Your ideal customer is the foundation of any marketing plan, and it should also be included in it. Having a comprehensive understanding of who your ideal customer is will allow you to make informed decisions when it comes to your business.
Marketing
Your marketing efforts are directly tied to whom you are trying to attract. A well-written marketing plan will help you identify your goals and strategies, and it should also focus on how your ideas can be used to draw that ideal customer.
Financial Planning
Although the exact details of your financial plan will vary depending on your goals and audience, it should still include a section that covers the multiple financials of the company. This should include a cash-flow statement, an income statement, and a balance sheet.
About Gwendolen Johnston
Gwendolen Johnston, a mother of four children, often fondly recalls her years as a full-time, stay-at-home mom. It was a frenetic period of cheerful mayhem and wearing numerous hats as a therapist, maid, teacher, chef, and chauffeur, to mention just a few of the roles required by her on a daily basis. Gwendolen believes that the key to successful parenting is allowing children to maintain their individuality and sense of childhood wonder while teaching them how to function well within the context of a family or society. In addition to prioritizing her children's needs, Gwendolen always found time for her self-care, conscious that her level of happiness had a ripple effect on the lives of others around her. To that end, she was able to successfully strike a balance between her professional and personal life while bringing up her children and simultaneously attending the College of Charleston to study Business and Sociology,
This sense of life-work balance is still relevant today, even though her children are all grown up. Gwendolen Johnston ensures that she takes time out of each day to do something that she enjoys, whether reading, doing yoga, or going on a walk. In addition to that, she is actively involved with the local community. When her children were younger, Gwendolen donated her time to their children's school. She continues to demonstrate the same dedication to the organizations she is involved with today.
business
About the author
Gwendolen Johnston is a successful entrepreneur who lives and works in Summerville, South Carolina. She is also an activist, philanthropist, and mother of four children, all grown-up now. Visit Gwendolen's website to learn more about her.
Reader insights
Be the first to share your insights about this piece.
Add your insights