How to Create a Stable Coin?
Stablecoin is a form of cryptocurrency that minimizes volatility and allows you to trade assets. Read the entire blog to know how to create a stable coin?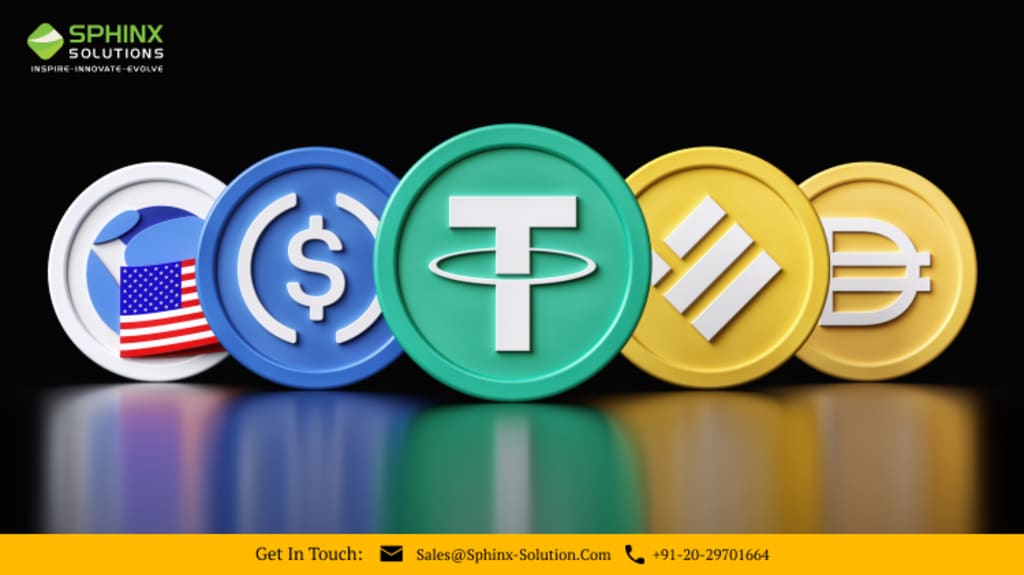 Nowadays, too many cryptocurrencies are circulating the blockchain platforms and exchanges. However, they have a high degree of volatility which makes them very unreliable in payment processes. To fix this high volatility, stablecoins were formed. This means stablecoins are the stable forms of cryptocurrencies that aim to erase asset fluctuations. As compared to Bitcoin, stablecoin development reduces volatility significantly and also results in a digital currency suited for every purpose, from daily commerce to exchange transfers. Keep reading this blog to get a 360-degree view and learn how to create a stable coin?
What is a Stablecoin?
As the name suggests, a stablecoin is a type of cryptocurrency designed to reduce the volatility in price in the crypto market. Its value is pegging the dollar crypto, commodity, or financial instrument. The stablecoin is one of the best alternatives to the most volatile cryptocurrencies like Bitcoin. It can also be collateralized to the underlying value asset.
In short, stablecoin leverages the benefits of cryptos, including transparency, immutability, security, digital wallets, fast transactions, low fees & privacy, without losing the stability and trust of fiat currency.
What is The Best Stablecoin?
As the most stable cryptocurrency, stablecoin brings the simplest way to transform fiat currency into crypto. They are also ideal for transferring money on the blockchain platform. Here are some examples of stablecoins:
Tether (USDT)
Binance USD (BUSD)
USD Coin (USDC)
Origin Dollar (OUSD)
True USD (TUSD)
Binance USD (BUSD)
How Does Stablecoin Work?
Stablecoins build a path to fill up the gap between cryptocurrencies and fiat currencies such as USD. There are 4 types of primary stablecoin and they are identifiable by their collateral structure – fiat-backed, crypto-backed, commodity-backed, and algorithmic.
Looking for blockchain app development services?
We help enterprises with our more advanced and transparent blockchain development services including stablecoin development, Metaverse development, DeFi Development and more.
Collateralized Stablecoins
In terms of exchange fluctuation rate, collateralized coins are usually pegged to other stable assets. Based on the collateral choice, they fall under the following categories:
Fiat-backed stablecoins: Fiat-backed stablecoins are usually pegged to the fiat currency value. They come with the backing of popular fiat currencies like GBP, Euro, USD, etc. Fiat-backed stablecoins are the simplest stablecoin having a 1:1 ratio backing.
Asset-backed stablecoins: These types of stablecoins play a big role in the cryptocurrency ecosystem. However, they may bear the risk of liquidity mismatch like money market funds. Asset-backed tokens can be pegged to asset pieces, for instance, gold, diamond, silver, oil, etc.
Crypto-backed stablecoins: These stablecoins use a protocol for ensuring that the value never varies with the backing token price. For example, the DAI token is one of the crypto-backed stablecoins that is Ether supported and it's pegged to USD value.
Non-collateralized Stablecoins:
These stablecoins are known as algorithmic stablecoins that use the Seigniorage Shares system. They generally implement the decentralization principle of cryptocurrency. These stablecoins rely on algorithms & maintain their peg mechanically. So, there is no requirement for collateral for backing the token value.
How to Make a Stable Coin?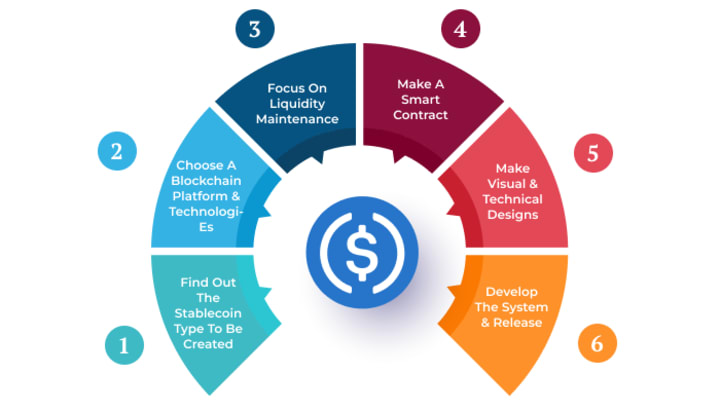 Step 1: Find out the stablecoin type to be created
As we discussed above, stablecoins are mainly two types – collateralized & non-collateralized stablecoins. So, it's hard to identify which stablecoin is ideal. If your main objective is to get long-term stability, you can prefer non-collateralized or algorithmic stablecoins. But if you need short-term stability, you should go for collateralized stablecoins.
Step 2: Choose a blockchain platform & technologies
When you plan to make your stablecoin, identifying the perfect blockchain platform is important. Previously, stablecoins were only running on Ethereum but nowadays, too many new blockchain platforms are widely available to create stablecoins. Some popular platforms include EOS, Stellar, TRON, etc. To choose the best platform, you need to focus on three major factors –
Greater Interoperability
High Scalability
Transaction Bandwidth
Once you choose the ideal blockchain platform for developing your stablecoins, you have to move forward to the next stage, where you need to consider liquidity maintenance.
Step 3: Focus on liquidity maintenance
Liquidity maintenance ensures that working capital is properly available. If the entire liquidity is lost & does not have any demand, your stablecoin development project will be useless. Here are some steps to maintain liquidity:
Evaluating inflation
Protecting from a huge supply
Transaction fees
Step 4: Make a smart contract
Creating the smart contract is another important stage in stablecoin development. Smart contracts also ensure high security through a digital agreement. For ensuring the authenticity and reliability of stablecoin on a decentralized network, you have to determine which protocol you are going to use and when you need the smart contract development solution. Developers make, test, and release smart contracts on a test network with a virtual wallet.
Step 5: Make visual & technical designs
In this stage, you need to design the required token. Designing the stablecoins refers to understanding stablecoin transaction flow & how the system works. You need to deeply focus on system design that helps your users who interact with the token. For example, you may need a mobile app or a dynamic website for enabling interaction with stablecoins. Therefore, this step will help you to design screens for the app or website.
Step 6: Develop the system & release
Once your design is ready, you need to start developing the system. In this stage, you need to create smart contracts required for interacting with stablecoins & launching nodes on a blockchain network that you're using. When the stablecoin features are connected & developed to the backend of the blockchain, the stage is to release it on a test net. Once you have developed the product, check its quality and if you find any issue, fix it immediately. After fixing all issues, you may release your stablecoin on the main net.
How to Invest In Stablecoin?
To start investing in stablecoins you should have a dedicated digital wallet or a crypto exchange account where you can directly buy cryptos. In some locations, some services are not available. So make sure that the option you choose is available in your location. Follow the below tips to make money from stablecoins:
Earning interest on stablecoins
Staking your stablecoins
Lending your stablecoins
Importance of Stablecoins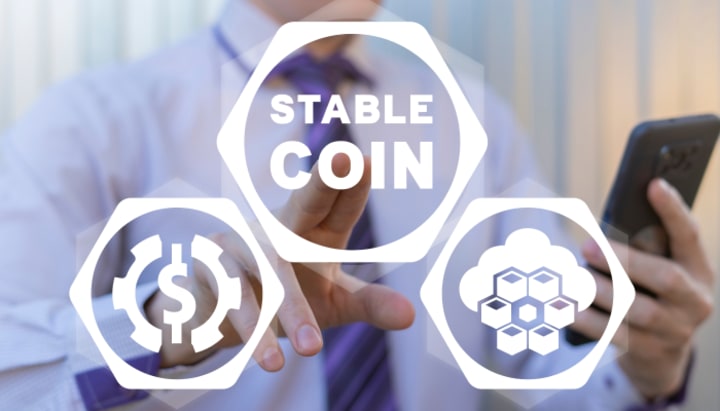 In the crypto-verse, stablecoins are highly essential for financial transactions. Here are a few reasons.
1. Stablecoins stabilize the volatile crypto market:
Stablecoins don't have a fixed schedule or limited supply, unlike traditional crypto coins. Instead, these digital currencies are disbursed depending on market conditions and economics. Stablecoins are fully backed with collaterals to protect investors from any crypto market clashes. The non-volatility nature of Stablecoins means they can be utilized for purchasing items or exchanging fiat currencies to buy cryptocurrencies.
2. Stablecoins give a simple way to transform fiat currency into cryptocurrency:
Many investors prefer to convert fiat currencies to digital currencies before they invest in crypto. Stablecoins gives you the easiest way to do this. As an investor, you can buy stablecoins having fixed values to your fiat currencies.
If you would like to convert dollars into digital currency, you may trade dollars for USDC or USD coins. Tether, also called Realcoin, is the first stablecoin that has a 1:1 peg to USD. A Tether can also be used on multiple public chains such as Ethereum, Tron & Algorand.
3. Stablecoins make money transfer easier on the blockchain:
One of the popular cryptocurrency assets, Tether surpasses the integrated trading volumes for Ethereum & Bitcoin. The market capital of Tether or USDT is approx $66.91B. This huge market capitalization means the asset is valued by the global market. Other stablecoins such as USDC are rapidly growing. According to the market capitalization, the USD coin is the fifth-ranked digital asset. While other digital currencies are used for multiple purposes, stablecoins can be the perfect choice to move assets on the blockchain network.
4. Stablecoins are DeFi's core building block:
Decentralized finance depends on stablecoins. For instance, one of the biggest decentralized finance protocols, Curve, has a $20 billion locked value & it serves as a marketplace for traders who trade several stablecoins with fewer fees. These Defi protocols help investors to engage in the stablecoin pools and make billion-dollar funds.
Other Benefits of Stablecoins Include:
Reduce volatility: A stablecoin is an excellent option for buyers and sellers as their tokens never crash in the future.
Save or trade assets: Stablecoins are easy to trade & they can be kept without a bank account
Earn interest: It's possible to earn high interest on investment in stablecoins
Transfer money quickly: Stablecoins allow you to transfer money anytime with a low transfer fee
Send money globally: As stablecoins offer a fast processing option, you can send money internationally
Searching for blockchain developers?
As the leading blockchain development firm, we utilize design-oriented approaches that execute effective business transformations in markets, industries & ecosystems.
Final Words
The major objective of the cryptocurrency world is to create a less volatile digital asset. The reason behind developing the best stablecoin is to give some benefits from both crypto and fiat currency. Therefore, investing in stablecoins is definitely worth every effort. However, when you plan for the complex process of developing and releasing such a digital currency, it's obvious to get confused & intimidated. So, it's better to take assistance from crypto experts. For more cryptocurrency-related information, get in touch with Sphinx Solutions.
Read more related blogs:
How A Dapp Developer Creates A Decentralized Application?
About the Creator
Sphinx Solutions is a software development company helping brands thrive by offering software solutions from industry specialized developers and experts.
Reader insights
Be the first to share your insights about this piece.
Add your insights