Home Office
How To Become A Full-Time Freelance Writer
Six Things You Need To Know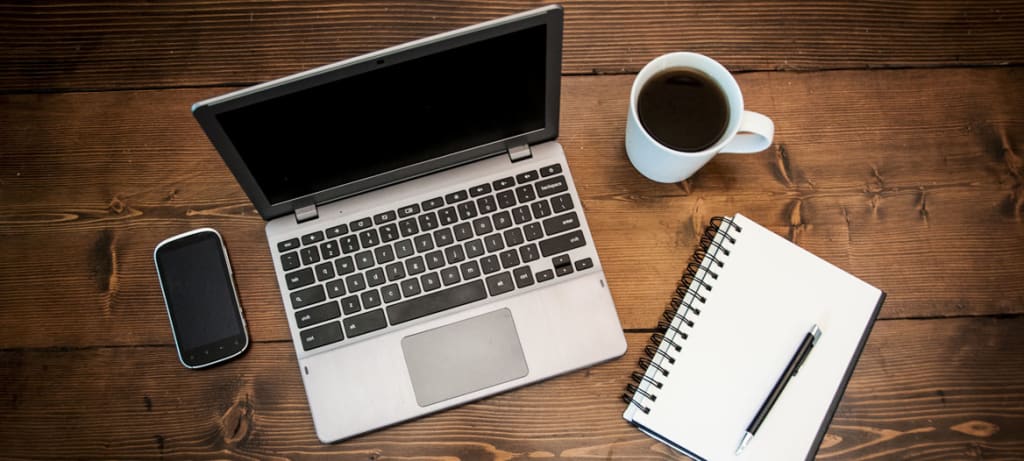 The first thing you need to understand when you decide you want to write for a living is that it's not going to be easy. Sure, it's mostly on your own terms, but work can come and go, and you may spend time with little to no money coming in when you're between jobs.
So, what makes me the person to listen to on this subject?
I have been writing professionally since 2000. When I started I wrote music reviews, for free. My only pay was free music. But, by 2003 I was the editor of that same magazine. Once the magazine sold near the end of 2005 I was out of work and looking to expand my writing with an online career. It wasn't easy, and I wasn't able to call myself a full-time freelancer until 2010.
Plus, people come to me ALL the time asking for advice on getting started.
In all that time, these are the things I learned you must do if you want this to be your career:
Always Be Looking For Work
I never stop looking for my next writing gig. Even when I have something that seems good, I still gig hunt at least once a week — if not more. When I don't have something steady, or more than one writing client, I look for work on a daily basis (although weekends are often slow when it comes to sites posting new job ads).
Where do I look? There are a few sites that I use religiously. They are the sites that I personally have found do the best at curating legitimate writing work. Don't get me wrong, something scam-like will still pop up once in awhile, but the more you apply the more you'll learn what to look for when it comes to legit jobs.
My top 3 gig hunting sites:
Freelance Writing Jobs - This is my go-to site that I visit on a daily basis. It is the first site I check, Monday through Friday anyway.
Write Jobs - This site often updates throughout the weekend. I highly suggest paying your dues to help keep them running and sign up for Write Jobs Plus as well. This specialty email shares some of the best paying gigs with you that you might not find on the other sites.
Writers Weekly- Just like it sounds, Writers Weekly updates with some great prospective jobs on a weekly basis.
These sites curate gigs from all over the web, including ads that you'll find on Craig's List and MediaBistro. It cuts down on your own research time giving you more time to be writing and creating a stellar cover letter.
Be Willing To Make Little

You don't have to write for free (and you shouldn't), but to get the experience you should be willing to take a small amount of pay. Even with 17+ years of experience, I have taken some pretty low paying jobs. If it pays little but has steady work then it will do a lot for your ability to make a living as a writer. Plus, if you start with a smaller amount with a gig that promises raises, you can earn more as you get better at your writing skills.
Never Stop Writing
Even when you aren't working you should still be writing. Start a blog that connects to your portfolio website so that you can show people that you are a skilled writer. You could also find a site, much like Vocal, that lets you write what you want and makes some residual money when your words get viewed.
Put Together Your Portfolio/Cover Letter/Resume


Speaking of your portfolio website, if you want to be a serious writer you need to have a website. This is where people will be able to see the work you've done. A resume isn't always going to be needed when it comes to writing work. It's easy enough to get a dot com in your name and set it up. You can use something like Wix or Wordpress to make it easy on yourself.
You do want to have a resume with your writing skills in it. Even if you've only ever written for the school newspaper, include it. You'll gain experience as you go and there are plenty of writing gigs out there willing to take on newbies.
When you apply for a writing gig you want to make sure your cover letter is styled for that particular job. You don't want to talk about your tech writing experience when applying to work for the local paper. Yes, you'll want to mention it, but they'll want to know what kind of work you've done relating to the work they want you to do.
You Don't Need A Degree (But You Do Need Experience)

If you are intimidated by writing jobs that ask for people with degrees and you don't have one, you may never break into the world of full-time freelance writing. You need to remember that your experience counts as schooling. Apply, the worst thing that could happen is that you don't get the job. You might find they are willing to take on someone with hands-on experience instead of someone fresh out of college that hasn't done any paid writing work.
Don't Just Look Online

If you seriously want to write for a living you need to step away from the computer once in awhile. Some of my favorite writing gigs have been with local magazines and newspapers. While print media seems to still be a slowly dying breed, there is still work to be had. It may not pay a lot, and you may only get an article a few times a month, but you are developing experience as a journalist that will look good for future writing jobs, online and off.