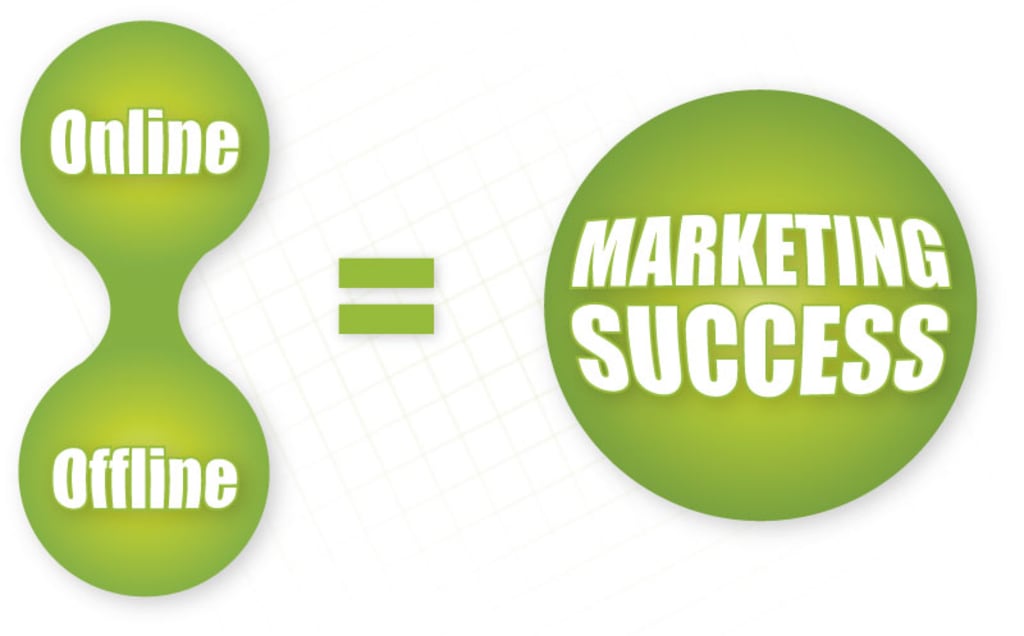 Online and offline marketing doesn't have to be mutually exclusive to each other. If you take the right steps by using common business practices, you'll be able to mix the two strategies together to benefit your online business. Integrating both online and offline marketing will allow you to reach more customers who will want to seek out more information about your business.
Primary Example of Marketing Collusion
One example of connecting offline and online marketing is when you create a flyer or advertisement to be displayed in public. You would then choose to include the website link to your company below the physical advertisement in a public place for potential customers to see.
What Online and Offline Marketing Looks Like
It's common knowledge that a good marketing strategy has to be multi-faceted involving both online and offline elements. Offline advertising includes examples like brochures, newspaper advertisements, and billboards which should coincide with online advertising methods like websites, e-mail subscriptions, and landing pages. There are a couple of other ways in which online and offline marketing can be merged together to the benefit of your business.
Keeping the Advertising Consistent
The look and feel of your online and offline marketing must be the same in terms of logos, designs, and messaging. There must be congruency in terms of your branding or you may lose customers who may be confused by the mixed messaging emanating from your company. Keeping your advertising consistent in both the online and offline worlds will make your marketing efforts more successful and allow your business to gain more profits and recognition.
Message Must Stay the Same
When it comes to a business, your slogan and overall message must be the same regardless if it's online or offline. The consistency is crucial if you want the customer to remember your business based off your messaging that never changes across advertising platforms. If you decide to change your messages, it's important to make sure that the new message stays the same to your customers both online and offline. Consistency is the key.
Marketing the Products Effectively
Another way to put offline and online marketing together is to put links to your business website and social media accounts on your physical advertisements. You can also make sure that you can advertise the physical location of where your products are being sold or where your business headquarters are by putting that information on your website and social media accounts. Your website traffic and sales should increase by taking this important step towards full integration.
Using Important Keywords
It's also necessary to use important keywords related to your business in both your online and offline marketing techniques. By continually using the same keywords, potential customers will be able to search for your business more easily. Your product or service could come up in search results if they enter in the correct keywords related to your company. You can also create landing pages in your online advertisements as well as link to those pages through offline advertisements in order to bring more web traffic to your product or service.
Conclusion
Overall, online and offline marketing can be easily integrated together through a number of ways. It's very important to be consistent with your messaging, your advertisements, and your logos in order to build a bigger customer base. If you choose instead to keep these two forms of marketing separate, you may be hurting your business. It's a fact today that the vast majority of successful businesses today merge the online and offline marketing strategies together.
About the Creator
Ben helps students from around the world to improve their English language skills. Ben enjoys traveling around the world, developing his writing abilities, and reading good books.
Reader insights
Be the first to share your insights about this piece.
Add your insights