How Many Communities Are You In?
A List of My Pieces by Community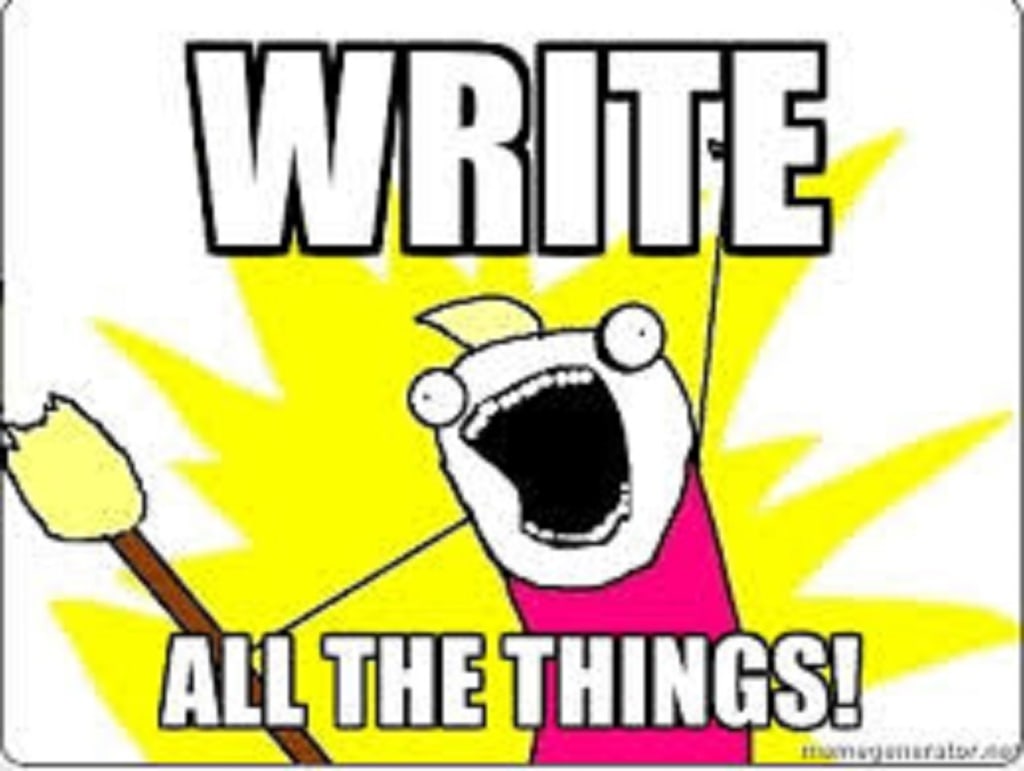 When I first started writing on Vocal, I was determined to write for ALL of the community platforms.
I saw it as a test of my writer salt... can I find a voice in all of these different spaces?
No.
No, I could not.
The only thing I know about soccer is that David Beckham is really hot, so Cleats was not for me. And trust and believe you don't want me writing in Trader cause my stock market knowledge is basically that the stock market exists.
But I have accomplished writing for more of them than I thought I would. I definitely am skewed towards certain platforms for SURE. I mean, Petlife is pretty obvious. I'm a vet tech with seven pets. Obviously I write a lot for that one. So here's a list of all of the communities. The ones I've written for will contain hyperlinks to my stories. The ones I haven't, will have either the reason I haven't or an idea for a future story. I hope you find something you enjoy.
01.
I never thought I would have a piece for this community. Then Facebook crashed and the whole world went crazy.
Beat.
The Graveyard Smash challenge that I originally wasn't going to enter but then came up with my own little twist.
Blush.
A look at tattoos... my tattoos and the art in general.
Cleats.
David Beckham is hot. Seriously. That's all I have to say about that.
Confessions.
A piece about Life Lessons I've learned that earned a Top Story.
The day my brain totally malfunctioned at work because I was lost in a fog of grief and confusion.
A piece from the Vocal Creators Saloon, the challenge was to write your own Spotlight Piece. Why it's in Confessions, you'd have to ask the moderators.
When I finally left my toxic hospital and moved on to one that was better suited for me.
My marriage is very real, but my rings haven't always been.
I'm really not sure how so many of my pieces end up in this community but it is what it is. This is about how toxic people effected my life.
A piece about the bully that I used to work with.
When you're both highly competitive and incredibly insecure.
Going back to work after 3 months on worker's comp.
The many ways a big brother can torture his little sister.
Criminal.
The truth behind the horrid terrorist organization that is PETA.
There was a time where I believed I would be in the FBI. Writing about that time earned me a Top Story.
Earth.
Asking how come the Discovery Channel has Shark Week but nothing about the rest of the sea earned me a Top Story.
A look at how hurricane season impacts those of us that live in the cone of danger.
The misunderstood opossum that actually changed the course of my entire life.
Education.
For the Coming of Age Challenge, a piece about the teacher that broke me, and the one that helped shape me.
Families.
Important information for parents on how to properly teach their kids about the dangers of the world.
The reason I do not now, nor will I ever have children.
Losing my grandparents to dementia was brutal. Remembering them matters.
The board game my brother made me and other reasons that he's so awesome.
The story of when my ceiling collapsed in three different places last year. That was not a fun time for me.
I will always be Daddy's Little Girl.
My first ever piece on Vocal was also my first challenge piece on Vocal. I wasn't really sure how the platform worked yet but I decided to try my hand at the Bedtime Stories Challenge anyway. I did not win.
Feast.
Nothing like a good cake battle!
That time I ranted about cereal and it became a Top Story
My journey to give up eating WAY too much salt earned my a Top Story.
My rather unhealthy relationship with food.
Fiction.
A Jason Basaraba prompt inspired story about a door in the woods.
A fictional version of my life (and death) as an FBI Agent which ended up being a Top Story.
SFS CHALLENGES:
For the Deep Dive Challenge, I wrote my first ever piece of dystopia.
This piece was not actually fiction. I just found it easier to call it that. I tell my truth easier now, but when I first joined vocal, I hid it under the guise of fiction.
Filthy.
I post ALL of my pieces on my personal Facebook and my parents read them. So you won't find me here! I have nothing against it, there's just some things parents shouldn't read about their kids.
Futurism.
I am not entirely sure what yet, but I'm going to try to find a way to write something in this community. Someday. Ya know... in the future.
FYI.
A little help for my fellow creators to make the Scarlet Macaw challenge really count.
When you start off completely blocked and then end up writing a piece teaching people to be vet techs. Don't actually think this makes you a vet tech.
Gamers.
I do not video game.
Geeks.
Is The Nightmare Before Christmas a Halloween movie... or a Christmas move?
Fandom Challenge. All about the world of books in general.
But my main Fandom piece was about Harry Potter and my disillusionment in learning the truth about J.K. Rowling.
The return of American Horror Story.
Matt Amodio took over Jeopardy for a long time.
A review of one of my favorite shows... which is of course about dogs.
Horror.
Foggy Waters Challenge had me create my first ever ghost story. I published it under Fiction horror, but it's my only true horror piece.
Humans.
My tribute piece to Tom Bradbury.
When a song was singing about my romantic past.
When an old friend becomes a new enemy.
One of my silly weird posts that shows my sense of humor in many many memes.
Coming of Age, the challenge got me thinking of the things I've been through in my life and how they changed me.
A letter to myself as a child.
When I decided to write a completely ridiculous list of completely ridiculous signs.
And then I wrote another one.
Lisa Gerard Braun came up with the prompt to write ten things that you can't live without.
An inspiring project started by a friend of mine to help total strangers have a better day.
A list of the authors that I love and why I love them.
If you had three wishes, how would you use them?
A piece about optimism inspired by Tom Bradbury (including a direct quote from something he said to me).
Things that people do... and probably shouldn't.
Lisa Gerard Braun's VIRAL Vocal prompt of Who I Am pieces. I wrote one. You probably did too.
A real unfiltered look at being married.
How the internet changed the world... and all of us along with it.
I judge my husband sometimes for putting up with me. So does my family.
The true love story of how my husband and I came to be.
Stories of mirror tragedies that happened near me.
Journal.
That time I got really mad and went on a rant.
I wrote a piece about writing with tips because I was asked to and it became a Top Story.
I followed it with a piece about writing process because it felt natural.
Trying to get the Vocal platform to update their community guidelines to allow for more communities.
Inspired by Jason Basaraba, I wrote this based on a single phrase that he said in a comment once.
Expression of gratitude to the creators who helped me through some tough times. Tom was definitely one of them.
How I incorporate myself into everything that I write.
Navigating the community platforms and trying to figure out where certain pieces fit.
Experimental piece where I let the creators in the Vocal Facebook Groups ask me questions about literally anything.
When someone DEMANDED a tip from my friend and I didn't take kindly to it at all.
A psychological evaluation of the brain of a writer.
When Jason Morton started an entire series based on me.
I wrote a wish list for things I want Vocal to add to the platform.
When I was getting ready to go back to work and had found my stride in writing daily, I did not want to go.
Not only did I not want to go, but when I did go, I barely recognized the hospital I returned to.
When I was blocked and I wrote about nothing. Literally nothing.
Finding my way back to writing after a long hiatus.
Lifehack.
The Threading the Needle Challenge Challenge piece I wrote about coloring.
Longevity.
This piece means a lot to be. Being a blood or organ or marrow donor matters so much and could save a life.
This was meant to be a series of my journey, but it turned out, I really really hate exercise.
My completely insane rant about missing coffee.
Marriage.
The story of my VERY non-traditional wedding which became my first ever Top Story.
Motivation.
The challenge I created in the name of Tom Bradbury to encourage those who knew him to continue in his honor.
When you're buying a house and realize you can't order one on Amazon.
A message to those who subscribe to me.
When another creator tried to make me feel small and I took that power away from her.
How I spent my first month on Vocal.
I compared Vocal creator groups and American Ninja Warrior and earned me a Top Story.
My writing mentor who means the world to me.
Petlife.
The Critter Costume Challenge was WAY too much happy for me!
The Critter Costume challenge inspired me to also make a piece with my pets in their holiday outfits.
A story about a major lawsuit happening in the pet pharmaceutical supply world and how it could effect your pets.
If there's a fire alarm at the animal hospital where your pet is, this is what you need to know.
There is nothing worse than being a vet tech and watching people try to get medical advice for their pets on the internet.
Even vet med professionals get freaked out when something goes wrong with their own pets.
Becoming a vet tech comes with some initiation rituals that are... a little weird.
EmPAWee Of the Month Challenge piece. I have seven pets. I work for THEM. And they do not let me forget it.
The Day in the Life challenge. Writing about why I feel my job matters.
Some advice for soon-to-be or new pet parents.
My dog's rescue story, written through her perspective.
My pets birthday traditions. I may be slightly obsessed with them.
When you have cats, falling asleep on your couch is never a good idea.
A letter to my dog. Things I really hope she somehow knows.
Fun Facts about Dogs!
Myths about Cats!
Myths about Dogs.
The dangers of owning a chinchilla in South Florida.
When you adopt kittens and find out they're actually Maus and your whole life is turned upside down.
Dressing up my cats.
The two dogs that changed my life forever.
Types of pet parents your vet really wants you NOT to be.
Suicide in the Veterinary Profession
Tips for getting your dogs through the Fourth of July.
The first piece I wrote about my job. The title is meant to be ironic.
Photography.
I have a lot of awesome photos but I don't consider myself a photographer. However my cousin is incredible with photography so I may collaborate with her at some point to make a piece in this community.
Poets.
Poetry is not my strong suit but for the Homecoming Challenge, I gave it a shot.
I wrote a serious piece.
And a not so serious piece.
And then once I wrote a message to Vocal when I felt utterly defeated.
Potent.
I'll be honest, pot and I are not friends. I hate the smell so much that it makes me crazy. You'll never find me here.
Pride.
I haven't submitted anything here yet, but I definitely plan to.
Proof.
Not much of a drinker these days but if I can get enough of my friends to help me piece together the events of the evening maybe at some point I will write about my 21st birthday... I remember there were Jell-o shots.
Psyche.
The untimely and tragic death of Tom Bradbury really hit us all. It was the start of a week from hell for me.
My struggle living with severe anxiety disorder and trying to hide it.
When I couldn't stop smelling pasta and my hypochondria started writing a piece for me.
Ever wonder what the difference is between psychopaths and sociopaths? I explained it for ya here.
What it's like to live with horrible insomnia.
Simone Biles and her absolute courage inspired me to write about her and landed me a Top Story.
My story of being diagnosed with Borderline Personality Disorder.
Serve.
I was a Navy wife once but it's not a time in my life I enjoy reliving. I may at some point write about it, but so far I haven't.
Styled.
My fashion is essentially scrubs and pajamas though I may at some point write a piece about the glory that is a good 6 inch stiletto shoe.
Chain.
I'll be honest, I'm not entirely sure what this one is about so I have nothing for this community.
Swamp.
September 11th. A day no one wants to remember, but we always say we should never forget.
Trader.
Like I said, you do not want me attempting to write for this community. It would be bad and probably crash the entire market. I'm that powerful.
Unbalanced.
I don't sports ball. NEXT!
Viva.
The world through the eyes of a woman.
Not all women want children... or to deal with other people's children.
Wander.
Jason Basaraba asked me to list five places I'd like to live. I did not take it very seriously.
A piece about why I hate Florida so much. And I do. I really do.
Wheel.
I know next to nothing about cars. If something happens to my car, you will find me crying on the side of the road because I don't like feeling helpless. You'd think this would push me to learn more... but no... I just call my dad, who then reminds me he's 1,300 miles away and maybe a mechanic would have been a better call.
So... All in All....
I've been on Vocal for three months. Not including this piece, I've published 140 pieces and received 10 Top Stories.
I have not won any challenges and there are definitely communities that I wrote for more than others.
Most of the ones that end up in Confessions, I confess, I don't know why they're there. Sometimes it makes sense where a piece ends up... other times I write a story about my confusion about it.
Writing this gave me a chance to look back at what I've done so far and gave me some thought as to where I want to go next. Maybe I can write a piece for Styled about what it's like to live the #Scrublife. I kinda wonder if Cleats would accept an entire piece of 600 words detailing exactly why David Beckham is so damn hot.
Stranger things HAVE happened.
Like when I sat down and thought it would be a great and not at all time consuming idea to put ALL of my pieces into hyperlinks to create an anthology piece.
Because why not?
It was tedious and you can find them all in my profile anyway, that's why not.
Meh. I did it. It's done. And you read it! So thanks for that!
I think I need to stay away from Petlife, Journal and Humans for a while. I seem to live in those communities.
I won't, but maybe I should. Expand my horizons or something like that. Or ya know... I will write more about my pets. Because obviously, they're amazing.
If you found a story you haven't read yet, show it some love! If it seems like I get non-stop Top Stories, this was to show you... it's really 10 out of 140. That's not non-stop.
It's barely impressive.
If you've never been Top Story, you will be. Your time is coming.
Keep writing!
list
A veterinary technician, writer and animal advocate from New York. Currently living in South Florida and desperately trying to escape. Runs on Starbucks and the love of her husband and 7 rescue animals.
Receive stories by Courtney Capone in

your feed