How Entrepreneurs Should End Each Day
Entrepreneurs are some of the busiest people in the world.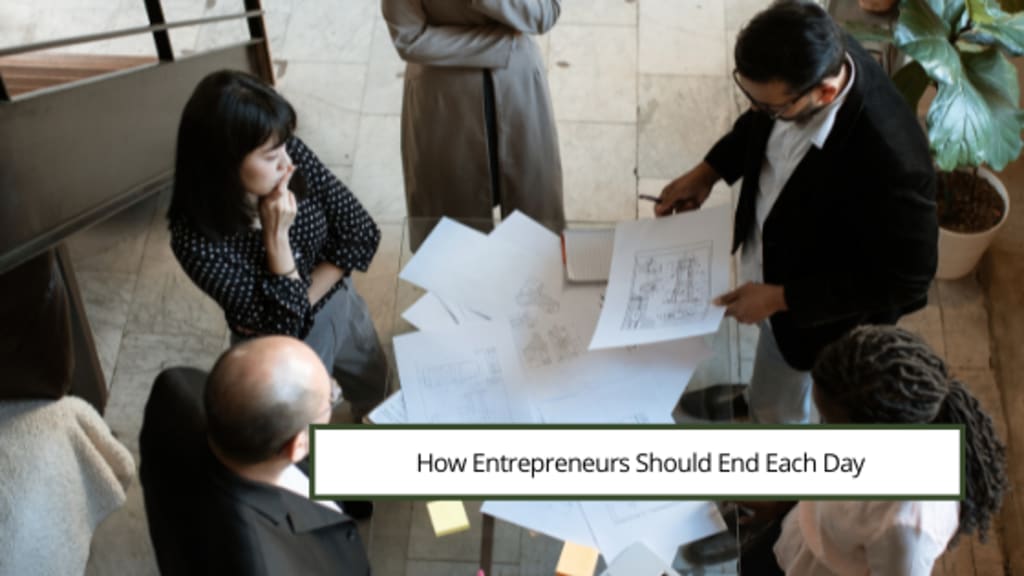 There's no denying that entrepreneurs have a lot on their plates. They have businesses to run, employees to manage, and ideas to develop. Naturally, entrepreneurs have to create the best routines for their lifestyles and schedule.
It can be challenging to juggle a million different things and still find time for yourself as an entrepreneur. But it's essential to take some time each day to reflect on your accomplishments and recharge for the next challenge. This article will discuss how successful entrepreneurs use these eight tips to end each day and prepare for tomorrow.
Set Aside Time for Yourself
It's essential to set aside some time for yourself at the end of each day. This can be used for reflection, relaxation, or clearing your head. Dedicating even fifteen minutes to yourself can make a difference in your stress levels and help you feel refreshed for the next day.
Write Down Your Accomplishments
One way to ensure that you're taking the time to reflect on your day is to write down your accomplishments at the end of each day. This can help you remember all of the great things you've done and boost your confidence heading into tomorrow. This also helps keep track of your progress over time.
Make a To-Do List for Tomorrow
Making a to-do list in preparation for tomorrow is an excellent time-management skill. It can also help entrepreneurs wind down. This can help you hit the ground running in the morning and ensure that you're productive. Plus, it can be helpful to have a visual reminder of what you need to accomplish.
Set Aside Time for Family and Friends
Even if you're busy with work, setting aside some time for your loved ones is essential. Spending time with loved ones is critical for your mental health. It can help reduce stress and boost your mood while giving you something to look forward to outside work.
Exercise
Exercising is good for your physical and mental health. Taking some time to get active at the end of the day can help you clear your head, reduce stress, and fall asleep more easily.
Unplug From Technology
In today's world, it's easy to get wrapped up in our devices and all of the constant notifications. But it's essential to unplug from technology at the end of the day to relax fully. This means no checking email, social media, or work messages after a certain point. Give yourself some time to disconnect and unwind.
Read Something Enjoyable
One great way to wind down at the end of the day is to read something you enjoy. This can be anything from a novel to a magazine to your favorite blog. Reading can help take your mind off of work and allow you to relax before bed.
Get Enough Sleep
Last but not least, it's essential to make sure that you're getting enough sleep. You might be tempted to burn candles at both ends. However, this behavior can lead to burnout and decreased productivity. It is best to get at least seven hours of sleep each night to be well-rested and ready to take on tomorrow.
Following these eight tips can help entrepreneurs wind down at the end of each day and recharge for tomorrow.
About Cameron Forni
Cameron Forni is the President of Select at Curaleaf, as well as the former CEO of Cura Cannabis Solutions and the Co-founder of Select Oil. In May of 2019, Cameron led Cura Partners Inc.'s Select brand through the largest acquisition in cannabis history, cementing his position as one of the biggest power players in the industry. In a record-breaking, billion-dollar deal, Curaleaf acquired his brand, essentially becoming the largest legal cannabis company by revenue.
About the Creator
Cameron Forni is the President of Select at Curaleaf, as well as the former CEO of Cura Cannabis Solutions and the Co-founder of Select Oil.
Reader insights
Be the first to share your insights about this piece.
Add your insights