How do people make money working from home on the internet?
Answer: They sell something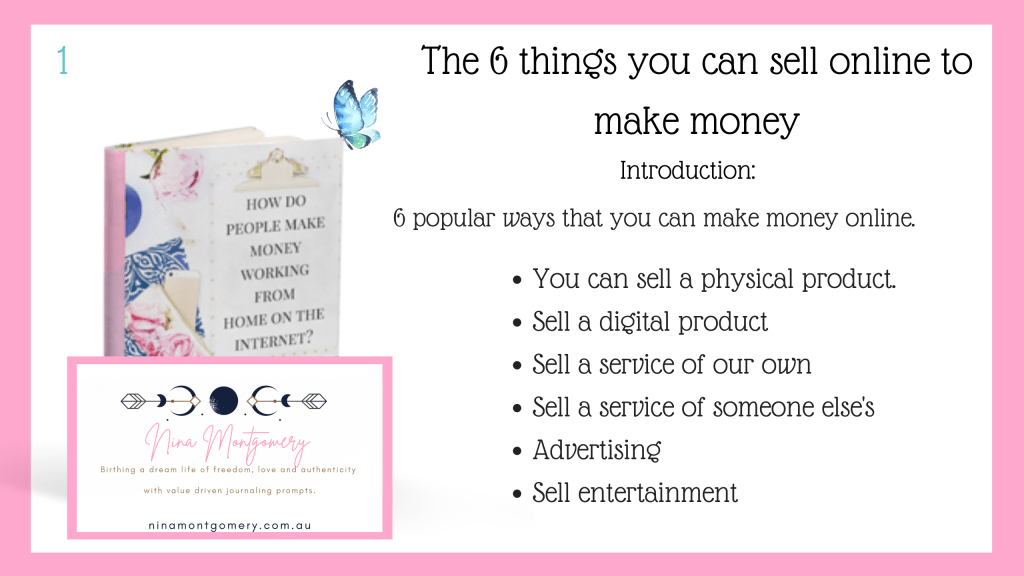 This post contains affiliate links- to learn more- please scroll to the bottom of the page.
Have you ever wondered how to make money from home?

Have you ever wondered if it is possible?

Have you seen the ads placed on the internet that read like this....

"Download my FREE ebook and see how to make money from social media"
OR what about this one from my imaginary mentor Yaro and is an affiliate link....
How Do Bloggers Make Money? <Hint: Click this underlined link and watch a video to find out>
For those of you that are wondering whether or not it is possible to make money working from home~ I can tell you the answer is most definitely a yes.
And I can tell you this because I have done it for years with my own little side hustle making babies and children's embroidered gifts :)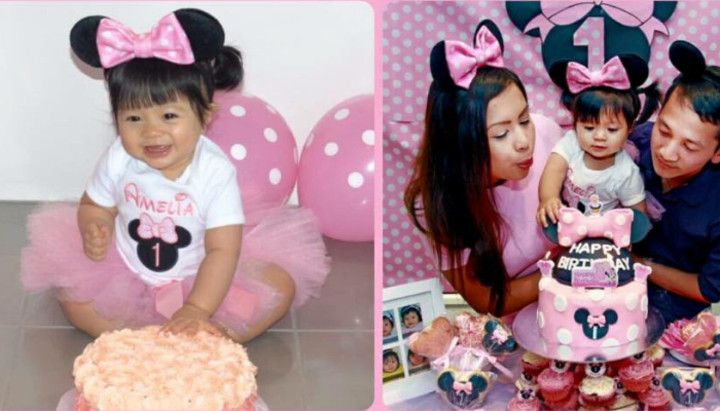 However if you really want  to know how the internet works, then you might want to continue reading a little more~ as you will soon find out that there are a few ways to make money working from home....however the real trick is in figuring out what works best for you.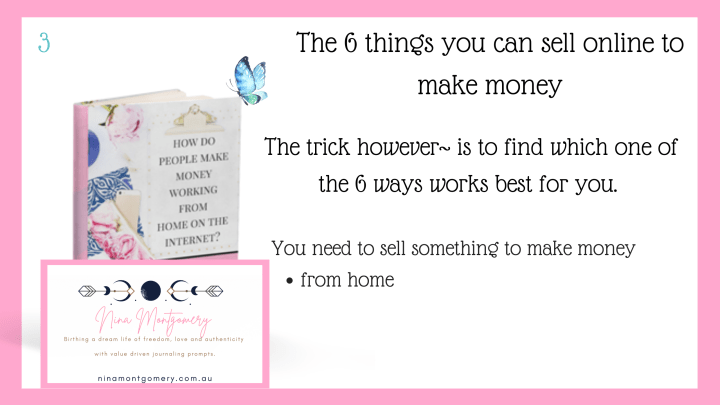 Before we begin though~ let's agree that there are roughly 6 popular ways that you can make money online.
They are:
~ you can sell a physical product.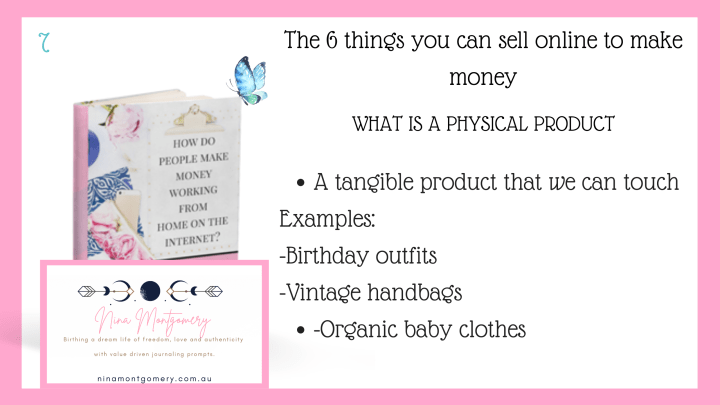 This can be a physical product that can be held in your hands, and is then packaged and sent to your customer....think of things like shoes and handbags and clothing etc etc
The second thing you can sell is a digital product.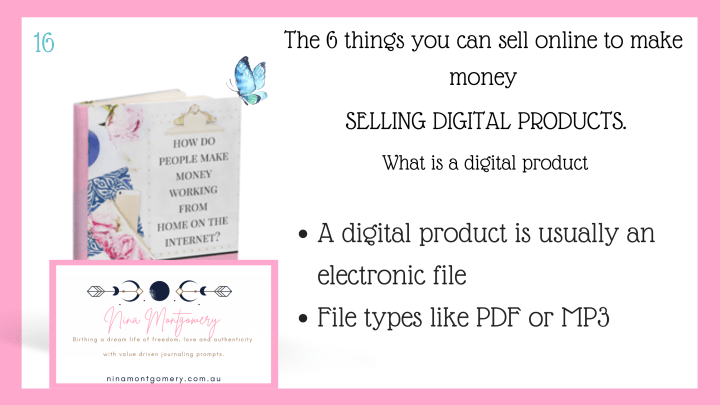 Think of an electronic file....maybe a song that you purchased from iTunes or a movie or game that you might purchase and download.
Digital products are currently what every person in the world wants to sell.... They are created once and then sold over and over and over again.
No purchasing and holding stock. No wrapping goods and sending via the post office. When you hear of people make 6 figures online working from home~ most times that money is made selling a digital product or service.
The third thing you can sell on the internet to make money working from home is a service (of your own).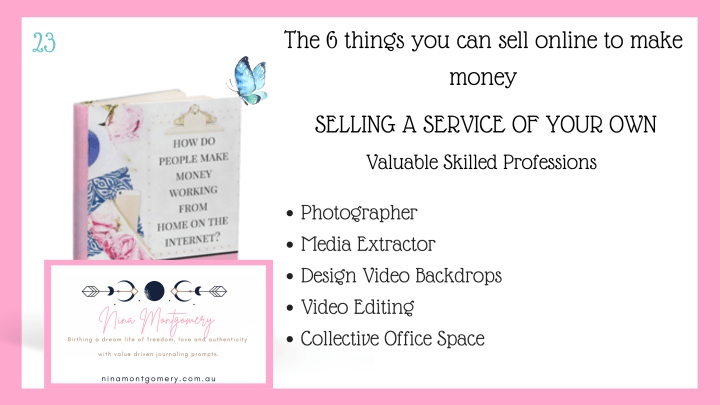 Think of coaching, or clairvoyants, virtual assistants,  website managers or social media management etc.
All of these people get paid a fee (usually per hour) for a service that is provided to the customer.
The fourth thing that can be sold online is a service of someone else's.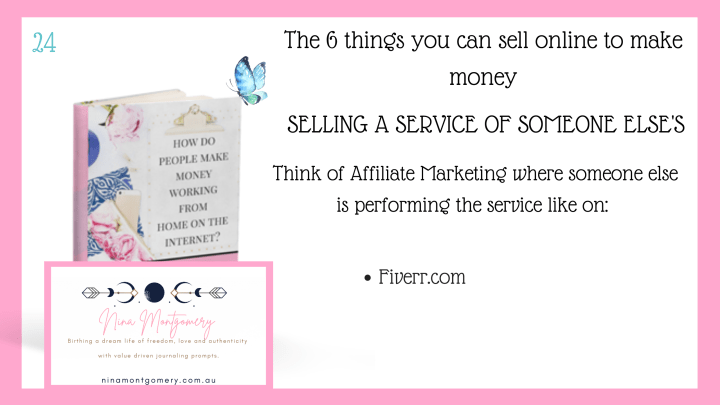 Think of affiliate providers here like:
Fiverr.
Companies like this offer a service where they own a platform (a service) that allows other people to come together to buy and sell or seek the services of another party, however these companies do not sell anything themselves~ the entire service is provided via a platform where they sell the services of other people.
If you are still wanting to know how to make money from home or social media etc~ then the 5th thing you may consider selling online to make money is advertising.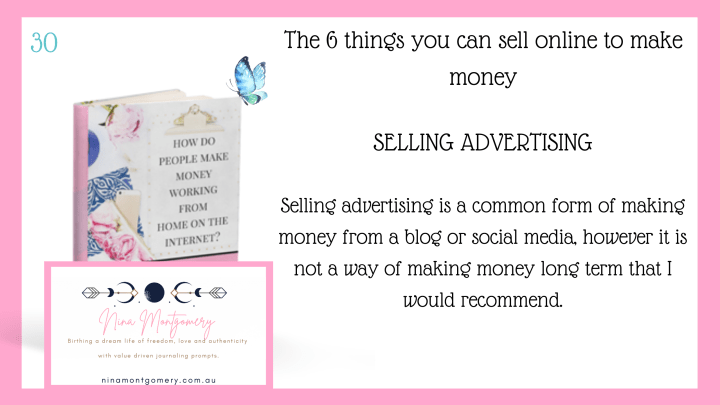 This is where you have a blog/website/facebook/YouTube channel etc that has a high number of people that engage with it on a daily basis.
Selling advertising is a common form of making money from a blog or social media, however it is not a way of making money long term that I would recommend, unless it is part of a diversified strategy with the other 5 products we are talking about.
Lastly, the 6th thing on my list if you are wanting to know how to make money working from home ~ is to sell entertainment.
We would class this as selling the "experience".
All of these things can be done working from home.
All of them have the potential to earn large amounts of money.
And notice how I mentioned that all of them are "selling something?"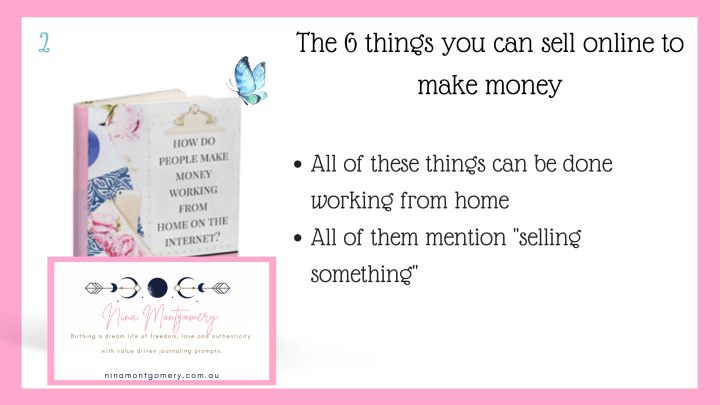 This is how to make money from home.
You need to sell something.
Surprised?
Yes...I must admit I was too, when I first found this out.
I didn't realise that to make money online you needed to sell something.
I just thought that you did something.
But no.
To make money online you need to sell something.
The trick however~ is to find which one of the 6 ways works best for you.
So take a minute to sit down and think.
Do you have money?
Do you have time?
Do you have a skill?
What are you good at?
What do you enjoy?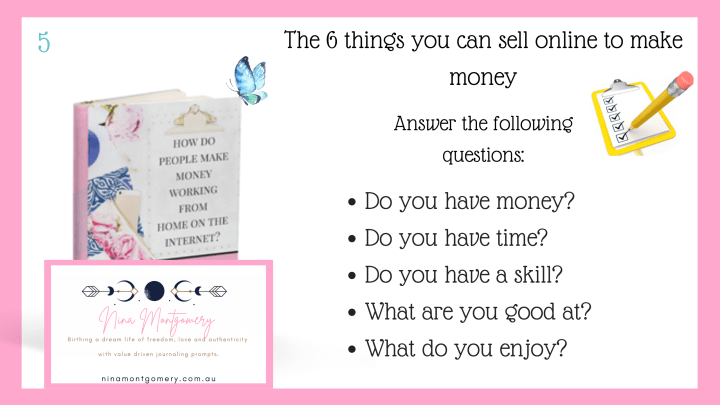 Once you have had a think ~ take a few minutes to go through each of those 6 categories individually.
If you want some worksheets for free to help you work out your thoughts, please go to the other links in this series. I'll release a new chapter each day for you over the coming weeks.
The worksheets in the series will look like this, and you can simply right click to your computer, SAVE AS, and then print on your own paper at home or the local print shop.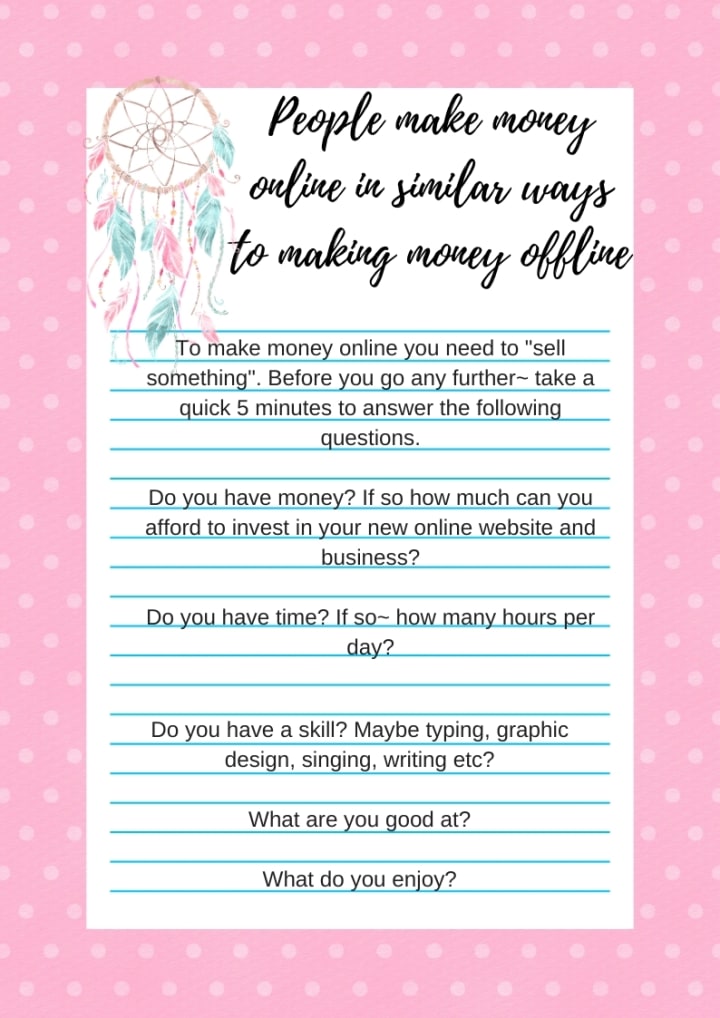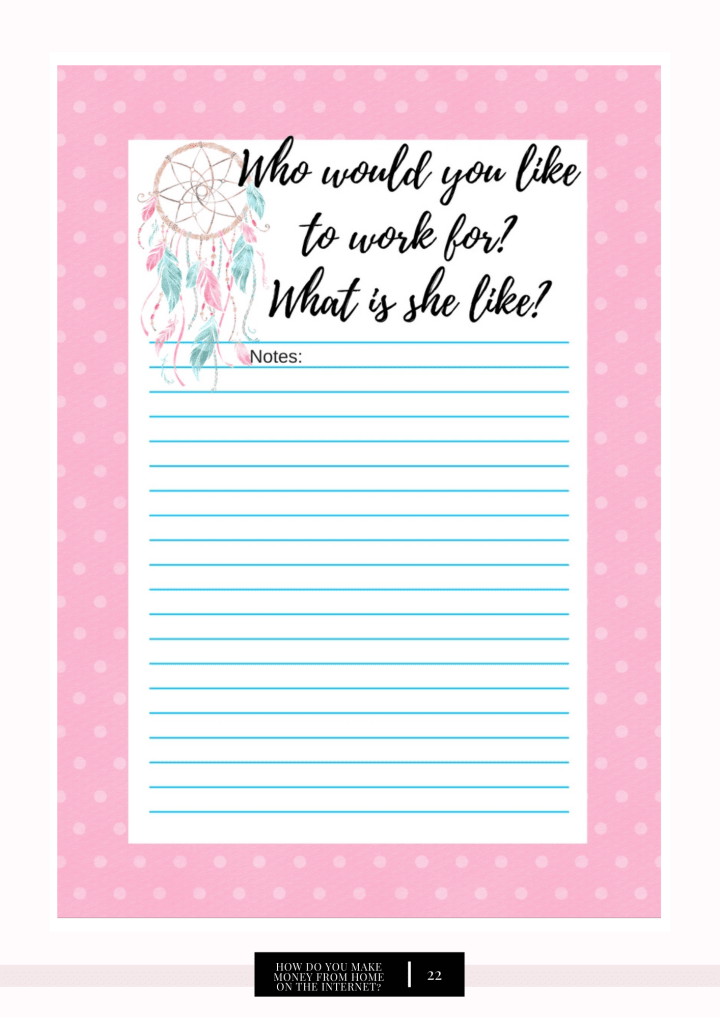 We will look at the pro's and cons of each of the 6 things to sell online, and then if you want help with the worksheets I will also speak to you about some real life examples from my own experience with each category.
Ready?
Click on my bio to go to the next chapter in the book as we explore the 6 ways to make money online.
*
**
*
Please note that as mentioned at the start of this post, as part of the "Birthing a Dream Life" Journaling Series, I use Amazon associates and other affiliate advertising to earn income from qualifying purchases. This means:
if you click on a link and purchase something, within a set time frame, I will earn a small percentage, at no extra cost to you.
My personal blog at Nina Montgomery and my work at Vocal, Substack and The Prosperity Project is part of a multi-platform educational experience with a vision to show others how to implement mind, body, marketing and creativity.
Part of this experience includes the ability to understand how people make money online.
Making money online is not a difficult topic to grasp but what people find surprising, is that there are 6 main ways money can be generated from a single website.
They are:
Selling physical goods
Selling digital goods
Selling a service of your own
Selling a product or service of someone else's
Selling advertising and
Selling entertainment.
Most people are confident in selling most of the things I mentioned above, but something which is often confusing is affiliate marketing.
Affiliate marketing is when the website owner or social media influencer etc gets a percentage of the sale, from something that you've bought within a certain time-frame.
In simple terms, if you click on a link to buy something on this site, and I have used an affiliate link, then I will receive a commission on the product purchased.
Using affiliate links does not mean the site is brand endorsed, it is up to the website owner (myself) to pick and choose the products I want to support.
To save any confusion, please presume that all links on this site that redirect for purchase are affiliate links, but know that I only link products that I am happy to stand behind and support.
When you start to become familiar with my work you will see that the brands I love are intertwined in my creative writing.
If you are reading the other posts in this 6 part series, I will share more about this with you, and in a few more weeks, I'll share an entire series with you, like this 6 things to sell online, but it will be on affiliate advertising with worksheets to help you understand it a little bit more.

The stories you are reading now are from my back catalogue of work.
This came from previous years studies and journaling prompts for mind, body, marketing and creativity, and other than a select few, my back catalogue is now published exclusively on the Vocal Media Platform.
Vocal allows me to share my work with you freely so you don't need to pay anything if you can't afford it, and yet it still allows me to make an income by being paid for the amount of times my work is read.
If you enjoy reading my posts or you are getting education and insights from the work I am sharing with you and it helps you in any way, please consider leaving a tip, purchasing something via the affiliate links I share, share my work on social media, or even supporting my 2021 portfolio which is published exclusively at substack by becoming a paid subscriber.
Your support is greatly appreciated.
Thank You and Much Love!
Nina xo
PS. To read more of my work on VOCAL you can find my Author page here:
https://vocal.media/authors/mis-educated