How Do I Become a Cyber Security Professional ?
How Do I Become A Cyber Security Professional?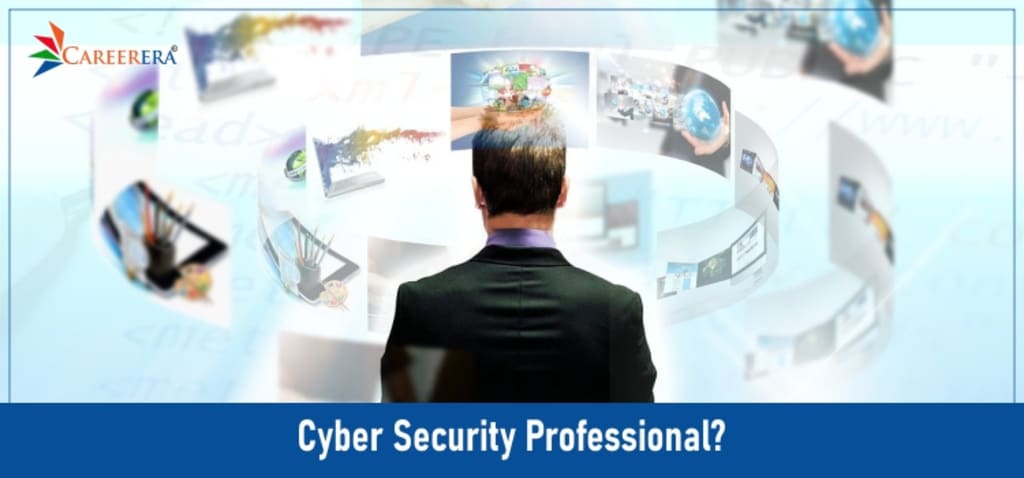 Cybersecurity has become a growing concern for enterprises across the globe as a result of a sudden surge in the digital transformation spurred by the COVID pandemic. According to survey research, almost 95% of businesses lack robust cybersecurity protocols, making them more vulnerable to cyber assaults. Another emerging issue is the rapid transition to remote working, which has hampered workflows. Businesses have been pressured to accelerate their digital transformation by embracing work-from-home (WFH) policies, making cybersecurity even more important. As a result, cyber security has never been more important, as organizations lay a larger emphasis on it.
Businesses must invest inappropriate tools and recruit cyber security personnel who are experts in the industry and have cybersecurity professional certifications to prove their abilities.
To pursue a career in this field in this advanced data-driven world is hence a terrific choice. Let us explore what cybersecurity is and the skills needed to be a cybersecurity professional to have a grasp and a broader knowledge of traversing this field and becoming an expert practitioner. 
What is Cyber Security? 
What is Cybersecurity? The application and execution of digital techniques to protect and safeguard systems and networks from digital attacks are known as Cybersecurity. The accelerated adoption of digital devices and technology has prompted companies and organizations across every sector the exigency to protect their data, networks, and systems. The need to enforce a safe digital environment has become an inevitable component as most operations move online. These safeguarding duties can only be performed by expert professionals equipped with accurate skills and knowledge for the likes of security engineers, pen testers, security specialists, etc.
Who are these Security Experts and what role do they play?
Professionals who provide security during the development stages of software systems, networks, and data centers are known as cybersecurity specialists. Professionals are expected to look for software and hardware risks and vulnerabilities. They keep track of all attacks and unauthorized incursions and manage them. By cutting off the security weakness, the Security Specialist can detect an attempted breach or a possible threat. These experts provide new layers of defense and security system improvements.
Jumpstart your Cybersecurity career with a well-crafted Cyber Security Certification Course 
As any field demands, to be a cybersecurity expert, one must possess a diverse set of technical, professional, and functional abilities. Taking a comprehensive Cyber Security Certification Training is the greatest method to learn the specific cybersecurity abilities and crucial soft skills that employers are looking for.
Because of the technical abilities required in the sector, anyone interested in pursuing this job should complete extensive training and develop skills in accordance with industry standards.
A Cyber Security certification will give you a strong foundation in cybersecurity principles, as well as an overview of security across a variety of platforms, programming and development, digital forensic investigation, and specific technical skills like computer and operating systems, as well as networking.
In the wake of the growing popularity of this field, there are more cybersecurity degree programs available. There are numerous institutes that offer cyber security certification online. Obtaining a cyber security professional certification is the trump card for success in this area. Companies today seek trained and certified employees who have completed extensive cyber security certification online training.
Top skills needed to become a Cyber Security Professional
Let's take a look at the key skills that cybersecurity professionals must have. 
Problem Solving Skills: Problem-solving is an important part of the day-to-day work of cybersecurity professionals. Practitioners need to implement new approaches to address and solve complex information security issues in a variety of current and evolving technologies and digital environments. 
Technical aptitude: First, cybersecurity professionals need to be familiar with the architecture, management, and management of various Linux distributions, operating systems such as Windows and virtualization technologies. In other words, firewalls and network load balancers need to learn to know and love. This is complemented by general programming/software development ideas and knowledge of software analysis. Another important skill is extensive knowledge of the most common programming languages such as Java, C / C ++, disassembler, assembler, PHP, Python, Perl, shell, and other scripting languages.
Networking: Networking is another key skill at the top of the list for cybersecurity practitioners. Security is required for regular transactions and communications on computer networks. Companies use numerous networks in their daily work. It is important to learn the complexity of setting up and managing local area networks (LANs), wide area networks (WANs), and virtual private networks (VPNs). 
Addressing and Responding to Security Incidents: One of the primary roles of cybersecurity professionals is to address imminent threats from recent violations of corporate security policies or standard security procedures.
Management Skills: 
 Senior cybersecurity professionals are expected to have complete knowledge of planning and coordinating technical vulnerability assessments, including implementing secure infrastructure solutions. They provide recommendations, determine technical directions for addressing security issues, and ensure process and approach integrity. As these skills need to be used, experts need to elaborate and demonstrate how cyberattacks took place.
Soft Skills: Security professionals often have to convey complex topics to people with little technical knowledge, such as C-suite executives. 
As a result, learning the following skills is considered a prerequisite for climbing the ladder of cybersecurity companies.
Good presentation and interaction skills are required to connect with management and customers. 
Ability to concisely convey complex ideas both verbally and in writing 
Good listening especially when dealing with consumers
Certification in Cyber security for a competitive edge
Cyber security certification is important to show the level of knowledge and understanding of cybersecurity professionals. Experts need to ensure that they have professional cyber security certification to meet the demands of the industry ahead of their competitors. There are various certifications in cyber security available both online and offline for practitioners to choose from. However, before investing money and effort, it is important to find a certification that is competitive in your area.
The global in-demand certifications in Cyber security are briefly discussed below:
Certified Information Systems Security Professional (CISSP): Talk about the global most in-demand certification, this tops the list in the industry. It is provided by the International Information Systems Security Certification Consortium (ISC) 2. Obtaining a CISSP proves that you have experience in IT security and can effectively design, implement, and manage cyber security programs. 
Certified Information Systems Auditor (CISA): This ISACA certification demonstrates your knowledge of security vulnerability analysis, control development and implementation, and compliance reporting. This is one of the most well-known cybersecurity audit qualifications. 
Certified Information Security Manager (CISM): Professionals can certify their knowledge of information security management using ISACA's CISM certification, which covers topics such as governance, programming, programs, incidents, and risk management. If you're looking to move cybersecurity from technical to business, getting a CISM is a wise choice.
To become a highly-qualified Cybersecurity professional, it is always ideal to start with specialized courses such as cybersecurity certification courses and training. Depending on your background, a cyber security certificate or degree provides a solid foundation for cybersecurity principles. Learn with a more specific and well-defined curriculum, and learn about different security platforms, development and programming, development,  digital forensics research, and more specific technical skills such as networking, computers, and operating systems.
About the Creator
I am Jazmine Brown working as an course advisor at Careerera. Careerera is a well-known company that offers world-class higher education and training courses.Like Data Science course, Cyber Security course etc
Reader insights
Be the first to share your insights about this piece.
Add your insights