How CMMS Software can help you improve asset maintenance
Optimise asset maintenance with cloud-based software.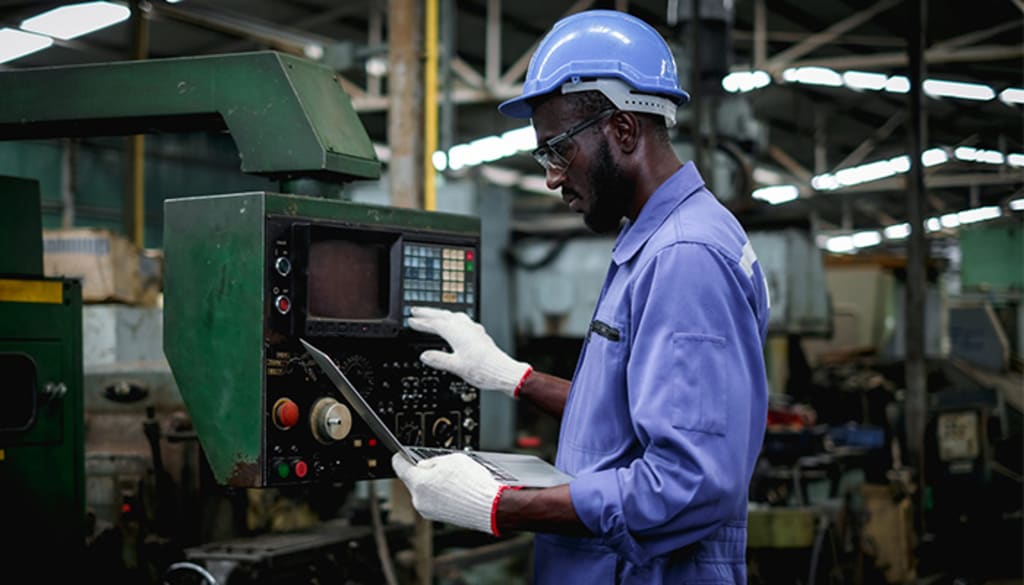 In the field service industry, asset maintenance is vital for success.
Whether you're focused on maintaining equipment for your operations or you're responsible for repairing and servicing customer assets, maintenance should be one of your top priorities.
While effective asset maintenance can help your business thrive, poor maintenance can lead to breakdowns, downtime, increased repair costs and safety risks - all of which can damage your business's reputation.
Optimising asset maintenance can be a challenging task. But with the right tool, you can streamline and improve it.
In this article, we'll look at what CMMS Software is, the importance of asset maintenance, and discuss how you can use CMMS Software to improve asset maintenance.
What is CMMS Software?
CMMS Software is a digital tool designed to help your business manage and track asset maintenance activities.
With a CMMS System, you can centralise your maintenance management processes, improve communication between maintenance teams, reduce downtime and maintenance costs, and improve the efficiency and effectiveness of your maintenance operations.
Why is asset maintenance important?
There are several reasons why asset maintenance is vital for your field service business:
Safety: Proper maintenance ensures that assets are safe for use and do not pose a risk to people or the environment.
Reliability: Regular maintenance can prevent breakdowns and extend the life of assets, reducing the frequency and cost of repairs.
Efficiency: Well-maintained assets perform better, resulting in cost savings and improved productivity.
Compliance: Maintaining assets per regulations and standards helps your organisation avoid fines and legal liabilities.
Resale value: Regular maintenance can help preserve the value of assets and ensure they retain their resale value when they are no longer needed.
Asset maintenance is critical to ensure assets operate effectively, efficiently and safely.
5 ways to improve asset maintenance with CMMS Software
We've established why it's essential, but how can you improve asset maintenance to ensure equipment operates optimally?
Discover how you can use a CMMS System to manage your maintenance tasks effectively and improve the efficiency of asset maintenance.
Schedule maintenance jobs to reduce manual work
CMMS Software allows you to schedule maintenance jobs in advance, reducing your admin time and helping to create a maintenance schedule in half the time it would take to create one manually.
With a CMMS System, you can find the best timeslots for maintenance and schedule all jobs with one platform. Your team can access the schedule from their mobile devices, helping them stay on track and complete all their assigned tasks.
Improve inventory management
Your team can only complete maintenance tasks with the right parts and supplies. With CMMS Software, you can improve inventory management to ensure they always have everything they need. You can create and manage purchase orders, picking lists, and transfer inventory from a warehouse to a technician's vehicle.
Effective inventory management can reduce downtime and increase efficiency, helping to improve asset maintenance.
Monitor asset maintenance tasks
No matter where your technicians are, you can monitor job progress in real-time. You can see which maintenance jobs they're working on, whether they're on-site or on their way to a job site, and the status of the job, including whether it's been completed, abandoned or put on hold.
Monitoring jobs in real-time helps you keep your team on track and makes it easier to support your team remotely. For example, if a technician has put a task on hold, you can connect with them to find out how to help them get the job done.
Create and maintain an accurate maintenance database
With CMMS Software, you can accurately record all maintenance work done. The software lets you record when the tasks were completed, the details of the work done, and the technician who completed the job.
Besides helping you monitor maintenance jobs, an accurate maintenance database can help you review the success of your maintenance strategy. If you've noticed an uptick in breakdowns or equipment failure, you can use the data to determine whether maintenance is done often enough and amend your maintenance plan.
Improve reporting and analytics
Analytics gives you insight into your team's performance. With a powerful reporting tool, you can track KPIs and determine the effectiveness of your asset maintenance plan. If you're not achieving your maintenance objectives, you can use data from reports to identify inefficient practices and improve your strategy.
You can use an all-in-one platform like CMMS Software to generate reports and implement your asset maintenance strategy, saving you the time and cost of using multiple software solutions to manage and improve your maintenance operations.
Does my business need CMMS Software?
CMMS Software is the perfect tool for any business looking for an effective way to streamline manual processes to improve asset maintenance and ensure equipment is well-maintained.
Reader insights
Be the first to share your insights about this piece.
Add your insights