History about Crochet
Where did it all begin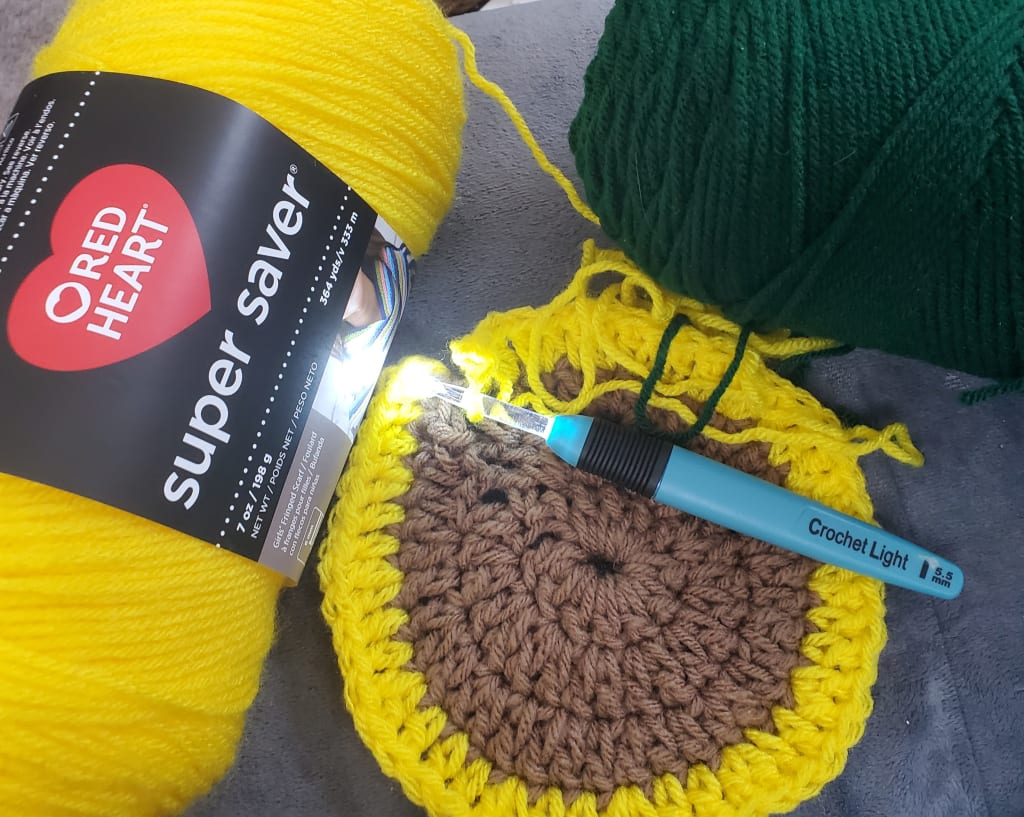 My Sunflower Motif
In olden times Crochet was a way of life for many women. Out of necessity, for many crochet was a way to provide needed item such as blankets, pillows even clothing. It also provided women as means to make a little extra money buy selling these items.
Crochet is still just a useful today providing the same benefits to women and men alike.
The Craft:
Crochet is a process of creating textiles by using a crochet hook to interlock loops of yarn, thread, or strands of other materials. The name is derived from the French term crochet, meaning 'small hook'. Hooks can be made from a variety of materials, such as metal, wood, bamboo, or plastic. The key difference between crochet and knitting, beyond the implements used for their production, is that each stitch in crochet is completed before the next one is begun, while knitting keeps many stitches open at a time. Some variant forms of crochet, such as Tunisian crochet and broomstick lace, do keep m Fashions in crochet changed with the end of the Victorian era in the 1890s. Crocheted laces in the new Edwardian era, peaking between 1910 and 1920, became even more elaborate in texture and complicated stitching.
Practices and Cultures:
The strong Victorian colours disappeared, though, and new publications called for white or pale threads, except for fancy purses, which were often crocheted of brightly colored silk and elaborately beaded. After World War I, far fewer crochet patterns were published, and most of them were simplified versions of the early 20th-century patterns. After World War II, from the late 1940s until the early 1960s, there was a resurgence in interest in home crafts, particularly in the United States, with many new and imaginative crochet designs published for colorful doilies, potholders, and other home items, along with updates of earlier publications. These patterns called for thicker threads and yarns than in earlier patterns and included wonderful variegated colors. The craft remained primarily a homemaker's art until the late 1960s and early 1970s, when the new generation picked up on crochet and popularized granny squares, a motif worked in the round and incorporating bright colors.
Detail on gold thread crochet in a mid-20th century short jacket designed by Sybil Connolly
Although crochet underwent a subsequent decline in popularity, the early 21st century has seen a revival of interest in handcrafts and DIY, as well as great strides in improvement of the quality and varieties of yarn. There are many more new pattern books with modern patterns being printed, and most yarn stores now offer crochet lessons in addition to the traditional knitting lessons. There are many books you can purchase from local book stores to teach yourself how to crochet whether it be as a beginner or intermediate. Along with books, there are endless YouTube tutorials and tiktok videos to help people who may need a clearer explanation to learn how to crochet.[20] There are also many books for children and teenagers who are hoping to take up the hobby. Filet crochet, Tunisian crochet, tapestry crochet, broomstick lace, hairpin lace, cro-hooking, and Irish crochet are all variants of the basic crochet method.
Crochet has experienced a revival on the catwalk as well. Christopher Kane's Fall 2011 Ready-to-Wear collection[21] makes intensive use of the granny square, one of the most basic of crochet motifs. In addition, crochet has been utilized many times by designers on the popular reality show Project Runway. Websites such as Etsy and Ravelry have made it easier for individual hobbyists to sell and distribute their patterns or projects across the internet.
Laneya Wiles released a music video titled "Straight Hookin'" which makes a play on the word "hookers," which has a double meaning for both "one who crochets" and "a prostitute."ultiple crochet stitches open at a time.
The Crochet Hook:
The crochet hook comes in many sizes and materials, such as bone, bamboo, aluminium, plastic, and steel. Because sizing is categorized by the diameter of the hook's shaft, a crafter aims to create stitches of a certain size in order to reach a particular gauge specified in a given pattern. If gauge is not reached with one hook, another is used until the stitches made are the needed size. Crafters may have a preference for one type of hook material over another due to aesthetic appeal, yarn glide, or hand disorders such as arthritis, where bamboo or wood hooks are favored over metal for the perceived warmth and flexibility during use. Hook grips and ergonomic hook handles are also available to assist crafters.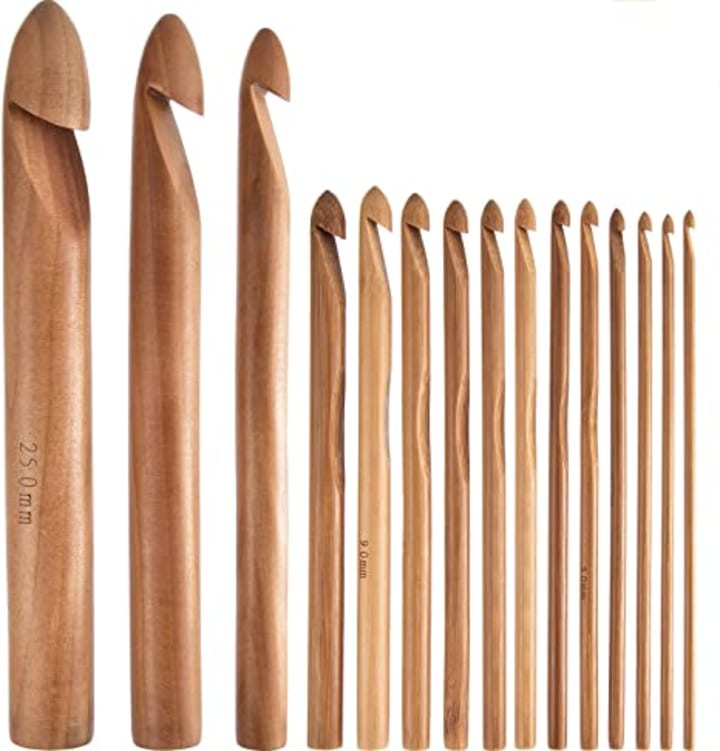 Steel crochet hooks range in size from 0.4 to 3.5 millimeters, or from 00 to 16 in American sizing. These hooks are used for fine crochet work such as doilies and lace.
Aluminium, bamboo, and plastic crochet hooks are available from 2.5 to 19 millimeters in size, or from B to S in American sizing.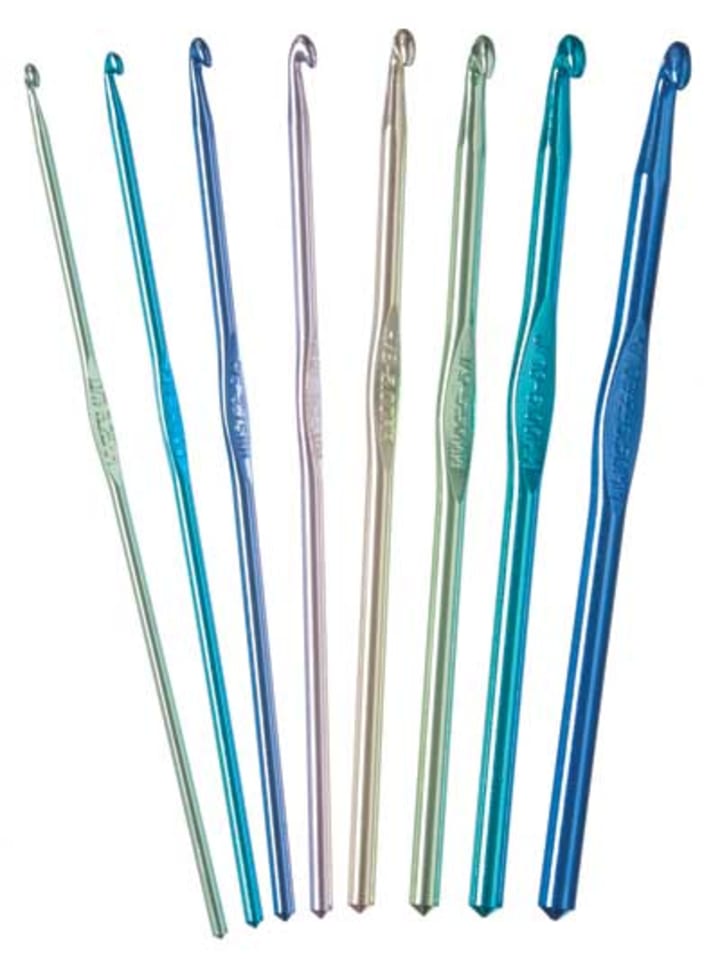 Artisan-made hooks are often made of hand-turned woods, sometimes decorated with semi-precious stones or beads.
Crochet hooks used for Tunisian crochet are elongated and have a stopper at the end of the handle, while double-ended crochet hooks have a hook on both ends of the handle. There is also a double hooked apparatus called a Cro-hook that has become popular.
A hairpin loom is often used to create lacy and long stitches, known as hairpin lace. While this is not in itself a hook, it is a device used in conjunction with a crochet hook to produce stitches.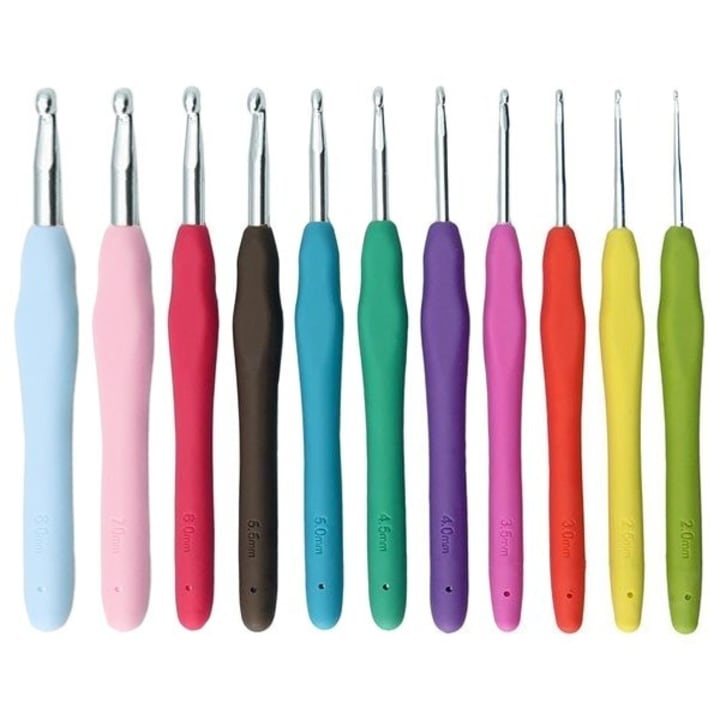 Yarns:
Yarn for crochet is usually sold as balls, or skeins (hanks), although it may also be wound on spools or cones. Skeins and balls are generally sold with a yarn band, a label that describes the yarn's weight, length, dye lot, fiber content, washing instructions, suggested needle size, likely gauge, etc. It is a common practice to save the yarn band for future reference, especially if additional skeins must be purchased. Crocheters generally ensure that the yarn for a project comes from a single dye lot. The dye lot specifies a group of skeins that were dyed together and thus have precisely the same color; skeins from different dye lots, even if very similar in color, are usually slightly different and may produce a visible stripe when added onto existing work. If insufficient yarn of a single dye lot is bought to complete a project, additional skeins of the same dye lot can sometimes be obtained from other yarn stores or online.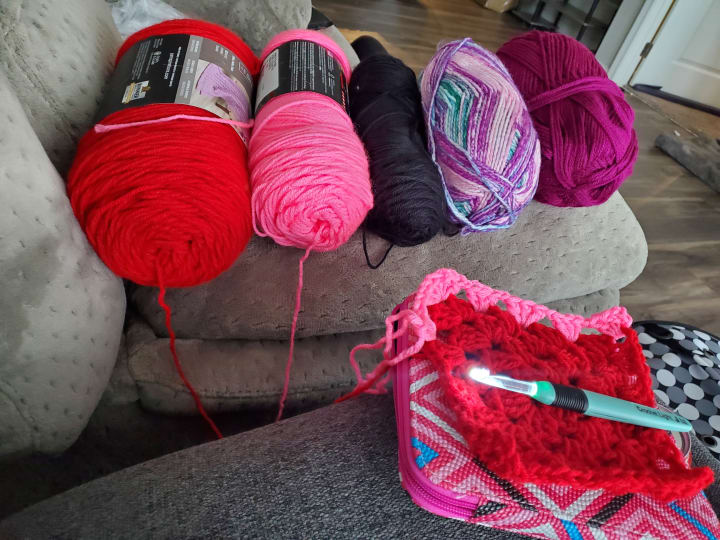 The thickness or weight of the yarn is a significant factor in determining how many stitches and rows are required to cover a given area for a given stitch pattern. This is also termed the gauge. Thicker yarns generally require large-diameter crochet hooks, whereas thinner yarns may be crocheted with thick or thin hooks. Hence, thicker yarns generally require fewer stitches, and therefore less time, to work up a given project. The recommended gauge for a given ball of yarn can be found on the label that surrounds the skein when buying in stores. Patterns and motifs are coarser with thicker yarns and produce bold visual effects, whereas thinner yarns are best for refined or delicate pattern-work. Yarns are standardly grouped by thickness into six categories: superfine, fine, light, medium, bulky and superbulky. Quantitatively, thickness is measured by the number of wraps per inch (WPI). The related weight per unit length is usually measured in tex or denier.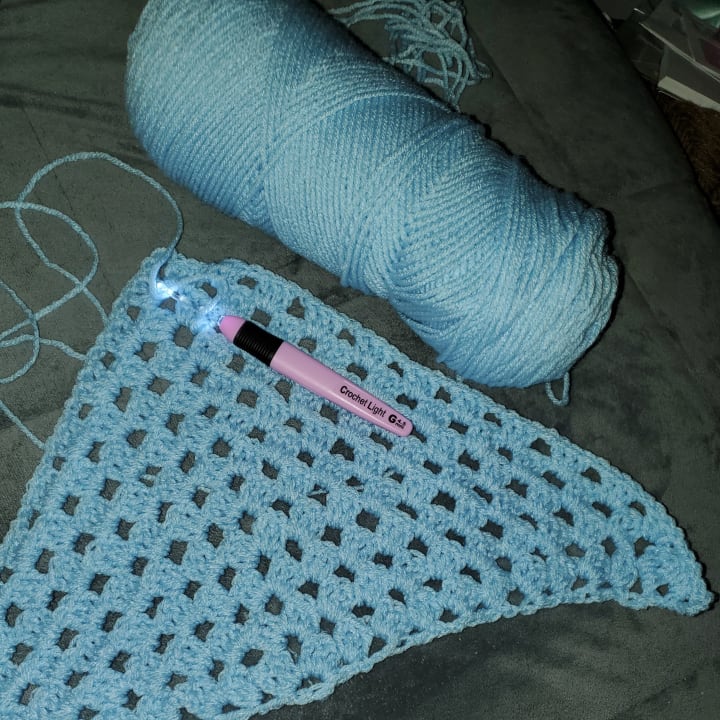 Today's yarn like with everything else has changed over time. There are a wide variety of different styles, textures and colors The ones I use the most are red heart yearn, Caron and Bernat.
***Resource Refence : "History of Crochet" Wikipedia . Personal excerpt.
Image: Google Images and some of my own images*****
history
About the author
I am a widow of a veteran and a mom of 3. I enjoy writing ,crocheting, playing the organ and being at the lakes.
Reader insights
Be the first to share your insights about this piece.
Add your insights