HereThereBeWriters
Writing + Social Media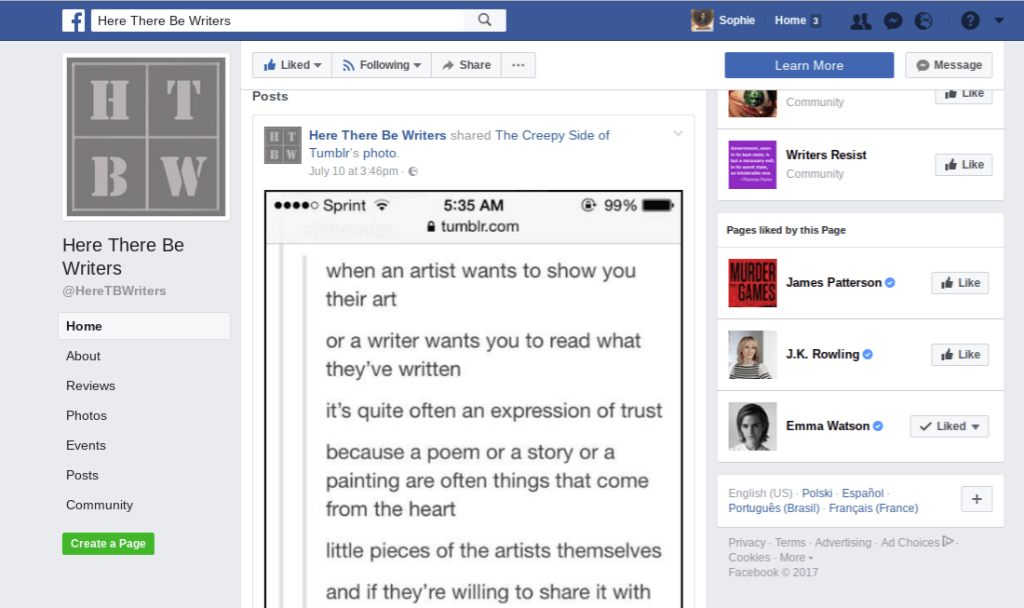 The internet knows writing. It's filled with resources and people that will read your writing and give you feedback. This is especially useful if you're not formally studying a writing course. For me, this is how it was. One day I was scrolling through Facebook and I came across this website as shown above.
Back then it had been in its first few months, a threadbare website that was very simple. Still, the effects were the same. Since then, the website has become something I visit every day. The format is easy to use; people are available to take your questions. Once you create an account you are free to use the website as you please.
Introduce yourself.
When you first start HTBW it's good to start with a little post about who you are, what you like to write, and what you were hoping to achieve with the site. This way people can see what you're like, what you might have in common with them or what they can help you with.
At the top of the screen, there will be a bar where you access new posts. This is also where you'll see the replies on your posts.
New Posts:

The most important part of HereThereBeWriters is the Workshop page. Here you will find the different genres where you post your work. For me, I post in FICTION.
As you'll see below, there are tons of different areas of the forum; it should be easy to find something that applies to you.
Accessing New Posts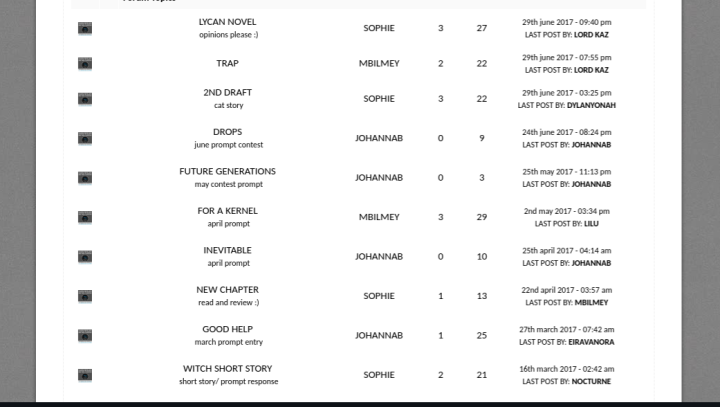 HTBW Workshop Pages:
Poetry
Fiction
Non-Fiction
Role-Play
Fan fiction
HTBW Support Pages:
Character Creation
Plot and Development Writing
Writing Takes Its Toll (writing frustrations etc)
Beta Profiles
Inspiration Literary Analysis
Public Forum Pages:
Resources
Writing Prompts
Prose
Poetry
Fan fiction
Personal Pages:
All Things Written Word
Self and Relationships
General Chat
Games Pages:
Contests
Role Play
Writing Games
An advertising page is also included.
As someone who belongs to a family that doesn't read and would probably never read my work/offer any sort of feedback other than "it's alright," writing forums like HereThereBeWriter or Wattpad are extremely useful resources for writers like me. Getting feedback and socializing with others who write is a very positive aspect of the writing experience. It's fun to talk to people in forums about things we all have in common: writing, reading, you know the stuff.
Wattpad
Wattpad is an online platform where writers can post their work, primarily fan fiction, I am also a member of this site. Wattpad is beneficial to writers because you can see how many people read your work, post full books chapter by chapter, receive comments and messages from your followers/readers and connect with other people.
Personally, I use Wattpad for fun, posting my fan fictions for Starcrossed and The Mortal Instruments, but millions of people use it to share their novels. On Wattpad, your books can get seen by thousands of people and become a success on the website. I've even known people to get published.
Wattpad has a friendly and caring community too, you can post on different forums and talk to people about the things that you like as well as getting advice on writing and you can advertise your Wattpad book. You can edit your work on the site before posting a full chapter(s) that your followers will get notifications for. Wattpad is useful if you want to see your reader's reactions by whether or not they add your book to their reading list or award your chapters stars.
Both HereThereBeWriters and Wattpad can be beneficial to writers, one as more of a social media and another that gives straight advice on your writing. Writing can often be a daunting or lonely experience, just you in a room with your pen and paper. Joining a writing forum can allow you to interact with people who will see your work in a whole new light and can often shed light on what you're stuck on, or just be there as a helping hand through the process. I highly recommend either of these forums or any others that you might know of.
Links:
Wattpad Pictures: Community Forum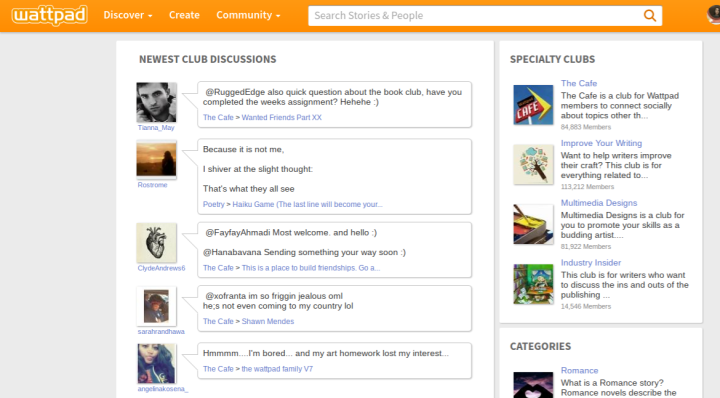 Wattpad