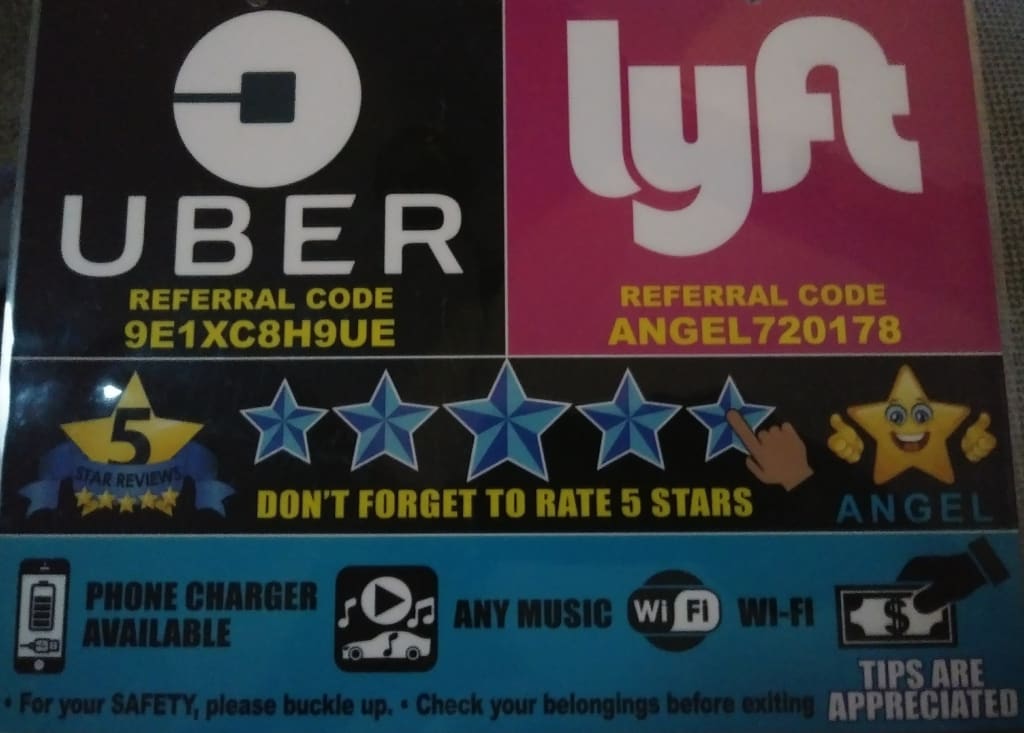 Here are some of the ideas that have found to make ridesharing more profitable and enjoyable. I actually have tried some of the ideas in this article. These are suggestions after the obvious placement of the Ride Share Emblem in the state-mandated spots in your car.
First suggestion is a simple and obvious one. Keep the car and oneself clean and odorless. It may be your vehicle, but it's best to make it comfortable. That means clearing out your seats, doors, and trunk in case of lots of luggage or passengers. When choosing air fresheners, make sure to keep it neutral in scent and strength. Also, carry Febreeze for extra help here and there. Small garbage bags and tissues are recommended. If you're going to work late nights or high drinking events, then vomit bags are something you may want to keep stocked in your car.
Having the right amenities ready is great. Get a good car mount for your phone, a multi USB port charger, with at least one of three different cables in your car; a lightning cable for the iPhones; a micro USB for standard Android Phones, and a USB C for the newer variety of Androids. You could just get a single multi-use cable. Amazon has affordable deals on bundles of 6ft cables.
Program your phone for best optimum use while driving. Both Lyft and Uber have their own built-in navigation system. Make sure Google/Apple maps is already set up. I installed Waze and use it as my default due to its many extra useful options. These extra map apps give you a second opinion. One may drop you off on the main street, while another might take you directly to the right building in a community. There are other apps I recommend, but I will cover those in another article. On the reverse side, make sure you don't have apps installed and running that are going to slow work performance down.
Get to know the Ride Share App. There are many features to many of them. Like Uber and Lyft can let a rider add stops in between the main destinations. Riders can leave more than five stars on Uber. They can leave an achievement as well as a comment. Riders can see more than your picture. They can see you add into your bio with your star rating and lifetime trips. The map can also show waiting hubs and special events markers. Lyft has an option to attach your Starbucks, and Shell Rewards to your account.
Referral codes are in the apps. They can be used for first-time riders and passengers. The promotion is different at different intervals. Though the idea is the same. Referring a passenger. They use the first ride within a certain time. They will get a discount, and you will get a refer bonus in your paycheck. Referring a driver. They have to complete an x amount of rides in a given time. They will get a bonus on top of their cut of the fairs. But you will get a bonus if they complete it in time.
Uber Passenger - Use 9e1xc8h9ue in the Promo part of the Uber app
Food and beverages are in many drivers cars. They put chips, mints, candy, and water around the vehicle. Some will just hope it gains them more tips. While others have offered these items with payment under the name of tipping.
A few other suggestions that worked for some. Games systems, or at least tablets with games and controllers. Pamphlets or coupon books like hotels have in the lobby. Having a hotspot of wifi in the car helps with tourists or those with bad reception. Many cell phone providers sell equipment to give connectivity without bogging down your ride share phone.