Get Paid To Be A Virtual Friend Top 5 Legit Sites
Top 5 Legit Sites To Make Money As Virtual Friend
There are thousands of ways to make money online in 2021, but in this article, I will show the easiest and most interesting way on which you can make money online and that is "Get Paid to be a virtual friend". Most people earn money to be a friend online when they get bored or free on a weekend. This method of earning is not to be considered full-time. But if you don't have a job and a free entire week then this could be the best way for you to start right now.
We all spend a lot of time on social media chatting, watching videos without getting paid. Now you will have to do the same thing with a virtual friend and get paid.
Why You Will Be Paid For Being A Virtual Friend?
There are many reasons that people pay to an online friend. Most people pay because they are lonely, new to the area, introverted, hoping to learn a new language or skill from an online friend.
How Much Money You Can Make As a Friend Online?
It depends on the site or platform that you joined. There is no fixed rate or payment some websites allow you to fix your own while others offer a flat rate. The estimated earning of an online friend is about $20-$30 per hour. Also, It totally depends that how much time you work, let's say at this rate if you work 15 hours a week you can earn $1200 a month as a virtual friend. The following are legit sites from here you can earn money as an online friend.
Legit Sites: Get Paid To Be A Virtual Friend
The following are some legit sites from where you can earn money as a virtual friend.
FriendPC
FriendPC is an amazing site to make money online if you can offer services like virtual gamer, life coach, companion, virtual friend, and girlfriend. The last one (girlfriend) does not mean to be doing flirt or using inappropriate words. It's mentioned that the platform is not for flirting or dating. You can sign up free on FriendPC just by mentioning the services that you can offer from the existing list. From FriendPC the estimated earning as an online friend is $10-$30 per hour.
Also, Read This
Get Paid To Talk To Lonely Guys
Fiverr
Millions of people make online money through Fiverr by providing services such as business consulting, graphic design, and web design. But did you guys know that Fiverr has a section called "Fiverr Friendship?" In that section, you can offer services as a virtual friend to get paid. Take a look at the highlighted reviews on each gig in the Fiverr friendship section in the screenshot below.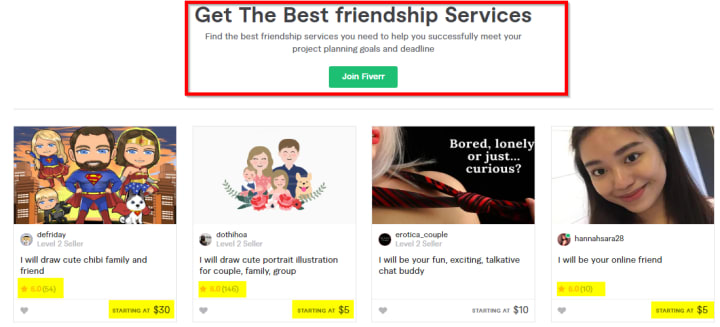 The greatest feature about Fiverr is that you can choose your own rate, and if your gig ranks in the Fiverr search results, you will earn thousands of dollars. Focus on SEO in the gig title and description to rank your gig in Fiverr search.
Top 7 Legit Sites To Make Money Online Without Investment
Rent A Cyber Friend
RentACyberFriend platform is most similar to Fiverr Friendship because on here you can offer services in the form of gigs. On this platform, you can choose your rate to offer your skills and valuable time. Most people come on this site to meet with new people to learn about new areas, skills, or languages.
RentACyberFriend is free to join, but you may upgrade to a premium account by paying a fee. Popular cyber friend membership upgrades are bronze, silver, gold, platinum. The upgraded membership would surely help you in reaching out to more people.
Rent A Friend
As the name implies RentAFriend this platform is specifically for those who want to earn money as virtual friends. On this website, people come to hire an online friend to just chat online, attend events or parties with them, give them local area tours or maybe see movies with them.
As this site is more specific to friendship so it is so clear on the website that RentAFriend is not a platform for dating/flirting. Making an appealing and friendly profile would allow you to reach a larger number of people. On RentAFriend you can earn $20-$50 per hour.
Top 7 Websites To Get Paid To Transcribe
MyGirlFund
If you want to Get Paid to Be A Virtual Friend then the MyGirlFund site is entirely for you. This Platform is the most popular platform among its competitor because it provides multiple services to make money as an online friend. Being a virtual friend, you have to text, video chat, or sell your photos to lonely people. This site allows you to set your rate for video chat, phone calls. Most virtual friends on this platform charge up to $20-$30 per hour.
list
About the author
Reader insights
Be the first to share your insights about this piece.
Add your insights