Free Digital Marketing Tools to Grow your Business
Check Out Free Tools For All Your Marketing Needs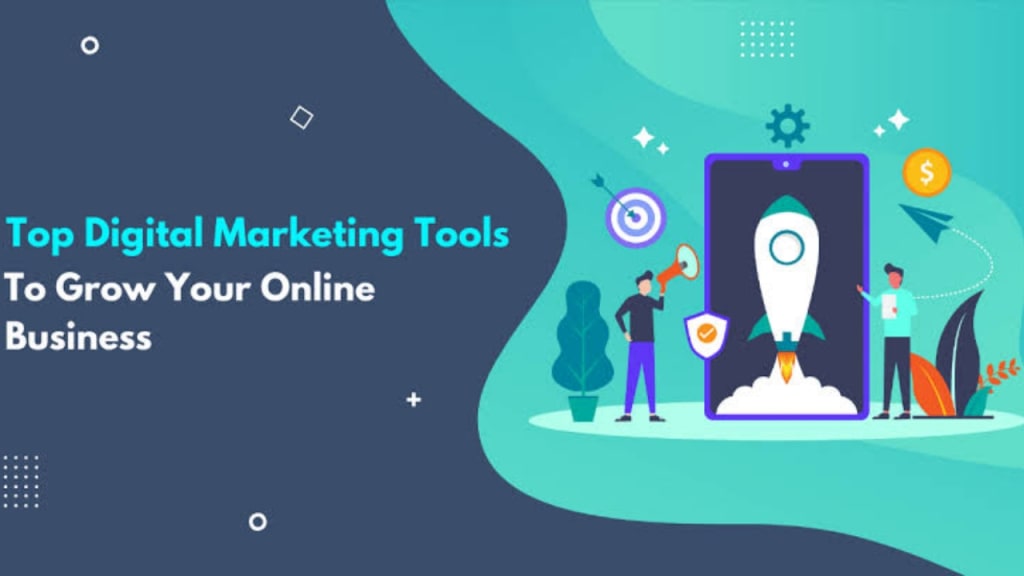 Free Digital Marketing Tools to Grow your Business
In this digital marketing guide, you're
going to learn about free marketing tools you can use to build your email list, to engage with your subscribers and run your virtual team. So let's go ahead and dive right in.

I'd put these into four different categories
based upon our four digital business quadrants, sales funnel, content, product, and team.

Sales Funnel 

MailerLite
So first up sales funnel, and we're going
to kick things off with the most valuable
free piece of software on this list. And that is MailerLite. So when it comes to generating leads online driving traffic from your content marketing or your Facebook, Google, or YouTube ads,
mailer lite has you covered with not only
the email marketing automation, it also has you covered on landing pages. So here are a couple of quick examples of
landing pages. MailerLite free plan allows you to have up to a thousand subscribers. You do need to confirm your business and the type of marketing that you're doing. And this is ensuring that the people on their platform aren't doing spam. Now, unlike Mailchimp, you are allowed to do affiliate marketing. Although I would be very careful in making sure that all of the contacts you have on your email list have actually opted in, because as with all email service providers, you need to be very careful with your affiliate marketing,
but mailer lite does allow you to have affiliate marketing.

Google Marketing Suite
Now that you're covered with your landing pages and your email list, which is kind of the most important part when it comes to building your sales funnel is actually your analytics, your data and your tracking. And this is where the Google marketing platform comes in, because Google analytics, Google
tag manager, the Google remarketing tag, I'm going to squeeze that one in here. And Google optimize has you covered when it comes to figuring out what the heck is working with your business and marketing online.

Google Tag Manager
So Google tag manager is a free tool that
allows you to put all of your tracking codes in one easy to find place. So if you're doing Facebook advertising or
Pinterest or LinkedIn advertising, they're
going to have tags and pixels, even Snapchat wants you to put a pixel on your website. Well, it can get really, really cumbersome and confusing trying to keep track of all those things. So tag manager is your virtual file cabinet,
where you put all the tags in there and you only have to put one piece of code on your website.

Google Analytics
Then we have Google analytics, which is another free software. But the TLDR here is UTM parameters allow you to track everything that goes on. So you're able to see exactly which ads, which pieces of content, which blog posts specifically are driving the most traffic to your landing pages and sales pages.

Google Optimize
Finally, we have Google optimize, which is a little known free tool, but this allows
you to do split testing, which is really cool, which even though mailer light has a native function for split testing, we actually like using Mailer Lite landing pages and Google optimize, and you can actually use it with any page builder and you can split test your headlines, your images, your body, copy your bullet points. You can literally split test anything. So it's really cool, especially if you're using another budget solution for your website or your landing pages that doesn't allow you to do split testing or charges you twice as much to do AB split tests. You can use Google optimize for free. And of course the Google optimized code goes inside of tag manager and it keeping things nice and clean.

So that does it for the two big things. I know Google suite has a lot of little ones
in there, but those are the two big marketing softwares that you should be using for free in 2020 for your sales funnels.


Content
Now, when it comes to content, there are a lot of paid tools out there that offer all
of these bells and whistles in terms of helping you find content ideas and key words and trending topics. But the good news is you don't need to pay for any of them.

BuzzSumo
So whether you're trying to create content for YouTube or you're doing your own blog, or even maybe coming up with podcast ideas, buzzsumo still has a free option where you can type in your keywords or topics, and you can see the content that's trending at the top across social media.

If you want to get a little more deep dive
and you're doing search engine optimization for Google, with your blog posts, then there are three tools that have you covered.


Yoast SEO
First, we have Yoast, which is a SEO plugin that goes onto your WordPress site or your blog site. And what this allows you to do is actually customized what your preview looks like when it is showing up in Google. So typically what happens is if you write a blog post and then it starts to rank on Google search, well, Google chooses what the headline looks like and what that little excerpt
of text is to preview your blog post.
Here you can actually tell Google specifically what that should be, and that should help you with your search rankings. And it also has some free features where it will actually analyze your blog posts and tell you what is missing.

These next two deal with keyword research. First, we have Uber suggest and then we have the SEO analyzer.

Ubersuggest
Ubersuggest is really, really powerful when it comes to keyword research, you can actually get away with just using this free tool and not having to pay for other things. Keywords anywhere used to be on this list. Of course, now they want money for everything that they do.So Uber suggest is now the new winner when it comes to a free SEO keyword research tool.

Seo Analyzer
The SEO analyzer will go through your entire site where Yoast SEO is just kind of a post by post.This one will go through your entire site and let you know where the red flags are that you need to fix in order to improve your Google
rankings.

Suggestion Box & TubeBuddy
If you're creating content for here on
YouTube, and you're trying to come up with more ideas, even though I personally think the suggestions box is the best place to find content ideas, you can also use the free version of tubebuddy that will actually give you what all those YouTube suggestions are and show you other videos that are ranking really well.So you can get content inspiration.

Product

Teachable
This is specifically going to be, if you're
doing any sort of digital product, teachable actually still offers a free plan.
It's a little hard to find on their website,
but if you just go to Google and type in teachable free plan, you're going to be able to find a pricing comparison table like this that actually shows you the free plan option.Of course, they do charge a 10% commission on top of some other fees for every single sale that you make.
But what's really cool is you can get started with your online course for $0.
And this is definitely much better than posting your course for free on Udemy.
I've made several reviews of Udemy, but at the end of the day, it comes down to control. Udemy, you don't have control, whereas teachable, even though you're paying a higher fee to start, at least you have complete control over your course platform and of course your actual students.

Google Forms
The other free tool here is actually going be Google forms, which is part of G suite. And we really like using this for our clients and sometimes during our sales process, but it's very easy if you have a clients based business to set up Google forms so that it's very easy for your clients to request services or ask questions. And this is of course, much more preferable to having all of your clients just email you, because email just becomes this jumbled mess. So it's a very clean way and you can actually go in every day and see specifically what your clients are asking for and what questions
that they have. And that way it ensures that none of your client's stuff gets mucked up with everything that's going on in your inbox.

Team
And this is going to be all about project
management and making sure you and your business actually runs smoothly.
And we have two main softwares here.

G Suite for Business
The first one is going to be G suite for business or just Google suite if you're not going to pay $5 a month, you can always upgrade. Google drive sheets and documents are the lifeblood of our agency. It is an absolute, incredible free tool that allows you to collaborate with pretty much anyone in the world.We're across three or four different countries
right now. And we can all in real time edit the same word document, the same Excel sheet and the same slide. So I definitely recommend using Google drive
for all of your actual files. And of course, if you're using the free version, all of the Google docs, Google spreadsheets and Google slides you use, don't actually
count towards your limit. So if you go ahead and use what Google provides
to you, you're not really going to have to
worry about storage limits. And even though you only get 15 gigabytes for free, you'll find that you'll be able to create all of the documents and spreadsheets that you need.

Asana
The next tool on our list here is going to
be a Asana. They still offer a free plan for up to 15 people. And up until recently, this is the tool that we used for our agency. We recently upgraded to Basecamp, but that was only because we had so many clients we needed to actually move to a different solution.
But if you're just getting started and you're looking for a project manager for free, that you can invite people to, you can use a Asana.

So that does it for all of the free tools.
I sincerely hope you have at least one or
two, on this list that are going to be very
helpful to you and growing your business.Go and comment below with any free tools you think that I missed and your feedback and experience with any of these tools, because your experience is going to help other entrepreneurs and business owners figure out which tool
is right for them.