Events Striking Gold in Queensland with Outdoor Digital Screens
The Olympic 'Welcome Home' Parade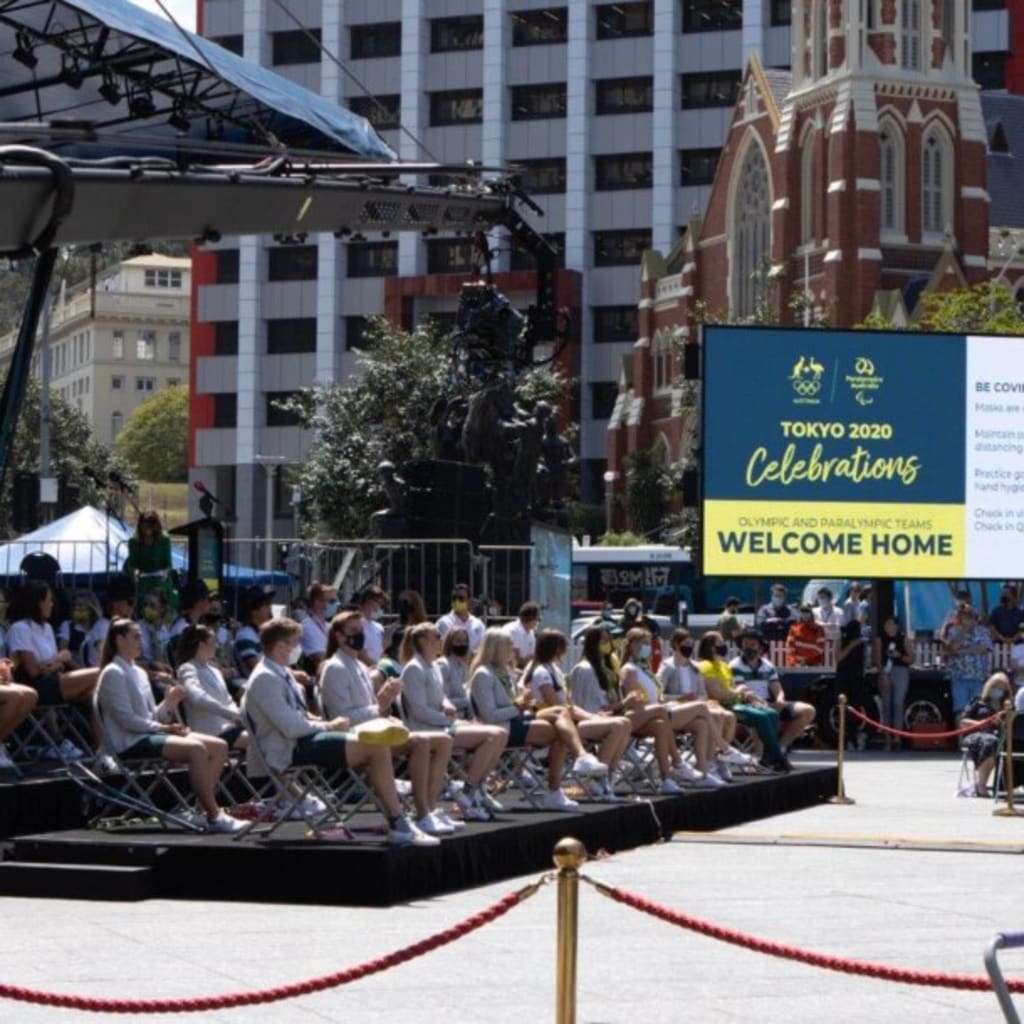 During lockdown season in Melbourne and Sydney, it was Queensland who became the target location for a range of covid safe events.
In Brisbane we were lucky enough to have one of our outdoor digital screens at the 'Welcome Home' Parade in Brisbane, and at the Gold Coast Film Fest.
Let's take a dive into some of the event projects we have been a part of this year…
The Olympic 'Welcome Home' Parade
One of our outdoor digital screens were used at the Olympic 'Welcome Home' Parade in Brisbane last Spring.
The event in Brisbane featured the Queensland Olympians and Paralympians of the Tokyo 2020 Games.
The outdoor Digital Screen 15 screen showcased static, live and video content to Brisbane locals at this successful, covid-safe event.
Gold Coast Film Fest's 'Combat Wombat' Movie Showcase
Gold Coast Film Fest approached us to supply one of our outdoor digital screens at the Swell Sculpture Fest to showcase a kids film 'Combat Wombat' to Gold Coast locals.
This was a major feature at the Swell Sculpture Festival, bringing families and friends together to relax on bean bags and take in the Summer vibes on the Gold Coast.
So what other events have outdoor digital screens been used for?
In case you hadn't notice, the use of outdoor digital screens have BOOMED this year!
Due to event businesses having to abide by strict restrictions in various states across Australia, they have had to become creative in the way that they can host events.
As a result, many events businesses have created outdoor events for Australians in between lockdowns.
Ways to use outdoor digital screens for events:
Covid safe messaging at public events
Directional signage at outdoor food/music festivals
Live streaming for sporting events
Live streaming at Music Festivals
Food Festivals
Brand Activations
Key take-aways:
Outdoor digital screens are adaptable as they are able to suit different kinds of events.
Due to strict restrictions in all states of Australia, outdoor digital screens allow event businesses to host covid safe events.
Shoot me a message, or give me a call!
Share this: Twitter , WhatsApp , Email , LinkedIn , Pinterest , Telegram , Messenger
About Running Boards
If you want to hire a screen for events, you have some visual options to choose from. But to know about the best kind of digital screen or LED display, you can opt for Running Board. In fact, once you get to know about Running Boards, you will be able to avail plenty of options regarding the digital screen and LED signs. They are one of the popular and trustworthy websites, and they have been offering their services to their potential customers for so long. They offer the products at an affordable rate.
Importance of Availing the Digital Screen
Many business owners always opt for the right kind of way to easily market their products and services without any hassle. Now, when this is about investing in the advertisement, it costs quite a lot. This is why; a good digital screen will be really beneficial for business owners. The viewers are the pillars of any successful event. People actually call an event to be a grand success when plenty of viewers come and enjoy it.
To participate in the event actively, they must be able to see what is going on. The large LED display and digital screen mainly ensure their active participation, which in turn adds life. Apart from the outdoor events, it is imperative for brand promotion, both outdoor and indoor.
Why Do You Need the LED Display?
A beneficial LED display can be quite an attractive advertising medium for any business. Nowadays, as business owners love to promote their business in different manners, so a good LED display will be quite advantageous to choose from. The digital ad trailers augment traditional billboards, banners, and other signage types, making them more likely to grab passers-by's attention and interest.
Aside from being eye-catching, all of these electronic displays like a LED sign or digital screen also provide more flexibility; they permit every business owner to use them in more ways than one. Because of their high functionality, LED displays have already turned out to be quite innovative, smart, and revenue-generating investments for large and small businesses alike.
About the Creator
Running Boards offer the best quality and impactful digital billboards for sale. Visit - https://www.runningboards.com.au/
Reader insights
Be the first to share your insights about this piece.
Add your insights