Edinburgh Green Building Seminar: Reality and Lessons from Practice
Edinburgh. 7 March 2018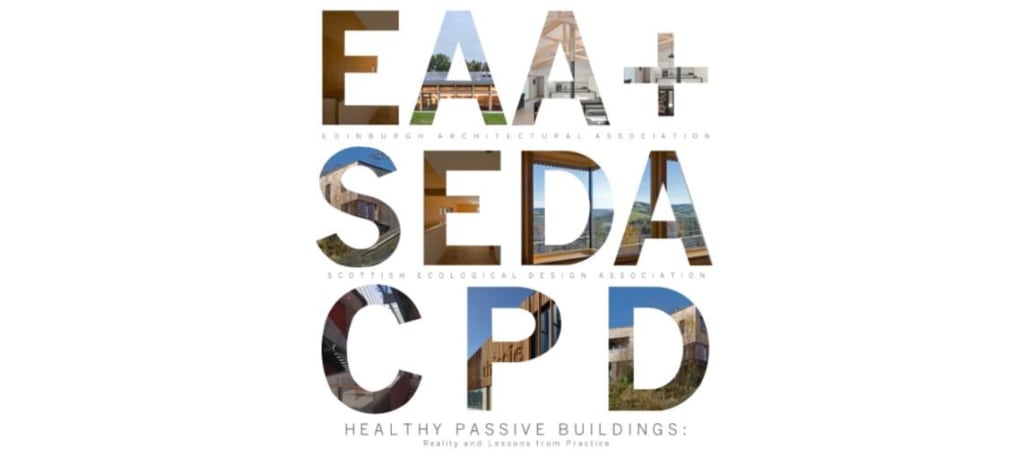 The 7th of March I had the pleasure to go to a seminar at the University of Edinburgh launched by SEDA (Scottish Ecological Design Association), and the EAA (Edinburgh Architects Association). The event gathered several professional with an engaged sustainable building practice:
- Janice Foster, an Environmental Services Engineer working at the Mackintosh Environmental Architecture Research Unit (MEARU) in Glasgow.
- Sam Foster, an architect specialised in ecological design.
- Professor Sandy Halliday Liddell, engineer, researcher and principal of Gaia Research specialised in healthy and ecological buildings.
- Chris Antoniou, an architect at John Gilbert Architects with a practical experience in retrofit and newbuild social housing.
- Mark Shields, the director of Mark and Shields, a contractor specialised in passive standards projects.
The seminar managed to propose a reflection on passive housing, its limits and contradictions by facing the management of energy loss, but not the use of healthy materials, or the use of the natural benefits that a site can offers for example. The subject was explained from different points of view by using experiences, researches and surveys.
1. How to improve an existing urban fabric?
This seminar was a good first approach to Scottish technical problems in an old urban fabric including constraints from the building regulations and the transformation of relevant heritage sites facing social needs. Most of people in Edinburgh are living in old buildings which give the city an interesting urban fabric. On a daily basis, and facing the annual weather of the city, it looks like this kind of building also implies some issues such as thermal regulation, lack of energy, lack of comfort and most of all the creation of unhealthy environment for their inhabitants.
The last project presented the complete transformation of a church, religious listed building, into social housing. The idea was to work alongside the Heritage Society, the archaeologists, and the engineers in order to keep the maximum of this historical building without impacting its future use. It was interesting to see how difficult can be the emergence of this kind of project, the design facing a lot of steps back in order to have the approval of every actor involved.
In France, it is very unusual to transform a religious building into a completely different use, maybe it is because we don't have as many churches, maybe it is because it will be perceived as an act of deconsecration, but in each case most of the work in social housing consisted into improving the current estate and building brand new buildings.
2. How to develop healthy architectural projects?

The question of developing healthier architectural projects involves the evolution of the existing by giving:
- reasonable technical solutions like changing the glazing to improve the thermal comfort, or installing an efficient ventilation system to improve the quality of the air
- advice to inhabitants in order to preserve the building from premature aging but also to develop good behaviour such as opening the windows on a daily basis for a fresh air renewal.
It also involves the development of an alternative architecture based on:
- a specific analysis of its context
- the use of natural materials, including natural light and wind
- the awareness of choosing non-toxic construction elements.
This last point was crucial in the discussion because the experiences showed that using poorly environmental materials treated chemically can have a negative impact on the inhabitants and their health such as cancer or breathing difficulties. This reflection brought an interesting linked topic such as being aware of how using bad materials and bad design can affect people comfort and health.
This presentation of working professionals was interesting because in addition to present their own projects and architectural process it was also showing the issues we have nowadays to create and develop a real sustainable design, mostly with a lack of commitment from the politics, a lack of budget and a huge lack of good communication to the users of the created spaces in order to also make the difference in our current living practices which are essential for supporting new spaces.
To conclude, this is a sentence said by Pr. Sandy Halliday Liddel: "Bad buildings are bad and unnecessary."