Does screen share Apps Work Effectively? Expectations vs. Reality
Find out the best screen-sharing apps such as Discord, Slack, and others. Compare their efficiencies based on expectation vs. reality.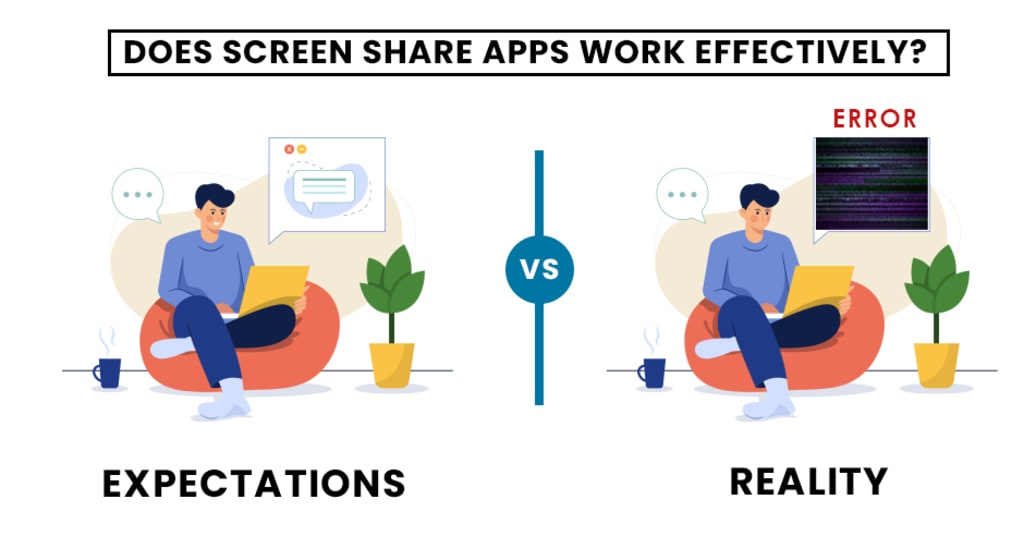 Screen Share Apps
Pandemic pushed organizations, individuals to opt for the screen sharing feature in their personnel and business communication. The pandemic has restricted the people working from the office and has made them work from the remotest locations. Screen sharing apps enabled work in remote locations in recent times. Its usage gradually increased and became a crucial feature across communication platforms.
Despite the size and form of the organization, screen-sharing applications would help the team collaborate successfully by presenting their work processes. The present situation insists the employees, friends, and social groups rely on screen-sharing Apps.
Screen sharing Expectation Vs.Reality
The organizations and the people have understood that the screen share App would be a better solution to conduct team meetings, online training, webinars, seminars, and others. It helps the users of remote locations to share files, have live chats, and virtually onboard their staff. However, the users keep complaining about interruptions that occur during the conversations.
There are many applications in the market. We will take the few most popular tools to understand how screen sharing works effectively in personnel and business communication.
Discord
Discord is a communication app that has been widely popular among gamers. The application has excellent features that are more capable of handling high-quality games.
It can be used by individual users and business enterprises with the features of group messages, video/audio calls, file sharing, and HD quality live streaming.
In the past years, Discord gained a good name among the young. But still, there are issues with Discord screen share, though it is considered a great feature on Discord.
Black Screen
Discord users sometimes face the black screen problem on their interface. The reasons are multiple such as admin access or permission from the owner of the server, system update, settings, and caching. Moreover, if you are not added the game or application on discord it leads to the black screen.
No Inbuilt Features For Recording For Screen Sharing
Discord has no inbuilt feature to record the screen sharing session, therefore the user has to download and integrate a third-party application into Discord.
Tough Learning Curve
Discord has a unique UI/UX where the new user often gets confused while enabling the settings for a particular game or application according to the functionality. Also, the terms used by
Discord for representing its features such as server confuses new users, as a server has a different meaning in general technical terminology.
Security
According to the Mozilla report, Discord has a vague security system which has become a concern for the users. And also report says, its users complained about harassment, hate
speech, and abuse from misogynistic users. Discord video calls have no end-to-end encryption that might lead them to sell the data to third parties. However, Discord clarified the issues and stated that they never give the user data to others or wonts it.
Slack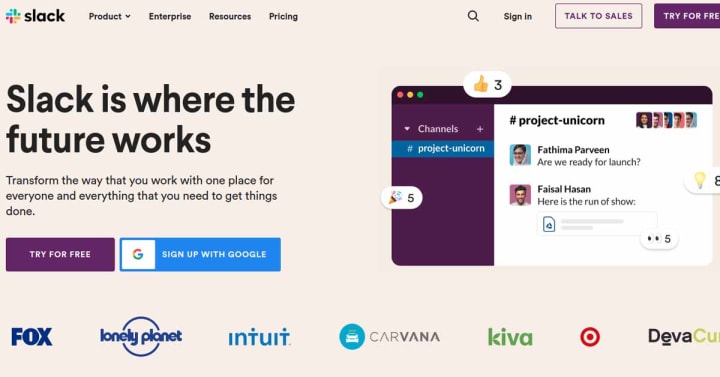 Slack is another excellent collaboration platform. That enables video calling, screen sharing with others. Slack is also one of the most used chat applications by business organizations, free Slack is available for single users. The application has integration with several applications. The main intention of integration is to automate the workflow.
Members on the video call
Slack free users cant share screens with more than one member in the group, whereas on the other hand, Discord has more numbers for users.
No call recording within the application
Slack users who want to record their running conversations have to rely on third-party applications because Slack has no such option to record the live chats on calls.
Chaotic
Video calls and screen sharing in Slack seem to be less organized. They cant share the screen and take a conversation on Slack.
Security
Conversation on Slack is not well encrypted. It has just HTTP web encryption. The data security is at the mercy of the website or third-party applications. Slack is not providing end-end encryption for free users where their data is more vulnerable than other users.
Discord Vs. Slack
In a comparison between both applications, which are popular in customer service though they have vulnerabilities in terms of security and integration. When it comes to the battle between Slack Vs. Discord on UI/UX slack slightly wins because Discord's UI is a bit more complex in understanding.
There are several chat applications such as Zoom, MS Teams, Skype, and others available in the market that provides screen share as one of their best features.