Does It Matter What You, or Your Employees, Wear in the Kitchen?
Here are some of the reasons why your employees should be wearing the right outfit.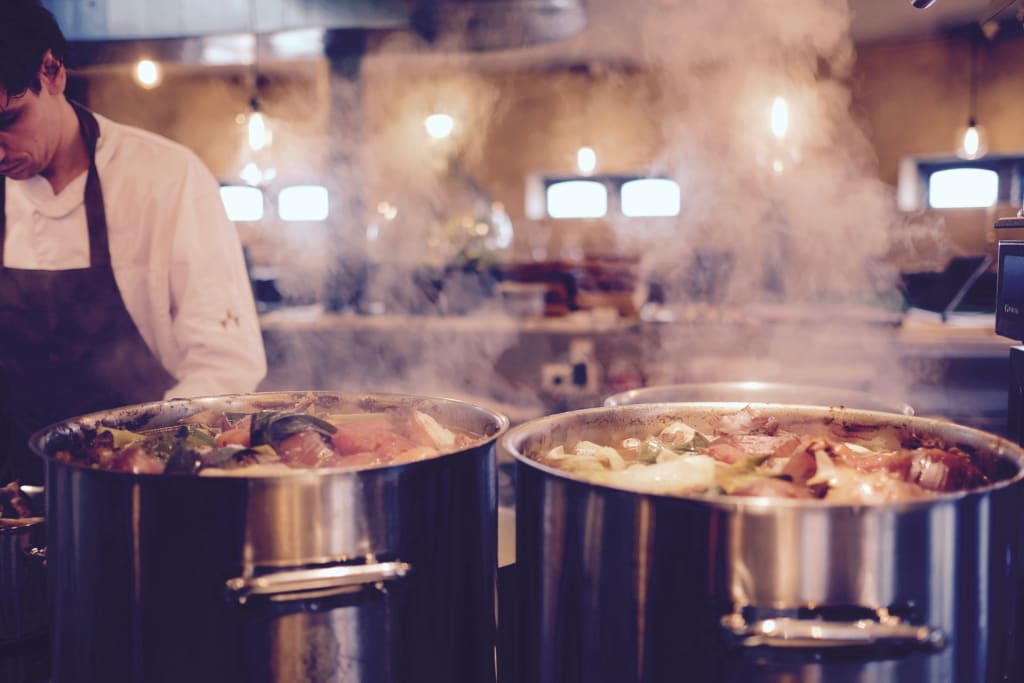 Many kitchen workplaces have a pretty solid reputation of being laid back and friendly environments. Unless you're running a Michelin-starred eatery, chances are you're tempted to allow your employees a bit of flexibility with the dress code. While ditching the uniforms is a great way to boost morale in more casual restaurants, there are some aspects of a kitchen dress code that should always be up to par, whether you're running a fine dining establishment or a small diner in the heart of downtown.
Safety comes first.
Ask any chef in a fast-paced restaurant to show you their hands and it'll likely be all the proof you need of their line of work. Whether their fingers are adorned with bandaids, scars, or burns, most every kitchen worker finds escaping a shift unscathed to be quite the challenge. That's because, at the end of the day, kitchens are dangerous work environments. Workers are juggling sharp blades and scorching heat all under the pressure of producing delicious food that satisfies the diner. If it sounds a bit stressful for chefs and line cooks, that's because it is.
Even if you permit a more relaxed dress code, you need to have a few policies in place to ensure you're minimizing the risks for your employees. One of your top considerations, of course, needs to be non-slip shoes. No, this doesn't mean your employees need to go out and get themselves a few pairs of Crocs (unless they want to), but it does mean they need to have shoes with non-slip soles and a solid amount of traction.
Some restaurants should also consider suggesting cut-resistant sleeves for their cooks, as well as restricting flammable apparel. Also, aprons are a great article of clothing, as they add another layer of protection against flames and spills. While protective clothing might not be at the top of your list (especially if you're working with particularly careful cooks) if you repeatedly have issues with workplace injuries, it may become a necessity.
Uniforms showcase professionalism.
If you've been to an upscale restaurant in the past couple of years, you've likely noticed the trend towards more open kitchens. This allows diners to see their food being prepared and is also a great way to showcase the talents of your food staff. Now picture that open kitchen with a haphazard array of mismatched clothing and uncoordinated outfits. It doesn't exactly scream "upscale," does it?
For many kitchen workers, their uniform provides them with a sense of pride. A chef's coat is one of the most instantly recognizable articles of clothing on the planet and is a great way to distinguish the hard work your employees are doing. However, proper kitchen attire isn't typically sold at, say, your local Target, so it's important to find a shop that specializes in commercial kitchen wear and uniforms.
Companies like Jobeline workwear are dedicated strictly to providing the right outfits for members of the hospitality industry, including uniforms and chef apparel. Look for retailers that have extensive history equipping entire restaurants with their attire, and you're on the right track.
It's down to personal preference.
Does apparel truly matter? Yes and no. While all of your employees should have some idea of dressing for a safer workplace, as an entrepreneur, your preferences on clothing and attire will ultimately come down to your vision for your restaurant. If you're dead set on gunning for Michelin stars, you're going to want to invest in pristine attire and recognizable uniforms for your staff. Considering opening a relaxed taqueria that's renowned for its happy hour margaritas. Maybe you let your staff members show off their personalities through more comfortable style and outfits. It all comes down to the kind of eatery you aspire to operate.