Does Fairlife Have a Future Life?
Sometimes, brands do die from terminal-level bad publicity!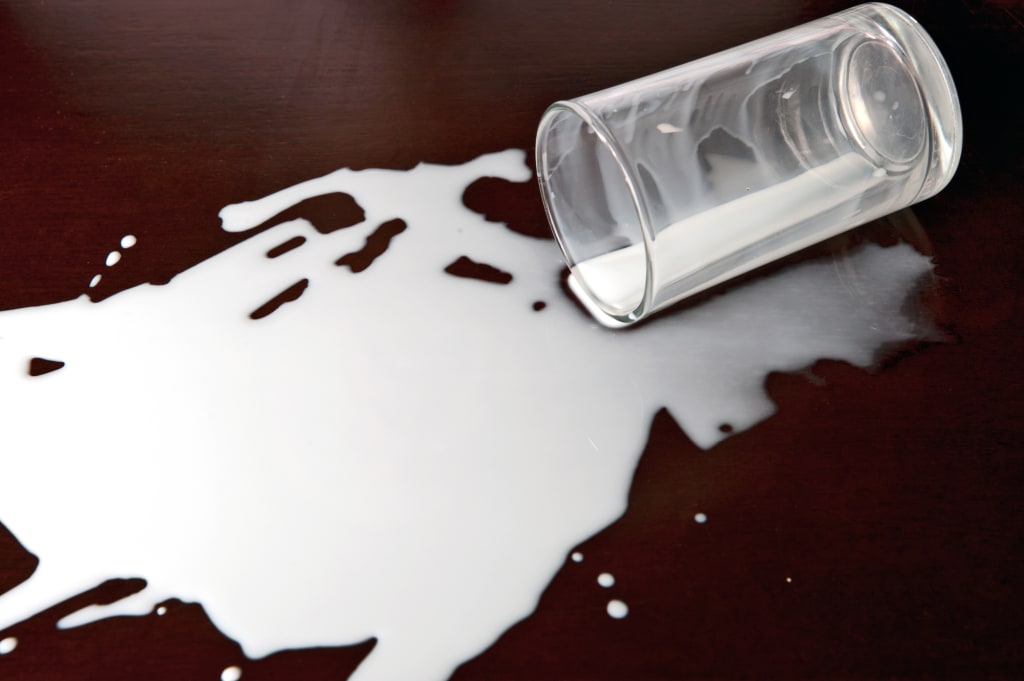 This was one of those stories that just made you watch—even when you didn't want to. Unfortunately, it involves animal cruelty—of the worst kind. And yes, it involves a brand that had been rocketing to prominence over the past few years—a brand that has a wholesome image and was based on "doing things right." To put it academically, this was what we might rightly call an "uh-oh!" situation!
Now, there is the long-standing adage in the marketing and PR (public relations) world is that "there's no such thing as bad publicity." And to a large extent, that does prove—more often than not—to be true.
Even when bad things happen to otherwise good people, good brands, good spokespeople, and good companies today, they get more Google searches, they trend on social media, and yes, in the end, many times they sell more product—whatever that may be! And in the end, yes, they make more money. Thus, P.T. Barnum's wisdom largely still proves correct—at least in the end today, even though it may be a quite bumpy ride!
However, as a strategic management consultant and professor, I have had a few experiences over the years of being called in on what might be labelled rightly as a "brand crisis" or a "company crisis." And yes, there are far, far more highly paid specialists and firms in the area of crisis management that companies, entertainers, athletes, and even politicians call whenever that "something bad" happens. No matter if it is "little old me" from outside New Orleans or an entire team of highly paid crisis management consultants that flies in like a SWAT team from New York or Los Angeles, the advice is generally the same, regardless of the cost of that wisdom. The standard playbook is to get the information out there, be forthright and be apologetic (yes, genuinely), and demonstrate how this "something bad" will not ever, ever happen again. In instance after instance, the pattern repeats. It has become the formal "apology tour" that must be taken—by CEOs, celebrities, athletes, and even now influencers—in order to try to get back to the status —and yes, the sales and revenue—that they (the company, the brand, the product, etc.) had status quo ante bellum—i.e., before the crisis!
However, the history of business is replete with examples where the "something bad" is not just bad; in a word, it is fatal! And if not fatal, the incident, the story, the crime, or today, the viral video, is simply so bad that you—both the consumer and the company—may never ever, ever be able to get back to the point that you were before "it" happened.
And at present, I think that we may very well be seeing this unfold with a brand that—up until just days ago—seemed to be well-positioned in a highly competitive marketplace—for a staple consumer product, no less! Sometimes, an "it" can happen that is just "it"—finis—when it comes to creating an insurmountable marketing challenge for a brand. In short, Fairlife milk just may be—at this point—spilled, maybe even spoiled, milk!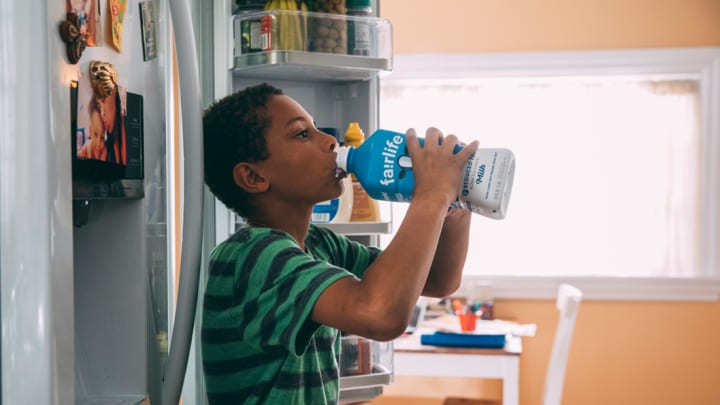 The Fairlife story—up until really last week—was one of those great American success stories. They seemed to be succeeding by doing "good things." They were a rapidly growing brand, not just of premium-priced and positioned milk products...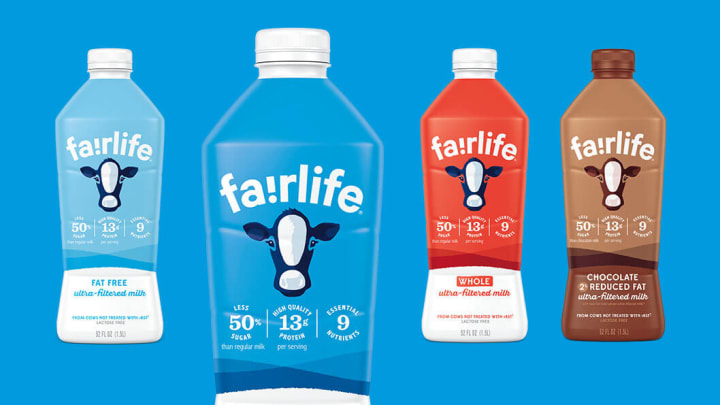 ...but single-serve milk products (Yup!), "Smart Snacks" (really, what other kind is there now...), and the Core Power line of nutrition shakes.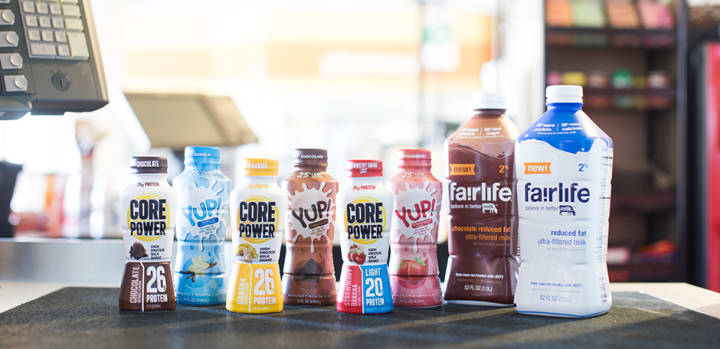 And since 2014, Fairlife has been in partnership with a little outfit called the
Coca-Cola Company
, which has
greatly
aided their distribution and helped fuel the company's growth. Oh by the way, the partnership provided Coke with a premium brand of healthy(ier) products to add to their increasingly diversified
product line
. Fairlife and its brands have been a key component of Coca-Cola's now-
decade old
diversification strategy, which has served to create a
healthy percentage
of the beverage giant's revenue from the faster growing, non-carbonated, "healthier" beverage sector of its business
—one that is increasingly not soda-based, and one in which the company certainly features Fairlife—at least until now—in the "A1" position in its family of brands.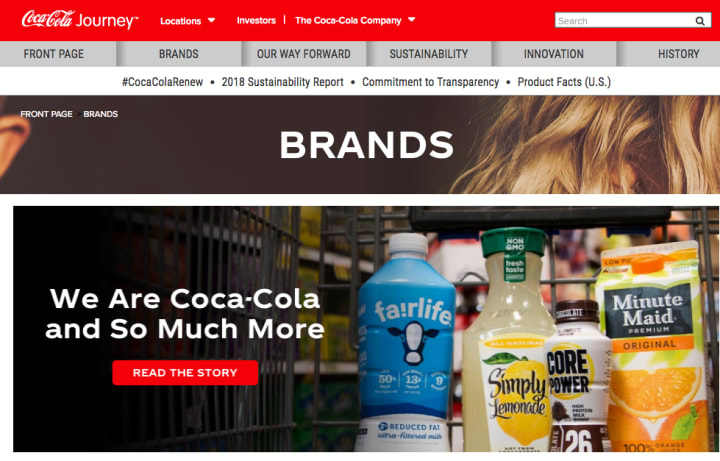 Their corporate story was certainly an aspirational one. On their website...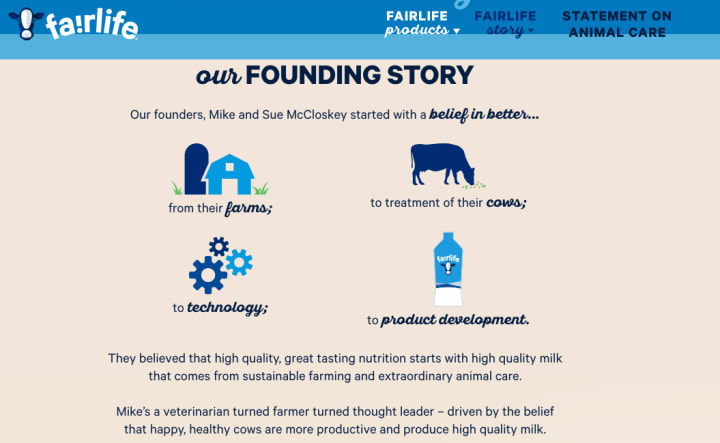 ...and in their labeling, the company reinforced their striving to "do good" and "do right" in the dairy industry, what has historically been somewhat suspect. They were creating what might be labelled a "Mom-friendly" brand... dedicated to high standards, in terms of quality, animal care, environmentalism, and more. Indeed, Fairlife had succeeded in creating a really "feel good" brand image.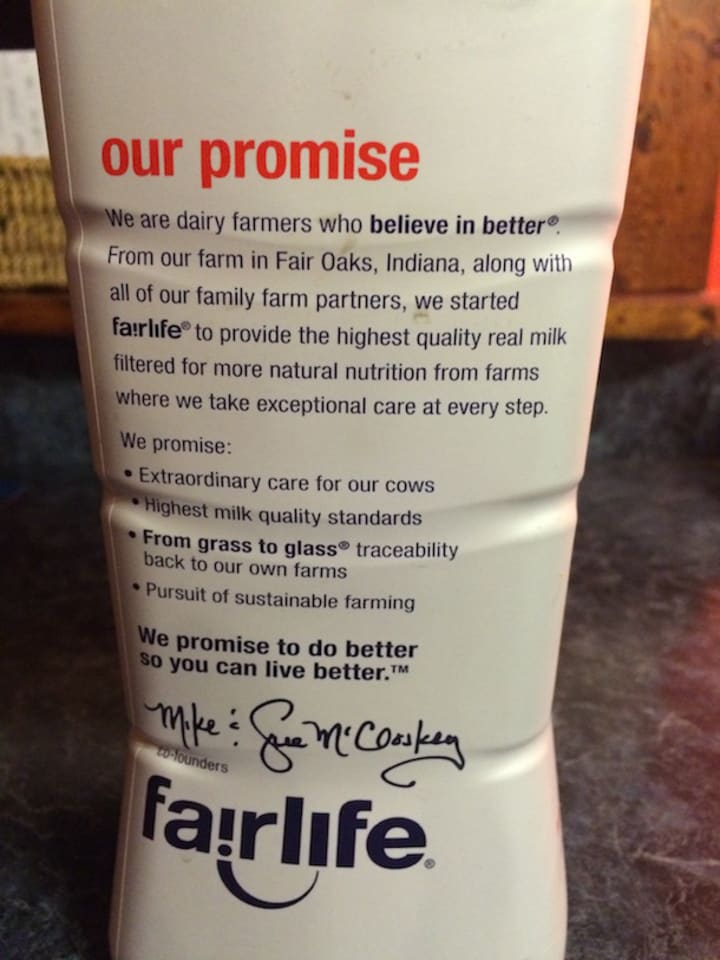 And yes, Fairlife's corporate imaging was idyllic in nature. This was true both for the people of Fairlife....
...and yes, the cows!
They even have their farm in Fair Oaks, Indiana open to the public as The Dairy Adventure! As plant tours go, it is a major one! In fact, it has been labelled as the "Disneyland of Agricultural Tourism." It has become a major tourist destination as the Fairlife brand has grown, and many, many schoolchildren have made field trips to the farm to meet the cows and see how milk is produced (well, sort of, as it turns out...). In fact, according to an interview withFood & Wine magazine, Sue McCloskey—the co-founder of the Fair Oaks Farms whose idea it was to launch the Dairy Adventure, the attraction is now the largest "agritourism" destination in the United States. In the interview, she took pride in having her farm attraction compared to Disney: "It's quite a compliment," cofounder Sue McCloskey says of the nickname. But she quickly adds that the biggest difference between her farm and Disneyland is "our magic is real."
Perhaps all of this added together is why—with Fairlife's promise of "extraordinary care for our cows" and their trademarked promises to "Believe in Better" and more—along with the great job that had been done in building up the wholesomeness of their brand and even making the lead farm, Fair Oaks Farms, one of Indiana's largest tourist attractions in the recent news stories have been so, so devastating to the Fairlife brand— and to their consumers and retail partners!
Unless you have been living under a very large rock or lost in a forest on a hike (as seems to be happening with increasing frequency this summer...), you have likely seen a negative story regarding Fairlife and its treatment of its cows. In a nutshell, the story is this: Fair Oaks Farms—the lead producer and originator of the Fairlife brand— has come under fire for mistreatment of its livestock at its facilities. The details, yes, are shocking! The Miami, Florida-based, Animal Recovery Mission, a non-profit that describes its mission as being directed at "exposing and implementing solutions for extreme criminal acts towards animals," stationed undercover employees at the Fair Oaks dairy production facilities...
... and yes, the video they shot went viral. The group's undercover exposé hit the mainstream media, and suddenly, Fairlife was almost the top story of every newscast (second only to one certain President...) for a few days.
And then, the negative publicity just kept coming for the company....
...and then the criminal investigation and charges began, which will trigger even more continuing news coverage—and negative mentions of Fairlife and Fair Oaks Farms for days, weeks, and likely months to come.
And of course, in the world we live in today, there are online petitions for stores to discontinue carrying Fairlife milk products.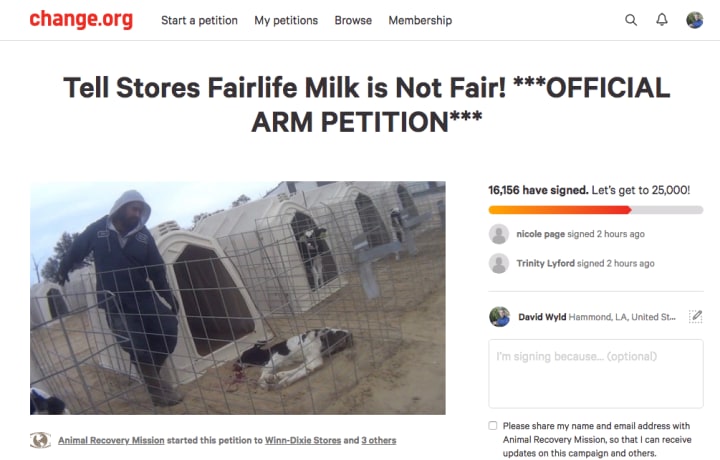 The long and short of Fairlife's corporate crisis is this. There are some images that are indelible in the people's minds... and this is simply one of those instances. Thus, the Fairlife brand is—at the very, very best —tainted in the minds of many, many consumers at present... and for the foreseeable future. Calves getting kicked and punched is a tough image to overcome... and yes, in the Age of the Internet, those images will forever be associated with the company—thanks to Mr. Google!
And while some may point to other abuse cases across the dairy industry, the fact that Fair Oaks Farms—the originator of the Fairlife brand of dairy products—was implicated in this viral video incident made for the "perfect storm" of bad publicity hitting an otherwise heralded brand.
This has become nothing short of an existential crisis for the Fairlife brand. Yes, there will probably less tourist traffic and less school busses full of kids on field trips headed to Fair Oaks, Indiana for the Dairy Adventure for some time to come. But even more importantly—and perhaps uniquely in this instance, is the—no pun intended —spillover effect—that the troubling occurrences at Fair Oaks Farms has for the Fairlife brand, for its partner in Coca-Cola (which has backed the company to date in its reactions), and for retailers.
Indeed, what makes this not just a story about one company and its—shall we say—"issues"—is that retailers are taking action to remove Fairlife products from their store shelves in response to consumer outrage over the animal cruelty incidents. Just some of the retailers that have taken this action include:
Rouse's, a regional supermarket chain based in this author's backyard in Thibodaux, Louisiana, also announced that it would no longer sell the brand, due to the animal cruelty incident. Echoing the sentiments of the Midwestern grocery chains, the company, with locations across much of the the Gulf Coast, announced that: "Due to the unsettling information surrounding animal abuse in the Fair Oaks Farms network, the Rouse family is suspending the purchase of Fairlife milk at this time." And the Facebook post below shows that likely many a Rouse's customer strongly agreed with their local grocery store's decision on this.
So what we see is a number of retailers—and that number is only likely to grow in the coming days and weeks, unless something dramatic happens to change the narrative—and the substance of the story—acting in their own self-interests. They are individually acting out of a self-preservation motive, no matter how ingrained they may be with the Fairlife brand and its family of products. What these retailers fear is the very real, very present threat of "cross-contamination"—i.e. the negative impact on their store's brand name and reputation based on the negative backlash against the Fairlife brand due to its "circumstances."
In my expert perspective, what I would compare this "ripple-effect" to would be the way companies react to their spokespeople getting in—shall we say—trouble. The list of such "incidents" and "instances" would today be a long one, spanning the world of entertainment, music and sports. Most of all as a company, what you do not want to happen is any negative publicity from the person who represents your brand, and perhaps even your entire company, to sully the reputation of the firm and taint its product or service offerings. And if your are a retailer, there is a very, very real possibility that the wake of a brand's negative publicity can impact—perhaps even in a short time envelop—those companies that choose to maintain their relationships with the firm that is on the proverbial hot seat! In short, in the age of social media and much more conscious consumption today, there is more risk than ever before of such cross-contagion occurring—and having a very real impact on both the supplying company and company at the tip of the retail spear!
And so with Fairlife, we are into almost uncharted territory. The brand contagion prospect is very real—and dangerous for all associated with the brand! If you are a dairy and there is video of your cows being abused, being linked with animal cruelty is closely akin to Nike having to make the decision to disassociate itself from Michael Vick in the wake of his dogfighting offenses a decade ago. The situation even might be compared to the decision that a company such as Hertz faced in the 1990s—well before the age of social media—in having O.J. Simpson as a spokesperson when the initial murder charges were lodged against him. Could you have a Fairlife brand without Fair Oaks Farms? The corporate response from Fairlife—the company—makes one think that is indeed possible.
Now, to credit Fair Oaks Farm and the Fairlife brand, they are attempting to respond in a manner right out of the crisis management playbook. They have put their owner and founder, Dr. Mike McCloskey (yes, himself a veterinarian) front and center in leading the company's response. To their credit—and to his, McCloskey acknowledges mistakes made by the company—and himself as the leader—and vows to take steps to ensure that the conditions do not recur. While his performance might be a little "hostage video" in nature, one really can't argue with the sentiments expressed by the founder or the substance of what he is pledging to do going forward. McCloskey stated in the video that the undercover footage "broke my heart and created a sadness I will have to endure for the rest of my life." And yes, he did apologize, vowing that such animal abuse "will not happen again."
...And they are working to inform the public on their progress to ensure animal safety and welfare at their facilities in a series of videos (yes, shot the same day as one can tell by the owner wearing the same shirt!).
In addition to putting the founder out in public (in prepared videos, not in interviews, as of yet), Fairlife has also issued a public statement from Mike Saint John, the CEO of Fairlife.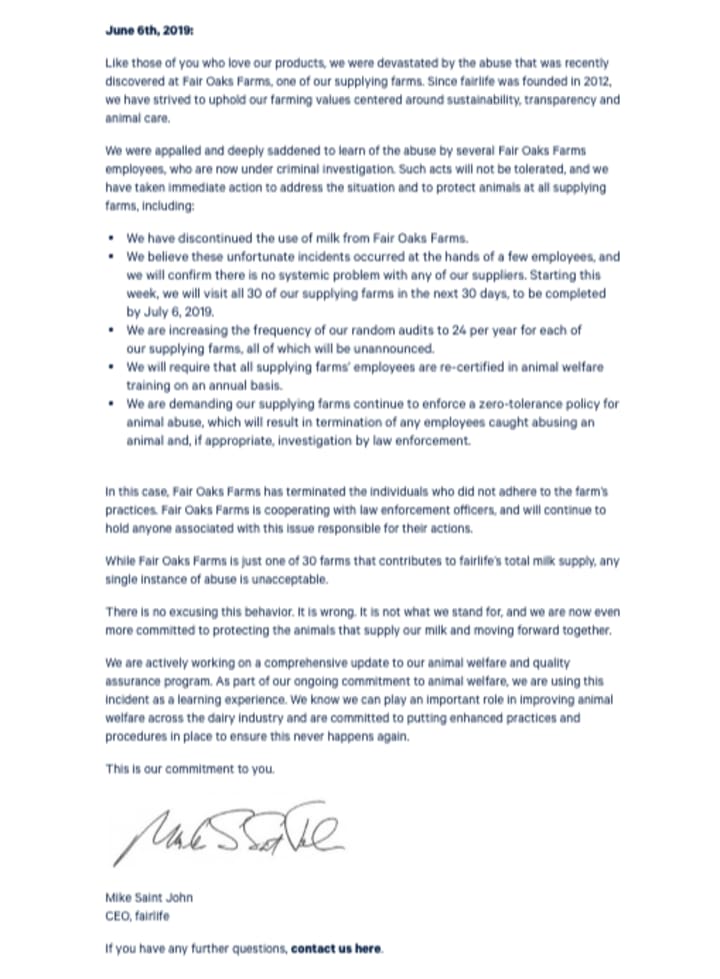 In addition to outlining what the company will do going forward, Saint John clearly stated: "There is no excusing this behavior. It is wrong. It is not what we stand for, and we are committed to fixing this and moving forward together."
Of course at the same time, the statement also did—kind of—try and take Fair Oaks Farms—and "throw them under the bus" for what had happened. Yes, they were the lead dairy for Fairlife's brands of milk, but Fair Oaks Farms was "just one of 30 farms that contributes to Fairlife's total milk supply," seeming to try and distance the brand from its founders and the "issues" found at their particular facility. So yes, it will be curious to watch going forward to see how Fairlife—the company and the brand—associate, or disassociate, from its founders, their farm, and yes, The Dairy Adventure.
And so it will be interesting to watch how Fairlife and the companies associated with it continue to deal with the brand crisis that has developed over the animal cruelty charges at the iconic Fair Oaks Farms. In time, it could well become the case study on how—especially in the age of social media and with 24/7 news coverage of everything—viral video can damage—perhaps in a truly lasting fashion—a major consumer brand. The true test then will be how consumers react—and will they once again reach for Fairlife milk in the dairy section at grocery stores in the numbers that they had been before this incident. We may well find that we need to add a corollary to P.T. Barnum's famous adage about publicity, as yes, this incident could be one that lingers in the minds of consumers—and lives on the Web—for some time.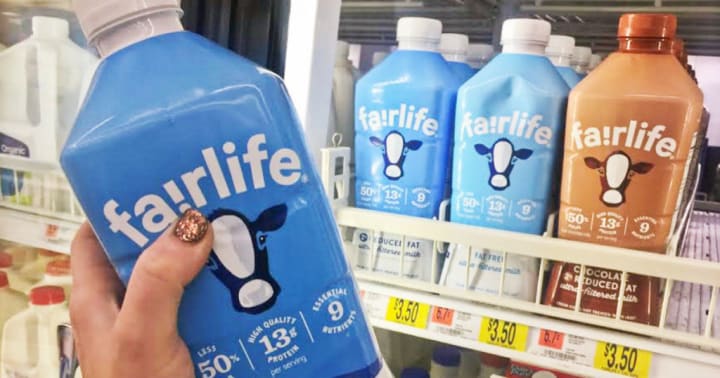 About David Wyld
David Wyld ([email protected]) is a Professor of Strategic Management at Southeastern Louisiana University in Hammond, Louisiana. He is a management consultant, researcher/writer, publisher, executive educator, and experienced expert witness. He is the founder and publisher of both The IDEA Publishing (The Best in News, Information and Content Marketing) and Modern Business Press (Creating the Readable - and Enjoyable - Academic Journal - Not an Oxymoron!).
David Wyld's Online CV
Social Media Links to David Wyld:
on Facebook
on Twitter
on LinkedIn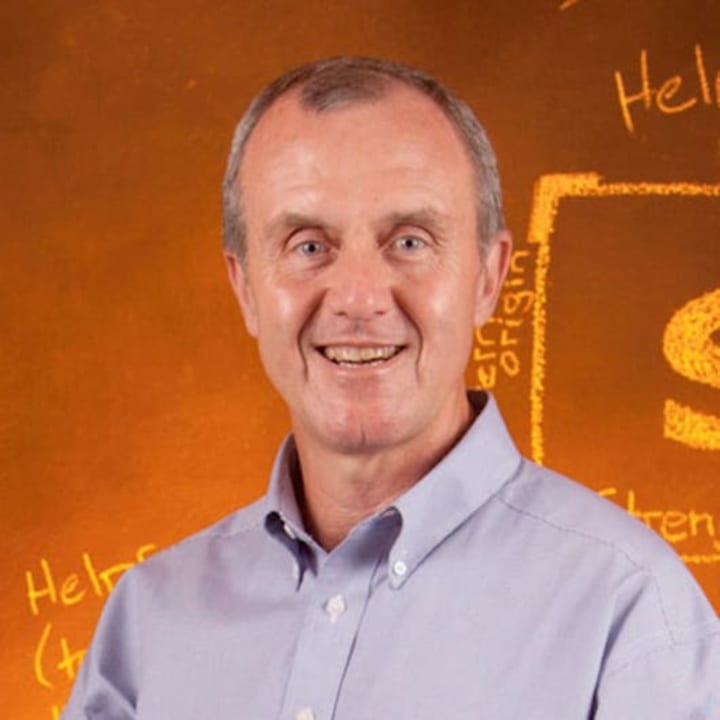 Show Your Support for Professor Wyld and the Vocal Platform
Like what you just read? Did it make a difference to you? If so, please see and share this article through social media, email, and even the old-fashioned way of printing it off for a colleague or friend!
And while you're at it, ask yourself a simple question: Was the info worth a buck or two—or perhaps a whole lot more to you, your career, your company? If so, please consider "tipping" (after all, it is the polite thing to do!) using the easy link below. In providing a small tip—even a dollar or two, you not only help support the author's work, but you help keep the unique platform that Vocal Media is building be an advertising-free environment—and don't we all need more of that to make our online experiences better today? Please consider showing your support below and voting for good writing and ad-free content on the web!
business
Professor, Consultant, Doer. Founder/Publisher of The IDEA Publishing (http://www.theideapublishing.com/) & Modern Business Press (http://www.modernbusinesspress.com)