Dior: A Look at Emotional Labour and Emotional Branding
A paper for my grad-level course I didn't think I'd do as well as I did on.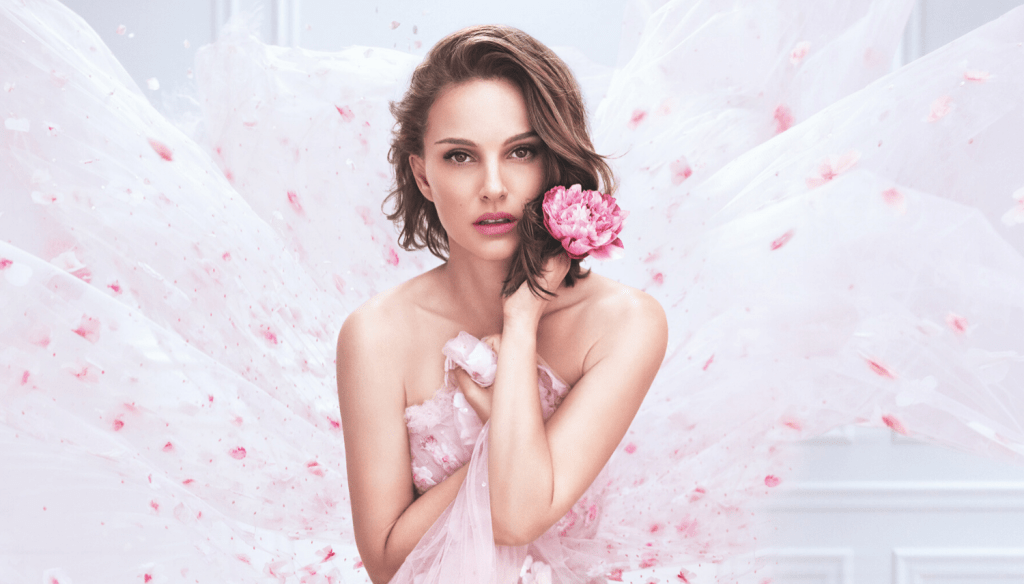 Image courtesy of Beautenet
In the age of multimedia storytelling and digital experience, luxury goods company Dior has their actors implement emotional labour by crafting enchanting stories with their brands and communicating with their audience in an alluring fashion.
Part One: Emotional Labour
One of Dior's product lines with an extensive brand narrative is Miss Dior. As a luxury fragrance, Miss Dior aims to embody human experiences associated with love. For example, Miss Dior products are colour-coded pink in their promotional materials as a way to symbolize feminine sensuality. (Nylund 2020) Dior is one of many luxury brands that uses bold imagery to reinforce the attractive emotions resulting from product consumption. (Raymond 2016)
In the case of Miss Dior, the goal is to satisfy the consumer with a fragrance that brings about emotions and feelings linked to love, (Nylund 2020) such as joy, affection, desire, and beauty. This goal seems to reflect the language of flowers, particularly differently-coloured roses that tend to be attributed to various expressions of love like the ones outlined here. It is no surprise, then, that Miss Dior emphasizes the use of roses in its products, most notably in its 2020 launch of the Rose N' Roses perfume. (Nylund 2020)
The bottle's design, meanwhile, remains largely the same with few modifications to preserve the legacy of Miss Dior's very first perfume. The brand's overall personality exudes the energy of modern youth; while it primarily targets millennials, however, it is not necessarily limited to this demographic. (Nylund 2020) For a company like Dior, it is important to strengthen brand equity by creating scenarios in which [potential] customers can become attached to the brand.
It builds attachment by tapping into customers' beliefs, habits, preferences, and sense of devotion. (Arvidsson 2005) How a product functions is no longer the sole concern of the company; what matters even more is how the customer feels and how their life is enhanced over time the longer the product remains in their environment. (Arvidsson 2005)
One of the ways Dior connects with their audience on such a personal level is by employing spokespersons with inspiring platforms. (Nylund 2020) Film actress Natalie Portman is currently, perhaps, their most well-known affiliate. Part of what makes her a reliable conduit between the brand and their customers is her support for poverty alleviation, animal rights, and gender equality. (Nylund 2020)
Another instance where Portman advocates for positivity can be found in her 2019 interview for Marie Claire. (Nylund 2020) In it, she mentions that Dior represents strong character and daring expressions of womanhood, seemingly demonstrating that she not only stands for these principles herself but also understands and upholds Dior's selfsame mandate as a brand. (Nylund 2020)
Since they do not concentrate on manufacturing or simply advertising their products, companies like Dior instead place the majority of their efforts in strengthening their brand. (Klein 2000) To be clear, branding products and mascots [Portman may possibly be considered one for Dior] is not the extent of this work; the brand's entire personality is also molded to provide avenues of communication and meaning for customers. (Klein 2000)
The establishment of personality is where emotional labour plays a role: by directing the employee to use on-brand emotions when engaging with customers - which they expect - to show that the job is actually pleasurable for them and not a contractual obligation. (Bryman 1999) Through this form of brand management, the company's main marketing objective is to involve customers in bringing the brand's narrative to life. In other words, the customers are meant to aid in transforming the brand into a programmer of sorts. (Arvidsson 2005)
Dior's digital content in recent years appears to initiate this process. Their Miss Dior commercials, for one, tend to be energetic, colourful, and depict women's empowerment and extravagant concepts of freedom. (Nylund 2020) A notable commercial from 2015 shows Portman as a runaway bride who goes so far as to escape her own wedding on a helicopter toward the sunset. (Nylund 2020) Such stories earn Miss Dior and Portman much attention on social media, namely Dior's Instagram accounts. Their primary account has over 30 million followers while their Instagram pages for makeup and perfume average at about 4 million followers, all of which feature Portman in many of their posts. (Nylund 2020)
These posts include her donning custom-made dresses at red carpet events, commercials, and photo shoots that accentuate her feminist endeavours in some capacity. (Nylund 2020) Dior is just one of numerous companies that invest in lifestyle branding through risqué imagery [Portman's videos frequently contain implied nudity and intimate scenes] and progressivism. (Klein 2000) As mentioned previously, employees are conditioned to express themselves in a manner that is brand-appropriate for service transactions and keeps them aware of their behaviour. Needless to say, this means they cannot truly be themselves or act spontaneously. (Raz 1977) In that regard, the business also determines their customers' emotional experiences when engaging with their brand. (Raz 1977) 
To illustrate this point, Miss Dior might engage their followers online by showing how their perfumes are made using captivating visuals and narration. In the 2015 Sauvage clip, perfume designer François Demachy shares how flowers are handpicked and extracted for perfumes using poetic language to highlight the artistic and unique image of Miss Dior. (Nylund 2020) This example is akin to an art director referencing trends and popular culture as well as knowledgeable sources on the subjects to familiarize the company's network with the direction their brand is taking. It demonstrates that they indeed pay attention to how [potential] consumers internalize media. (Arvidsson 2005)
Through emotional labour, we can see how large brands like Dior, in a way, are branding lifestyles. To clarify, they are not necessarily attempting to individualize the shopping experience for consumers, but rather are creating communities that can influence product creation and marketing. (Arvidsson 2005) It also becomes a matter of socializing the brand because it is sold as a memorable or life-changing experience rather than a mere commodity used in a specific context. (Klein 2000)
We are witnessing companies like Dior dramatize visions and stories to foster confidence and inspiration among their customers. They transform into places filled with achievements, happiness, and hopes that take part in our daily lives because their brands instill such positivity in our minds. (Sorkin 1999)
Part Two: Emotional Branding
In the first part, we recognized the importance of commercials in the digital branding strategy for Miss Dior. Now that we have transitioned to emotional branding, which requires further consumer input, we will be analyzing them in more depth here.
These commercials can be found on the LVMH website, Dior's website, and YouTube. One commercial in particular from 2017, which has amassed over 100 million views on the latter platform, showcases the stages of falling in love. (Nylund 2020) Although she is addressing her love interest in the video, Portman is the sole actor in the spotlight expressing intense feelings toward him. Her sentiments manifest in actions that would likely be considered unusual in real life, such as driving recklessly on the beach, screaming on the bus, and jumping into the sea from a high place. (Nylund 2020)
This form of creative expression in advertising is meant to excite and challenge customer expectation. It is also instrumental in fabricating sensory experiences that will connect the brand with its audience. (Perić et al. 2019) The comment section of the aforementioned YouTube video is evidence of how it inspires the viewers' attitudes toward the brand's personality. They not only compliment Portman's appearance and performance in the commercial, but they also imagine themselves in scenarios like hers and applaud the cinematography for utilizing specific techniques to capture their attention. (Nylund 2020)
As shown here, the audience does not simply wish to retain information but also share their thoughts on the subject matter. Thus, it is crucial for communication efforts to go beyond advertising a product by reaching out to their audience. (Perić et al. 2019) Forming a bond with consumers means that they are being recognized, understood, and appreciated. It resembles a partnership more than it does a sale. (Perić et al. 2019)
Dior's Secret Garden campaign is another instance of consumer participation in the brand strategy. By writing expansive lore for the brand across multiple digital media channels, there is an opportunity for audience immersion. (Raymond 2016) Dior's followers on social media can create their own content to coexist with - and establish significance for - the Secret Garden. (Raymond 2016) User-generated content consists of social tags and shared comments on platforms where the Secret Garden is streamed. Consumer participation can influence Dior's future designs as well as expanding access to the brand's community. (Raymond 2016)
Having a tight-knit and personalized network like this allows the company to acknowledge user preferences and desires. These include sounds, colours, shapes, and smells that inspire imagination. (Perić et al. 2019) Products alone are not capable of accomplishing this because the consumer craves adventure, wonder, and dynamic experiences that do not always provide the expected outcome. The consumer values an experience that challenges or motivates them in their own life. (Perić et al. 2019)
Thus, Dior's approach to producing overarching narratives in their commercials extends beyond the consumer's relationship with their products. (Raymond 2016) Much like film and fashion, they incorporate symbology and themes of objectivity, love, and parody to close the gap between product and character. Dior's brands, representatives, and stories are all interconnected through meaning (Raymond 2016)
Marketing strategies like this allow brand management to balance emotion and self-expression with product functionality. (Arvidsson 2005) Consumers, specifically, have the ability to create and share meanings as well as social relations that the brand helps bring into their lives. (Arvidsson 2005) These are new ways of consumption that depend on consumers enacting the intended experience. (Arvidsson 2005)
Consumers participate by collectivizing their experience, building rapport, contextualizing the brand in a meaningful life scenario(s), and/or associating the brand with their personal life stories. (Arvidsson 2005) In David Lynch's short film for Dior, Lady Blue Shanghai, we can see how the product becomes a character that reflects the different emotions actress Marion Cotillard goes through; she is anxious at first, but then finds the courage to fall in love again thanks to its existence. (Raymond 2016) Like the Secret Garden, it is designed to galvanize the viewership into deciding what this narrative means to them and what it may be commenting on in light of the real world. (Raymond 2016)
Essentially, Dior relies on the competence of their community and actors for the actualization of their brand messaging through innovative storytelling techniques. (Raymond 2016) It must be noted, however, that brand messaging is also heavily rooted in the values, obligations, and community-oriented attitudes of consumers. Consumer research takes into account how we perceive the truth, positivity, and functionality surrounding branded products. (Arvidsson 2005) Brands are everywhere in our world, but we only feel something toward them if they possess an emotional centre. (Arvidsson 2005)
If products are at the forefront, it becomes a question of quantity, whereas quality requires sustaining real relationships with consumers in creative ways. (Perić et al. 2019) Consumers are aware that there is no major difference between products with a similar purpose, hence why brands must offer experiences their consumers cannot find anywhere else. (Klein 2000)
In closing, consumers rely on brands to shape their experiences, (Rifkin 2001) and customizing those experiences transform the seller-buyer dynamic into a server-client dynamic. This unique bond can spark a competitive edge in the market. (Rifkin 2001) Exploring communities with common interests is the optimal way to attract consumers and build long, meaningful relationships. (Rifkin 2001)
References
Arvidsson, A. (2005). Brands: A critical perspective. Journal of Consumer Culture, 5(2), 235-258.
Bryman, A. (1999). The Disneyfication of Society. Sociological Review, 47(1), 25-47.
Klein, N. (2000). No Logo: Taking Aim at the Brand Bullies. Vintage Canada.
Nylund, S. M. (2020). Influencing luxury fragrance brand image with celebrity endorsement: Case Miss Dior [Unpublished master's thesis]. Metropolia University of Applied Sciences.
Perić, N., Savić, M., & Frfulanović Šomodi, D. (2019). Emotional Branding of Luxury Goods. Middle East Journal of Scientific Research, 27(6), 494-499. http://dx.doi.org/10.5829/idosi.mejsr.2019.494.499
Raymond, E. (2016). Dior And Digital Storytelling: On the Marketing of Luxury Brand Narratives [Unpublished master's thesis]. Ryerson University.
Raz, A. E. (1997). The Slanted Smile Factory: Emotion Management in Tokyo Disneyland. Studies in Symbolic Interaction, 21, 201–217.
Rifkin, J. (2001). The Age of Access: The New Culture of Hypercapitalism, where all of Life is a Paid-For Experience. Tarcher.
Sorkin, M. (1992). See You in Disneyland. In M. Sorkin (Ed.), Variations on a Theme Park: The New American City and the End of Public Space. (pp. 205–232). New York: Hill and Wang.