Difference Between Outbound And Inbound Marketing [Pros and Cons]
Outbound Marketing V Inbound Marketing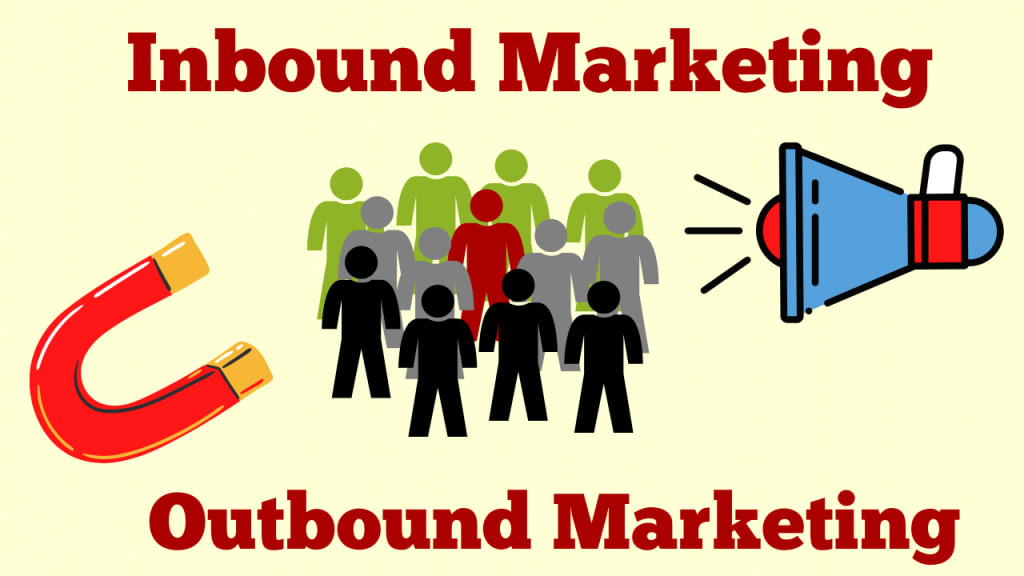 Difference between outbound and inbound marketing (Image Created by Author)
Marketing is all about promoting products or services by communicating the values of products or services to customers. These promoting of products or services may be through inbound or outbound marketing.
It's said that the average person faces thousands of marketing ads every single day. That includes advertisements on TV, radio, social media like Facebook, YouTube, etc. And so to become so successful in business, marketing is key. Finding targeted customers who take interest in your product or services is crucial to becoming successful in business.
If you own a business then you must know the difference between inbound and bound marketing. Both strategies are used for promoting the products or services to the customer but let's see which one is best for your business.
Inbound Marketing
In the late 1990s, HubSpot co-founder Brian Halligan came up with the concept of "inbound marketing." Inbound marketing also called Pull marketing, as the name shows the customers pull your product or services. You don't have to have to put ads on TV or radio but always have a focus on targeted customers.
There are multiple definitions of Inbound Marketing
Inbound Marketing is a data-driven approach to marketing that attracts individuals to your brand and convert them into a lasting customer.
Inbound marketing is a form of marketing that focuses on attracting customers through content marketing and interacting with the audience in a consistent manner without interrupting them. With incoming marketing, potential customers, find you through channels like blogs, search engines, and social networks.
The following are the inbound marketing approaching tactics.
SEO
Search engine optimization (SEO) helps to rank your website page on the first page in google search engine. And you could get massive traffic from Google from the first page on that specific keyword or phrase. There are many search engines that people use, such as Google, Yahoo, Bing, and Google alone fields about 40,000 searches per second. So to rank your page for multiple keywords, you must have advanced SEO expertise.
Social Media
Social media has great power today to grow your business to your targeted customer. Social media not only market your brand but also maintain a long-term relationship with a loyal customer. Through social sites, you can connect with customers directly and answers their queries about products or services. If you want to put advertisements on social media or create a campaign on Facebook, Twitter, or Instagram the people would come and search about your brand instead you push that to people.
Content Marketing
Content marketing is inbound marketing to inform the targeted customers about products or services. About all businesses are incorporating blogs in their websites for the purpose to market their product or services in the form of content marketing. But it requires SEO expertise to get rank your blog on a specific keyword or phrase.
Video Marketing
Nowadays, video is so crucial for business development that almost every organization has high-quality videos on their website. They also upload it to YouTube, which the world's second most popular search engine platform. And it is expected that in the near future, YouTube will number one search engine website in the world.
So making videos about the products or services of high quality and good SEO would have a great chance to get rank on YouTube. This approach would drive a lot of visitors to videos and, as a result, to your business.
Outbound Marketing
Outbound marketing is also known as traditional marketing or push marketing because in these marketing strategies marketers push their product or services to people through advertisement, TV & radio ads, cold calling, outsourced telemarketing, trade shows, and seminars. You might see salespeople selling products knocking on doors, which is all part of outbound marketing. The focus of outbound marketing is not on the targeted customers, but on communicating the value of a product or service to a large number of people.
Today in this modern and digital world the outbound marketing is not so effective because of two reasons. The first reason is that the average individual is exposed to thousands of new advertisements every single day through cold calling, TV & radio shows, and social media advertising so making it difficult for them to express interest in any single ad. The second reason is that outbound marketing does not rely on a small audience and it is very expensive to push a product or service to a large number of people. Some outbound marketing takes a lot of time and investment without making any leads.
The following are the outbound marketing approaching tactics.
Social Media Advertisement
About billions of people are using social media platforms like Facebook, Twitter, and Instagram, etc. So, placing advertisements on social media to reach a huge amount of users in seconds will not be a bad idea. Outbound marketing is outdated, but modern brands are still using this strategy to reach out to potential customers.
Cold Calling
Cold calling is when salespeople contact people who have not expressed any interest in offered products or services previously. Cold calling is a crucial part of outbound marketing. Cold calling may refer to persuasion on phones, telemarketing, or going door to door to sell the product or service to potential customers. Most of them are usually uninterested in your services or products and will hang up the phone, but some of them may become leads. Cold calling is as reliable today because of technology as you can make thousands of calls in a short time.
Radio And Print ads
You might think that radio and print advertisements are becoming outdated as a result of the advent of digital marketing, but radio and print advertising strategies may be extremely effective for small businesses. It's important to reach the community's customers with radio and print advertising. The greatest part is that it is not too expensive. When you're planning an outbound marketing campaign, don't forget about radio and print advertising.
PPC
Pay-per-click (PPC) advertising is another type of advertisement in which you pay search engines such as Google, Bing, and Yahoo to show your brand page at the top of search results for specific keywords or phrases related to your product or services. When you look for anything on Google, the first results you find are PPC advertisements, which advertisers pay when users click on them. Below that, are ranked pages through SEO, which is inbound marketing.
The following screenshot best shows the difference between outbound and inbound marketing. For example, if a user searches for a "digital marketing course," the first two results are paid advertisements (PPC), which marketers pay for when users click on them. The one below is ranked using SEO, and it generates a lot of free traffic.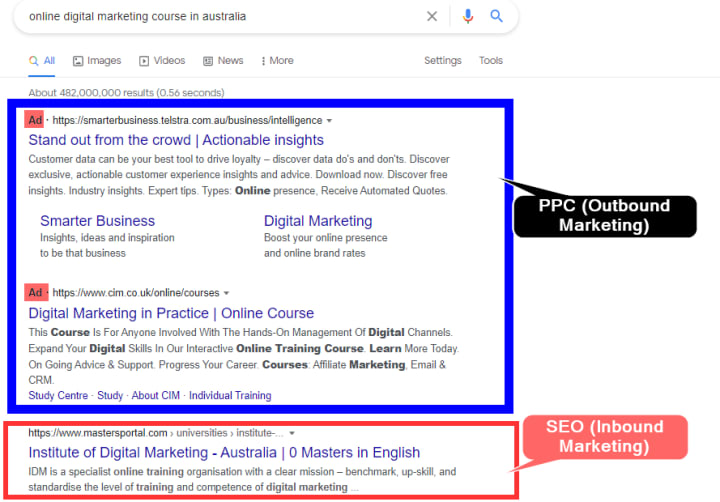 Pros And Cons of Inbound Marketing
Pros Of Inbound Marketing
Inbound marketing targeted interested customer
Inbound marketing is cost-effective
Customer pulls the product or services instead marketers push them
All customers become leads consistently
Through inbound marketing, you can make long term relationship with the customer
Inbound marketing increase brand visibility
Inbound marketing allows direct feedback from customer
Cons of Inbound Marketing
You must have a well-build website to start inbound marketing
It's too competitive
It takes a long time to drive traffic through inbound marketing
Various advanced skills are required (SEO Experts, Content Writers, Bloggers, Developers and much more)
Pros and Cons Of Outbound Marketing
Pros of Outbound Marketing
Outbound marketing start driving traffic immediately
Negative comments of the customer, can't be seen by another customer
Can be so efficient for small businesses
Cons of Outbound Marketing
Outbound marketing is not targeting an interested audience in your product or services
Customers are not directly connected to the feedback
Outbound marketing is so expensive than an inbound marketing
Not so efficient for big business to generate leads
More efforts are required than an inbound marketing
If you find this article helpful, do share it.
Reader insights
Be the first to share your insights about this piece.
Add your insights