Defeating the "Don't Look Up" Mentality in the Corporate World
All too often, we don't want to see a bad reality coming right at us in business. Here's how to have your eyes wide open and look to see the comet that might just take out you and your company!
The movie of this holiday season didn't turn out to be yet another reboot of The Matrix or one more Spiderman sequel. It didn't turn out to be the next Disney animated musical made for young and old alike. No, the film that generated the most buzz wasn't even a movie that you had to go to a movie theater to see (and yes, your local multiplex may well be on its way to extinction quite soon because of a whole host of factors!). Instead, the movie that has everyone watching and many folks talking about it on social media is a cheery flick, "Don't Look Up!" It has all the ingredients for what we used to term "box office success" - a fantastic team behind it (led by director and writer Adam McKay, who has given us "The Big Short" and a whole host of other films in recent years), a star-studded cast (including Leonardo DiCaprio, Jennifer Lawrence, Meryl Streep, Cate Blanchett, Jonah Hill, Tyler Perry, Mark Rylance, Ariana Grande and more) to rival those old "buddy movies" of the 1970's and 80's, and yes, an uplifting, "feel good" plot - where the entire planet's population is wiped out!
Basically in a nutshell, the movie goes like this (and if you want to avoid the spoiler of how it goes, well, maybe the first half of this article isn't for you!). Two scientists (and of course, most scientists don't quite look like Leonadro DiCaprio and Jennifer Lawrence) discover a new comet that's going to hit planet earth in 6 months. When they inform NASA of their discovery, they are greeted as heroes who have potentially world-saving information. However, when they meet with President Orlean (a kinda no-so-subtle Trump caricature played by Meryl Streep) and her Chief of Staff, who just happens to be her son (a knock-off of Donald Trump, Jr., beard and all) played by Jonah Hill, the President really doesn't buy into the whole idea that the huge comet heading toward us is what the astronomers call a "planet killer." The President's strategy is to "sit tight and assess," even as the comet advances on its path inextricably towards earth….
...that is until the President can make use of the "Comet Crisis" to her political advantage to hush-up a messy situation with her Supreme Court nominee and win the midterm elections by exploiting the issue.
Now, to shorten a great deal of the plot of the movie, the scientists have a tough time getting people to understand just how existential a threat the comet is as it races on a path that takes it right into the Pacific Ocean to cause planetary destruction…
… but the President does marshal an effort to blow up the comet and save the earth with a herculean mission. All is going well, until scientists working under megabillionaire Peter Isherwell (adroitly played by Mark Rylance, with a character seemingly modeled on a combination of Elon Musk and Steve Jobs) discover that there are many trillions of dollars worth of rare minerals on the comet - minerals that if they could be safely - well, relatively safely (as the impact of the comet's pieces would still wipe out Chile) - brought down to earth would make him even richer! Isherwell's company quickly develops an alternative plan to do just that, and this leads the President to literally turnaround the mission to destroy the comet to have the mining mission proceed instead. Of course, the mission to extract the minerals fails, and then the fate of the world is sealed as it will be "game over" for the earth.
Yes, as many film critics have suggested, one can view the movie, as it was intended by its creators, to be an allegory for our times. It certainly has a number of elements of today's society thrown into the mix - a distrust of science and "experts," extremely partisan views of every issue (even a comet), and social media making ordinary people instant stars or villains). And yes, the comet is a device used to represent the existential threat humanity faces from climate change - with the danger from the huge object from space having a defined time of intergalactic impact, whereas the impacts from global warming are gradual and often imperceptible at the moment, but deadly over time. And yes, the movie does go a bit over the top in not-too-subtly making the fictional President Orlean (Meryl Streep) into a thinly-veiled female version of former President Trump, even having her hold rallies with her followers with the simple message "Don't Look Up" (and see the comet coming straight at us) that could be compared to the "Lock Her Up" and even the "Let's Go Brandon" slogans of Trump supporters! In short, while a fun and humorous movie (as fun as it can be when the earth is destroyed and all people -well, almost all people - die in the end), it is surely a film that will be much discussed and debated going forward, both by professional and amateur critics alike.
But as a strategic management consultant and professor, the movie spoke to me on a different level, as I believe that "Don't Look Up" conveyed an important reality about how management, particularly in big companies, operates far, far too often. Indeed, the same lesson can be just as easily applied in the public sector and even among non-profit organizations as well. This is the simple fact that all too often, the people in charge just simply don't want to hear bad news! And the corollary to that, of course, is that people reporting to those who have a "C" in the acronym of their title don't want to be the bearer of that bad news either! After all, the expression, "Don't shoot the messenger," wasn't invented out of thin air. Rather, it came from the fact that all too often throughout history, those who bore bad news to the "important people" did in fact lose their jobs or were relegated to lesser roles, simply because they spoke up about an impending threat to the stability of the organization, or maybe even its viability and existence.
We have seen time and time and time again throughout history how very smart, very capable executives have simply refused to deal with, and in many cases to even acknowledge, what are dangerous - and yes, sometimes even existential - threats to their companies and their business models. Most often, these situations involve changes in technology, changes that often force companies to "adapt or die" - and in many instances, the latter does happen. There is a famous story from the 1950's where the chief executive of the company that was the preeminent manufacturer of propeller engines for commercial and military aircraft was told that jet engines were about to come on the market and fast make their products almost obsolete overnight. The legend has it that when his underling told him the realities of the market that was about to be transformed by the new invention, he responded with, "Son, we make propeller engines!" In other words, the CEO saw his company being in the propeller engine business, not the aircraft engine market, even as the industry was being transformed with the development of engines that were far faster, far more efficient, and far more reliable than the propeller engines of the day. And so that company quickly became a "corporate dinosaur," destined to be made extinct simply because they would not - or could not - come to acknowledge the realities of the fast-changing technology and the aircraft engine industry. From the famous mistaken assumptions that "no one will need or want a home computer" to the "Internet will just be a passing thing," this same scenario plays out over and over again.
And today, we see this same scenario repeated time and time again, as corporate leaders simply don't want to "look up" and acknowledge the truths about how not just technological changes, but changes in demographics, society, media and more will surely impact their businesses and their industries. Industry after industry is being transformed today by the confluence of these "big picture" tectonic changes that are occurring in real time - with a pace of change that is only accelerating. From retail stores to insurance agencies to car dealerships and more, we see entire industries undergoing rapid and tremendous changes, accelerated by technological and social changes in the way we shop and buy "things" and services today. And yes, there will be numbers of companies that either won't survive or will be left as just a shell of their former selves if their leaders fail to make the necessary changes to the way they operate. And if you have a CEO or an entire management team that seems to follow the "Don't Look Up" mentality, your odds of corporate survival today are about the same as the dinosaurs of many ages ago.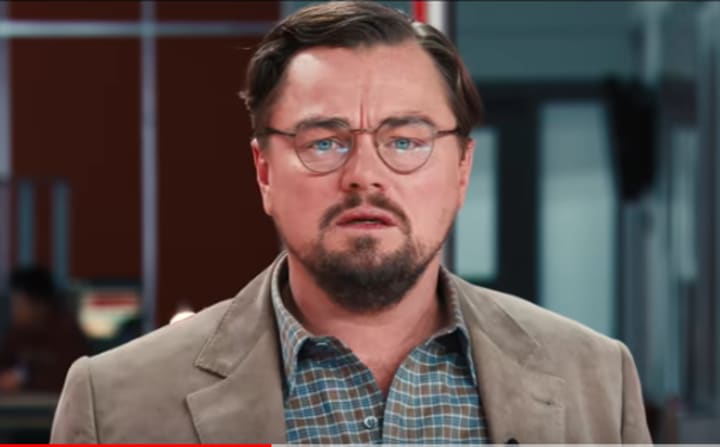 So how do you go about defeating the culture of denial - where top executives prefer the "sit tight and assess" strategy of dealing with bigtime challenges and threats? The solution has to come from the top. Corporate leaders have to make clear the message that they truly want an open environment, where everyone is free to express their opinions on matters and yes, everyone should feel free to convey important information - whether it is good news, bad news, or existentially-threatening news - without fear of reprisal against them for being either the one responsible for uncovering that info or simply the one (often the one who drew the shortest straw) who is "the messenger" for an unpleasant report, finding, survey, etc. Leaders in all organizations should constantly seek out ways to not just convey the message to everyone around them that giving honest and truthful insights and information, even if it's not what they might necessarily want to hear, is a good thing. And in fact, they should repeat this quote often - and act accordingly (and yes, that is incredibly important, as the first time you do kill the messenger, your credibility is shot!).
And so managers everywhere should watch "Don't Look Up" - and maybe have members of their upper management team watch it too! Yes, because it's a good movie. But even more importantly, it's because the film conveys an important message on why it is just so critical to be open - really open - to receive and act on information, both the good and bad news, and sometimes on the really bad news - the rare (hopefully) kind that of information that might just be an existential threat to your existence. The truth of the matter for all in business is the same as it was for the President of the United States and indeed for the population of the planet in the ending of the movie, as failing to be open to news that is really bad can end up meaning that you do fall prey to the existential threat that is out there, rather than developing a strategy that will work to help save you and those around you!
++++++++++++++++++++++++++++++++++++++++++++++++++++
About David Wyld
David Wyld is a Professor of Strategic Management at Southeastern Louisiana University in Hammond, Louisiana. He is a management consultant, researcher/writer, publisher, executive educator, and experienced expert witness. You can view all of his work at https://authory.com/DavidWyld.
Social Media Links to David Wyld:
About the Creator
Professor, Consultant, Doer. Founder/Publisher of The IDEA Publishing (http://www.theideapublishing.com/) & Modern Business Press (http://www.modernbusinesspress.com)
Reader insights
Be the first to share your insights about this piece.
Add your insights